Easy Vegan Banana Waffles (WFPB, Five Ingredients)
Waffles or pancakes? I'm more of a waffle type of girl, especially when they're easy to make, vegan and good for you!
Using just five ingredients, these easy whole-foods, plant-based waffles are the perfect vegan meal-prep breakfast. I like to make a whole bunch of them before work on Monday and pack em' up to enjoy all week long.
They're also perfect for a delicious Sunday brunch, paired with my infamous Vegan Baked Bean and Potato Breakfast Hash. These two are a match made in heaven.
These Waffles Are Healthy
I remember when I was a teenager I'd get home from school and pop an eggo waffle in the toaster oven. Little did I know these "eggos" were packed with fiberless white flour, sugar and preservatives.
Enter in these Easy WFPB Vegan Waffles and I never feel like I need an eggo again.
The best thing about these easy vegan waffles is that you can truly feel good about eating them. They are whole-foods, plant-based compliant, oil-free, refined sugar free and dairy free. The batter is mainly just banana and whole wheat flour, which turns into delicious fluffy waffle-like goodness! You can also make these waffles gluten free if you simply swap out the whole wheat flour for oat flour.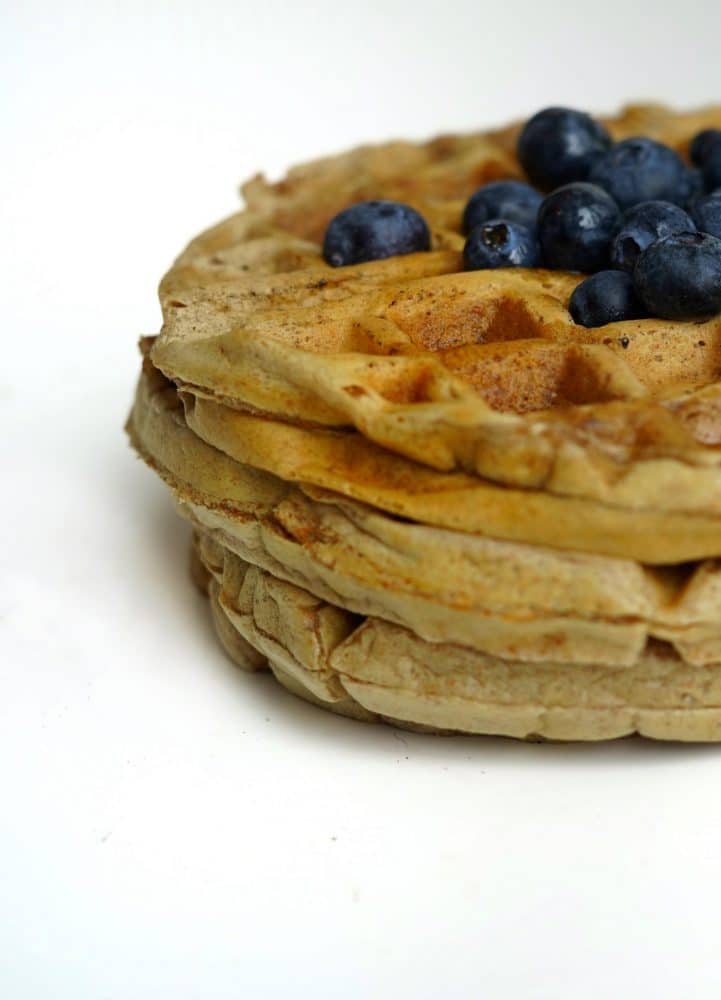 Learn The Meal Prep Way
How about having these delicious waffles for breakfast throughout the workweek? I'm game!
When I make these waffles, I like to double the batch. They are meal prep perfect and can simply be reheated in the microwave throughout the week.
This recipe is one of hundreds that has appeared in my Plant-Based Meal Plan Program, that provides members with weekly meal plans to help them meal prep delicious and healthy food! When you sign up today for just $7.99/month, you get immediate access to our entire database of whole-foods, plant-based menus and over 350 ridiculously easy recipes.
Make Them Your Own
I love to top my waffles with maple syrup and a ton of berries, but you could add peanut butter, almond butter or more bananas. The possibilities are truly endless.
I'm happy to share that this easy batter recipe can also be used for delicious pancakes! Simply follow the instructions below and prepare in a pan instead of a waffle iron.
If you want to make this waffle recipe gluten free, you can simply swap out the whole wheat flour for oat flour. I love making my oat flour at home by simply throwing oats in the blender and combining until smooth.
The Recipe
PRINT RECIPE
Easy Vegan Banana Waffles (WFPB)
Pin Recipe
These easy vegan banana waffles require just five ingredients, and are whole-foods, plant-based compliant, refined sugar free and dairy free.
Ingredients
2

Cups

Whole Wheat Flour

Or Oat Flour

2

Ripe

Bananas

1 3/4

Cup

Almond Milk

2

Tsp

Baking Powder

1.5

Tsp

Baking Soda
Instructions
Preheat your waffle maker. If needed, add some spray oil to prevent the batter from sticking.

Combine all ingredients in a blender until smooth.

Pour 1/4 a cup of the batter into the waffle maker and close for approximately five minutes, until steam starts coming out. Repeat until batter is used up. This will make approximately five waffles.