Pasta With Vegetables Recipe (Vegan, Oil Free)
This Pasta With Vegetables Recipe is a quick and easy vegan weeknight dinner that's ready in 20 minutes or less.
If you're not familiar with me yet, my name's Carleigh and I am positively pasta obsessed. If I had one meal left to eat on this earth, it would undoubtedly be a big heaping bowl of vegan pasta.
Today I present to you one of my all-time favorite penne recipes. This simple Pasta With Vegetables Recipe is one that you can whip up quickly with whatever produce you have lying around in your fridge.
The best part? It's also whole-foods, plant-based compliant, oil-free and completely vegan! Not only will you absolutely love the taste of this easy dish, you can feel good about eating it too.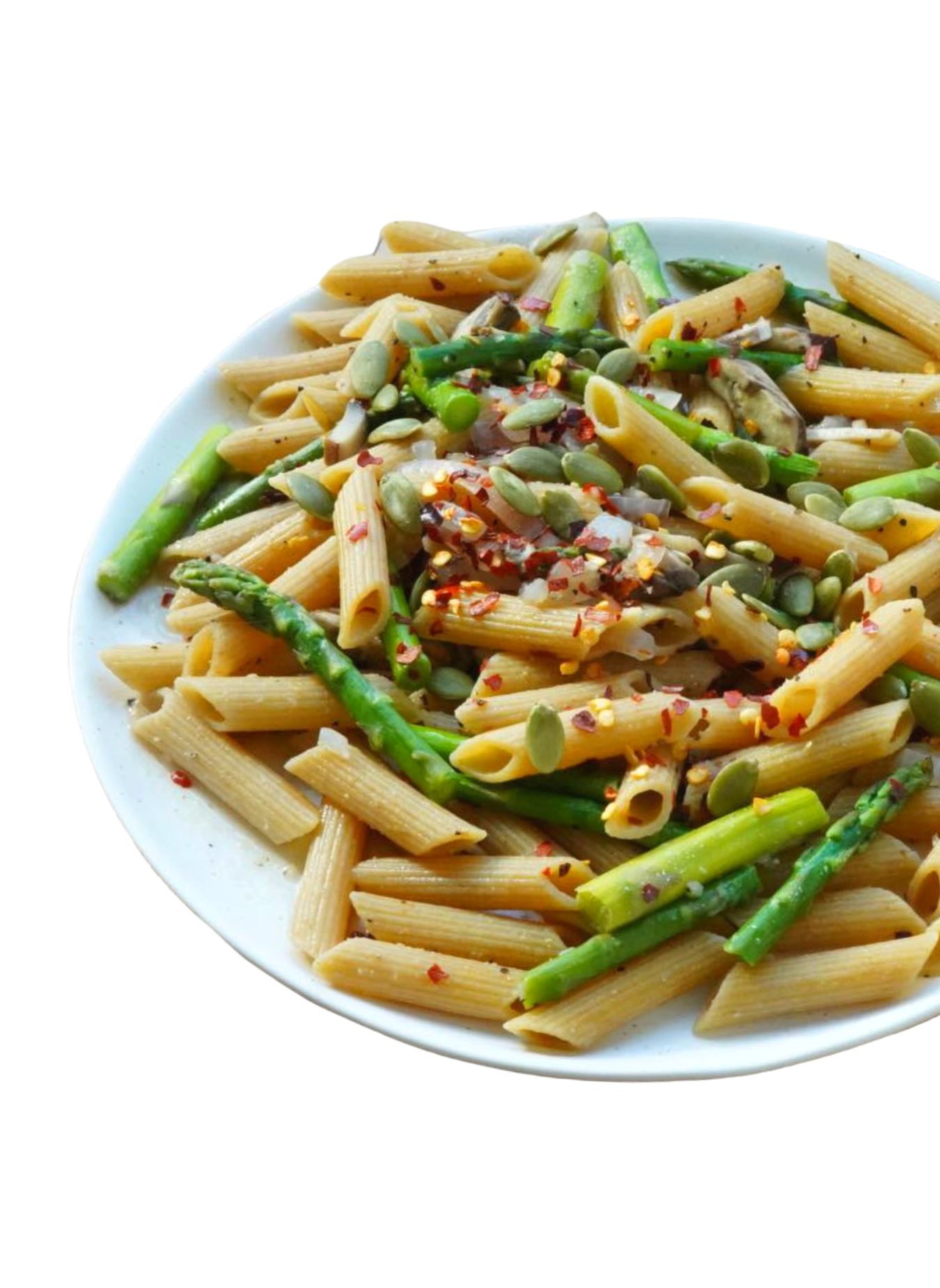 What's In This Pasta With Vegetables Recipe?
This Pasta With Vegetables Recipe utilizes only simple whole-foods, plant-based ingredients you likely already have in your fridge and pantry.
For this easy to throw together recipe, here's exactly what we used:
Vegetable Broth
Fresh Garlic (lots of this)
Dried Basil
Garlic Powder
Whole Wheat Penne Pasta
Asparagus
Mushrooms
Red Onion
Pumpkin Seeds
Freshly cracked salt and pepper
I told you it was easy!
How To Make Vegetable Pasta
To make this vegan penne recipe, you simply need pan fry your vegetables with the broth and minced garlic, adding your spices of garlic powder and dried basil as well.
While the sauce is cooking, you want to simply bring a pot of water to boil, and cook your pasta to al dente. It's important that the pasta is not overcooked because you will be combining it in the pan with the warm sauce afterwards.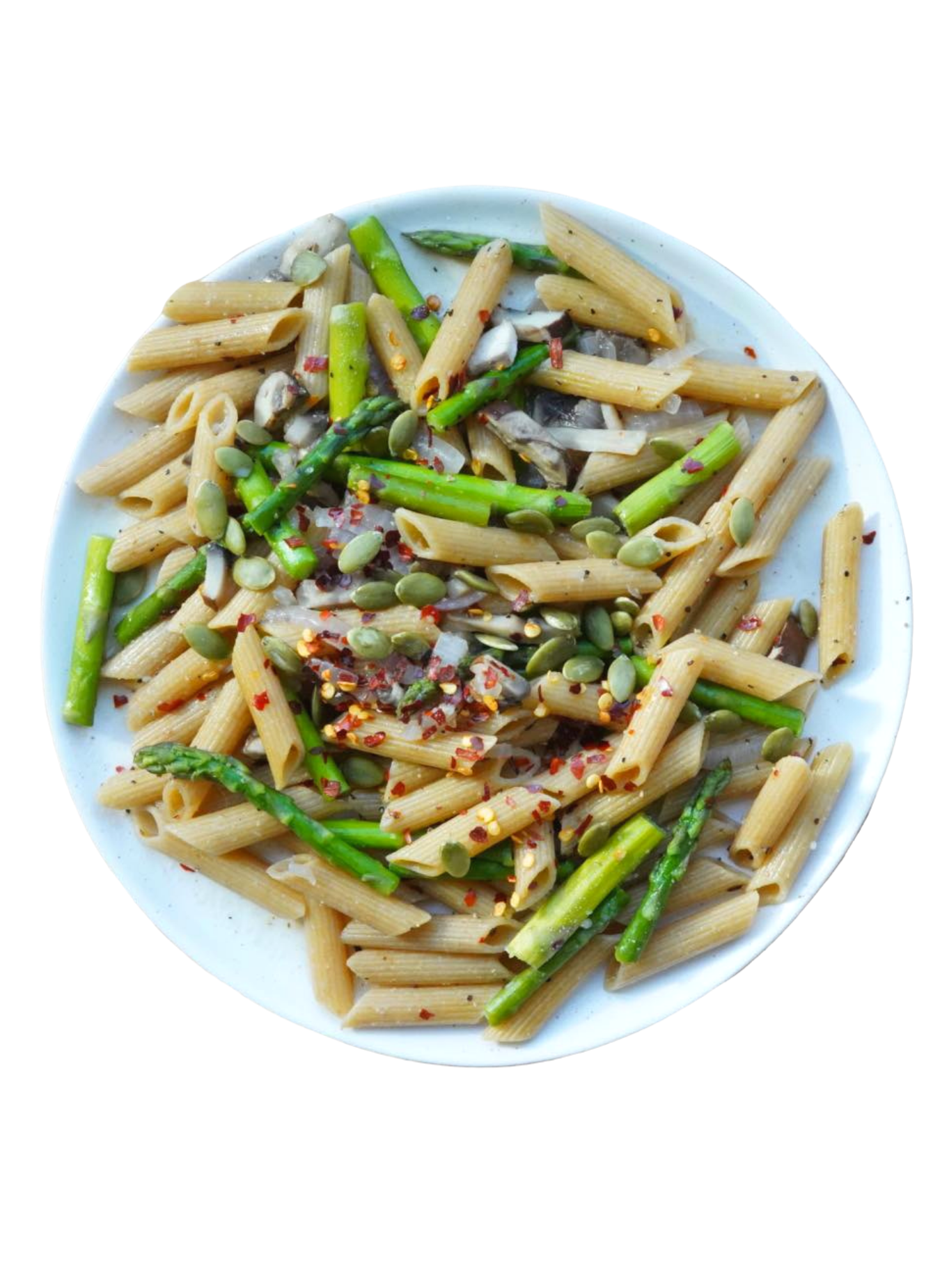 What Vegetables Go Well With this Pasta Recipe?
For this Pasta With Vegetables Recipe we used asparagus, mushrooms and red onion. I love this simple combination of vegetables and find they worked really well with this dish. They also each had similar cooking times, so we were able to just add them to the hot pan at the same time.
This penne recipe would also be great with
Broccoli
Bell Peppers
Marinated Tofu
Cherry Tomatoes
Fresh Basil
Spinach
Eggplant
The possibilities are truly endless! This is the perfect meal if you have a bunch of veggies in your fridge that you don't know what to do with at the end of the week.
If you're looking for some other whole-foods, plant-based (wfpb) compliant pasta recipes, you have to also check out these:
Vegan One Pot Pasta
Easy Green Glowing Pasta Salad
Vegan Hardy Bolognese Sauce With Tons of Hidden Veggies
We think this Veggie Packed Penne would be awesome with our vegan parmesan recipe as well!
How Do You Make The Sauce Taste Good Without Oil?
At Plant You, we try our best to avoid added oil when we can. Yes, that even includes seemingly healthy oils like olive and avocado.
If you're wondering why we cook without oil, we have a full breakdown and guide in this blog post.
When I first started cooking without oil, I was really stuck on how to flavor my food properly. With a little experimentation, I learned that garlic can truly be a powerhouse when it comes to cooking up delicious, fresh tasting and healthy meals.
This along with other kitchen arsenals like vegetable broth, spices and vinegars have become mainstays in our kitchen. I can truly say that oil-free cooking has led me down a path of more intense flavorful food than ever before.
In this specific pasta dish, we utilize the amazing power of garlic and vegetable broth together to create a luscious flavorful buttery sauce! You would have absolutely no idea it's oil free. The best part, the sauce itself is basically calorie free without any added oil.
How Can I Add More Protein To This Pasta?
If you're trying to increase your intake of protein, we would suggest adding chopped up tempeh, tofu or green peas! You would simply just add these to your vegetable sauce to cook down.
A lot of people don't know this, but most pasta actually packs a punch of protein. A single serving of a standard whole wheat pasta actually comes with over 8-grams of protein per serving. That married with the veggies and you've got a delicious fiber and protein rich meal.
How Can I Make This Dish Gluten Free?
To make these easy Pasta With Vegetables Recipe gluten free, it requires just one simple swap. We suggest using brown rice rotini or spaghetti in place of the whole wheat penne!
This works just as well for our gluten free friends.
If you're not a pasta person, you could also serve this dish with rice or even quinoa.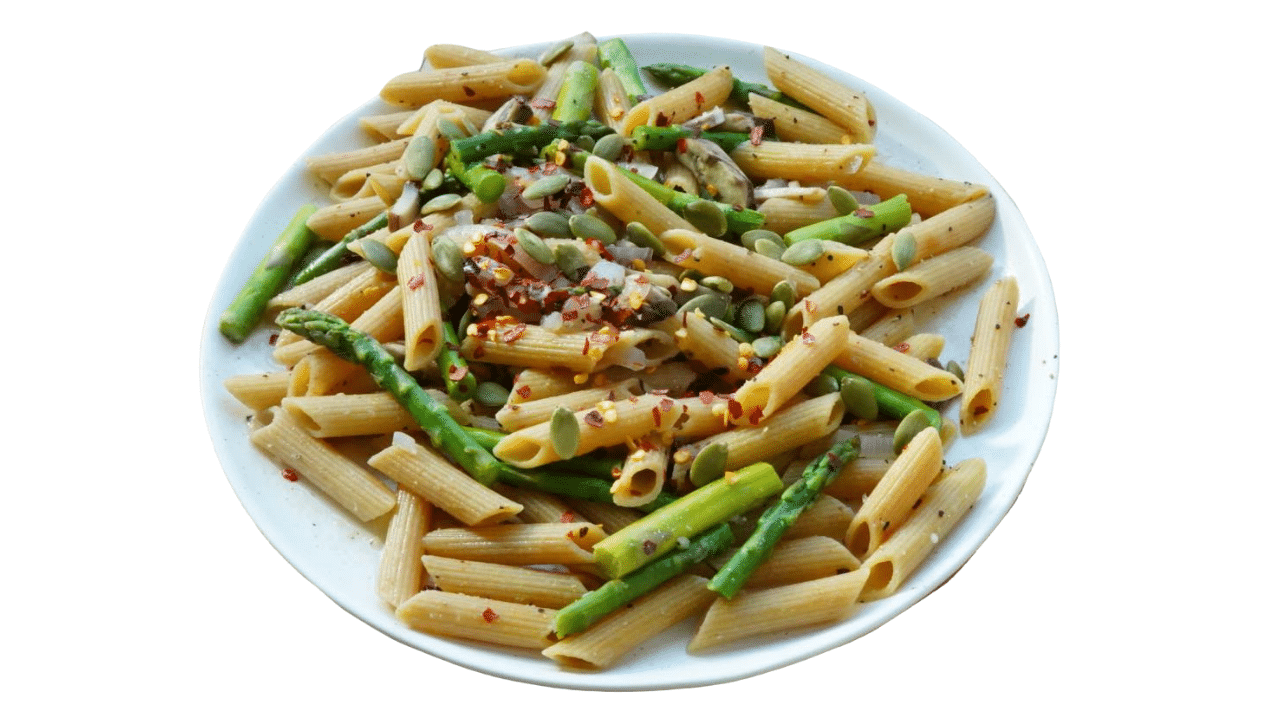 Can I Meal Prep This Recipe?
We're so excited you asked. This pasta recipe is so perfect for meal prep!
Not only can you whip several servings together in less than 20 minutes, it gets even better in the fridge. We have even enjoyed this Pasta With Vegetables Recipe cold like a delicious pasta salad.
If you're looking for more wfpb meal prep ready recipes, definitely check out:
If you haven't heard, we also run a weekly meal prep program where members get access to a done-for-you whole-foods, plant-based, oil-free meal plan every week, as well as a shopping list and caloric information for each recipe. Right now, for just $7.99/month you can get access to our entire past database of over 70 meal plans (at the time of writing this).
If this interests you, you can learn more about the Plant Ahead program here.
PRINT RECIPE
Pasta With Vegetables Recipe
Pin Recipe
A delicious and light Pasta With Vegetables Recipe with a garlic broth reduction, and asparagus, mushroom and onion.
Ingredients
13.5

oz

Whole Wheat Penne

1.5

Cup

Vegetable Broth

5

Cloves

Garlic

Minced

1

Tbsp

Garlic Powder

1/2

Tsp

Salt

1/2

Tsp

Red Chili Flakes

1

Red Onion

1

Bunch

Asparagus

1

Cup

Crimini Mushrooms

4

Tbsp

Pumpkin Seeds
Instructions
Chop your asparagus, mushrooms and red onion. Set aside.

Warm a non-stick pan over medium heat. Add your vegetable broth and five cloves of minced garlic. Then add your vegetables and garlic powder. You are going to cook these vegetables for approximately 8 minutes.

While the vegetables soften, cook your pasta to al dente according to package directions. Save 1/2 cup of the pasta water before you drain, and add it to the vegetables.

Add the cooked vegetables to the sauce, give it a stir and taste. Add salt and pepper as needed. Plate and add pumpkin seeds on top.
Nutrition
Calories:
476
kcal
|
Carbohydrates:
95
g
|
Protein:
15
g
|
Fat:
5
g