The Best Eco-Friendly Meal Prep Containers for 2020
We've been meal prepping for years, and one of the top questions we get asked about is what meal prep containers we love the most.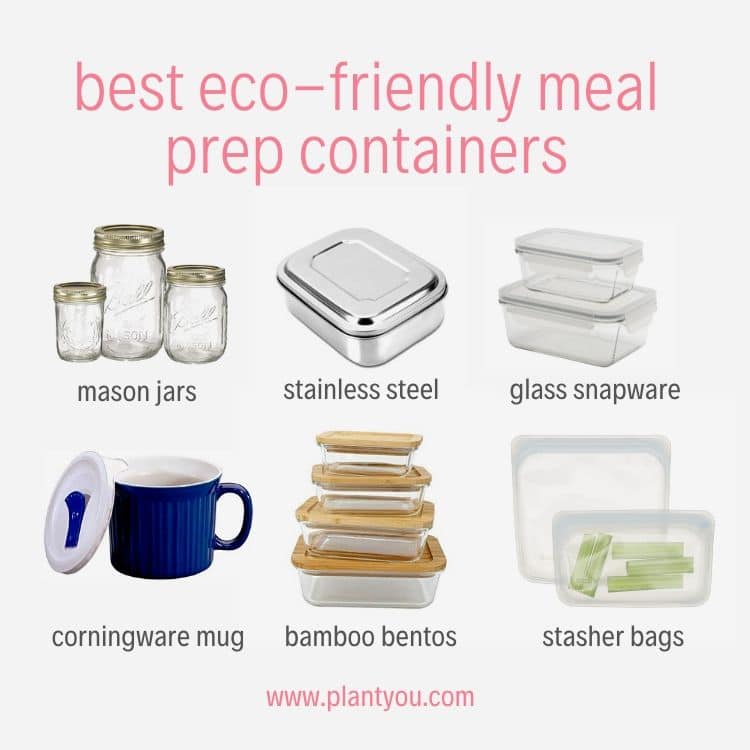 In this post, we breakdown our absolute favorite meal prep containers based on years of prepping delicious plant-powered meals. When choosing meal prep containers, we like to consider three important criteria:
Are they durable?
Are they eco-friendly?
Will they keep your food fresh?
We want you to leave home in the morning in confidence knowing that your plant-powered meals are safe in durable containers that don't leak and keep your food the freshest it can be. 
Last year, Carleigh made the move to swap out all her plastic meal-prep containers for glass and other eco-friendly materials. If you're in the same boat, consider repurposing your plastic containers for things such as jewelry, tools or for plotting plants.
Here's why she made the switch:
Plastic containers could contain potentially harmful chemicals that can leach into your stored food. This is especially true if you microwave your plastic containers.
I've used both glass and plastic for storing my meal preps, and there's no doubt about it, glass keeps food fresher for longer while being a lot easier to clean.
Glass and other options such as stainless steel and bamboo are a lot more durable than plastic containers. I would find plastic would become deformed from a dishwasher cycle, and the lids would no longer fit after a few uses. Some of my glass containers (like simple mason jars!) I've now had for years.
By now, we've all heard about the devastating impact plastic is having on the environment. That's why I decided going forward I was only going to invest in glass containers so that my future purchases won't end up in a landfill.
Alright, let's get down to our absolute favorite containers. Please know, I've included affiliate links from Amazon to direct you to these items that I'm recommending below here.
Snapware – Glass Containers 
This is the exact brand that Carleigh use in her home and swears by them! These glass containers are perfect for storing your meals and keep them staying fresh longer. They come in many shapes and sizes. Therefore, if you have a family, these are also great for batch cooking. 
You can store these in your freezer and toss them into the oven or the microwave. They are overall, a great option! A bonus is that the glass is a better option for our environment.
Metal Bento Box
These stainless steel bento boxes are perfect for school/work or to store snack items for lunches. We preferable like the stackable bento boxes to be able to store a snack with a main meal. This is one of the most environmentally friendly options for storing your food.
Bamboo Containers 

We also love the idea of bamboo meal prep containers and believe it is an excellent option for keeping food fresh because of the glass interior. This container includes a plastic-free lid which is made entirely from bamboo. These bamboo lids can also double as a cutting board which can come in handy at times if it's ever needed. I think that the Bamboo containers also have a pleasing aesthetic!  
Jars

We love mason jars around here. You can store so many things in them. Personally, this is my preferred option for jams, smoothies, oatmeal, salads, sauces and dressings! Mason jars are highly used in my household and keep everything tightly sealed thereby; I don't have to worry about leaks. I've tried other liquid containers, but none measure up. I have not been impressed to keep any of the others in my kitchen storage cupboard. I've always ended up using mason jars instead. So I seriously recommend stocking up on these because they are indeed a reliable jar. 
Corningware Soup Mugs

If you've been following Plant You for awhile now, you know we have a complete obsession with soups! These Corningware mugs that come with a vented lid are absolutely perfect for lugging soup, stews and chilis back and forth to work with you. The lids have a ventilation system so you can pop them in the microwave without worrying about spillage (been there). Better yet – the lids seal so perfectly on these mugs that you never have to be concerned about leakage.
Stasher Bags – Reusable Bags

These bags are truly one of a kind and come in many sizes from snack, sandwich, stand up and ½ litre. These silicone bags are 100% reusable, and they save you from buying storage freezer bags or single-use plastic bags for snacks each workweek. These bags are rockstars and keep in your favourite flavours. Taste is never lacking when I use one of these stasher bags. 
By considering these options, I believe you'll be set up for success!
I'd love to know if you have any go-to containers or meal prep hacks when it comes to food storage. As always, we'd love to hear back from you with regards to any related ideas or feedback. Thank you.
Please note that this article: Includes amazon affiliate links.