Vegan Oil-Free Herb & Garlic Cashew Cream Cheese (Five Minutes)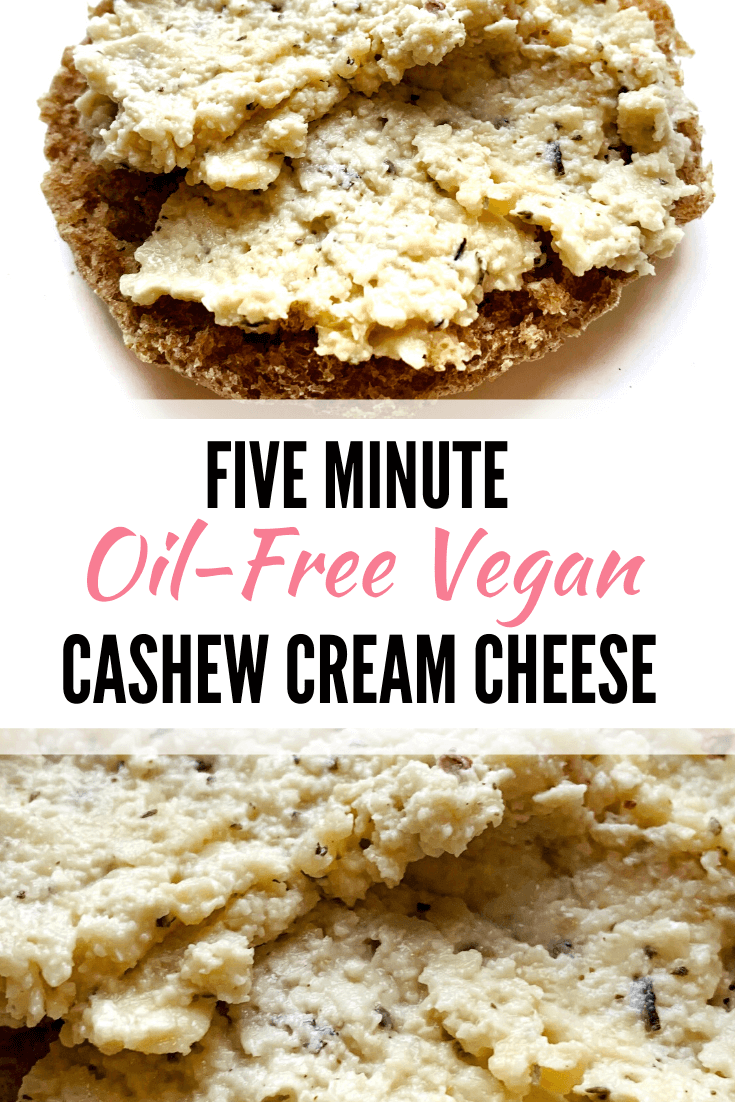 This vegan oil-free herb & garlic cashew cream cheese takes just five minutes to make and is the BOMB.com. You will want to put this vegan cream cheese on just about everything (I particularly love it slathered on bagels or in a vegan lasagna).
For this recipe, you will want to soak your cashews overnight, or boil them for 20 minutes to soften. This makes things a bit easier for your blender, and will result in a creamier 'cheese' consistency.
One of the questions I get asked most often on Instagram is how on earth to give up cheese when transitioning to a plant-based diet. I also found this to be one of the most difficult foods to part with. With that said, simple and healthful recipes like this oil-free cashew cream cheese make it a lot easier! The other thing I find amazing about vegan 'nut' cheeses is that you don't have that achey or bloated feeling in your stomach after eating it like dairy often causes.
You can read more about why I choose to avoid oil in my plant-based lifestyle here.
Ideas For Vegan Cashew Cream Cheese
Like I said, you can put this cashew cream cheese on just about everything, but here are a few of my favorite ideas:
On a pizza like dollops of mozzarella
In a veggie wrap for more flavor
Slathered on a bagel or english muffin
On top of soup
On a mashed or baked potato
The possibilities are truly endless! 
Plant-Powered Meal Plans
Do you love fuss-free, simple vegan recipes that are both oil-free and based completely around whole, plant-based foods? If you answered "yes", you should really consider joining Plant Ahead. This is my members only club where subscribers receive a brand new simple to follow vegan meal prep plan every single week. With each meal plan there is an itemized shopping list and the calorie, fat, protein and carb content with every recipe.
When you sign up for just $7.99/month (with the ability to cancel anytime), you get access to my entire database of past whole-foods, plant-based meal plans. Right now, I have over 45 meal plans and two free ebooks in the members only portal. Included are hundreds of easy to follow plant-based recipes perfect for beginners. This is insane value for a very low price!
[maxbutton id="2″ ]
Members say the plans help them stay on track with their plant-based lifestyle and save a ton of money on their groceries by finally sticking to whole-foods. Let us help you embrace an easy plant-based lifestyle today.
The Cream Cheese
I really hope you enjoy our simple herb & garlic cashew cream cheese recipe. If you try it and like it, please leave a review using the stars below!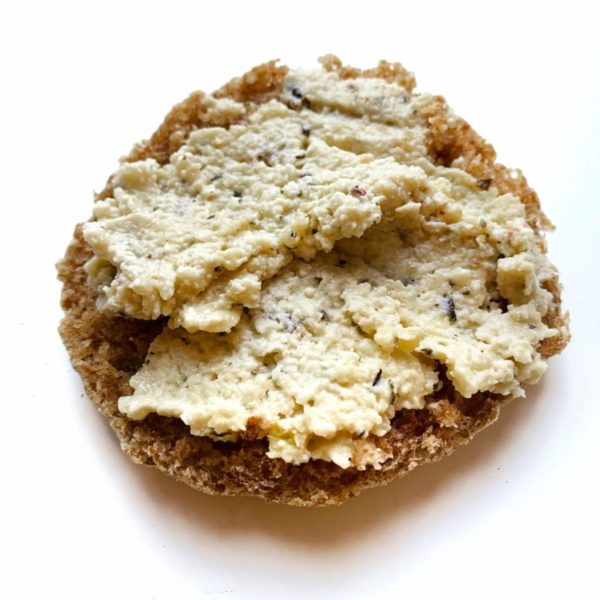 The Recipe: Vegan Herb & Garlic Cashew Cream Cheese (Oil-Free, Whole-Foods, Plant-Based)
A simple and delicious five minute vegan cream cheese that can be used on everything!
Ingredients
1 Cup Cashews, Soaked
1 Tsp Lemon Juice
1 Tsp Apple Cider Vinegar
¼ Tsp Sea Salt
2 Cloves Garlic
½ Tsp Dried Basil
¼ Tsp Dried Dill
Equipment
High Speed Blender or Food Processor
Instructions
Soak your cashews overnight or boil them in water for 20 minutes to soften.

Add all ingredients to a high speed blender or food processor and combine until smooth, scraping down the sides and pulsing as needed to get a creamy consistency.