Vegan Pizza Cheese (Oil Free, Whole-Food, Plant Based)
Breaking up with cheese is often quoted as the most difficult part about transitioning to a whole-foods, plant-based diet (#wfpb).
That's why I'm so excited to present you with this simple, 7 ingredient recipe for vegan mozzarella! This easy vegan cheese recipe is not only easy to make, but is super versatile. You can use it for pizza, a dip, and even to bathe in (jk…).
It's also vegan, gluten free, whole-food, plant-based and oil free! What's not to love?!
Do you want to transition to a Whole-Foods, Plant-Based Diet, but don't know where to start?
We actually make a plant-based approach to eating ridiculously simple with the Plant Ahead Program.
Right now, you can get your hands on hundreds of whole-foods, plant-based recipes specifically designed for BUSY people who LOVE tasty food! Every recipe in the program is vegan, added oil free and includes gluten free and nut free alternatives when needed.
Members receive a brand new whole-foods, plant-based meal plan in their inbox every single week, along with an itemized shopping list and 7 new recipes with macros. You get access to all past meal plans as soon as you sign up.
The Plant Ahead Program is just $7.99/month, with the ability to cancel at ANYTIME. What are you waiting for. Sign up here.
[maxbutton id="1″ ]
Back to the Cheese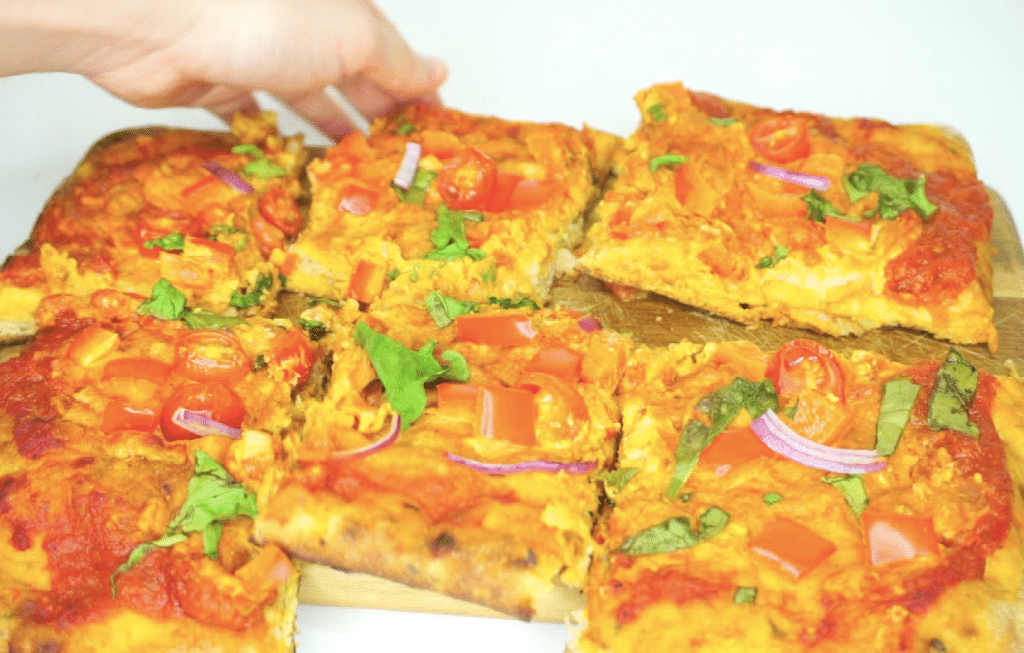 Oh vegan mozzarella cheese. Where have you been all my life?

I won't make you wait any longer. Here's the easy delicious recipe!
The Recipe: Vegan Pizza Cheese
This vegan pizza cheese is creamy, easy and delicious! Also oil-free and whole-foods, plant-based compliant.
Ingredients
1 cup cashews, raw, soaked if you don't have a high speed blender
½ cup water, more as needed if not soaked
1 tbsp minced garlic
1 tsp lemon juice
½ tsp sea salt
1 tsp nutritional yeast
1 tbsp paprika
Instructions
If you don't own a high speed blender, soak your raw cashews overnight and then drain so that they are soft for blending.

Throw all your ingredients in a blender and combine until smooth. Taste and add more salt or seasonings as needed. Enjoy as a dip or use on a pizza as cheese!