Creamy One Pot Green Pasta
I'm back with another quick recipe, and this one is NEXT LEVEL! You'll be eating this creamy one pot green pasta for weeks to come.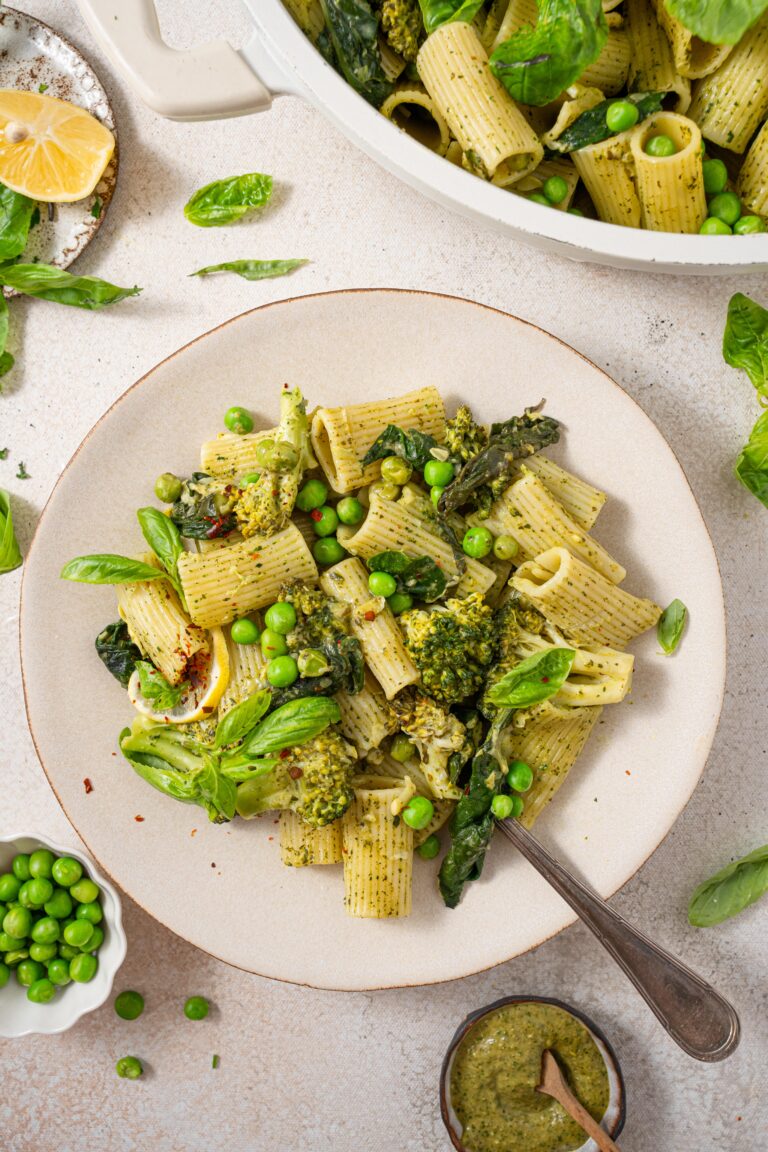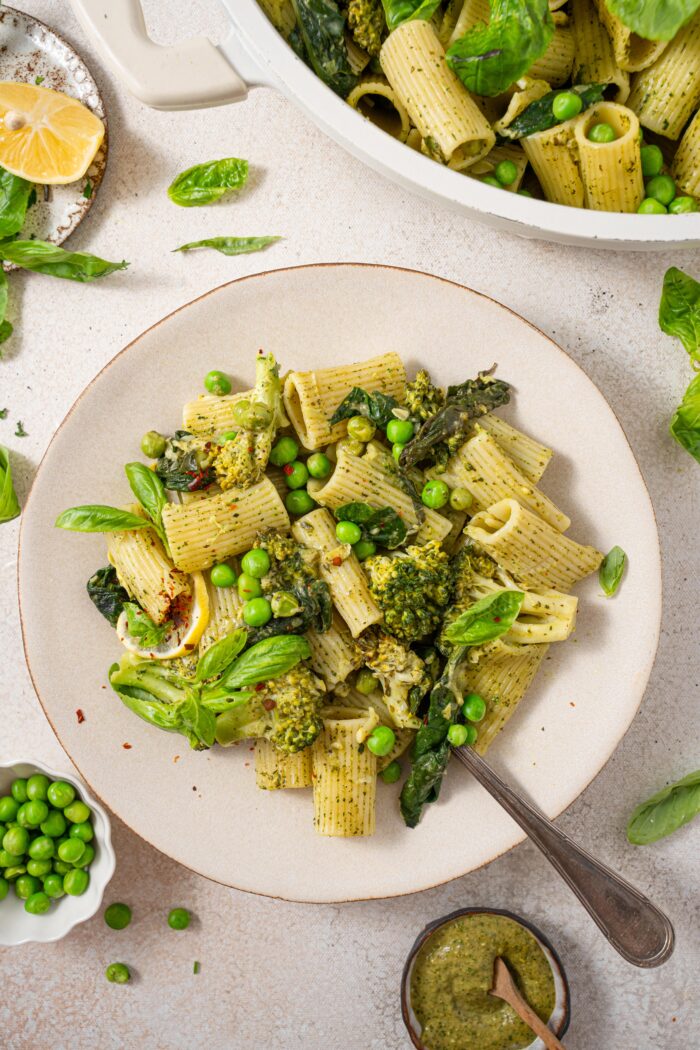 Pssst… Have you preordered your copy of the Scrappy Cookbook yet? Among the amazing 150+ vegan recipes in my new cookbook are dishes for every occasion!
With the Scrappy Cookbook, you'll discover new ways to utilize your veggies and plan your meals around the ingredients you already have. Plus, if you PREORDER NOW, you get access to $120 worth of FREE CONTENT aimed at reducing waste and organizing your kitchen!
The book is due to release in April 2024, but don't worry! In the meantime, you can cozy up with this creamy one pot green pasta.
Why You'll Love This Recipe
I'm not a big fan of washing dishes… And I am yet to meet someone who loves it! This is where one-pot and one-pan recipes like this pasta come in handy.
Just like the rest of the recipes in the Quickies category, this is an efficient and nutritious dinner you can enjoy in less than 20 minutes! Perfect for busy people and reluctant cooks.
In spite of its quick and simple nature, this creamy one pot green pasta contains five different vegetables, and I am not even including the pesto, coconut milk, or lemon juice.
I don't know what it is, but no matter how indulgent the recipe is… If it's green, it's healthy, right? With this pasta dish, it's not even a hypothetical. It's made with whole foods and full of nutrients!
This creamy one pot green pasta is so easy to make, it is perfect for beginners and young cooks. If you're teaching your kids to cook, this is a great place to start.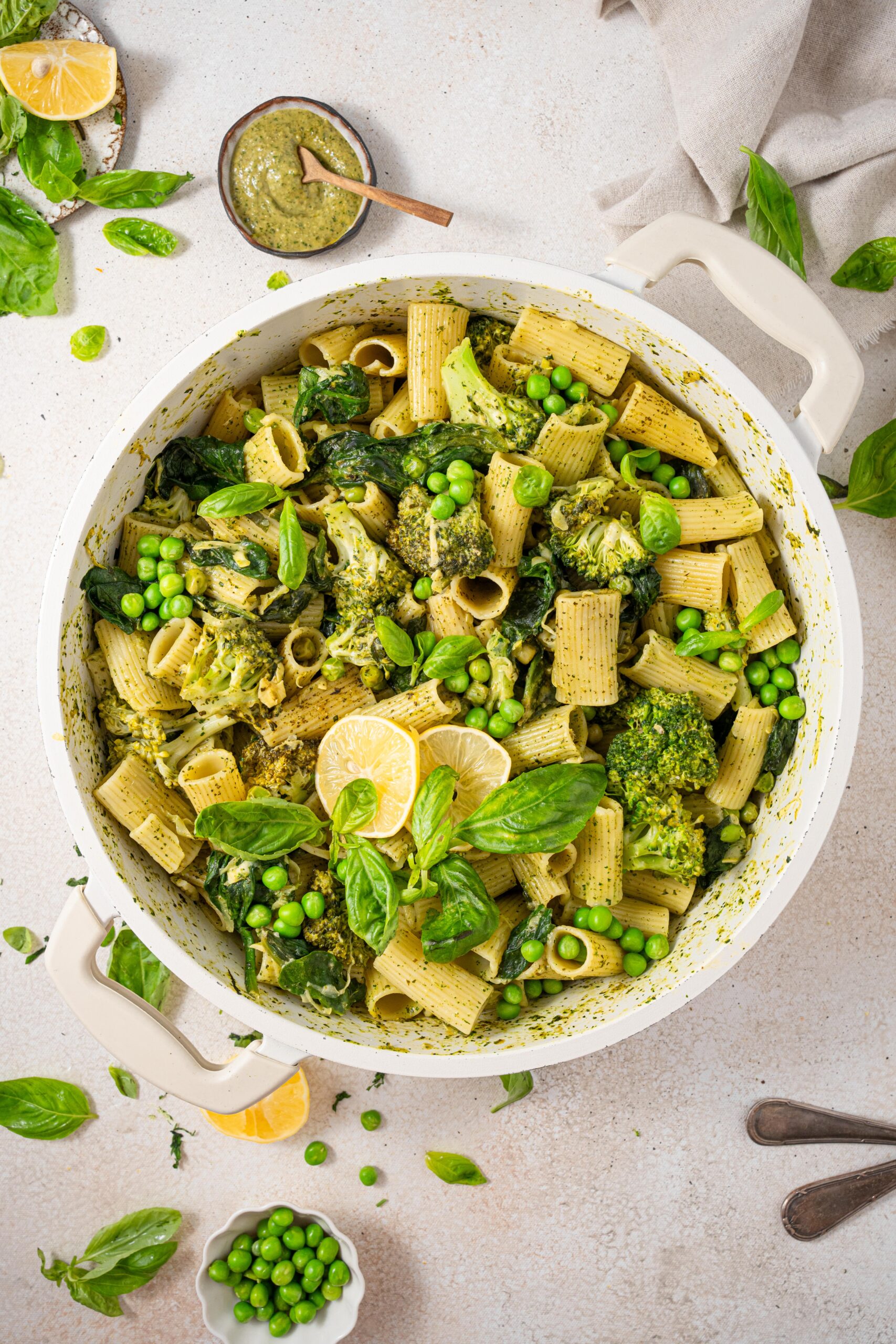 Why I Love One Pot Wonders
One-pot and one-pan recipes offer several advantages that make them popular choices for home cooking:
Simplicity and Efficiency. One-pot and one-pan recipes streamline the cooking process. They require minimal preparation, cutting down on both time spent in the kitchen and the number of dishes to wash afterward.
Convenience. These recipes are convenient for busy individuals or families. They're great for weeknight dinners when time and energy are limited, providing a quick and hassle-free way to prepare a complete meal.
Versatility. One-pot and one-pan recipes are highly adaptable. You can experiment with different ingredients, spices, and seasonings to suit your tastes or accommodate dietary preferences and restrictions.
Flavorful Results. Cooking various ingredients together in one pot or pan allows them to intermingle and infuse each other with flavors. This often results in a more complex and delicious final dish.
Nutrient Retention. One-pot and one-pan cooking methods can help retain more nutrients in the food. Since there is less water involved, fewer water-soluble vitamins and minerals leach out during the cooking process.
Economical. One-pot and one-pan recipes often use ingredients that are readily available and budget-friendly. This makes them a cost-effective option for feeding a family or a larger group.
In summary, one-pot and one-pan recipes are a practical and efficient way to prepare delicious, balanced meals with minimal fuss and cleanup. Their versatility and convenience make them a favorite for home cooks looking for convenient, flavorful, and nutritious dishes.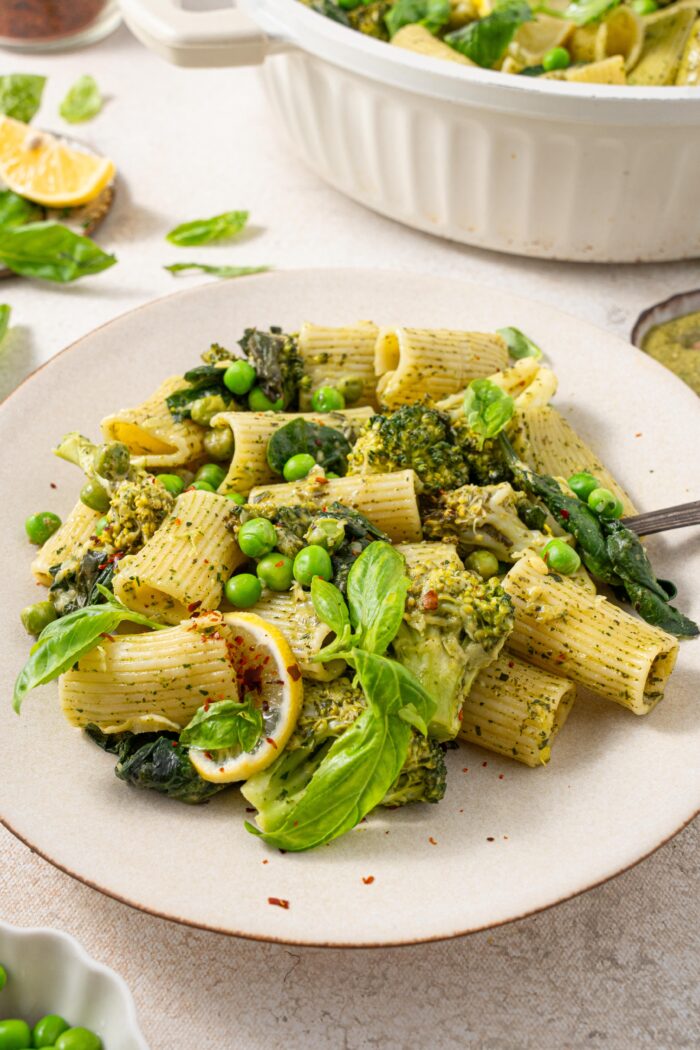 Green Pasta Inspiration
This creamy one pot green pasta is not trying to replicate a specific traiditional recipe. However, it is loosely using various Italian and Italian-American as inspiration.
There are many pasta recipes that incorporate green vegetables and pesto, including:
Pesto Genovese. Originating from Genoa in Northern Italy, Pesto Genovese is a classic green pasta sauce made with fresh basil, garlic, pine nuts, Parmesan cheese, and olive oil. It typically features pasta like trofie or linguine.
Broccoli Cavatelli. This Southern Italian dish features cavatelli pasta served with sautéed broccoli rabe, garlic, and chili flakes. It's a hearty and flavorful green pasta option.
Creamed Spinach Alfredo Pasta. A variation of Alfredo sauce includes puréed spinach, creating a creamy, vibrant green sauce that's often served with fettuccine or penne pasta.
Broccoli and Garlic Spaghetti. Sautéed broccoli florets and garlic are combined with spaghetti and olive oil, creating a simple yet flavorful green pasta dish.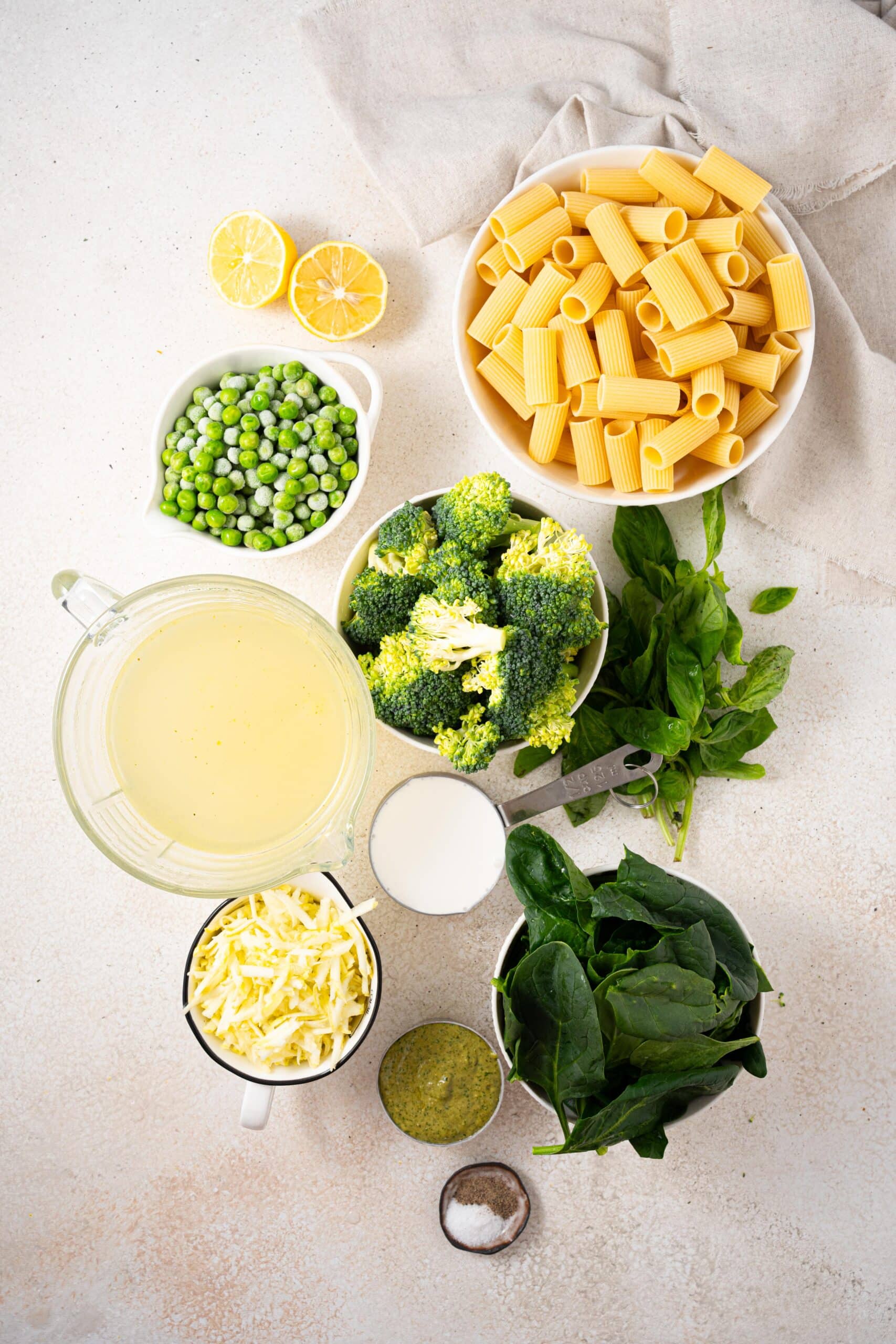 How to Make This Recipe
In a large pot, bring the vegetable broth to a boil and add the rigatoni. You can add the pasta together with a broth, just be mindful that it might stick together.
Then, lower the heat to medium-low and let the pasta cook for 5 to 8 minutes. This isn't quite al dente, just until the pasta is halfway done. There should still be some broth left in the saucepan.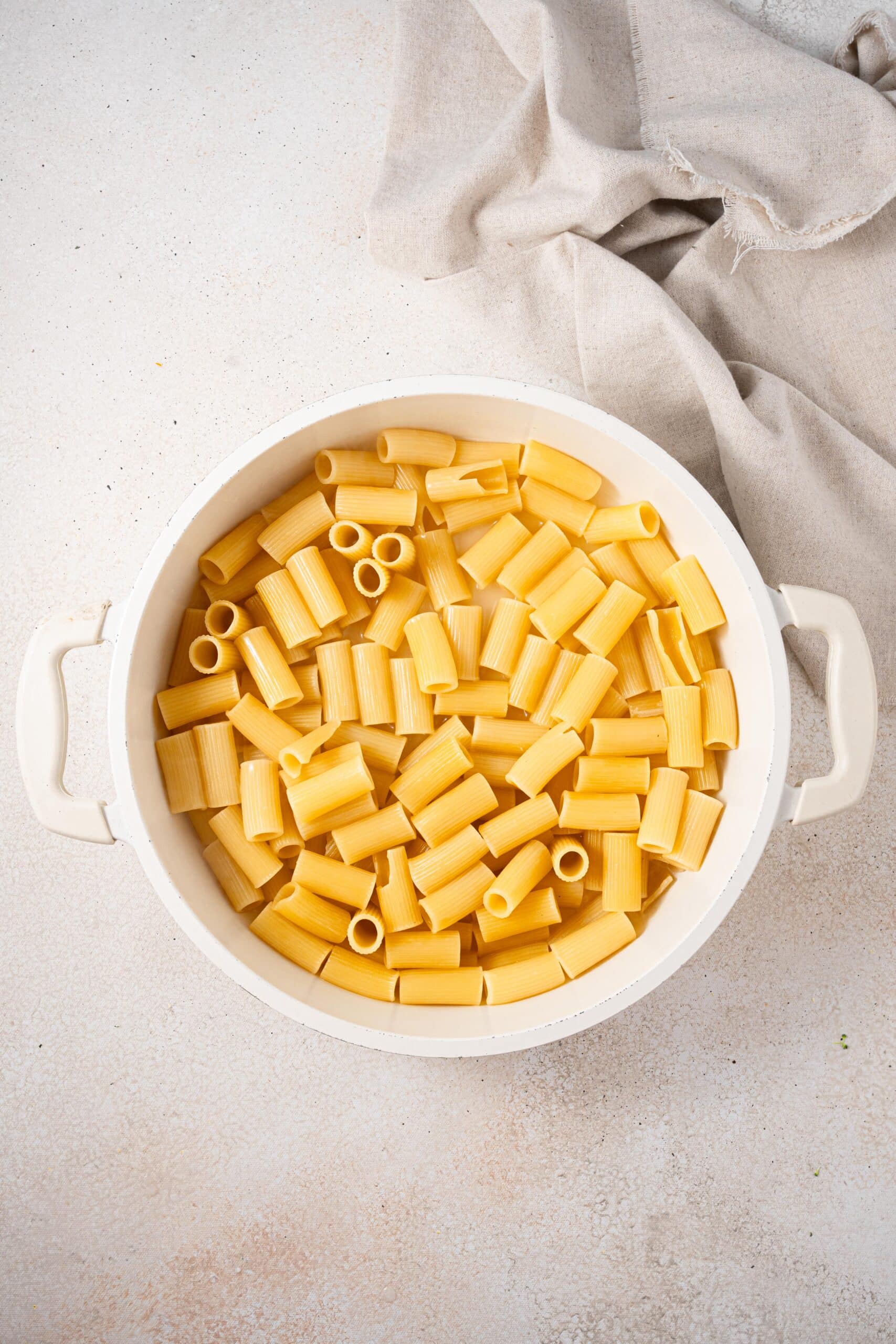 Next, add broccoli, peas, spinach, basil, zucchini, coconut milk, and pesto. Cover the pot with a lid and let the dish simmer for 8 more minutes until you have a creamy green pasta dish.
You're done! Split into servings and enjoy immediately.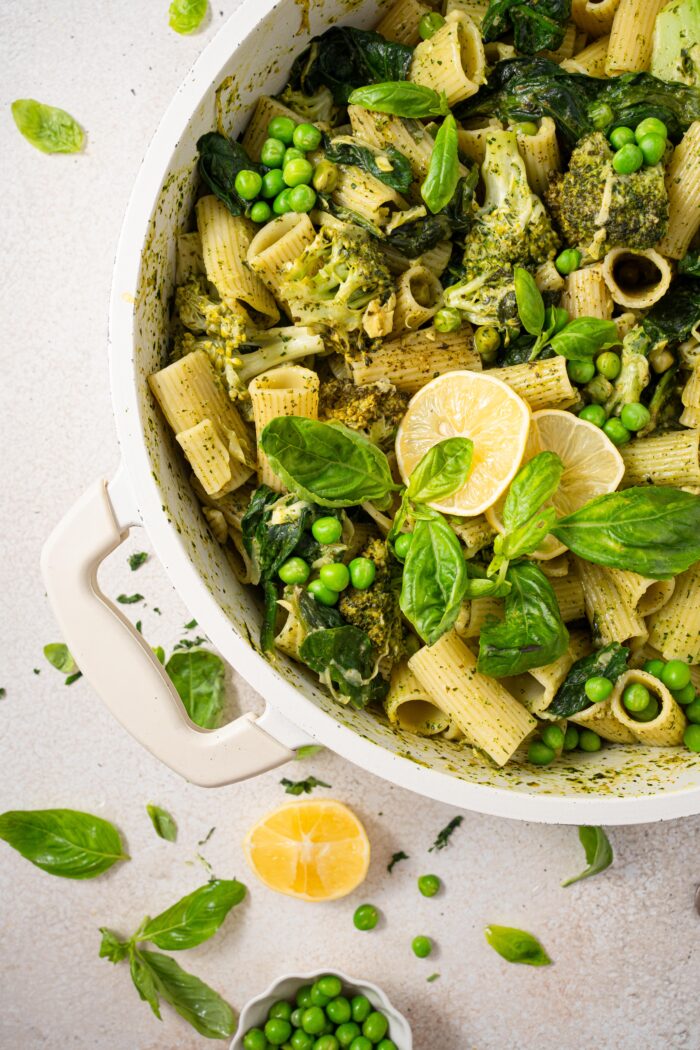 Hack It!
This is a great meal prep option. Store it in the fridge for up to 3 days and reheat thoroughly before eating.
Some people find the flavor of coconut milk quite overpowering. If you prefer, you could replace it with cashew cream or store-bought vegan cream.
This recipe works just as well with gluten-free pasta. However, the cooking time may vary depending on the type of pasta you use. Check the packaging for guidance and be sure to taste test.
I always encourage creative use of ingredients, as well as swaps based on allergies, preference, and accessibility. You can easily make this recipe with other green veggies, like broccolini, kale, or green beans.
Homemade Vegan Pesto
I am quite lucky to have access to vegan pesto in local stores. Still, I like to make homemade pesto whenever I can.
The best part about homemade vegan pesto is that it usually only takes five minutes and a good food processor.
Ingredients
2 cups fresh basil leaves, packed
1/2 cup pine nuts
3 cloves garlic
1/2 cup nutritional yeast
1/2 cup extra virgin olive oil
Juice of 1 lemon
Salt and pepper to taste
Simple add the ingredients into a blender or food processor and blitz until you get a consistent texture.
Swaps and Variations
There are so many ways to customize your vegan pesto! Yet another reason to make it at home.
Swap pine nuts for cheaper nuts like walnuts or cashews.
If you're allergic to nuts, use sunflower seeds.
You can add other greens in addition to (or instead of) basil. Try adding carrot tops, spinach, arugula, or sorrel.
You may need to add a small amount of water to help the blending process.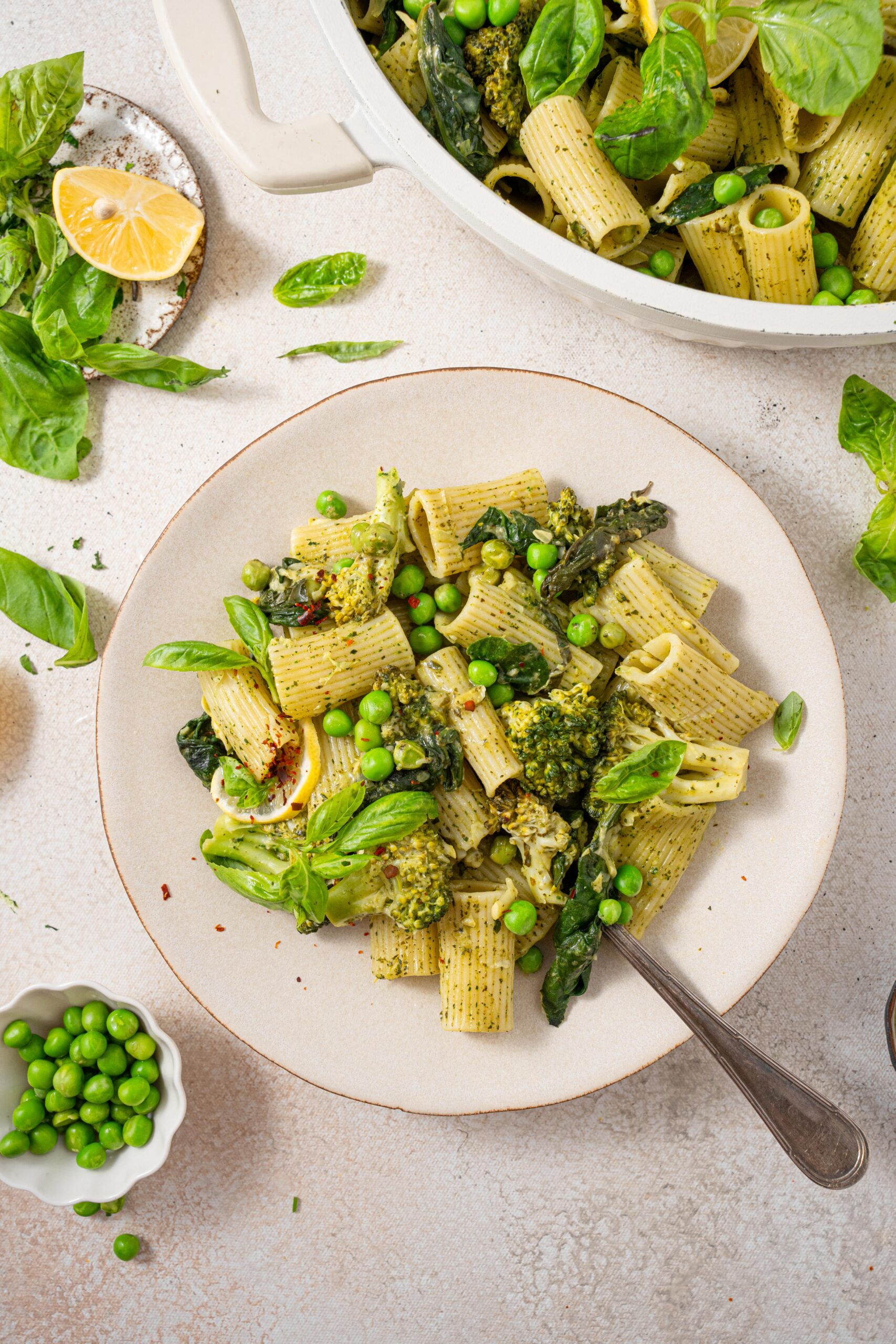 Other Recipes You'll Love
In addition to the excitement of my upcoming cookbook, I have collaborated with an amazing women-led business to bring you an all-in-one supplement. Complement x PlantYou Essential is a fine-tuned multinutrient for plant-based and plant-centered eaters, and it's available as a subscription!
And if you want a steady stream of delicious, beginner-friendly recipes that can be organized into a custom meal plan, run not walk to sign up for PlantYou Planner app! It has a database of OVER 600 WFPB recipes, an interactive meal planning feature, and a shopping list based on your recipe selection. Still not sure? Try out the FREE version of the app, which gives you access to 25+ vegan recipes and the Vegan Beginner Meal Plan.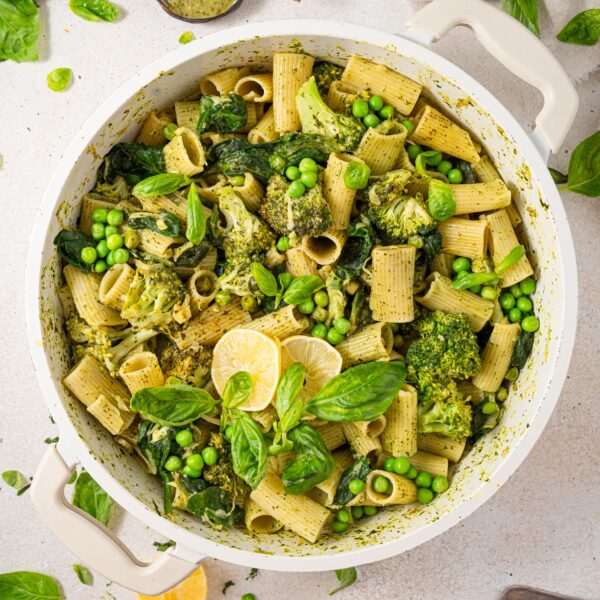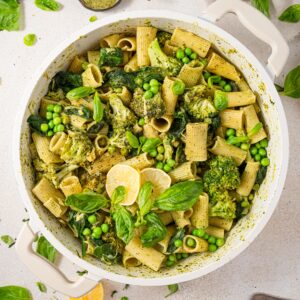 The Recipe: Creamy One Pot Green Pasta
A delicious one-pot wonder recipe featuring several green veggies, pesto, and rigatoni.
Ingredients
400 gram rigatoni, one pack
3¾ cups vegetable broth, homemade or store-bought
1½ cups broccoli, chopped
1 cup frozen peas
1 handful spinach
1 handful basil leaves, chopped
1 cup zucchini, grated
⅓ cup vegan pesto
½ cup full fat coconut milk
1 lemon, juiced
salt and pepper, to taste
Equipment
Food Processor if making homemade pesto

Large Saucepan

Box Grater
Instructions
Add the pasta to a large saucepan and pour over the vegetable broth. Bring to a boil over high heat, and then lower to medium-low and simmer for 5 to 8 minutes, until the pasta has absorbed some of the water and is half cooked. 

Add the vegetables, coconut milk, and pesto. Cover, and cook for an additional 8 minutes, until the pasta is cooked and the sauce is creamy. 

Divide between bowls and enjoy immediately. Store in the fridge for up to 3 days. 
Calories: 573.2kcal, Carbohydrates: 91.1g, Protein: 18.4g, Fat: 15.7g, Saturated Fat: 7g, Polyunsaturated Fat: 0.8g, Monounsaturated Fat: 0.5g, Cholesterol: 1.7mg, Sodium: 1105.8mg, Potassium: 639.4mg, Fiber: 7.7g, Sugar: 9.3g, Vitamin A: 2166.4IU, Vitamin C: 66.3mg, Calcium: 104.2mg, Iron: 3.6mg