Creamy Vegan Tomato Soup With Coconut Milk
This Creamy Vegan Tomato Soup With Coconut Milk is warming, satisfying and bursting with flavour.
Did your mom ever make you a big hot bowl of tomato soup after school? Mine too.
It was the classic Campbell's tomato soup from a can. She'd add milk, cheddar cheese, butter and whatever other secret ingredients moms use to make all food taste delicious. Mmm…
After I said goodbye to dairy and became more health conscious, I was left with a big tomato sized void in my recipe book. Canned tomato soup with water just doesn't cut it – trust me on this one.
[embedyt] https://www.youtube.com/watch?v=yQtnTnC4P_0[/embedyt]
That's when Google and the food blogger universe came to the rescue. I discovered some plant-based ways to thicken and give a creamy illusion to soups.
What's In Creamy Vegan Tomato Soup?
The secret ingredient in this Easy Creamy Tomato Soup: COCONUT MILK!
Coconut milk adds a velvety texture with a hint of Thai flare in every spoonful. Mixed with flavours of sweet basil and roasted red pepper and garlic… We've really got a winner.
The other ingredients you need for this Creamy Vegan Tomato Soup recipe include:
Onion
Red Bell Pepper
Crushed Tomatoes
Vegetable Broth
Basil Paste
Tomato Paste
Chili Flakes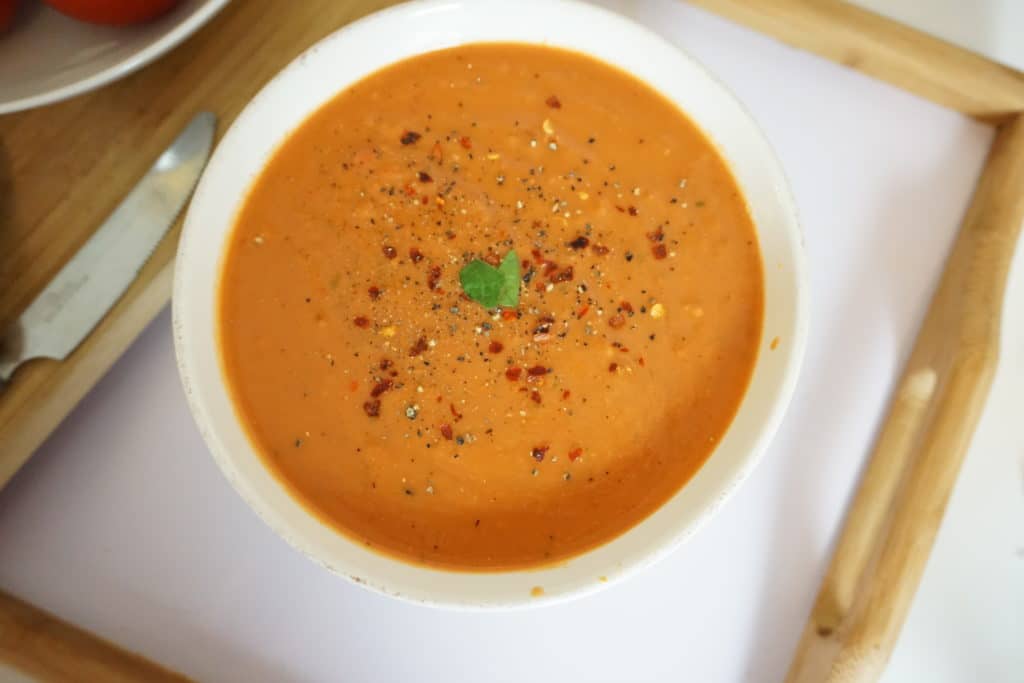 This soup hits all the marks on creaminess, taste, texture and flavour. It's tempting to compare it to a bisque because it's just that thick and creamy (is your mouth watering yet?!)
Even better it's a seriously healthy soup. It fits into the categories of Whole Food/Plant-Based, Vegan, Dairy-Free, Refined Sugar Free AND Paleo. No oil, no dairy, and absolutely packed with nutrients featuring onion, red pepper, garlic, tomatoes and basil.
If you're going to try any recipe on my website, I urge you to try out this Easy Creamy Tomato Basil Soup. In my boyfriend's words "It's the best da*n soup I've ever had!"
This Creamy Vegan Tomato Soup With Coconut Milk Is A One Pot Recipe
I have a bit of an obsession with healthy whole-food, plant-based meals that require little to no dishes and cleanup.
This Creamy Vegan Tomato Soup hits the mark, requiring just one pot and immersion blender, or countertop blender.
It's basically one of those recipes where you add all the ingredients to a pot, let it simmer, then blend. What could be better?!
Can You Use Fresh Tomatoes For This Recipe?
I've got some great news! If you have access to fresh vine ripened tomatoes, you can absolutely use them for this tomato soup recipe. All you have to do is make sure you have about 2 cups of freshly chopped tomatoes. Add them to the pot along with your onion and garlic at the beginning of the recipe to allow them to soften, and you're good to go!
Do You Have To Use Coconut Milk In This Recipe?
If you don't have access to coconut milk, or simply don't like the taste, you can swap it out for basically any vegan milk.
We'd suggest soy milk or unsweetened almond milk as the generally have the most neutral flavor of the vegan milks.
Plant Powered Meal Plans
If you like this simple, delicious and balanced whole-foods, plant-based, oil-free recipe, you will LOVE being a member of my program, Plant Ahead! Plant Ahead provides members with a brand new meal plan, shopping list and step by step instructions in their inbox each week. The recipes are simple (like this tomato soup), and ridiculously delicious.
Get signed up here: plantyou.com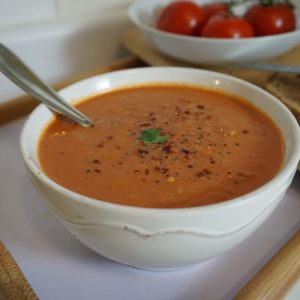 The Recipe: Vegan Creamy Tomato Soup With Coconut Milk
A vegan take on a classic bowl of creamy tomato basil soup. Vegan and gluten free!
Ingredients
1 Chopped Onion
1 Chopped Red Pepper
1 tbsp Minced Garlic
1 28-ounce can Crushed Tomatoes
1.5 Cups Vegetable Broth
1 Cup Coconut Milk
2 Tbsp Basil Paste
1 Tbsp Tomato Paste
1 Tbsp Chili Flakes
Instructions
In a Dutch oven or soup pot add the onion, red pepper and garlic. Saute for between 1-2 minutes.

Mix in the remaining ingredients, and simmer for 5 to 10 minutes to allow the flavours to meld.

Use an immersion blender or pour the soup mixture into a blender and puree to your desired texture.

Serve hot and enjoy!
[embedyt] https://www.youtube.com/watch?v=yQtnTnC4P_0[/embedyt]