Homemade Vegan Cheese Recipe (Sliceable and Grateable)
This homemade vegan cheese recipe is both allergen-friendly and cost-effective. Plus, it's SUPER EASY to make!
The way I see, the purpose of store-bought and homemade vegan cheeses is not to perfectly replicate the flavor. Instead, the goal is to fulfil a similar function in the context of a specific dish.
For example, this homemade vegan cheese recipe can serve as a creamy cheese spread or a firm block you can slice for sandwiches. Whereas if you wanted queso for your nachos or mozzarella for salad, you would use a completely different method.
Why You'll Love This Recipe
I'll be the first one to admit that most vegan cheese doesn't actually taste anything like dairy cheese. But who said that it had to? This plant-based alternative tastes delicious in its own right!
I am not kidding when I say that it's easy to make! This homemade vegan cheese recipe requires minimal prep and minimal equipment.
Many vegan cheese recipes call for cashews to create the creamy texture, which excludes anyone with a nut allergy. This recipe, however, uses sunflower seeds as an allergen-friendly vegan cheese.
Think of this recipe as a blank canvas. Depending on your preference, you can add additional seasonings to make the vegan cheese of your dreams!
How to Make This Recipe
First, boil the raw sunflower seeds in some water for 15 minutes. This will help them blend into a smooth mixture.
Add sunflowers, water, lemon juice, garlic, nutritional yeast, paprika, tahini, miso, and coconut oil to a blender. If the latter is quite hard, melt it before adding it to the blender.
Blend everything together until you have a smooth, creamy, savoury mixture. Taste and add salt if desired.
If you're more likely to use this mixture as a soft, spreadable cheese, you're done! Transfer to a container and enjoy.
If you want to make a firm, sliceable block of cheese, there is an additional step to this process. Combine agar agar with water in a small saucepan and bring it to a simmer. Allow the mixture to boil for one minute, while whisking it continuously.
While it's still hot, remove it from the heat and pour it into the blender with the rest of the cheese mixture. Blend together until smooth.
You can use a glass, metal or plastic container lined with plastic film as a mold. Alternatively, you can use a silicone mold that your cheese won't stick to.
Pour the mixture into the mold and add your favorite toppings. Transfer it to the fridge to set and enjoy it over the next few days.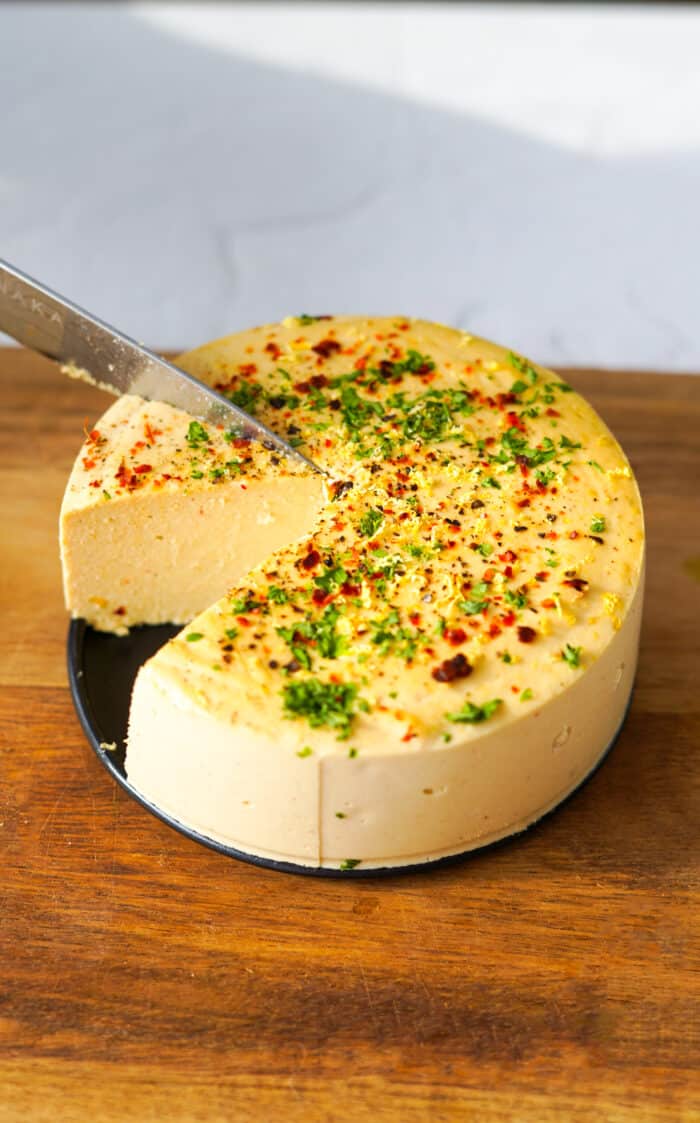 Hack It!
You can reduce the prep time even more by soaking the sunflower seeds in cold water for 4-6 hours or overnight instead of boiling them.
You can flavor your cheese with additional seasonings like dried herbs, chilli powder, liquid smoke, or pickle juice.
Another option is to add produce such as sautéed bell peppers, sundried tomatoes, roasted garlic and more.
Let's not forget the toppings! I used fresh parsley, black pepper, lemon zest, and extra paprika. You can use anything you like!
This cheese is perfect for sandwiches, crackers, or a plant-based charcuterie board.
Other Recipes You'll Love
If you enjoyed this homemade vegan cheese recipe, you'll find plenty more similar recipes in the PlantYou Cookbook. The book is packed full of soups, salads, sandwiches, stews, and desserts. Among the 140+ WFPB recipes, there's something delicious for every member of your household! The book also features some great cooking tips for novices and a helpful infographic for each recipe.
If you like to mix things up, check out the PlantYou Planner! It's an app designed to make plant-based living as easy as possible. As a result, it allows you to fully customize your meal plans, including the number of servings for each dish. Once you've selected your dishes, the planner generates a tailored shopping list you can take with you to the store. Well… what are you waiting for?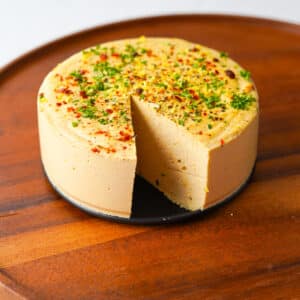 The Recipe: Homemade Vegan Cheese Recipe (Sliceable and Grateable)
This homemade vegan cheese is a perfect alternative to store-bought options, not to mention completely nut-free!
Ingredients
1 cup sunflower seeds, boiled for 15 minutes, drained
⅓ cup water, reserved from sunflower seed boiling
1 lemon, juiced
1 tbsp coconut oil
4 tbsp tahini
2 tsp miso paste
½ tsp paprika
¼ cup nutritional yeast
1 clove garlic
For a firm, sliceable cheese
1 cup water
1 tbsp agar agar powder
Equipment
Small saucepan

Silicone mold (or container and plastic film)
Instructions
Add all listed cheese ingredients apart from the agar agar powder and 1 cup of water to a high speed blender. Combine until smooth. You can transfer this to a mold now and set overnight, for a spreadable cream cheese like texture. 

For a sliceable texture like in the video, use agar agar. In a saucepan over medium heat, add the 1 cup of water and agar agar powder. Boil for 1 minute, stirring regularly. Remove from the heat, and pour it into the blender cup with the cheese mix. Blend until smooth.

Transfer to a cheese mold or Tupperware container. Add seasonings on top like fresh parsley, lemon zest and black pepper if desired. Place in the fridge overnight. Enjoy with Simple Mills crackers as desired. Store the cheese in the fridge for up to five days.
Calories: 170.8kcal, Carbohydrates: 7.7g, Protein: 5.9g, Fat: 14.5g, Saturated Fat: 2.8g, Polyunsaturated Fat: 5.7g, Monounsaturated Fat: 4.7g, Sodium: 63mg, Potassium: 199.4mg, Fiber: 2.6g, Sugar: 0.9g, Vitamin A: 27.3IU, Vitamin C: 8.1mg, Calcium: 33.1mg, Iron: 1.5mg