Matcha Green Tea Superfood Pancake Muffins
These matcha green tea superfood pancake muffins started with me trying to be a good girlfriend.
My boyfriend had an early Sunday morning appointment at the chiropractors, and I thought I'd wake up early and surprise him with a pancake breakfast when he got home. Of course, like with most my valiant efforts, things went south.
"Honey, I'm home, and I brought Freshii breakfast wraps!"
I had just finished mixing the pancake batter and getting the pan oiled up when he waltzed in the door, Freshii (one of our favourite salad/wrap restaurants) brown bag in hand.
"I was about to make pancakes."
"Well, we can have these later," he said, with a pouty look on his face.
I suddenly had a stroke of genius. It was Sunday, aka meal prep day, so what if I could transform this pancake mix into muffins for the entire week?
A quick google search confirmed it. You can use pancake mix for muffins.
I wanted to spruce these babies up. I had been at our local tea shoppe just the day before, picking up matcha powder, and the owner touted how versatile matcha powder is – "It could even be used in muffins." BINGO!
I added one tablespoon of matcha to my already mixed whole wheat pancake batter (I use Bob's Red Mill). To sweeten, add moisture and flavour, I mashed two bananas and added them to the batter. I threw in a cup or two of blueberries for good measure, oiled up the muffin pan, and hoped for the best. Fifteen minutes later, I was pleasantly surprised to see these delicious, green and nourishing muffins. Freshii wrap in hand, my boyfriend was even more impressed to see he had snacks for the week!
These muffins are
– Filled with nutrients (bananas, matcha powder + blueberries)
– Whole Wheat
– Refined Sugar Free
– Vegan
– Delicious!
– Perfect for breakfast or an afternoon snack
Feel free to swap in your favourite berry, nut or even chocolate chips in place of the blueberries! A recent trip to the farmer's market had us overflowing with blueberries, which is why I decided to throw them in.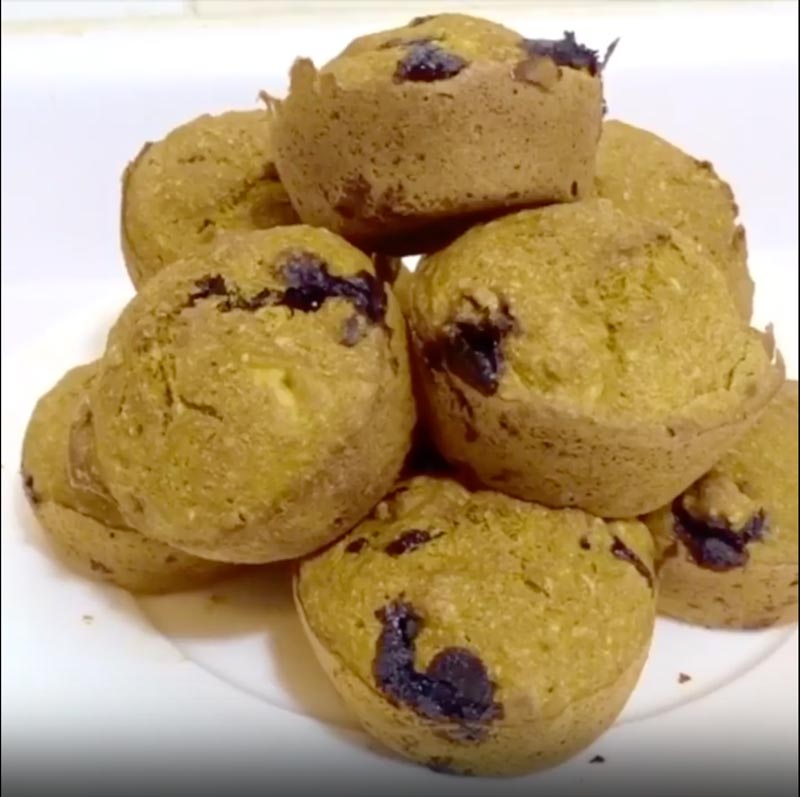 Recipe
INGREDIENTS
– 2 cups vegan pancake mix (any kind)
– 1 tbsp of Matcha Powder
– 1 cup of Almond Milk
– 2 Mashed Ripe Bananas
– 4 tbsp of Stevia Extract for baking (swap with honey or maple syrup if needed)
– 1 tsp vanilla extract
*Add-ins: We added blueberries but you could add chocolate chips, nuts etc
INSTRUCTIONS
1. Preheat oven to 350°
2. In a bowl, mash two ripe bananas
3. Add pancake mix, almond milk, matcha powder, stevia and vanilla extract and mix
4. Spray muffin tin or use muffin liners
5. Bake 14-15 minutes until toothpick, inserted, comes out clean
https://www.youtube.com/watch?v=G9LYK5RS7ik&w=315&h=315