Our Vegan Wedding
We finally did it! I'm so excited to share that I got married over the weekend to the love of my life, Jesse. In this blog post I'm going to be sharing all the details about our vegan wedding.
Back Story
If you follow me over on Instagram, you've probably seen me share about our wedding journey before. Unfortunately, I was a COVID bride, and our wedding was cancelled twice during the pandemic, then one more time in the summer of 2022 after one of my immediate family members fell very ill. It's been a journey to say the least, but we couldn't be more thrilled with how the day ended up turning out.

Jesse and I have been together for almost twelve years now, meeting when we were just 19 and 20 years old in London, Ontario, where we both went for university and college. I asked him to dance at a bar one night… and the rest is well, history! We've been together ever since. He proposed in 2019 and that's when the wedding planning began.
As soon as we got engaged, I knew I wanted to get married at my parent's hobby farm in Innisfil, Ontario where I had grown up. Our initial plan involved renting a tent and having a full-scale sit down dinner, but over the years (as our wedding was postponed THREE TIMES), we decided to pair it down to an evening cocktail style wedding. Over this time period, my dad and Jesse also worked on renovating the barn on my parent's property to be able to house the wedding, and it turned out better than we could have ever imagined. We found a window of opportunity to get married this summer and planned the wedding in just two months for July 7th, 2023. I didn't share much about the planning process because I was too nervous to jinx it.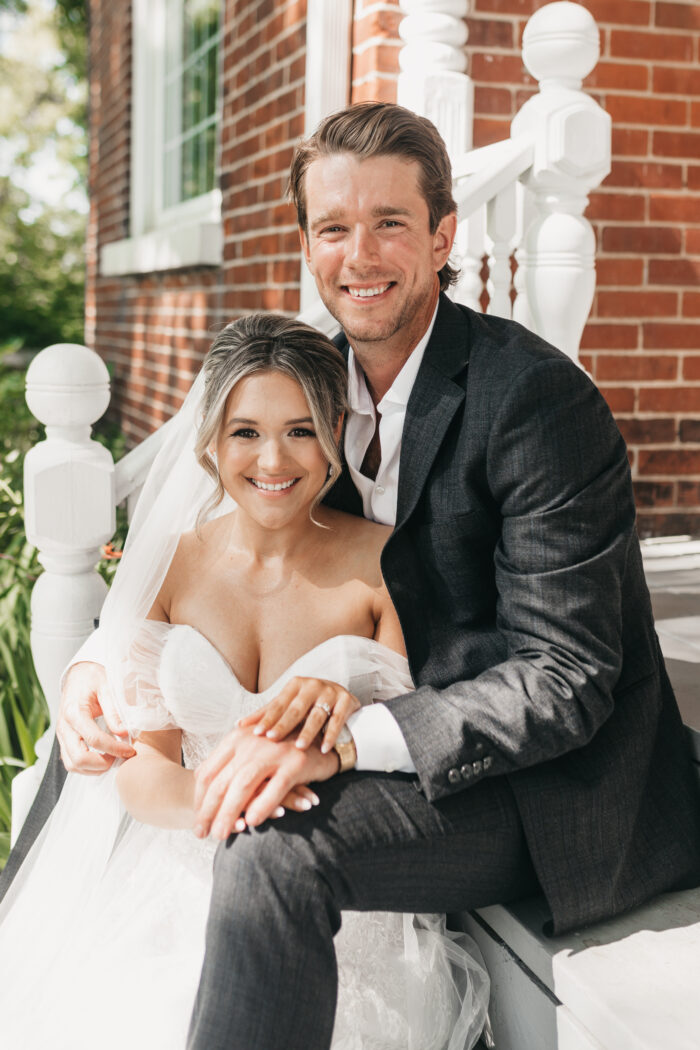 I will say – if I had a penny for every time someone told us to go to the courthouse or elope – I would surely be retired by now. But waiting for our wedding was SO WORTH IT! Since Jesse and I had already been together for so long (and at this point owned a home together and were in a committed partnership for over a decade), we already felt married. However, we really wanted the opportunity to celebrate our union with the amazing family and friends we had gathered over the years. We're so so glad we went through with it and have these memories to carry us over our lifetime. There are very few opportunities in life to have all of the people you love in one room and it was a surreal experience.
The Venue
As I mentioned above, the wedding took place at my parent's hobby farm in Innisfil, Ontario. We did the ceremony in front of the barn, and the reception inside the barn. We had multiple comments throughout the night that we should transform the property into a wedding venue – so I would say this was a success! It honestly was so special getting married at the home I grew up with and having photos on the property. One thing I will say for anyone planning a wedding. It is not necessarily less affordable to do it in your backyard or on a private property. You have to consider that you will need to then rent everything, including tables, chairs, ceremony seating, all the rentals for the caterer etc., which adds up quickly. My sister got married last year at a hall near Toronto, and because it was all-inclusive, it was actually less expensive than the DIY version. Worth it for the sentimental value nonetheless – but something to consider!
We rented cross back chairs and tables from Wedding Supply Co, and they also generously loaned us some signage for the ceremony and decor items for inside the barn.
Florals
For flowers, we took a bit of an untraditional approach. Rather than getting a lot of cut flowers, we bought several hanging baskets and flats of live plants to have around the ceremony space and barn. Not only did this save us a whole lot of money, it allows us to utilize the plants for the summer (or gift them to guests). I really love how this look turned out! For our bouquets and corsages, we did baby's breath and roses from Lavender Floral.
The Ceremony
We told everyone to arrive at the property anytime after 6:15pm for a 7:00pm ceremony. Upon arrival, we had glasses of champagne and sparkling water for guests to enjoy as sort of a mock cocktail hour before the ceremony began. I hid in the house and watched everyone arrive while Jesse greeted guests.
The ceremony took place at 7:00pm as planned. We rented benches to seat 150 people from Wedding Benches of Muskoka, which worked out perfectly. We had a small wedding party (just my sister as maid of honour, and Jesse's best friend as best man), which made everything very simplistic and easy.
My sister was the first to walk down with her newborn baby to the song Somewhere Over The Rainbow, then we pulled up in a classic white 50's truck (borrowed from a friend of my parents), and I walked down the aisle with my Mom & Dad to Christina Perri's Thousand Years. It was perfect and lots of tears were shed.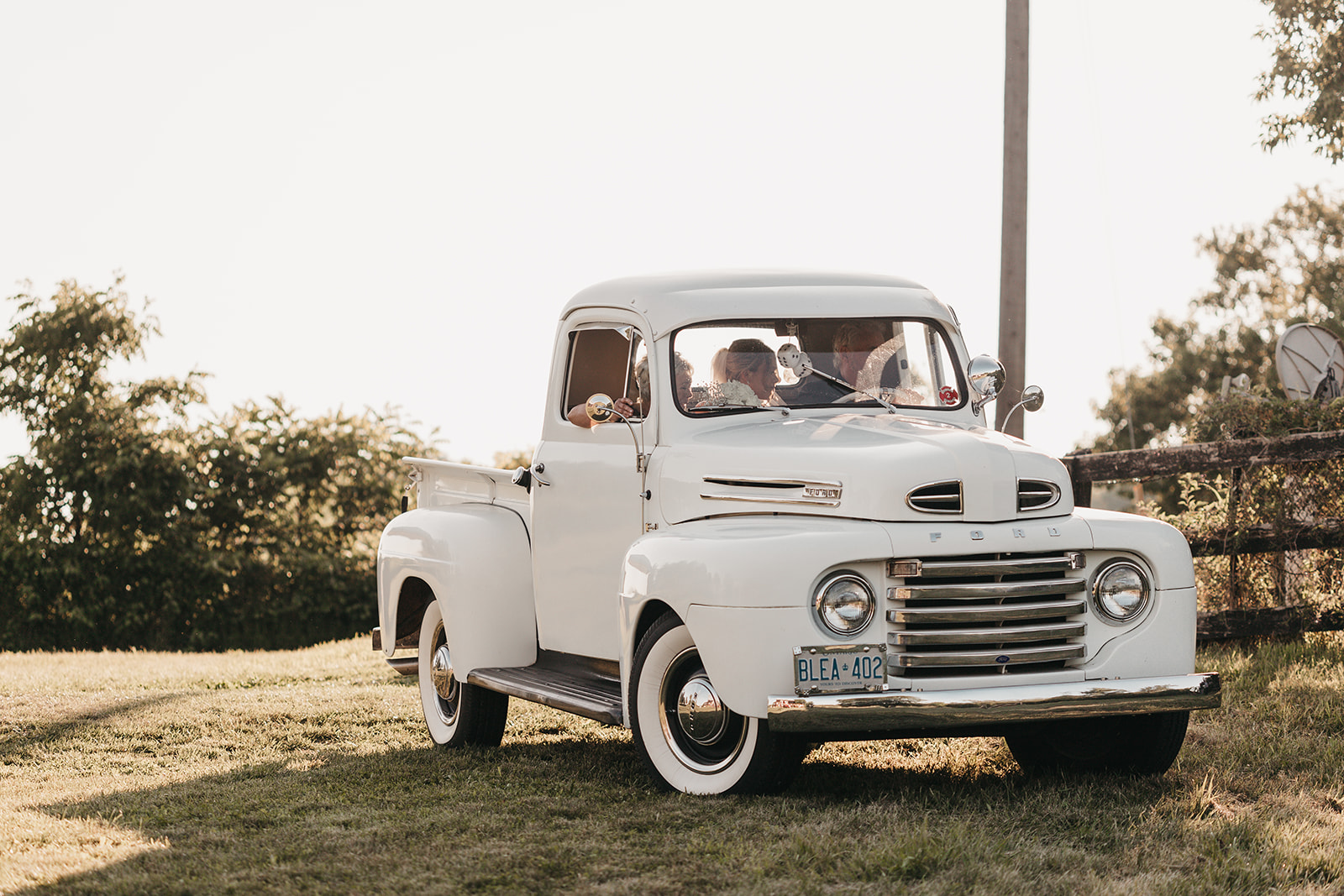 Our officiant Rev. Dan Travers was truly incredible and we received multiple compliments after about his service. We did a non-denominational service and read our own vows. He was extremely attentive to our desire to keep the ceremony short, while also honouring our earth as part of it. During the ceremony, I had my cousin Caycee come up and read the following blessing.
Captain Corelli's Mandolin, by Louis de Bernieres:

Love is a temporary madness, it erupts like volcanoes and then subsides.
And when it subsides you have to make a decision.
You have to work out whether your root was so entwined together that it is inconceivable that you should ever part.
Because this is what love is.
Love is not breathlessness, it is not excitement, it is not the promulgation of promises of eternal passion.
That is just being in love, which any fool can do.
Love itself is what is left over when being in love has burned away, and this is both an art and a fortunate accident.
Those that truly love have roots that grow towards each other underground, and when all the pretty blossoms have fallen from their branches, they find that they are one tree and not two.
To close the ceremony, Rev. Dan Travers read the following poem, which was just wonderful:
As we honor and acknowledge our Mother Earth, we also bless her children—the winged ones, the swimming ones, the four-legged and the two-legged ones, the crawling ones, the ones who make their home inside the earth, and even our plant and rock brothers and sisters. May all our relations walk in love and know peace.
—Rev. Dale Worley
Overall, it felt very us and just perfect.
Cocktail Wedding Itinerary
There's a million ways to have a wedding, but this is what worked for us with no traditional sit down dinner. This means we had no seating arrangement, and people could plop down where they pleased, inside our outside of the barn.
6:15 – 7:00pm – Arrival of guests and mock cocktail hour with champaign
7:00 – 7:25pm – Ceremony
7:30 – 8:30pm – Food station and bar opens. People gather food and drinks.
8:30 – 9:30pm – Speeches while people enjoy their food (We asked everyone to keep their speeches under 2 minutes and had 5 speeches in total. Definitely recommend doing this as it kept the night flowing) Cake cutting following speeches. Churro bar opens.
9:30pm – 9:45pm – First dance, Mother son dance, father daughter dance
10:00pm – 2:00am – Dancing and shenanigans
This worked out great. To keep everyone safe, we also rented a shuttle to and from the closest hotel multiple times throughout the night which close to half the guests took advantage of.
The Food & Drinks
Once we decided the wedding was on, we deliberated over the food. We knew at this point that we wanted to do an evening wedding (starting at 7:00pm, seemingly after dinner) and that we were going to scrap the concept of a traditional sit down meal. We also knew that we wanted the food to be vegan (it just didn't sit right with me to serve animal products at the wedding, even though almost none of the guests were vegan themselves).

That's when I contacted my friend Manny who owns our favorite vegan restaurant Mexhico in Barrie, Ontario. I asked him if they catered and was thrilled when the answer was YES. We developed a custom menu to be served in the barn all night long which included:
An unlimited taco bar with vegan barbacoa and al pastor "meat" options
A vegan nacho bar with selve serve black bean sauce, pico de Gallo, cilantro, vegan cheese, sour cream and more
Churros for dessert
This was the single best decision we made for our wedding. People were able to eat as much as they wanted all night long and I can't even count the number of compliments we got on the food and overall vibe this created for the wedding. Because there was a live taco bar going at all times, the food was hot and delicious all night, and Mexhico went ABOVE AND BEYOND in service and quality of food. We didn't receive a single complaint about the food being vegan, and I saw many of my friends who say they could never go vegan digging in on the tacos. If you're wanting a vegan wedding – I would say DO IT. Such a great opportunity to introduce people to food they might have never thought to try previously.
If you are local, I really can't recommend Mexhico enough. They made our wedding.
For the wedding cake, my dear friend Alee of Alpaca Bakes made the most incredible classic dark chocolate and cherry wedding cake which everyone RAVED OVER. OMG it was good (and vegan of course). I wanted a really classic look to this so we had a cake topper to finish it off.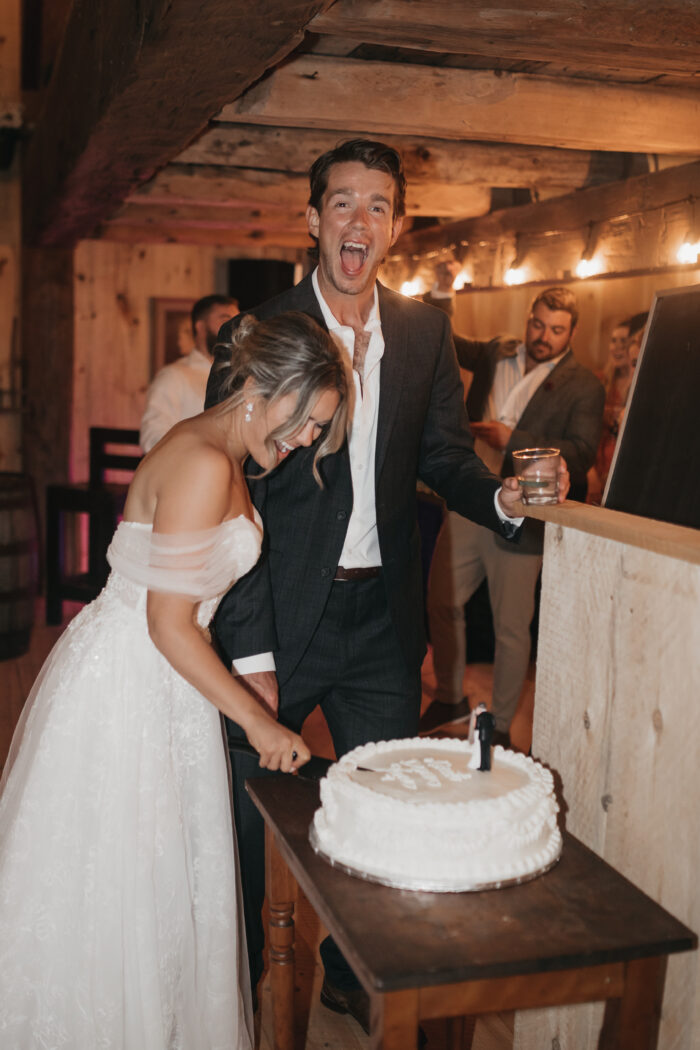 For the drinks – we had Jesse's favorite craft beer Muskoka Brewery as one of our signature drinks. They are local and have multiple brews including their craft ale, detour and light beer.


We also served margaritas with the tacos, and had Jarritos are favorite Mexican pop as a non-alcoholic option that was delicious and ice cold! We also used Jarritos Mexican Cola for our "rum and cokes" and "guava" flavor for vodka shooters.
Music
We listen to such a wide variety of music – so it was a bit tough narrowing what we wanted for our wedding. Ultimately we found an amazing DJ and MC package from Datz Hype Sound and they did an amazing job keeping the crowd going until 2AM! For the "cocktail hour" before ceremony, we played mostly folk music, then background music while people got their food, and finally dance hits for the dancing portion. Wayne and Shaun from Datz Hype Sound were absolutely fabulous. They had multiple speakers set up, were able to adapt the songs quickly, and overall set a party vibe for the wedding which we requested.
Photography
AHH! I'm still gushing over our photos. Four years ago, I hired MWB Creative to shoot the photos for the first time we planned our wedding, and I am so thrilled they were available for our actual wedding this year and they blew it out of the park.
We did a first look two hours before the wedding began, which was emotional and really special. Doing the first look allowed us to get all of our couple and family photos complete before the wedding began – which I highly recommend. It didn't take away from the ceremony at all, and allowed us to be truly present after without having to sneak away for photos.
Mariah and Wilder are beyond talented at capturing weddings. They made us and our families feel so comfortable, and captured the "classic" vibe we wanted perfectly.
Hair & Makeup
I couldn't be happier with how my makeup and hair turned out on the wedding day, and this was one of the things I was most nervous about! I'm so used to doing my own hair and makeup for my videos, that I rarely feel like myself when I get it done by someone else. Christy (hair) and Emma (makeup) just knocked it out of the park. My mom, sister and I all got our hair and makeup done and were thrilled with the results.
Rings
For my engagement ring and wedding band, we had them custom designed from Bill Le Boeuf jewellers in Barrie from estate diamonds as an eco-friendly alternative to traditional newly mined diamonds. These are diamonds that have been previously turned in to the jewelry shop that you can reset. I'm so thrilled with how this turned out and am a huge fan of estate diamonds for environmental, ethical reasons and as a budget friendly bride. Jesse also bought an estate wedding band (his second after he broke his finger and the first no longer fit) from Bill Le Bouef's. They're a wonderful jeweller and I can't recommend them enough.
Other Vendors That WE LOVED
Because this was taking place on private property in a barn, to keep the food and drinks cold, we decided to rent a cooler trailer. We used Chill Out Rentals and were so thrilled with their service.
For bathrooms, we rented a washroom trailer and one portable washroom from Jenco, which worked out perfectly.
Takeaways
I tried to think of things we would change for our wedding for this blog post – and I can honestly say there wasn't one thing. It's cliche to say, but this was honestly the best day of our lives. All of our vendors made it perfect, and our friends and family surrounded us with love. It also was a perfect sunny day in between a week of rain – so I'd like to say someone was looking over us after so many cancelled weddings.
I'd love to hear from you. What would you do differently for your wedding? Would you have a vegan wedding? Any questions about ours! Put them in the comment section below.