Scarpaccia Zucchini Tart
To help you take advantage of the best summer vegetable, check out this delicious scarpaccia zucchini tart recipe inspired by a traditional Italian dish!
Arguably, zucchini is both a gift and a curse of the summer season. On one hand, it is such a versatile vegetable (very affordable, too!). On the other hand, the sheer abundance of zucchini, especially if you grow them yourself, calls for a lot of recipes to keep things interesting.
Which is why this recipe for a scarpaccia zucchini tart will make a perfect addition to your arsenal!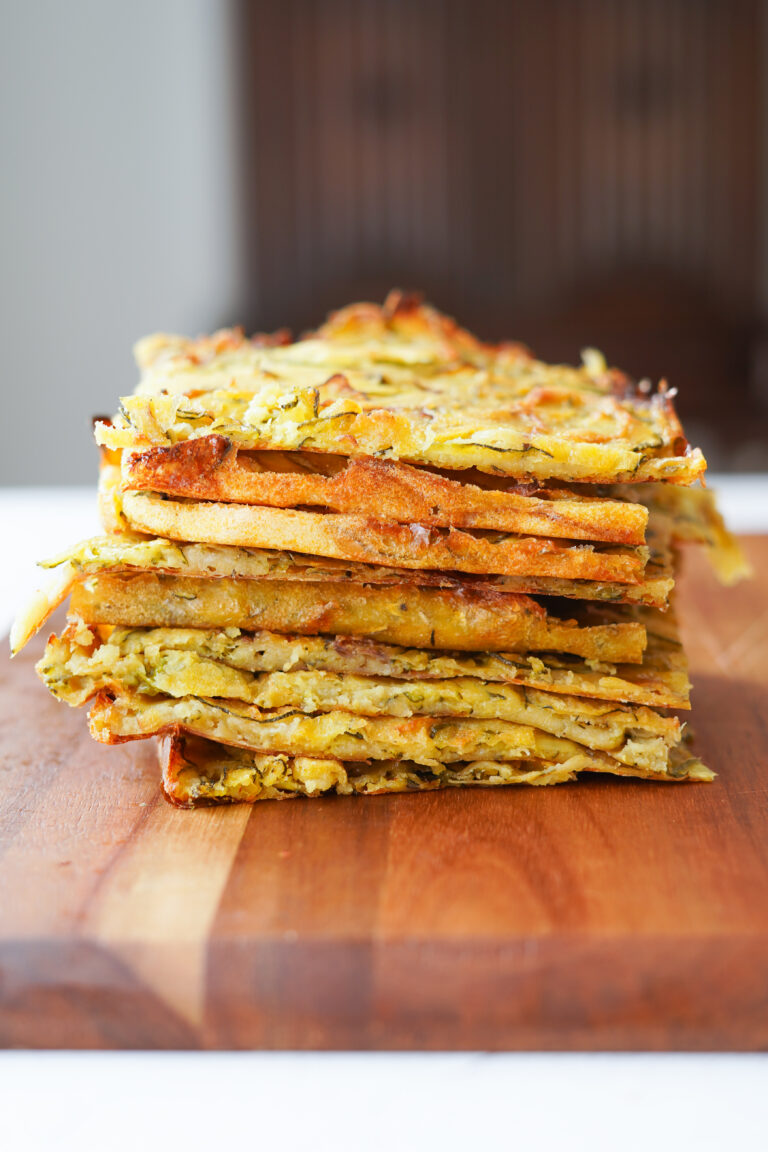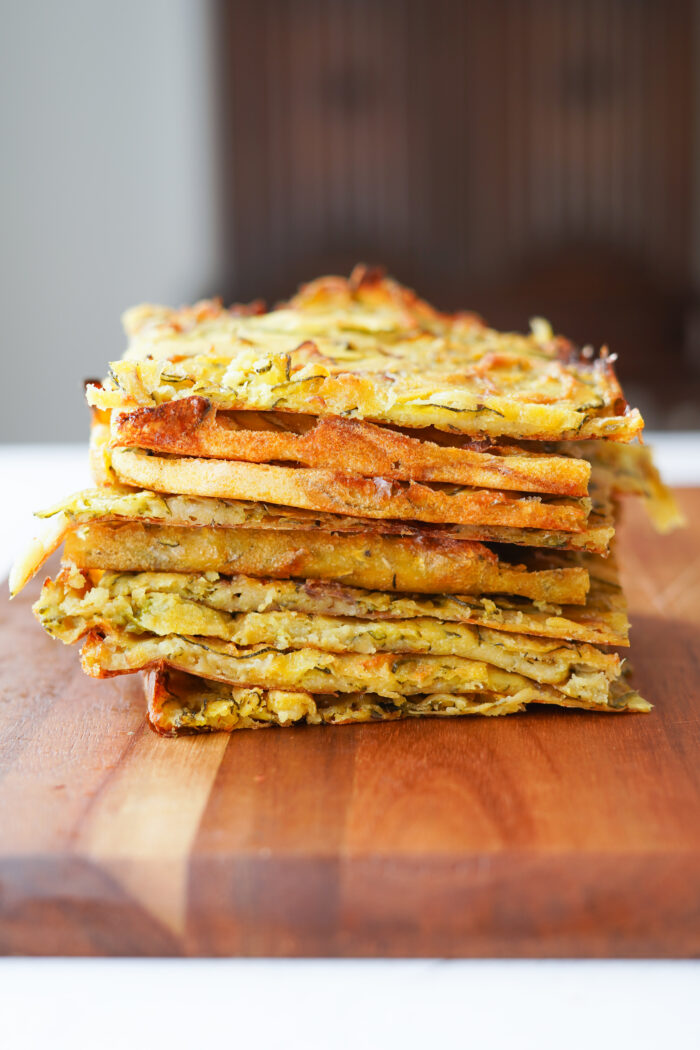 What is Scarpaccia?
Scarpaccia is a traditional Italian dish, specifically a type of savory zucchini pie or tart. It hails from Tuscany and is made with simple ingredients like zucchini, flour, olive oil, salt, and pepper. As such, even many traditional Italian scarpaccia recipes are vegan-friendly.
The zucchini is sliced or grated, then mixed with the other ingredients to create a batter. The mixture is then baked until it forms a crusty and golden-brown top.
Scarpaccia is often served as an appetizer, side dish, or a light meal. It's a delicious way to enjoy the flavors of fresh zucchini in a rustic and comforting preparation.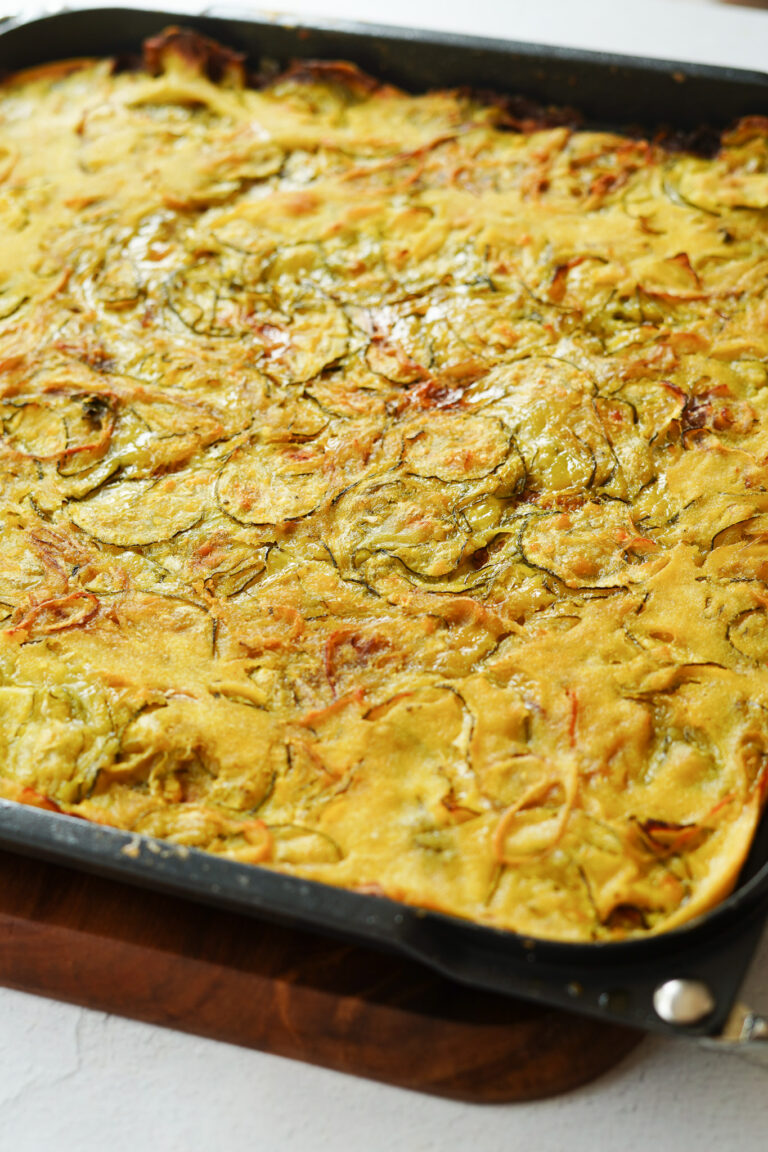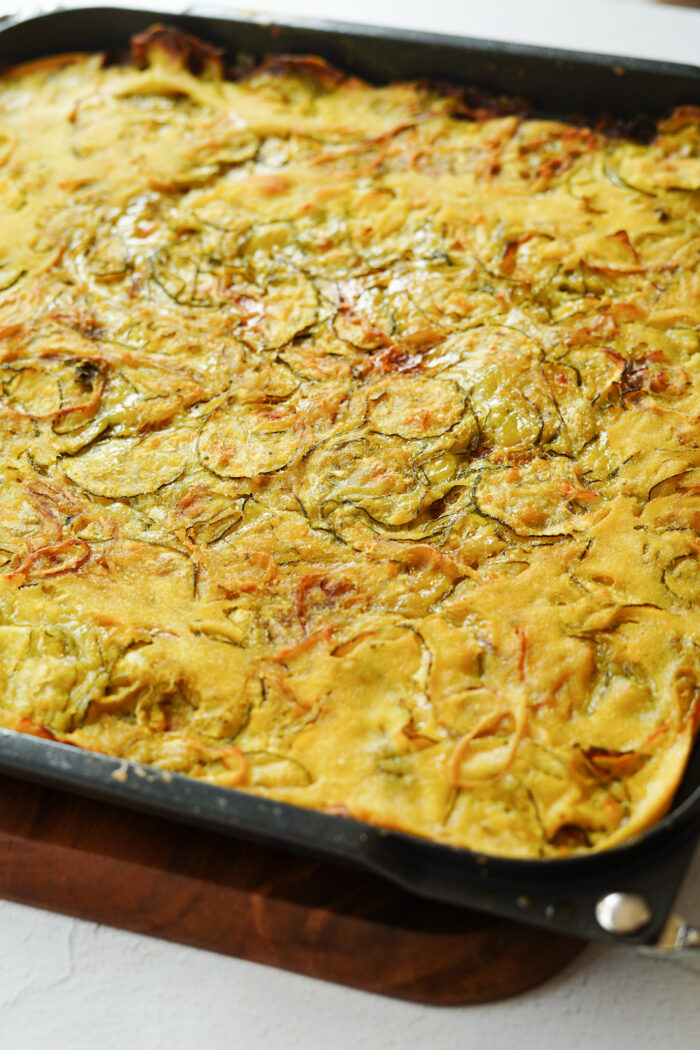 Why You'll Love This Recipe
This vegan scarpaccia includes wholesome ingredients like zucchini, red onions, herbs, and cornmeal, providing a nutrient-rich and healthful option for those seeking a balanced diet.
I swear, this scarpaccia zucchini tart is the perfect combination of light and refreshing, while also being really moist and satisfying. Yum!
At its heart, scarpaccia is a very simple meal with very few ingredients (as pictured). However, it is also very easy to adapt it to your tastes and requirements. For instance, you can toggle with the spices or make it gluten-free.
Of course, the other obvious upside of this recipe is how easy it is to make! Most of the cooking process is hands off, so really it only takes of about 15 minutes of actuive participation. Meanwhile, while the zucchini slices are resting, or while your tart is in the oven, you're free to do something else.
Because of its very few simple ingredients, this scarpaccia zucchini tart is super cost-effective. This is especially beneficial for those who have a strict food budget or those who have a large family!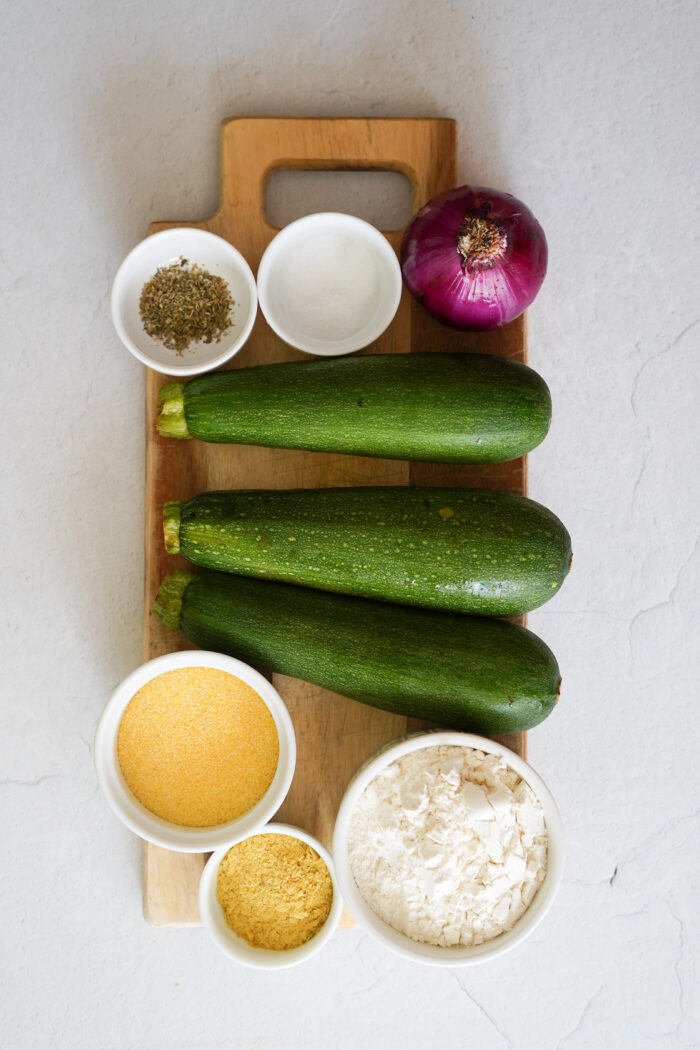 How to Make This Recipe
The first step is, of course, to prep the required ingredients. In this case, you'll need to thinly slice the zucchini and onion, mix it with salt, and leave it to rest for a couple of hours. This will draw out the moisture from the vegetables.
The best method to make this recipe involves a mandolin, because ideally those zucchini slices need to be as thin as possible. Some people are wary of mandolins but I can honestly say that as long as you are paying attention, you are as safe handling a mandolin as you are a sharp knife.
Once the zucchini and onion slices are in the bowl with salt, make sure to mix them thoroughly together. Then, place something to weight the vegetables down. For instance, you can use a pot or a small plate with some canned food on top.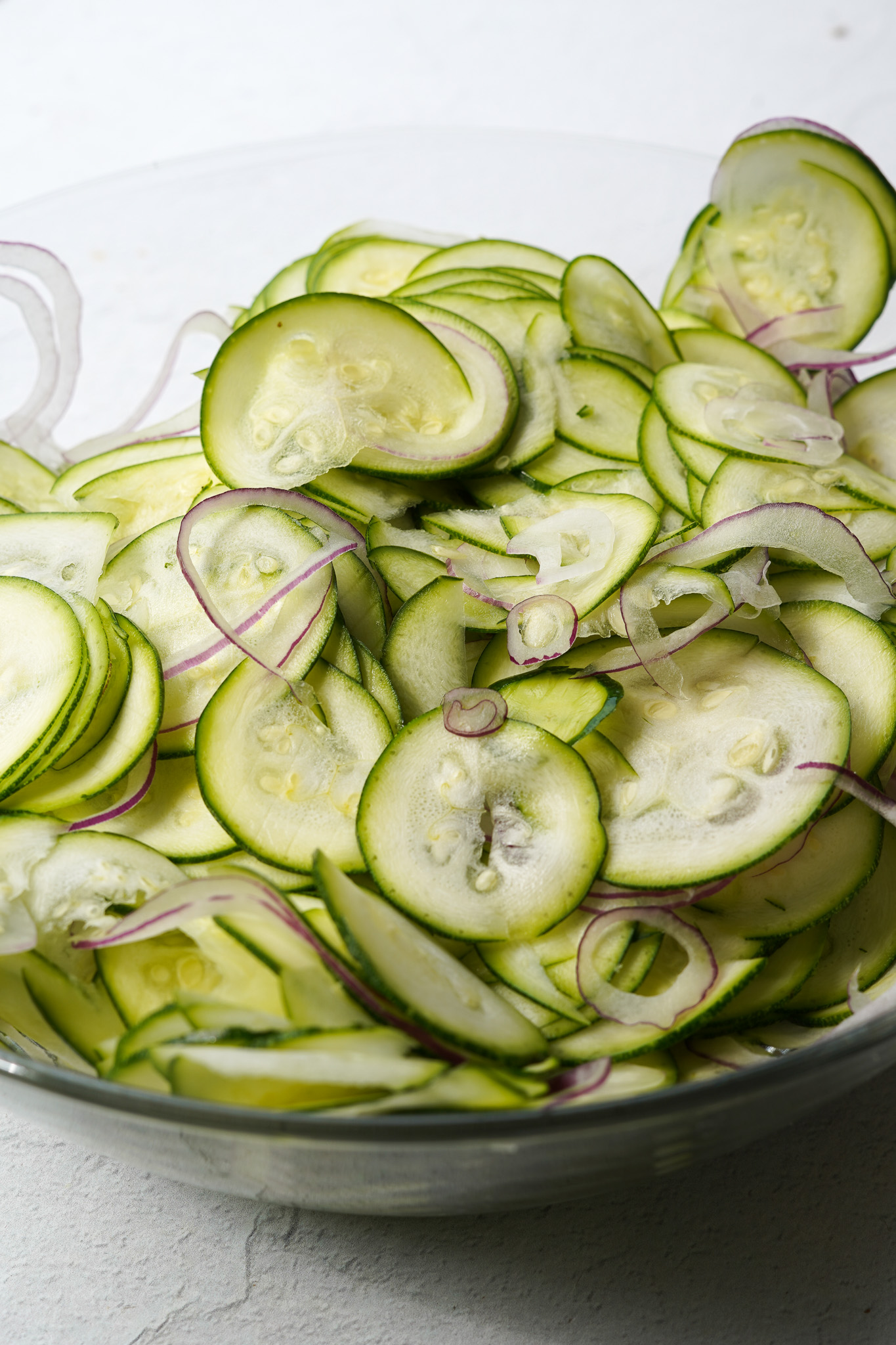 Let the veggies sit for two hours. I promise, the wait will be worth it! Next, use a cheesecloth or a clean kitchen tea towel to squeeze the remaining liquid from zucchini and onions.
Be sure not to throw away the liquid (we are scrappy after all!). Transfer it to a mixing bowl instead, then add flour, cornmeal, rosemary, salt, and nutritional yeast. Gently whisk everything together until you have a pancake batter consistency. You can also add some water if the mixture is too thick.
While you do that, preheat the oven to 400F and spray a 7×11 baking pan with cooking oil.
Finally, fold in your veggies into the batter and mix until everything is evenly incorporated. Pour your mixture into the baking dish, spreading it even with a spatula if necessary. Spray the top with more oil, then cook in the oven for 35 minutes, until lightly crispy on the outside.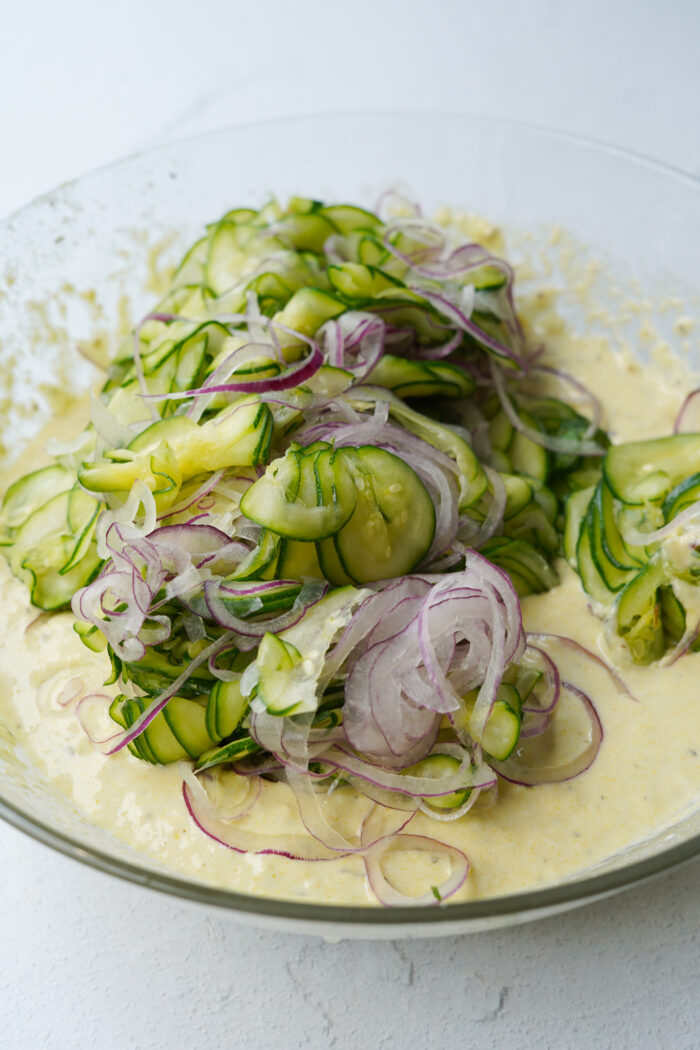 Hack It!
If you somehow manage not to eat it all in one go, store your scarpaccia zucchini tart in a sealed container in the fridge for up to 4 days.
There are many great ways to serve this dish. One way, naturally, is just to eat it as it is. However, you can also serve it with your favorite salad, or to accompany soup. You can even slice it up quite small and serve it as part of a vegan charcuterie board!
There is also an opportunity here to get scrappy. If you have some wilting greens, herbs, or some extra veggies (like a random quarter of a bell pepper) at the back of a fridge, try adding it in!
Use all-purpose gluten-free flour for a gluten-free version of this delicious tart!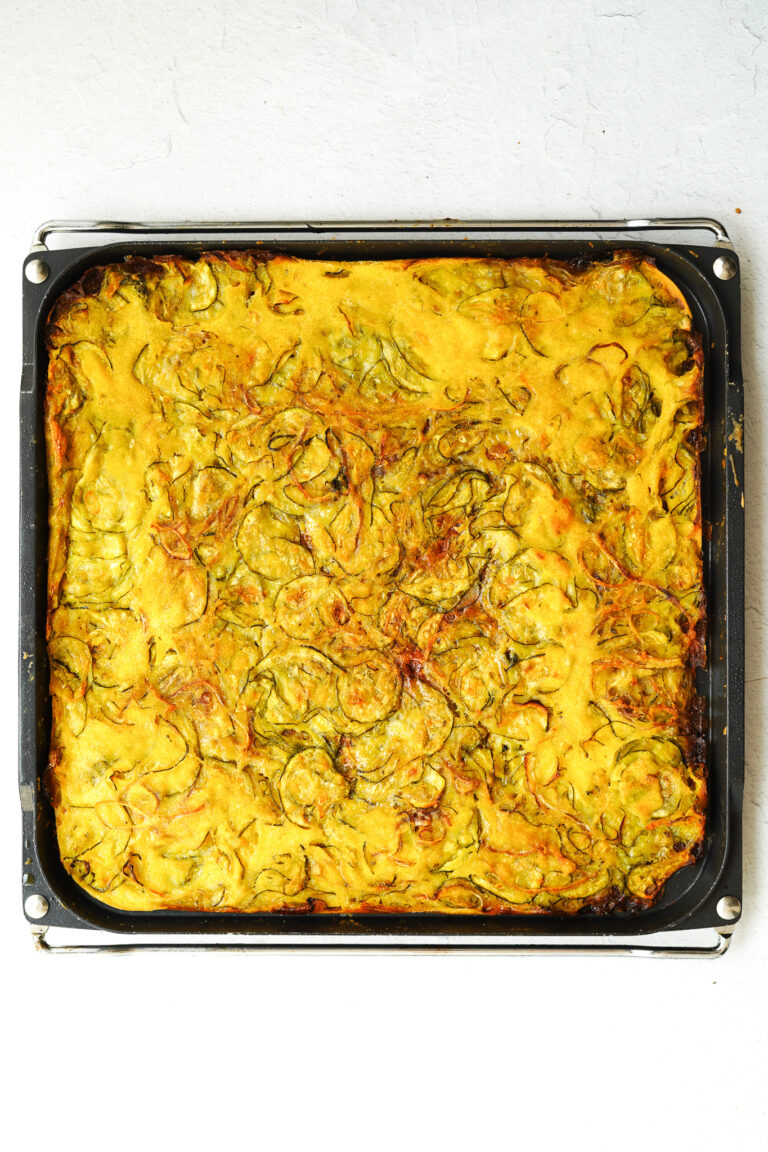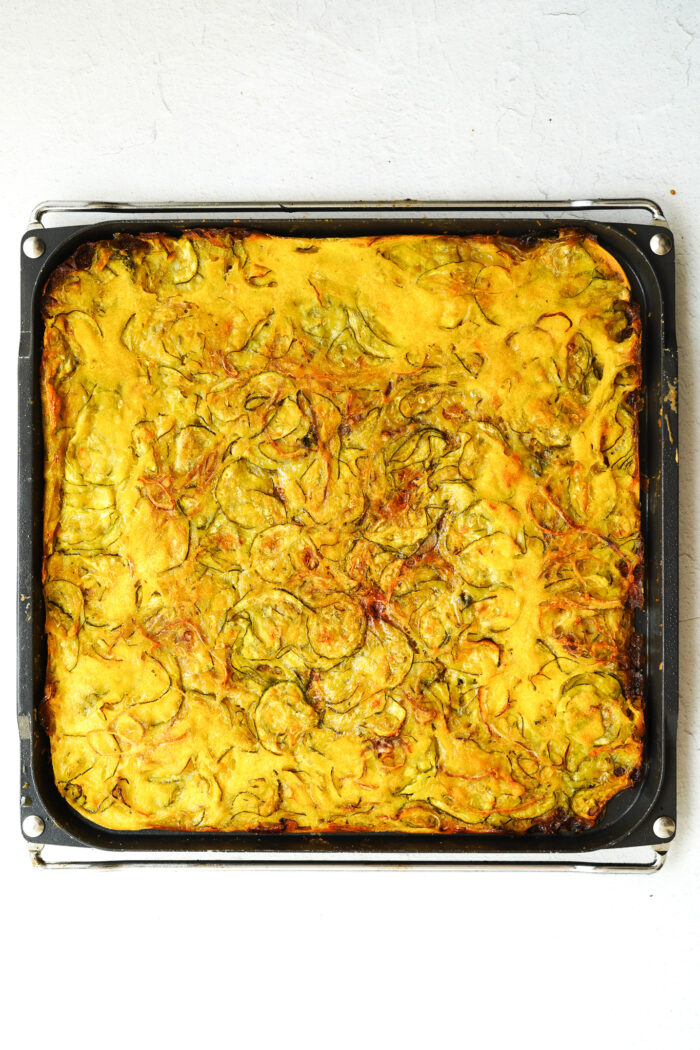 The Magic of Zucchini
Zucchini, also known as courgettes in some regions, have numerous wonderful attributes that make them a popular and versatile vegetable in many cuisines. Some of the best things about this vegetable include:
Versatility. Courgettes can be prepared and cooked in various ways, such as sautéing, grilling, roasting, frying, and even eaten raw in salads. They can be used in soups, stews, fritters, casseroles, pasta dishes, and more.
Nutrient-rich. Despite being low in calories, zucchini are packed with essential nutrients like vitamin C, vitamin A, potassium, magnesium, and dietary fiber, contributing to overall health and well-being.
Hydration. With their high water content, courgettes help keep the body hydrated and support healthy digestion.
Easy to grow. Zucchini are relatively easy to cultivate, and they produce abundant fruit during the growing season, making them a popular choice for home gardens.
Versatile for dietary preferences. Zucchini are naturally gluten-free, making them an excellent choice for individuals with gluten sensitivities or those following a gluten-free diet. Additionally, they are a popular choice for vegetarian and vegan dishes due to their versatility in plant-based cooking.
Other Recipes You'll Love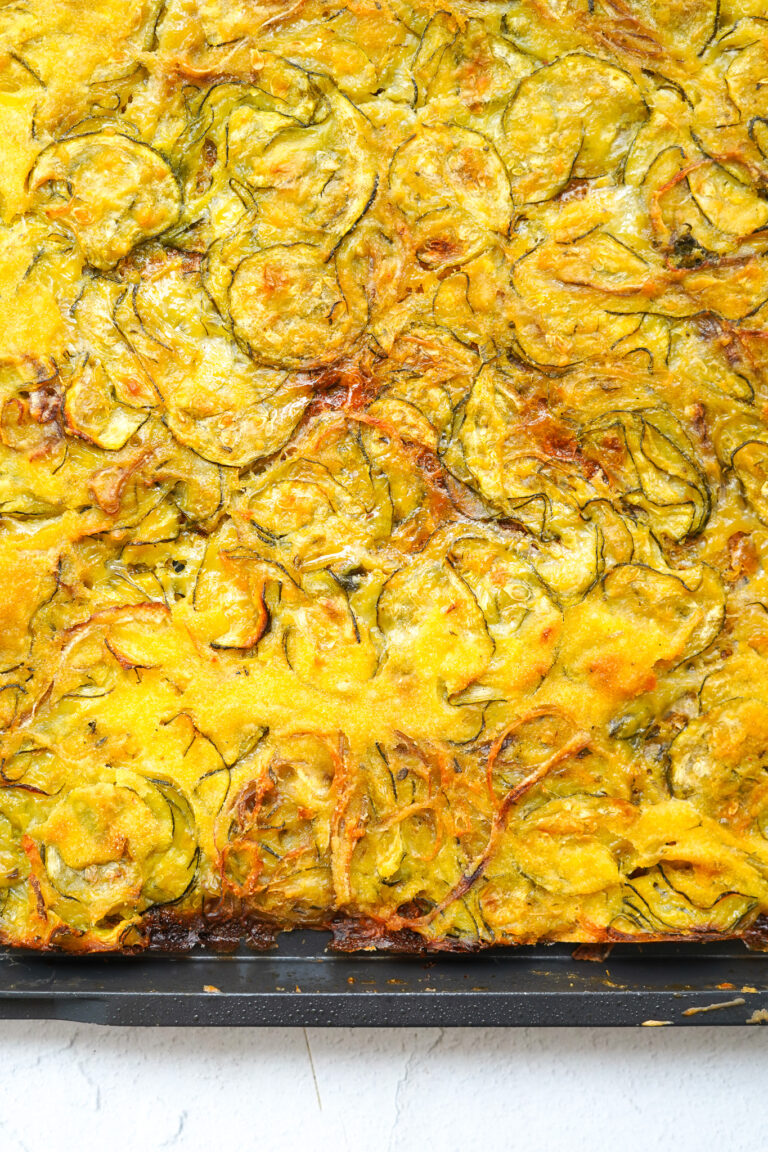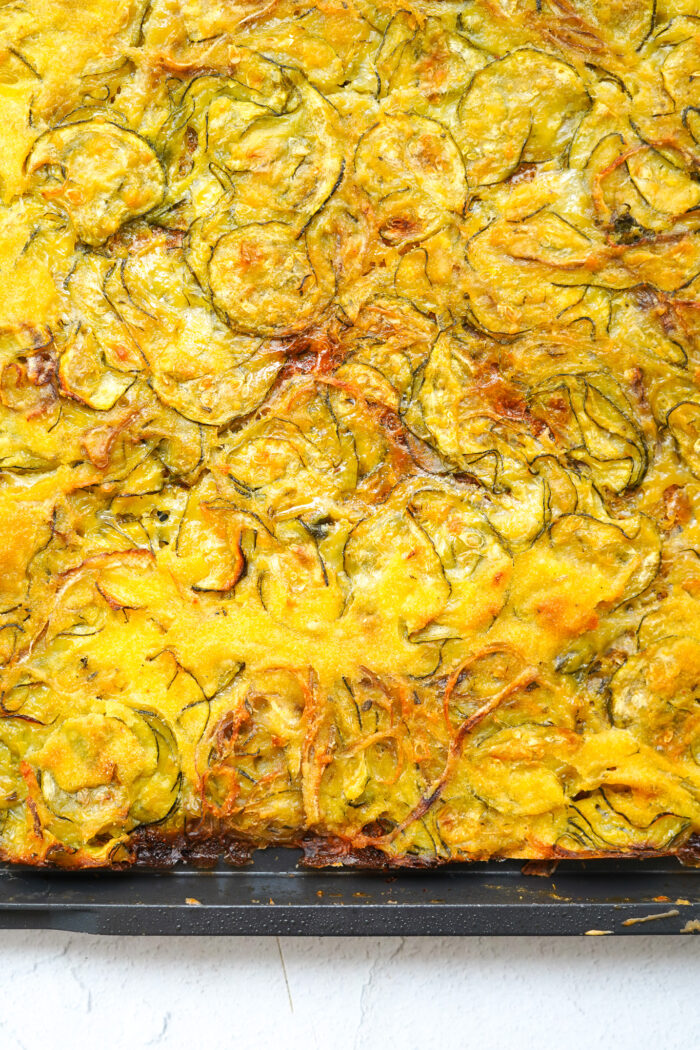 If you love simple, beginner-friendly recipes like this one, you should get a copy of the PlantYou Cookbook! It has a great collection of WFPB recipes for every occasion. I am a visual learner, so it was very important to me that the book is user-friendly. That's why each recipe is accompanied by a helpful infographic detailing the ingredients. I truly wish I had a book like this when I became plant-based!
And if you prefer a more dynamic way of cooking, check out the PlantYou Planner! It's a fully customizable meal planner app with a huge database of easy vegan recipes. You have an amazing opportunity to try out the free version of the app with access to 25 AMAZING PLANT-BASED MEALS, as well as our signature BEGINNER VEGAN MEAL PLAN! Well… What are you waiting for?
I have also recently collaborated with an amazing women-led supplement company to create a multinutrient aimed at plant-based and plant-centered eaters. With Complement x PlantYou Essential, thriving on a vegan diet has never been easier!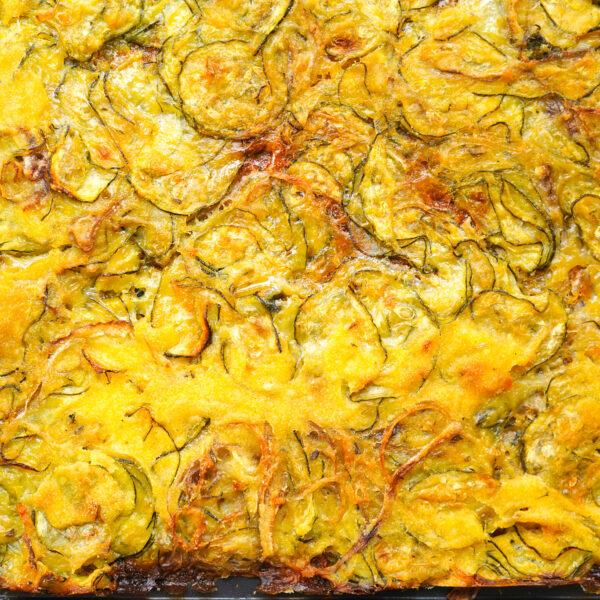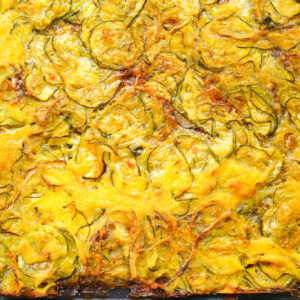 The Recipe: Scarpaccia Zucchini Tart
A delicious summer tart featuring zucchini, red onions, and savory homemade batter!
Ingredients
3 zucchinis, medium, thinly sliced with a mandolin
½ red onion, thinly sliced with a mandolin
1 tsp salt
½ tsp dried rosemary
2 tbsp nutritional yeast
1 cup all-purpose flour
¼ cup cornmeal
½ cup water, or up to ¾
Equipment
Mandolin preferred but not mandatory

Bowl

7×11 baking dish

Cheesecloth
Instructions
Place the zucchini and red onion in a bowl, and add the salt. Disperse evenly. Place a weight (like a pot or pan) over top with a can in it to help the zucchini and onion release liquid. Allow to sit for 2 hours. 

Preheat the oven to 400F and spray a small baking sheet with oil. I used a 13 x 18.

Two hours later, transfer the zucchini onion mixture to a cheese cloth or thin clean kitchen cloth. Drain as much liquid as possible into a large bowl, and set the zucchini and onion aside.

Add the flour, nutritional yeast, dried rosemary and cornmeal to the bowl with the reserved liquid. Gently mix until a batter is formed, adding 1/2 cup to 3/4 cup of additional water as needed to thin. The mixture should be like pancake batter. 

Add the vegetables into the batter and mix until evenly dispersed. Transfer the batter to the oiled baking dish and spread so it is in an even layer. Spray the top with more oil, then place in the oven for 35 minutes, until lightly crisped. Store in a sealed container in the fridge for up to 4 days. 
Calories: 393kcal, Carbohydrates: 77g, Protein: 16g, Fat: 3.1g, Saturated Fat: 0.6g, Polyunsaturated Fat: 1g, Monounsaturated Fat: 0.5g, Sodium: 1192.4mg, Potassium: 1088.8mg, Fiber: 8.9g, Sugar: 9g, Vitamin A: 589.3IU, Vitamin C: 54.7mg, Calcium: 66.7mg, Iron: 5.1mg