Easy Vegan Balsamic Potato Salad (Oil Free, Gluten Free)
Transform a summer favourite into a super simple, delicious and healthy dish with this Vegan Balsamic Potato Salad. Oil free, dairy free, gluten free and vegan! 
I have to be honest… I've never been a huge fan of potato salad. Something about mayonnaise coated on potatoes never jived with my taste buds.
However, this Vegan Balsamic Potato Salad is an exception. Chopped sweet & yukon gold potatoes coated in tumeric, dill and a balsamic dressing come together for a healthy and fresh dish.
So how was this potato salad born? My boyfriend, who tries his best to be plant-based, wanted to "beef" up a kale salad we were having for dinner. He chopped up some potatoes and threw them in the salad with a balsamic dressing. Needless to say we were both thrilled with the outcome.
This vegan potato salad is the perfect compliment to any summer BBQ, or as a quick lunch or dinner. My boyfriend will prepare it on Sunday afternoon's and take it for his lunch for the week! (If you're not feeling a potato salad, try my green glowing pasta salad for a quick spring or summer favourite! )
You Need An Air-Fryer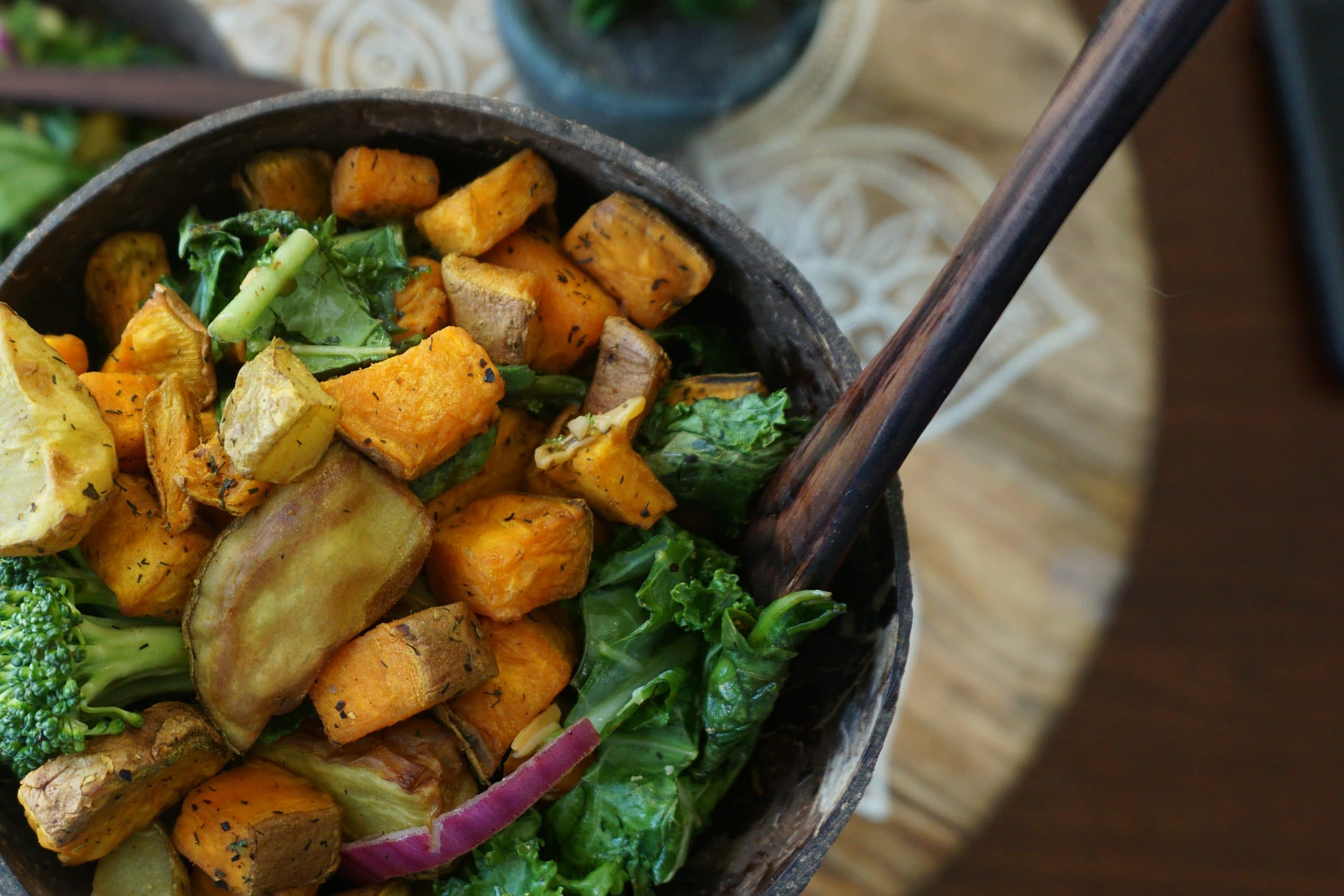 The potatoes in this Vegan Balsamic Potato Salad are crispy on the outside, and soft on the inside thanks to our T-Fal Air Fryer. This thing has been a game changer for our kitchen.
The air-fryer quickly gives a 'fried' effect to foods such as potatos, vegetables (we love cauliflower and broccoli!) and appetizers like potstickers using 1 tablespoon of oil or less. More often than not, we opt for using no oil, and our food (such as the potatoes pictured above) come out nice and crispy!
This is a must-have for anyone following a Whole Food Plant-Based diet who tries to avoid oil.
Right now the TFAL air fryer I have is on sale from for only $154.99 down from $249.99 on Amazon. Just click on the picture below.

If you don't have an air fryer, lay down some parchment paper on a pan and bake these potatoes in the oven.
The Recipe
PRINT RECIPE
Vegan Balsamic Potato Salad
Pin Recipe
Ingredients
1

Sweet Potatoe

2

Medium Yukon Gold Potatoes

1

Cup

Chopped Kale

1

Cup

Chopped Onion

1/2

Cup

Broccoli

1

Tbsp

Minced Garlic

2

Tbsp

Balsamic Vinaigrette

1

Tbsp

Vegetable Broth

1

Tbsp

Dill

1/2

Tbsp

Tumeric

1

Tbsp

Salt
Instructions
Dice potatoes into evenly sized cubes and cook for around 20 minutes in the air-fryer or at 350 in the oven for 20-25 minutes. Let them cool for 10-15 minutes after they are cooked if you would like a cold potato salad.

While the potatoes are cooking, wash and chop the kale, broccoli and onion.

Once the potatoes are cooked and cooled, add them to a large bowl. Add the vegetables and mix in the balsamic vinaigrette, vegetable broth, dill, tumeric and salt. Add more salt and pepper to taste.
Notes
You can eat this potato salad hot or cold.