Vegan One Pot Pasta
This Vegan One Pot Pasta is a rich, nourishing and delicious meal that you can have on the table in 30 minutes or less!
There are few things in life that make me happier than a big bowl of steaming hot pasta piled high in front of me (with a glass of wine, too).
Tell me I can have a delicious creamy Vegan One Pot Pasta on my plate using just eight simple healthy ingredients, and I. AM. SOLD. Let me bow to the pasta gods.
From one pasta addict to another, let me introduce you to your new favorite weeknight dinner.
What's In Vegan One Pot Pasta?
Guys. I have great news. Not only is this one pot vegan pasta dish ridiculously quick and easy, it's also really good for you too.
Yep – it ticks off all the boxes. Vegan, Whole Food Plant Based, Oil Free, Dairy Free, and Gluten Free (depending on what pasta you use)! This recipe can even be salt free if you desire.
Here's what you need to make this easy vegan one pot pasta.
4 vine ripe tomatoes
1/2 yellow onion
handful of basil
2 cups of vegetable broth
4 cloves garlic
one cup almond milk (or vegan milk of choice)
450g of pasta of choice (we used brown rice pasta)
Dried Oregano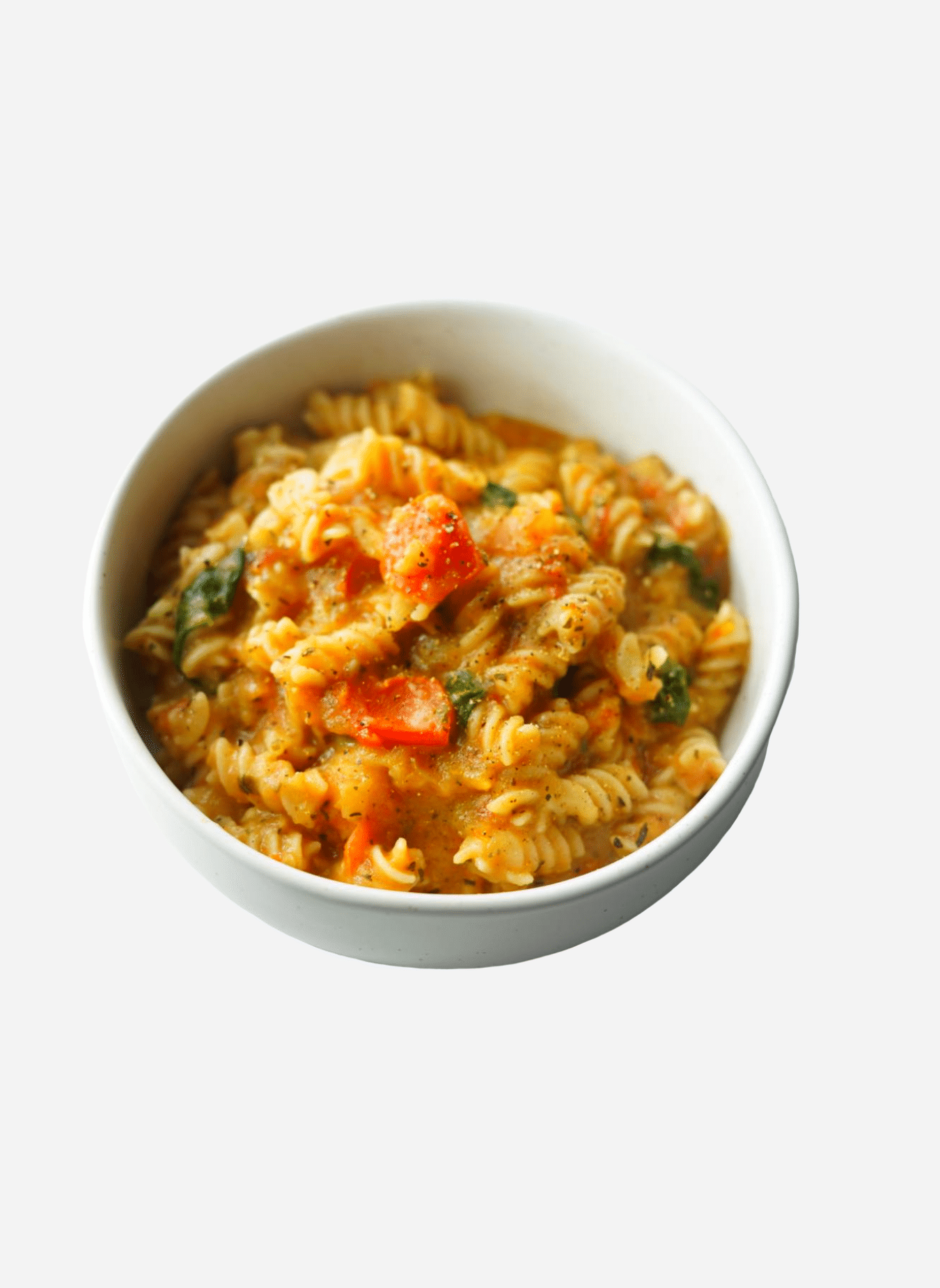 What Pasta Should I Use For This Recipe?
For this One Pot Vegan Pasta, we used brown rice rotini noodles. With that said, this pasta dish would be excellent with a whole grain, chickpea pasta or even a red lentil pasta if you're searching for something with a little more protein.
Choose your favorite. The best part is the pasta cooks right in the sauce so you don't even need to make it separately.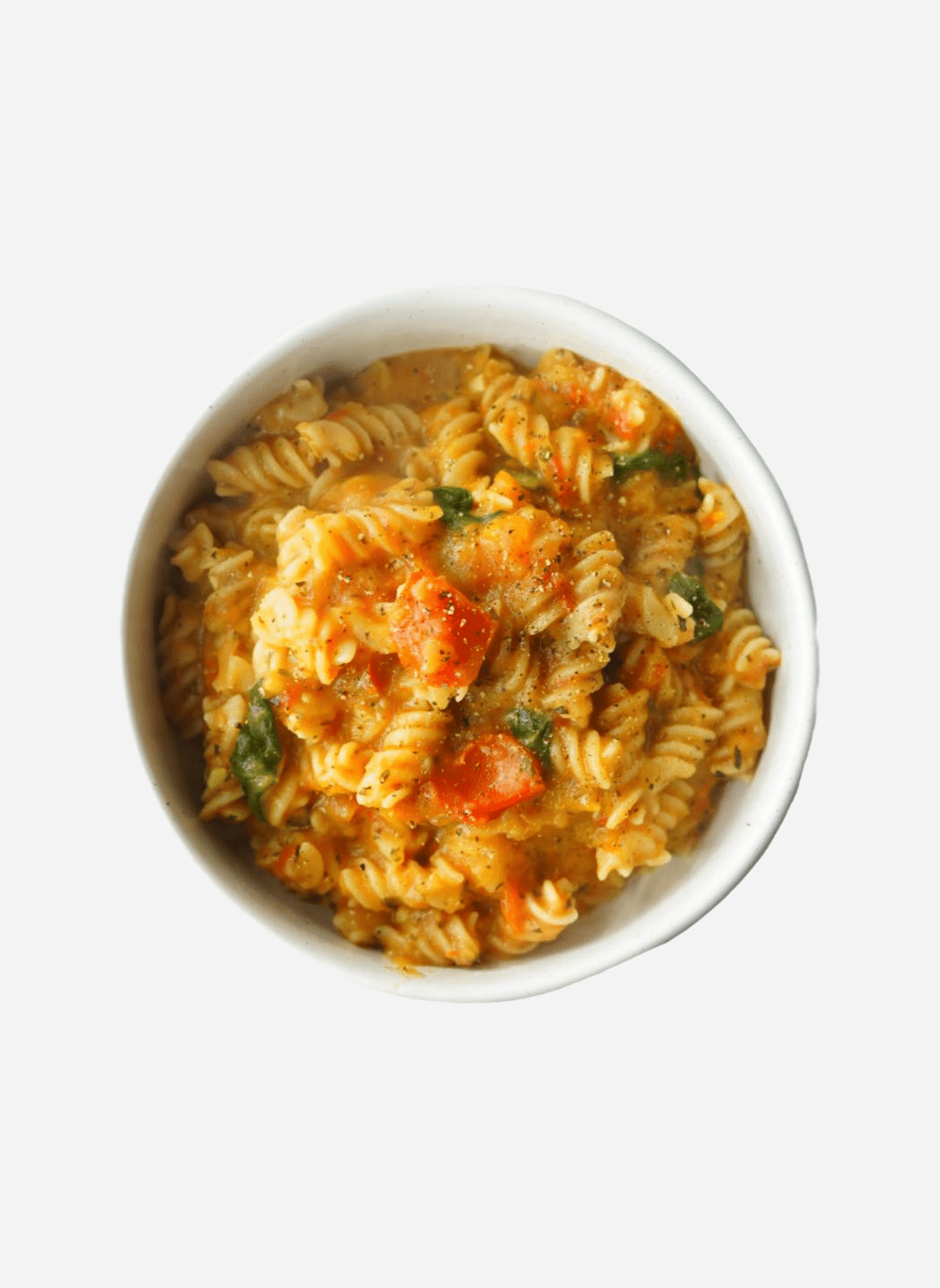 What makes this Vegan One Pot Pasta creamy?
There are a couple of different elements of this delicious sauce that make for a creamy, velvety texture.
For one, we utilized one cup of almond milk in this recipe, which instantly adds a creaminess to the tomato based sauce. You could also use soy milk, cashew milk or even coconut milk to get the same effect.
As well, since you cook the pasta right in the sauce, the starch from the pasta helps to thicken the sauce giving it an even creamier texture.
[embedyt] https://www.youtube.com/watch?v=t9xYru9KEhA[/embedyt]
What kitchen equipment do I need for this Vegan One Pot Pasta?
You need just a couple of basic pieces of kitchen equipment for this delicious pasta dish.
They include:
Blender or food processor (we are absolutely obsessed with our Vitamix for anything blender related)
Large pot or stainless steel pan
Spatula
Yep – that's it. You won't have many dishes after this one pot pasta dish, and that's just the way I like it!
If you're looking for another nutrient dense pasta dish, definitely checkout or vegan bolognese.
Plant-Based Meal Plans
If you like the look of this one-pot nourishing vegan pasta recipe, you would love our weekly meal plan subscription.
For just $7.99/month, you can gain access to over 65 done for you whole food plant based meal plans with shopping lists and the caloric information for each recipe. A new meal plan comes out every single Thursday so you always have something new, easy and delicious to cook up!
You can get signed up (and cancel anytime) right here.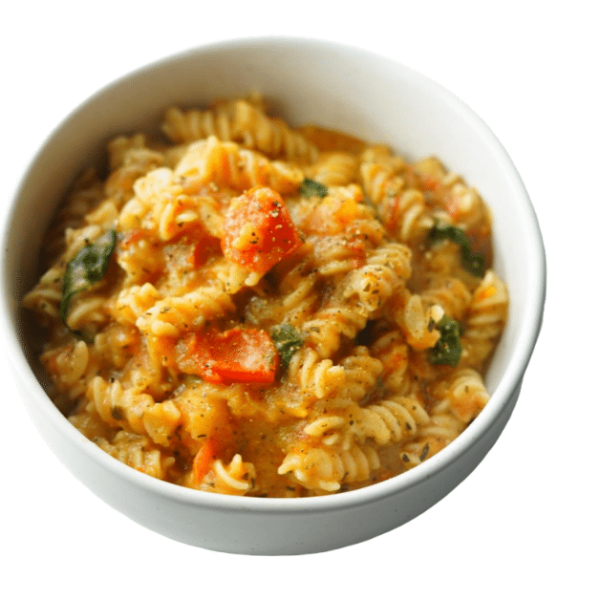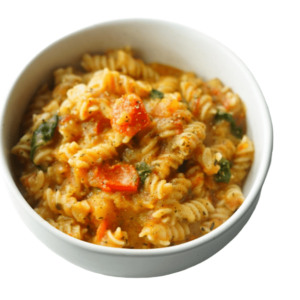 The Recipe: Vegan One Pot Pasta
Seven simple ingredients and less than 30 minutes are all you need for this ridiculously easy and healthy one pot vegan pasta dish!
Ingredients
450 Grams Brown Rice Pasta
5 Vine Ripened Tomatoes
½ Yellow Onion
4 Garlic, Cloves
2 Handfuls Basil
2 Cups Vegetable Broth
1 Cup Almond Milk
1 Tsp Dried Oregano
Instructions
Throw four tomatoes, onion, garlic and one handful of basil in a blender or food processor. Blend until a smooth tomato sauce is formed.

Add to a large deep pan or pot over medium heat. Add in your vegetable broth and almond milk, as well as one freshly chopped tomato.

Bring the sauce to a boil, then add your pasta, lower heat, and cover for approximately 8-10 minutes, until pasta is cooked and sauce has thickened. Add in a handful of fresh basil at the end.

Enjoy with pepper, salt and red chili flakes as desired.
Calories: 245kcal, Carbohydrates: 49g, Protein: 6g, Fat: 3g