Cauliflower Gnocchi
Welcome back to Sneaky Veggies, let's make some mind-blowing cauliflower gnocchi!
If you're looking for an alternative to traditional potato gnocchi, this recipe will change your life. Cauliflower is well-known for being a good substitute to starch-heavy foods. It can be shredded to mimic rice, mashed to resemble mashed potatoes, and even blended to create a thick, creamy sauce.
This cauliflower gnocchi recipe is a great way to make this legendary pasta less starchy and easier on your stomach.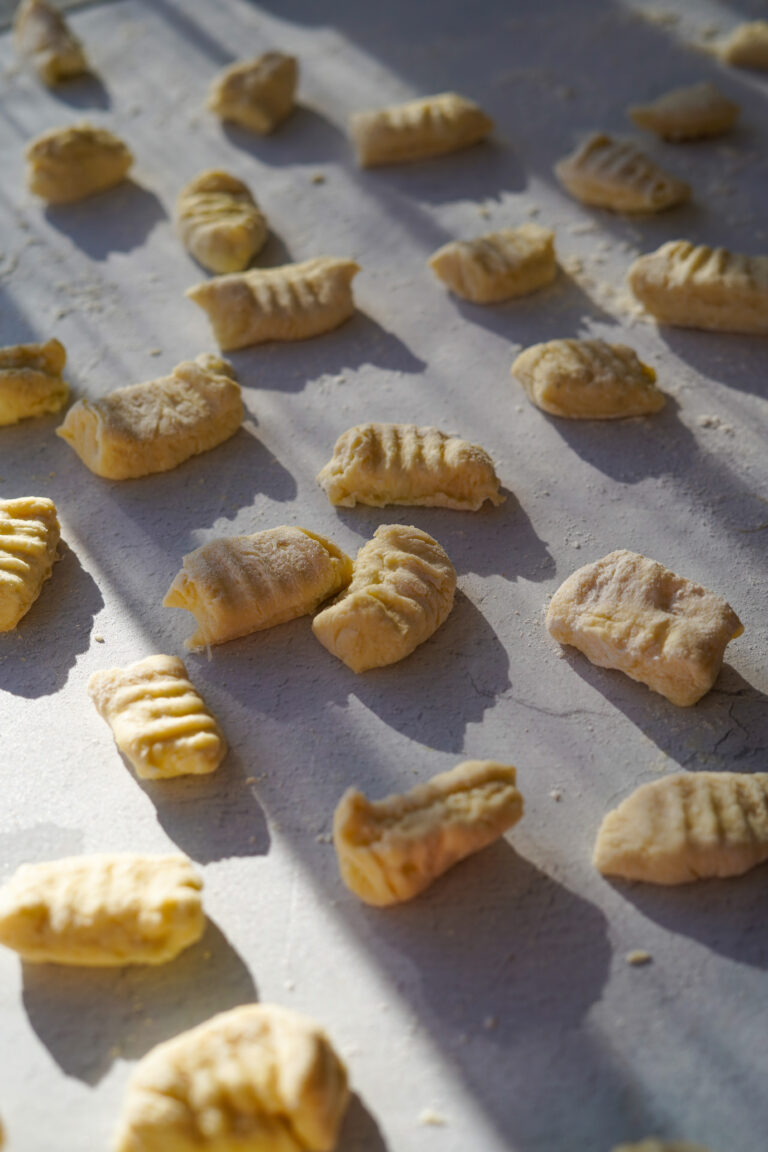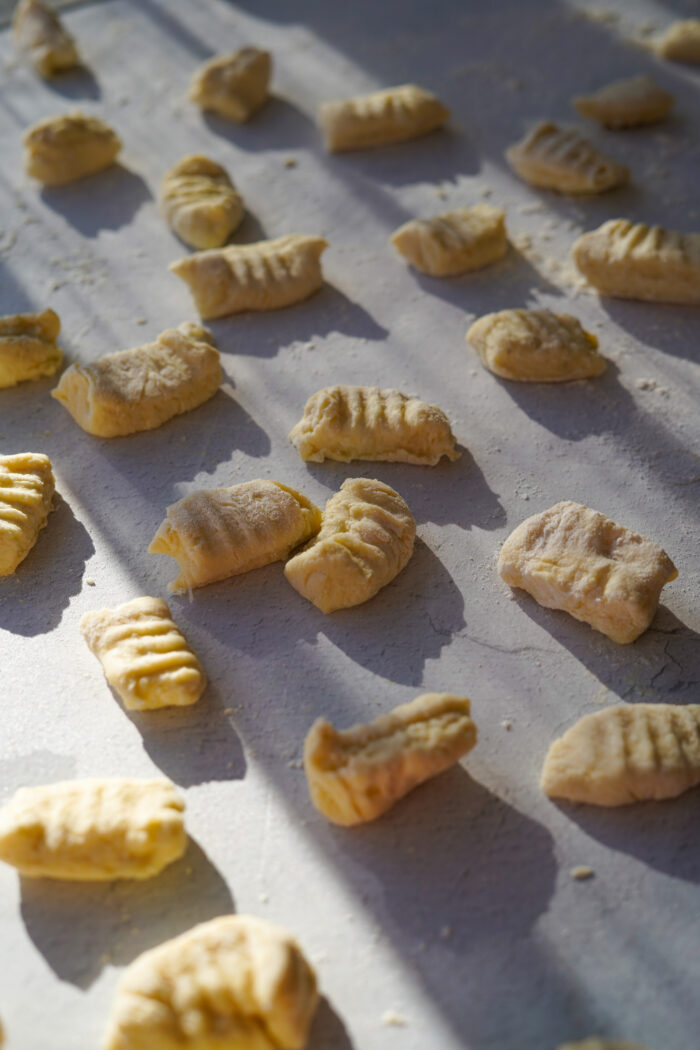 Why You'll Love This Recipe
While gnocchi is an undoubtedly delicious type of pasta, for some people it is quite heavy on the stomach. This cauliflower gnocchi recipe is a lighter alternative that is easier to digest.
This recipe is just as easy to make as traditional gnocchi, except it's actually a little bit faster!
Like other types of pasta, cauliflower gnocchi can be served in so many ways!
If you're trying to sneak more vegetables into your diet, this is a great place to start. It's also a good way to make your kids eat their veggies!
How to Make This Recipe
Start by cooking the cauliflower. Drop the florets into boiling water and simmer on low medium heat until tender. After about 7-8 minutes, you should be able to easily pierce each floret with a fork.
Drain the liquid and spread the cauliflower on a clean kitchen cloth. Sprinkle with salt, and allow the florets to dry for about 10 minutes. Ring out any excess moisture from the cauliflower florets. Ideally, you want them as dry as possible.
Place cauliflower to a food processor with an S-blade. Prices until smooth. Next, add flour, nutritional yeast, garlic powder and salt. Carefully combine until a smooth dough is formed. It may take some time to properly knead your dough.
Dust a clean kitchen surface with flour. Transfer the dough to a floured work surface, and roll it out into a "rope" about an inch in diameter. Slice into little rectangles.
Cook the gnocchi in a frying pan over medium heat until browned, approximately 5 minutes. Alternatively, bring one water to a boil before adding the gnocchi. Cook until the gnocchi rises to the top. Enjoy now with your favorite sauce of choice.
Hack It!
Another way to cook the cauliflower florets at the start is to steam them. This can actually make it easier to dry the florets once they are cooked!
You can make this dish gluten-free with relative ease. Use all-purpose gluten-free flour mix, or make your own!
To incorporate even more hidden veggies into your meal, serve these cauliflower gnocchi with a hidden vegetable sauce.
While fresh, the gnocchi can be tossed in a little bit of rice flour to stop them from sticking together. This way, you can refrigerate them for 3-4 days before cooking. Cauliflower gnocchi can also be frozen.
Other Recipes You'll Love
For more fascinating recipes like this one, check out PlantYou meal planner. There are over 600 recipes in the planner database, including soups, stews, curry, casseroles, and more! Plenty of them feature hidden vegetables, and virtually all of them are beginner-friendly! You can fully customize your weekly menu, toggle the number of servings, and enjoy the dynamic shopping list generated by the app.
When I started my journey as a plant-based blogger, my main goal was to help people eat more plants! Since then, I have created hundreds of recipes. Thanks to the positive response from the plant-based community, I have been able to bring you the PlantYou Cookbook featuring a selection of 140+ incredible vegan recipes. Plant-based living has never been easier!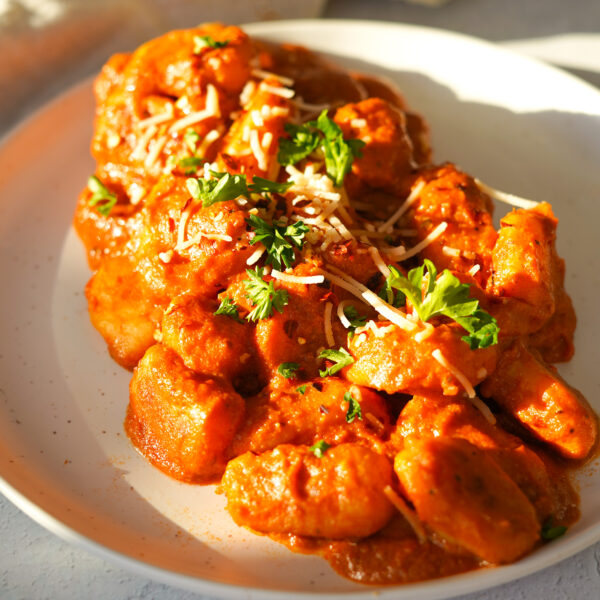 The Recipe: Cauliflower Gnocchi
A lighter alternative to a traditional potato gnocchi pasta.
Ingredients
1 head cauliflower, large, broken into florets
1 ¾ cup all-purpose flour, more as needed
1 tbsp nutritional yeast
½ tsp garlic powder
½ tsp salt
Equipment
Medium pot

Tea towel

Food Processor

knife

frying pan
Instructions
Bring a pot of water to a boil, and add the cauliflower florets. Simmer until soft, approximately 20 to 25 minutes.

Transfer the cauliflower to a clean cloth. Sprinkle with salt, and allow that to dry for 10 minutes. Then, over a sink or a bowl, ring out any excess moisture from the cauliflower florets. You want them to be as dry as possible. 

Add the florets to a food processor with an s-blade, and mince until smooth. Alternatively, mash with a potato masher until completely smooth. Transfer to a bowl, and add the remaining ingredients. Mix until a dough is formed, adding more flour as needed to create a soft but moldable dough. It will be slightly sticky.

Transfer to a floured work surface, and knead for 1 to 2 minutes into a round ball. Cut the ball into four pieces so it is easier to work with, and roll each piece into a cylinder rope around an inch thick. Using a knife, slice into little gnocchi sized rectangles. You can now add a fork mark to each piece of gnocchi for a visual effect if desired, but it's not necessary for taste!

Add the gnocchi to an oiled or non-stick pan over medium heat, and cook until browned, approximately 5 minutes. Alternatively, boil until the gnocchi rises to the top. Enjoy now with your favorite sauce of choice.
Calories: 486.6kcal, Carbohydrates: 99.9g, Protein: 18.8g, Fat: 2g, Saturated Fat: 0.5g, Polyunsaturated Fat: 0.5g, Monounsaturated Fat: 0.2g, Sodium: 670.3mg, Potassium: 1060.7mg, Fiber: 9.7g, Sugar: 5.8g, Vitamin C: 138.6mg, Calcium: 80.6mg, Iron: 6.5mg