Thai Noodle Salad
If you love a hearty stir fry or ramen, but are craving something chilled and refreshing… This Thai noodle salad with peanut dressing is the perfect summer treat!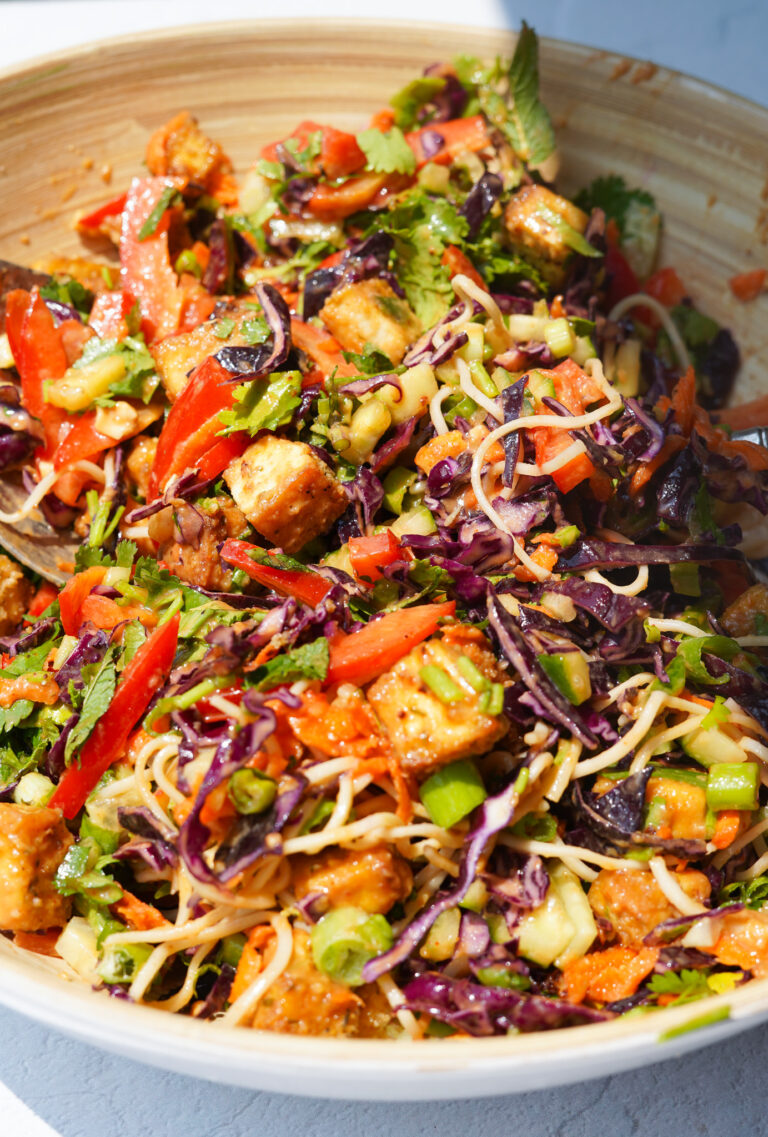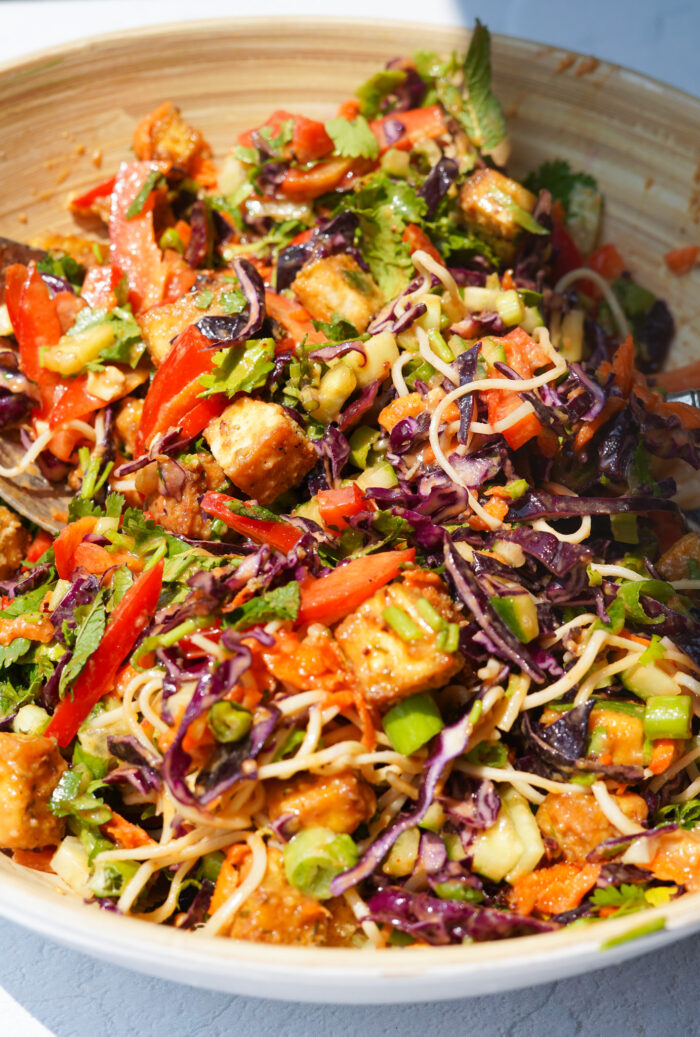 If you're looking for a mind-blowing summer salad recipe, look no further than this delicious Thai noodles salad. It has everything you need in terms of flavor, textures, and of course, nutritional value!
This salad is inspired by the produce commonly used in Thai cuisine, including purple cabbage, fresh carrots, cilantro, avocado, and edamame beans. To round it up, this Thai noodle salad is served with rich, earthy peanut dressing.
Why You'll Love This Recipe
Let's start with the fact that this Thai noodle salad is absolutely, help-yourself-to-a-second-serving DELICIOUS! The combination of fresh veggies, aromatic herbs, and an indulgent peanut butter dressing… It is to die for!
The textures in this salad complement each other perfectly. Just imagine the crunchy veggies, soft ripe avocado, chewy edamame, and noodles covered in creamy peanut sauce. I couldn't make it more well-rounded if I tried.
Nutritionally, this recipe has everything you need in a meal. Noodles are a wholesome source of carbs, veggies provide fiber and various vitamins, edamame and tofu is a match made in protein heaven, and everything is topped up with avocado and peanut sauce, both great sources of plant-based fat.
You can make a nice big batch and enjoy this Thai noodle salad all week! It is an excellent meal prep option! Alternatively, you could make this recipe to surprise and indulge your guests.
All in all, this is a simple recipe. The beauty of salads is that once the ingredients are sliced and diced, you're pretty much done. The dressing also comes together in five minutes. Quick and easy!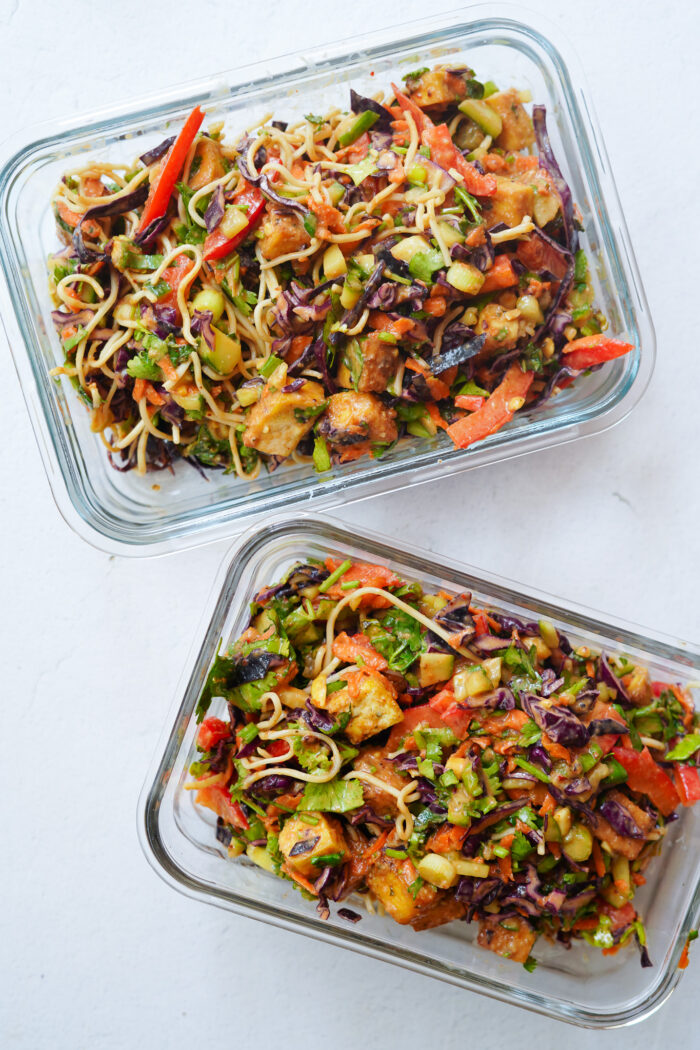 How to Make This Recipe
Start by prepping your noodles. Depending on the type of noodles you use, this may require cooking them, soaking them, or draining them. Some stores sell ready-to-go noodles, which is probably the easiest option.
Personally, I like to use Pad Thai rice noodles for a recipe like this, because they just need soaking for a few minutes in hot water. Keep in mind that if you have to cook the noodles first, you should also leave them to cool down before you mix them with other ingredients.
Another item that requires a little bit of advance planning is the tofu. Thankfully, it's low-effort prep. Just cut your tofu into cubes and bake or air fry it for 15-20 minutes until crispy on the outside.
Meanwhile, prep your veggies. Finely slice the cabbage using a knife or a mandolin. You can grate the carrots or cut them julienne. Fresh herbs like cilantro and basil can be simply chopped, along with cucumber. Finally, pit and slice your avocados.
To bring it all together, whisk up four servings of the easy peanut sauce. Add all the ingredients into a bowl, top it with the peanut dressing, and mix everything together. Enjoy!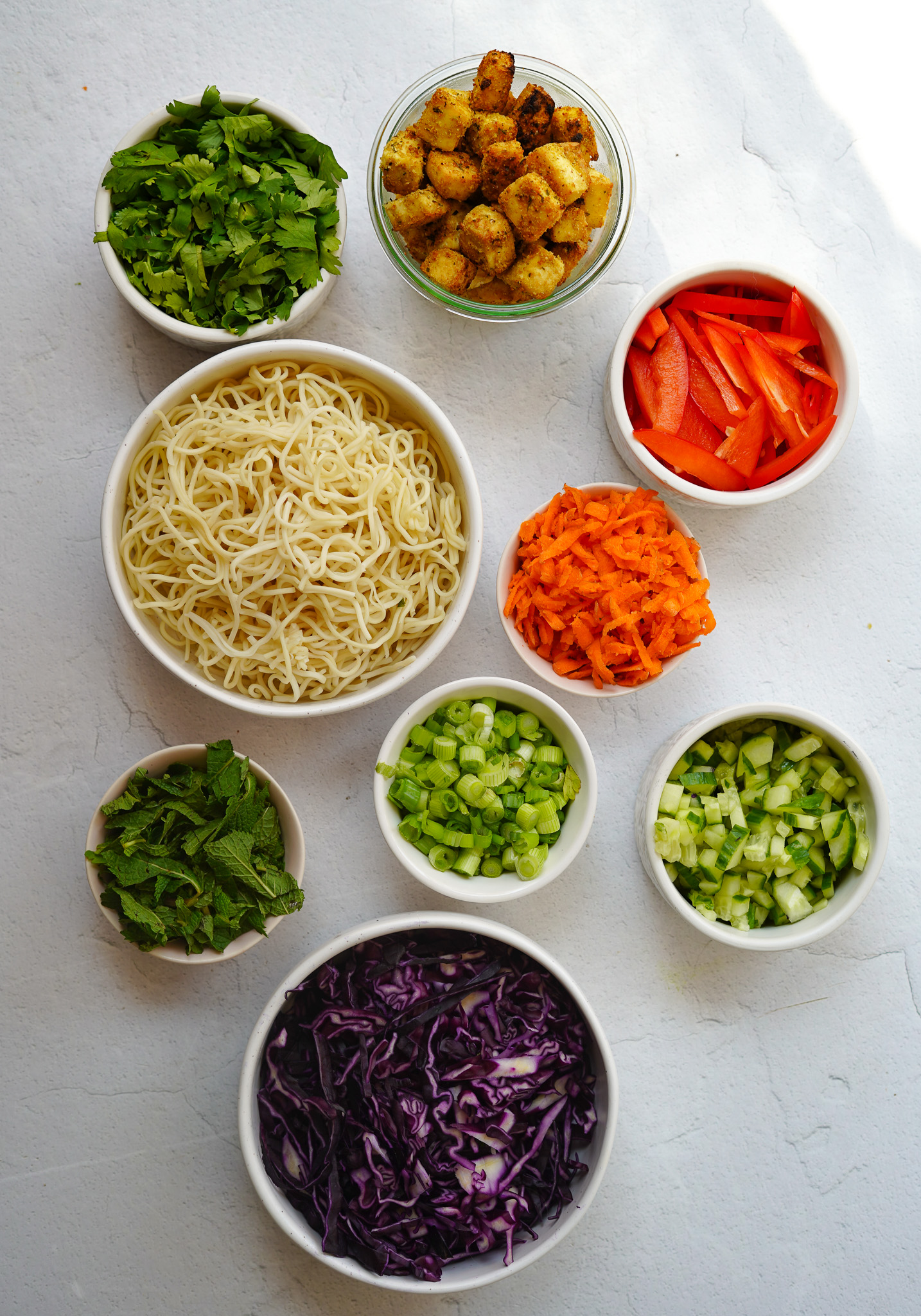 Hack It!
I always try to make my recipes allergen-friendly with reasonable substitutions. This salad is no exception! For instance, if you're allergic to peanuts or nuts in general, you can absolutely swap the dressing for something different. Have you tried my amazing everything green sauce?
Another common allergy is soy. This recipe has three ingredients that need to be swapped or omitted. Instead of tofu, you could try chickpeas, seitan, or both! You could also try looking for soy-free tofu made with pumpkin seeds, lentils, or chickpeas. Edamame can be swapped for steamed green beans or asparagus.
Watch out for soy sauce in the peanut dressing! Swap it for liquid aminos or use a different dressing.
As for the noodles, you can use any noodles that you like! If you're a ramen fan, you could add udon. Try rice noodles, glass noodles, or konjaku for a gluten-free version.
Equally, you can make use of fresh ingredients available to you. For instance, you could add some bell pepper, parsley, spinach, or even a sweet ingredient like mango.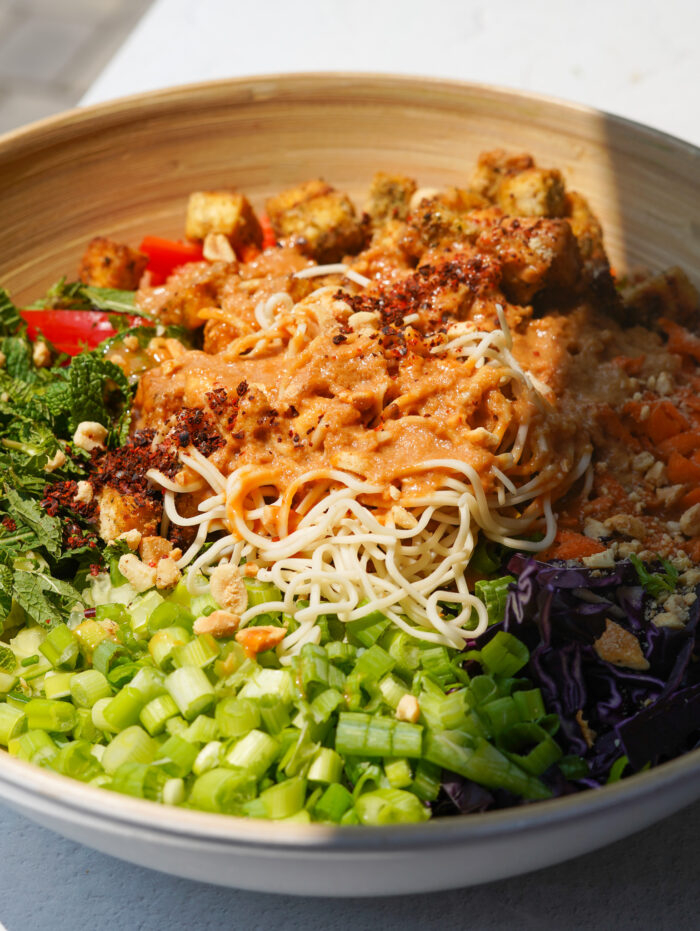 Nutritional Benefits of Thai Noodle Salad
Cooked noodles. Noodles provide carbohydrates for energy and can be a source of fiber, depending on the type you use.
Extra firm tofu. Tofu is a good source of plant-based protein, providing all essential amino acids. It also contains iron, calcium, and other minerals.
Purple cabbage. Purple cabbage is rich in antioxidants, vitamins (such as vitamin C), and fiber. It adds color and crunch to the salad.
Carrot. Carrots are high in beta-carotene, which is converted into vitamin A in the body. They also provide fiber and other vitamins and minerals.
Cucumber. Cucumbers are hydrating and low in calories. They provide a refreshing crunch and contain some vitamins and minerals.
Cilantro. Cilantro adds flavor and is a good source of antioxidants and certain vitamins and minerals. If you don't like the flavor, you can use parsley instead.
Avocado. Avocado is rich in healthy monounsaturated fats, which can help support heart health. It also provides fiber, vitamins (such as vitamin K, vitamin E, and vitamin C), and minerals.
Basil. Basil is an herb that adds flavor and aroma to the salad. It contains antioxidants and certain vitamins and minerals.
Edamame. Edamame is young soybeans and is a good source of plant-based protein. It also provides fiber, vitamins, and minerals.
Lime juice. Lime adds a tangy flavor to the salad and is a good source of vitamin C, which supports the immune system and helps with iron absorption.
What Equipment Do I Need?
For this recipe, you won't need much. That's why it makes such a brilliant meal! The most important items you need (in general, but also for this recipe) is a set of quality sharp knives and a cutting board.
Other than that, grab a big mixing bowl and go for it!
Other Recipes You'll Love
If you like delicious and nutritious plant-based recipes like this one, check out the PlantYou Planner! It's a fully plant-based meal planner app that allows you to organise your weekly menu with the power to customize it! You can toggle the number of servings, and enjoy the perks of a checkable shopping list generated based on your selection. The planner has a huge database of healthy, beginner-friendly vegan recipes, and once you sign up, you can FULL ACCESS to all recipes and past meal plans.
And if you like to have all of your favorite recipes in one place, I strongly recommend that you get your hands on the PlantYou Cookbook. The book features over 140 delicious plant-based recipes, including appetizers, mains, sides, desserts, and even dressings and dips! Whatever the occasion, you'll find an appropriate recipe in this cookbook!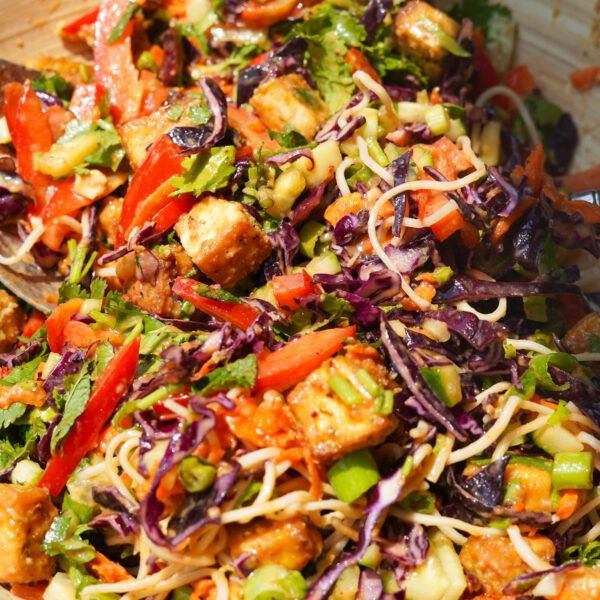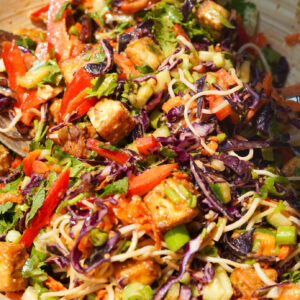 The Recipe: Thai Noodle Salad
A delicious summer salad recipe that draws inspiration from East Asian cuisine.
Ingredients
375 gram extra firm tofu, 1 block, cubed
2 cups cooked noodles
1 cup purple cabbage, shredded
1 carrot, grated
1 cucumber, chopped
1 cup cilantro, chopped
1 avocado, sliced
1 handful basil, chopped
1 cup edamame, thawed
1 lime, juiced
4 servings peanut sauce
Instructions
Cook and cool your noodles.

Bake your tofu at 400F on a lined baking sheet for 15-20 minutes until crispy.

Combine all ingredients in a bowl, and pour the peanut sauce over top. Toss and enjoy! 
Calories: 302.9kcal, Carbohydrates: 35g, Protein: 16.7g, Fat: 12.1g, Saturated Fat: 1.7g, Polyunsaturated Fat: 3g, Monounsaturated Fat: 5.8g, Trans Fat: 0.003g, Sodium: 99.8mg, Potassium: 827.2mg, Fiber: 8.5g, Sugar: 5.5g, Vitamin A: 3228IU, Vitamin C: 29.4mg, Calcium: 98.3mg, Iron: 3.6mg