Giant Spring Rolls
A fabulous recipe that features a variety of plants and takes ONLY 15 minutes? Yes please! These giant spring rolls are going to be your new favorite lunch for weeks to come.
Welcome back to Quickies, a recipe series that combines speed, efficiency, and flavor. Along with other meals, these giant spring rolls are proof that you don't have to sacrifice taste or nutritional value in favor of saving time.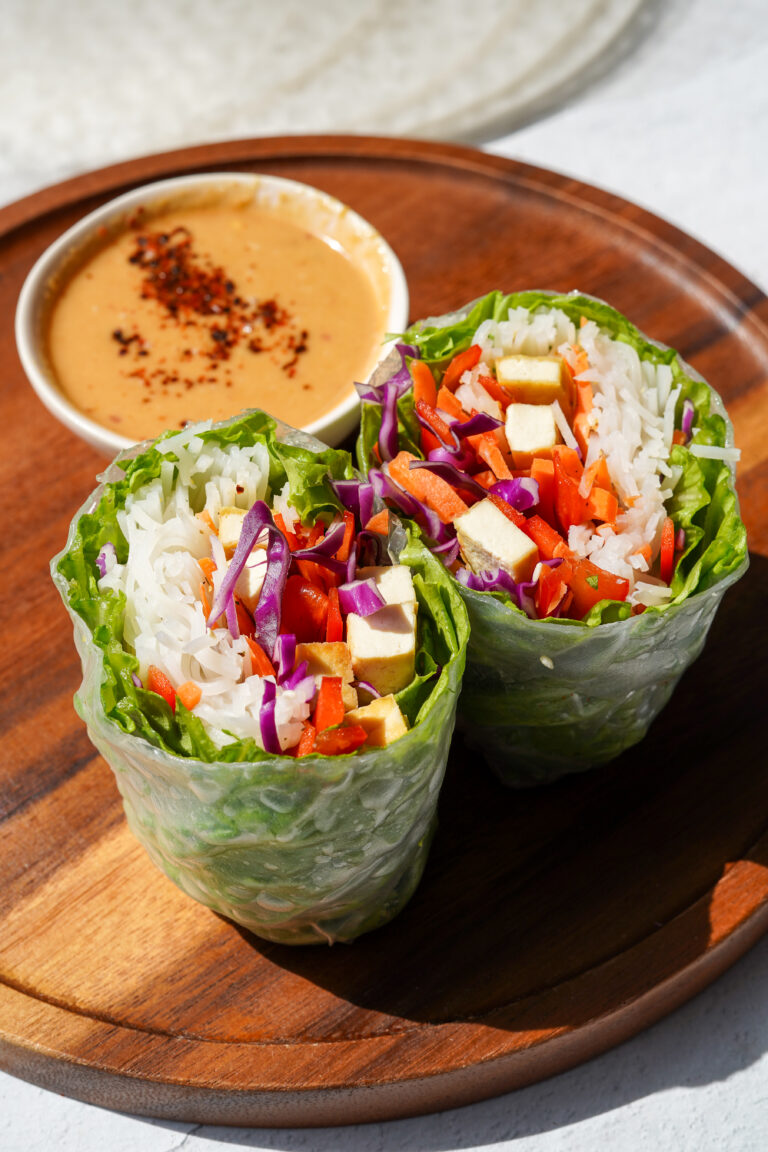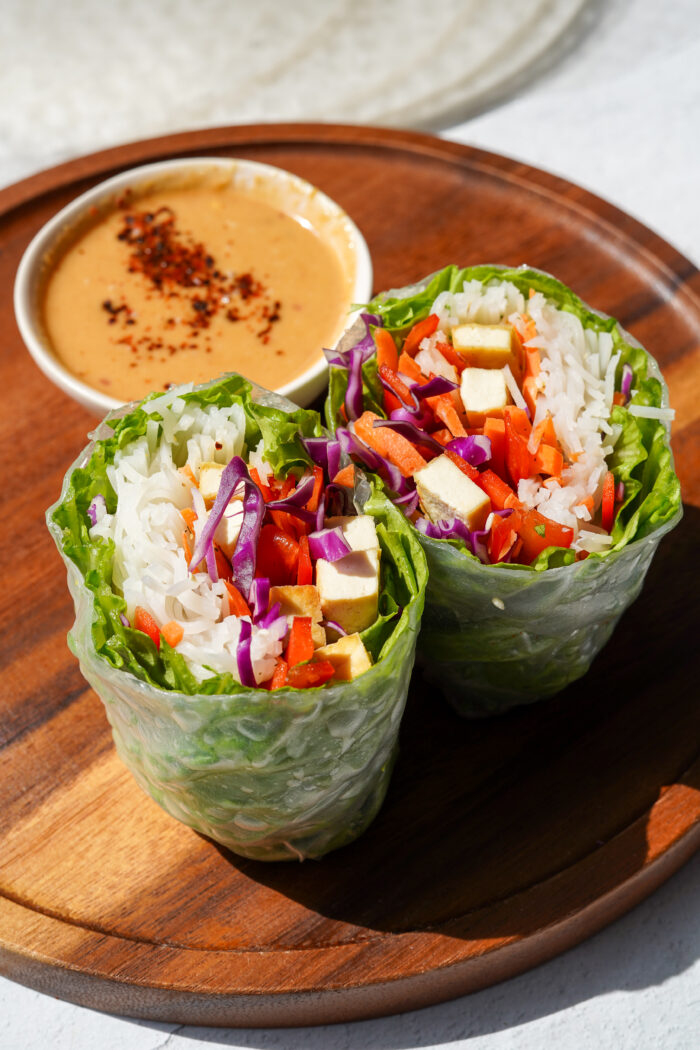 Why You'll Love This Recipe
It's so quick and easy! Once you try these giant spring rolls, they will become your go-to quick meal.
Despite the fact it only takes 15 minutes, this recipe packs A LOT of different veggies. Between lettuce, peppers, carrot, cabbage, and herbs, you have an entire salad wrapped in a neat package.
Additionally, this meal includes tofu to meet your needs for plant-based protein.
You can easily customize these giant spring rolls to your liking! It's also a great zero-waste option for using up leftover veggies.
As well as being a lovely healthy lunch, this is a budget-friendly option that doesn't use any fancy or inaccessible ingredients.
This recipe is naturally gluten-free, and the delicious peanut sauce can be modified to exclude gluten as well.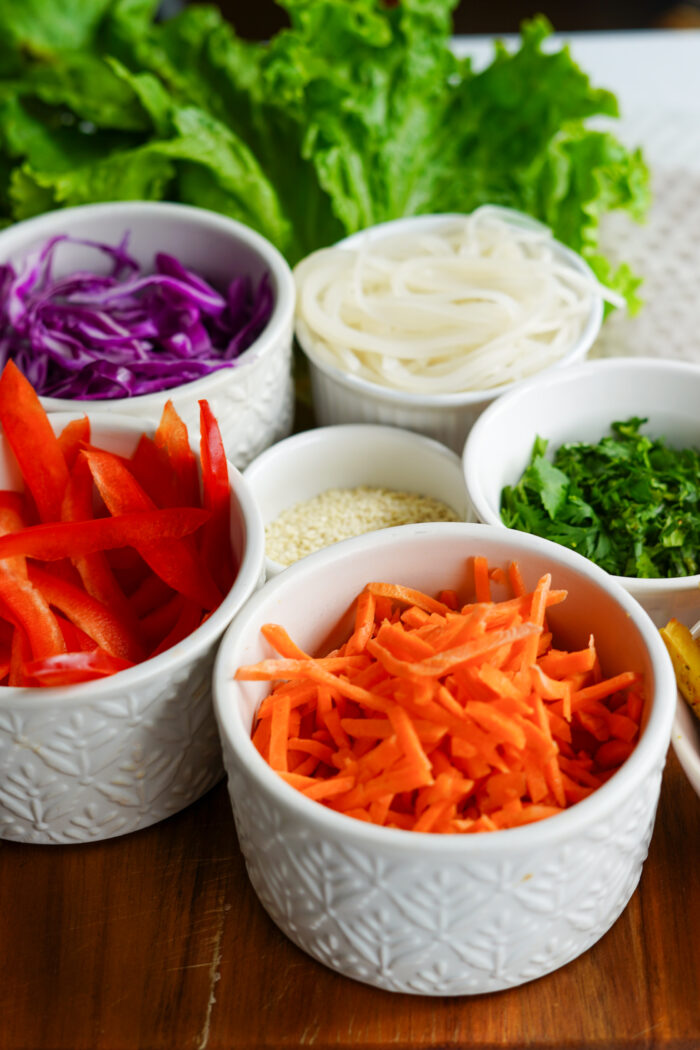 What are Rice Paper Rolls?
Rice paper rolls, also known as Goi Cuon, are believed to have originated in Vietnam. These rolls are wrapped in translucent, thin rice paper sheets, which are made from rice flour, water, and salt.
Known as summer rolls, they are often filled with a combination of fresh vegetables, herbs (such as mint, cilantro, and basil), rice vermicelli noodles, and protein (such as tofu).
The rolls are served uncooked. Instead, the ingredients inside are typically fresh, raw, or sometimes lightly blanched. They are commonly served with a dipping sauce made from ingredients like hoisin sauce, peanut butter, and lime juice.
Colloquially, the terms "summer rolls" and "spring rolls" are sometimes used interchangeably, especially in regions where the distinction between the two may not be as well-known or emphasized. In casual conversation or on menus at restaurants, you might find that the terms are used loosely.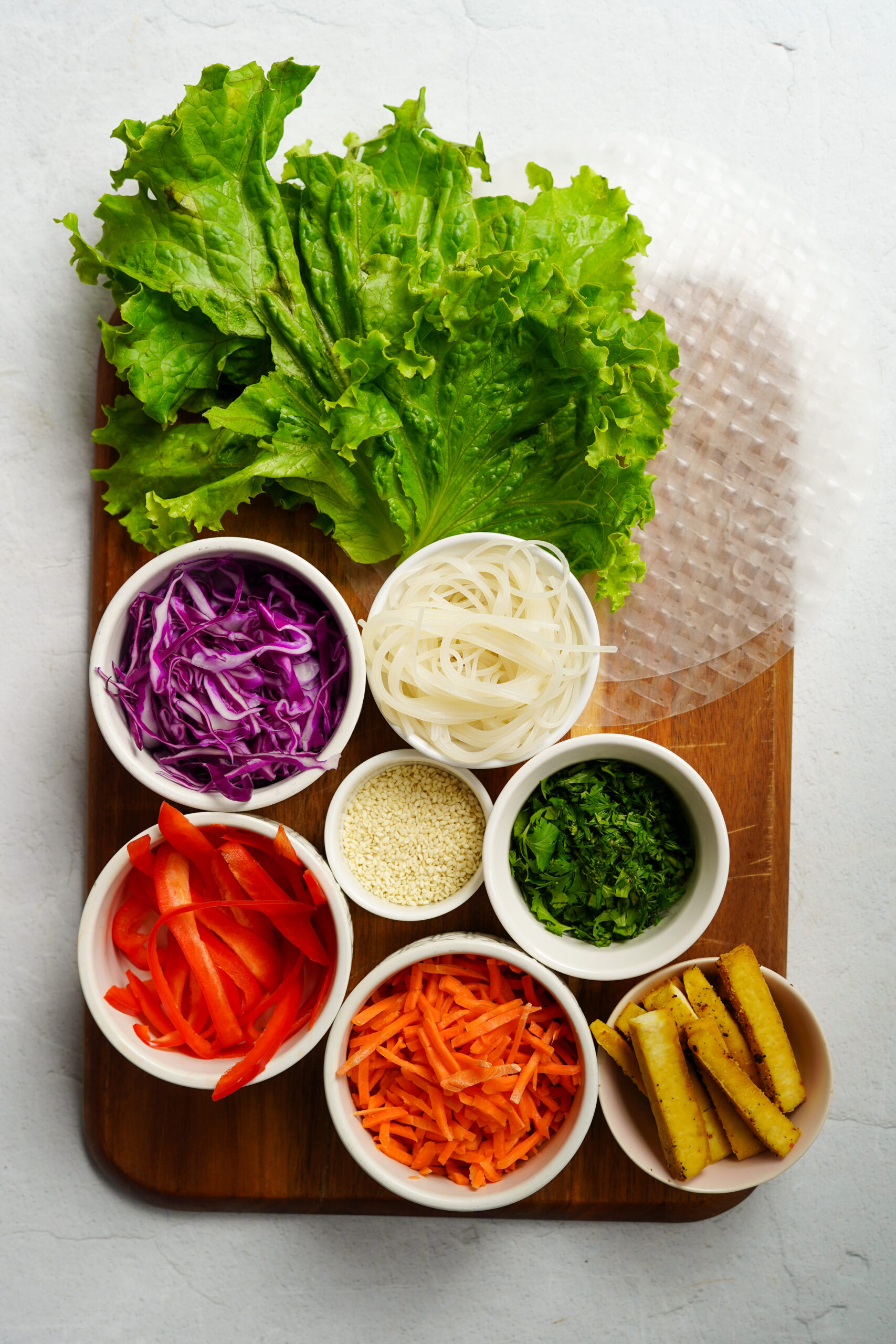 How to Make This Recipe
Start by prepping your filling. Cut up your vegetables and cook your noodles. For vermicelli noodles, it is enough to soak them in hot water for a few minutes and drain the liquid.
Cut the tofu into strips and throw it into an air fryer for 7-10 minutes on high setting to crisp them up.
Next, set up your station. You will need a large shallow boal with warm water and a flat surface to wrap the giant spring rolls.
To assemble, quickly dip two rice paper sheets in the warm water for a few seconds and lay them out on a clean kitchen surface next to each other, overlapping around an inch and a half in the center.
Add the lettuce leaves at the center, followed by vermicelli noodles, tofu, and fresh vegetables. 
Carefully fold the ends of the rice paper over the fillings, then roll it over itself to make a giant roll. Enjoy with my easy peanut sauce or another dip of choice. 
Hack It!
You can reuse the water from cooking your noodles to soften the rice paper for wrapping. In fact, by the time the noodles are cooked and drained, the water will have cooled off to the handling temperature.
Speaking of noodles, you can use your favorite type of noodle, so long as it is thoroughly cooked.
If you cannot eat soy, swap tofu for seitan, chickpeas, or soy-free tofu.
Although these giant spring rolls go amazingly with the peanut sauce, you can serve them with any dip you like. You can even simply sip them in hoisin or soy sauce.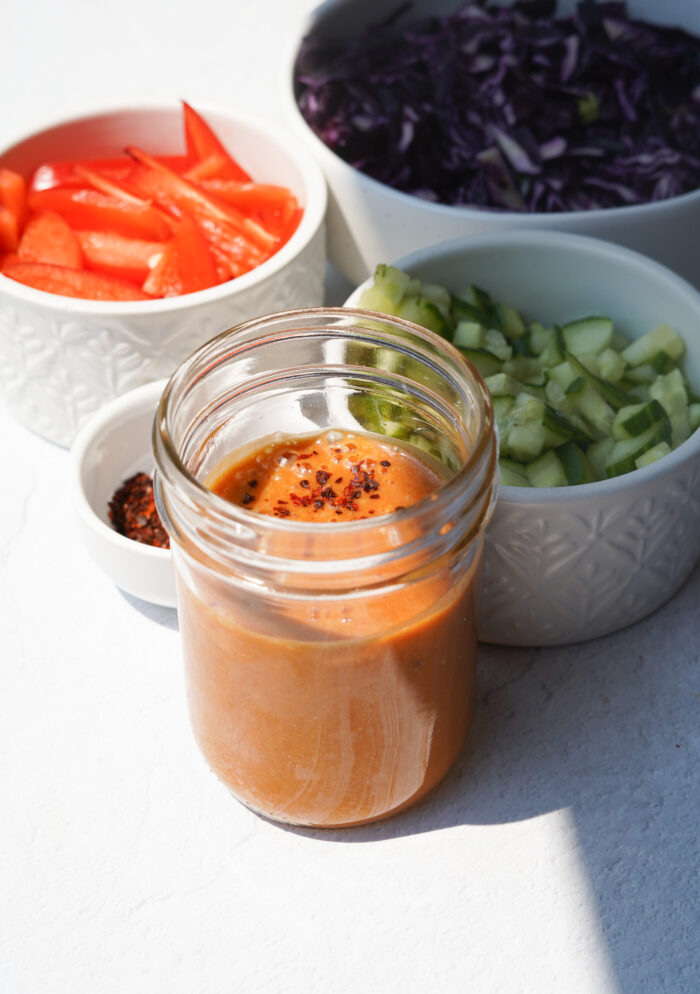 Filling Ideas for Giant Spring Rolls
You can get creative with the fillings for summer rolls, and there's a wide variety of vegetables and other ingredients you can use. Here are some popular options:
Leafy greens. Instead of lettuce, you can use kale, spinach, or collard greens.
Fresh herbs. Not everyone enjoys cilantro, so feel free to use something different, such as mint, parsley, or Thai basil.
Crunchy vegetables. Feel free to swap or add vegetables like cucumber, broccoli, or fresh bean sprouts.
Aromatics. If you ask me, every dish is better with flavor-enhancing ingredients like green onions or garlic chives.
Fruit. Sliced avocado adds creaminess and flavor to the rolls. For a sweeter option, why not add some mango or pineapple slices?
Other. Try this recipe with sesame seeds (for texture and flavor) or crushed peanuts or cashews (for crunch).
Remember to slice or prepare the fillings to a size that will make rolling the summer rolls easier. It's also a good idea to have a variety of colors and textures for visual appeal and a balanced flavor profile.
Feel free to mix and match these ingredients based on your personal preferences and dietary restrictions. That's the beauty of summer rolls—they're highly customizable to suit individual tastes!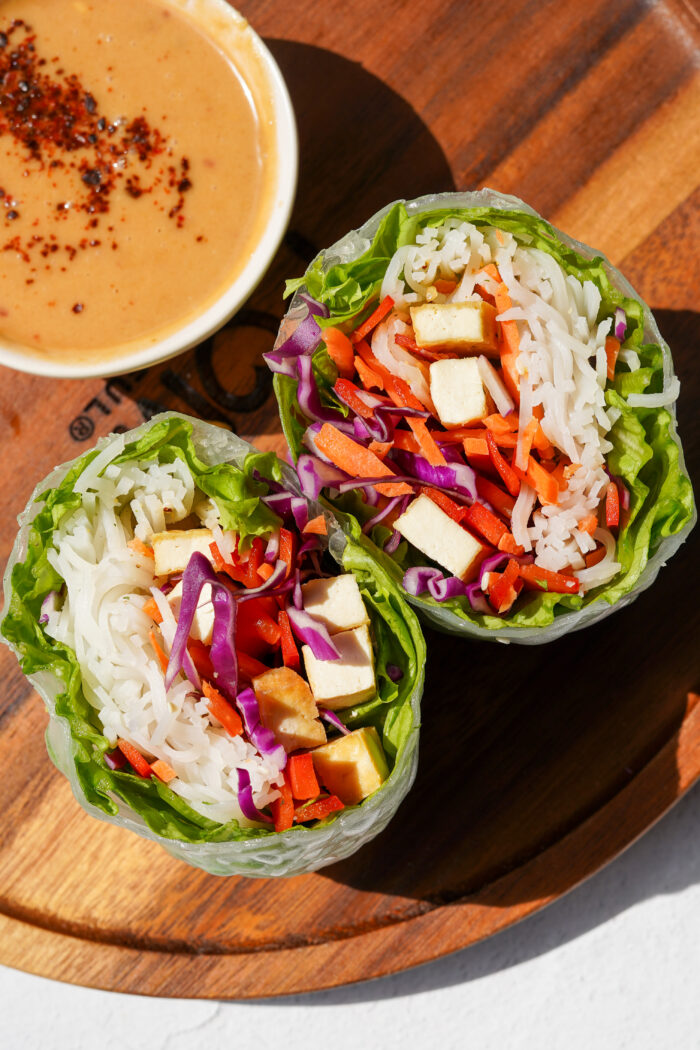 Other Quick Recipes You'll Love
If you love quick and simple recipes like this one, you will enjoy 140+ delicious vegan meals from my cookbook! The PlantYou Cookbook was a labor of love, and a tribute to all the things I wish I had when I first transitioned to plant-based living. All of the recipes in this book are WFPB-compliant and beginner-friendly. Plus, I made sure that every recipe will have a helpful infographic detailing the ingredients.
If you're an adventurous cook who likes to try new recipes every week, you'll love the PlantYou Planner! It's an interactive meal planner app that's fully vegan and largely WFPB. You get to choose from over 600 delicious recipes to create your own meal plan, or follow one of the plans curated by our team. If you want to try it out, there are 25+ vegan recipes and a vegan beginner meal plan accessible FOR FREE.
Just because you're eating plenty of fruit and veggies, doesn't always mean your nutritional criteria is met. I have recently collaborated with an amazing women-led supplement company to create a multinutrient aimed at plant-based and plant-centered eaters. With Complement x PlantYou Essential, thriving on a vegan diet has never been easier!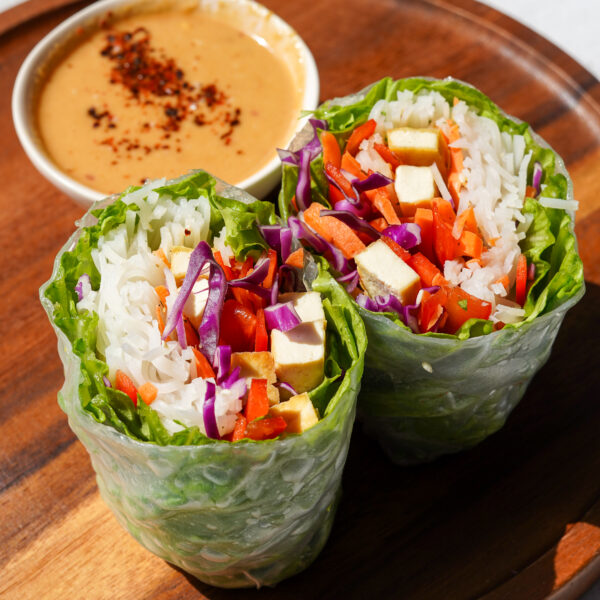 The Recipe: Giant Spring Rolls
A healthy and nutritious fresh spring roll recipe that is ready in 15 minutes or less!
Ingredients
2 rice paper sheets
4 leaves lettuce
½ cup vermicelli noodles, cooked
½ cup tofu, cut into strips, baked
¼ red bell pepper, thinly sliced
⅓ cup carrots, cut into matchsticks
⅓ cup red cabbage, thinly sliced
1 handful fresh herbs, I recommend cilantro
peanut sauce, to serve
Instructions
Add warm water to a large, shallow bowl. Quickly dip the rice paper wraps in the warm water for a few seconds. Lay the two rice paper wrappers beside each other, overlapping around an inch and a half in the center.

Now layer. First lay down the lettuce leaves, then the vermicelli noodles, tofu, and vegetables. 

Fold all the ends of the wrap paper wrap in over the fillings, and then roll it over itself to create a giant, fresh spring roll. Enjoy with my peanut sauce or your favorite dip of choice. 
Calories: 685.7kcal, Carbohydrates: 132.6g, Protein: 20.3g, Fat: 7g, Saturated Fat: 1g, Polyunsaturated Fat: 3.9g, Monounsaturated Fat: 1.8g, Cholesterol: 3.4mg, Sodium: 481.7mg, Potassium: 405.3mg, Fiber: 6.5g, Sugar: 5.4g, Vitamin A: 8893.4IU, Vitamin C: 63.7mg, Calcium: 234.9mg, Iron: 4.5mg