How To Make Tomato Powder
Welcome back to the Scrappy Cooking series! You're about to learn how to make homemade tomato powder using… tomato skins. This may just blow your mind, too.
If you don't use tomato powder in your cooking, get ready for your mind to be blown. This homemade tomato powder is a great zero waste recipe that will revolutionize your meals. Use it for barbecue spice rubs, or to flavor soups, stews and stir fries! Best of all, this recipe is made using what is essentially a waste product, which means it's free.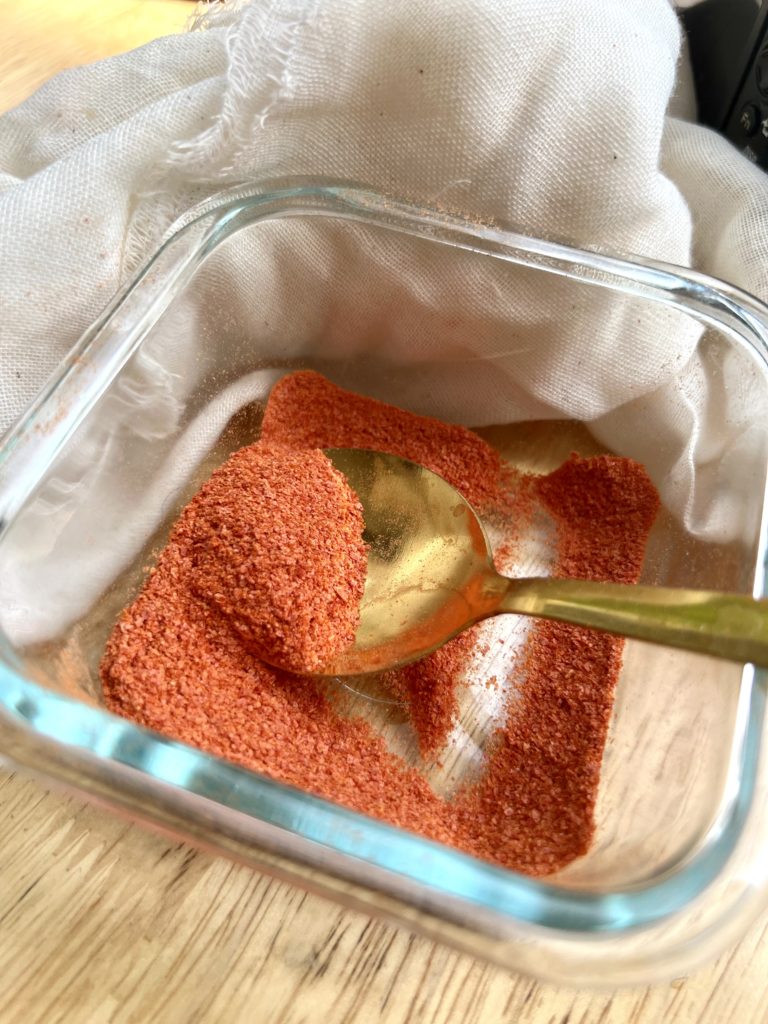 Why You'll Love This Recipe
One of the reasons I started the Scrappy Cooking series is because I hate wasting food. This homemade tomato powder recipe uses tomato skins that would otherwise be discarded, which is just one of many ways to reduce your household waste.
Why should you pay for storebought tomato powder when you can make it… for FREE?
People tend to think that spices and flavorings are difficult to make. This recipe is proof that it's not true!
Tomato powder is a great addition to so many dishes! Make delicious broth, a spice rub, a dip… Truly, tomato powder should be a staple in everyone's kitchen.
How to Make This Recipe
First thing you want to do is save some tomato skins. Some recipes, like tomato sauce or canned tomatoes, require tomatoes to be peeled.
Then, you've gotta dry the tomato skins. There are two ways to do that: you can use a dehydrator or bake the skins at low heat in the oven. Set your oven or dehydrator to 135 F and dry for 8-12 hours.
Place the tomato skins in a coffee grinder or a blender, and grind until they are a fine powder.
Store in a jar for up to 2 months. Use on top of soup, stir fries and other dishes for a subtle tomato kick.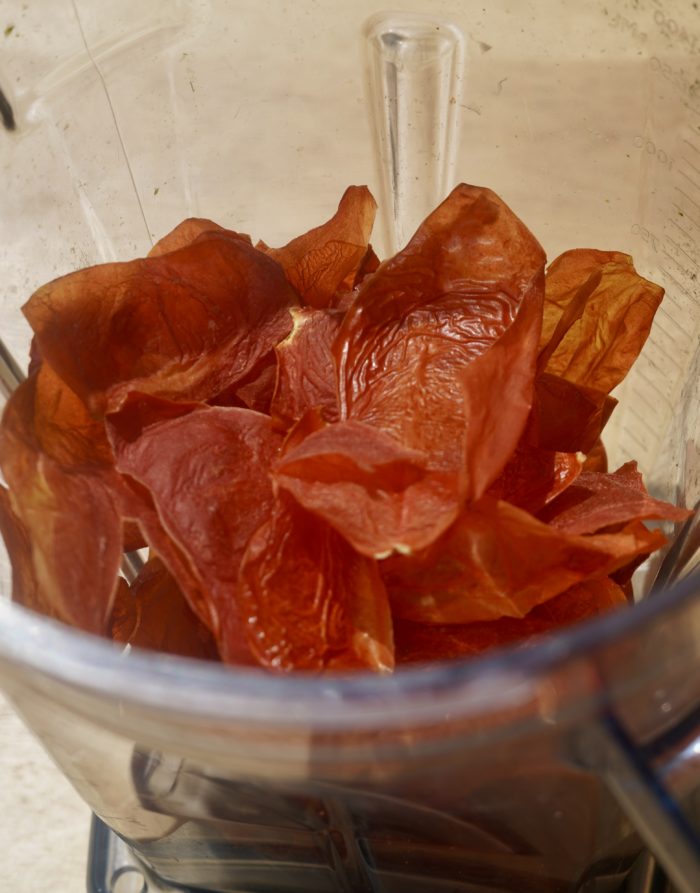 Hack It!
The easiest way to peel your tomato is to slice a cross at the top and dip the tomato in boiling water for a few seconds. After that, the skin practically peels itself.
This recipe calls for skin from 8-12 tomatoes, but they don't all have to come at once. You can just dehydrate the skins each time you use a few tomatoes, and once you have enough – pop them in the grinder!
If you want to take a more natural route, you can dehydrate your tomato skins in the sun. That's right, just spread the skins on baking parchment and leave it on the balcony or a sunny wildowsill. Once the moisture is completely gone, the skins will be dry and crispy.
You can store your tomato powder separately or mix it with other spices for custom taco seasoning, vegetable spice rubs, and more!
If you've ever wondered how garlic or onion powder is made… This is how! Dehydrate, grind, and voila! Try it next time.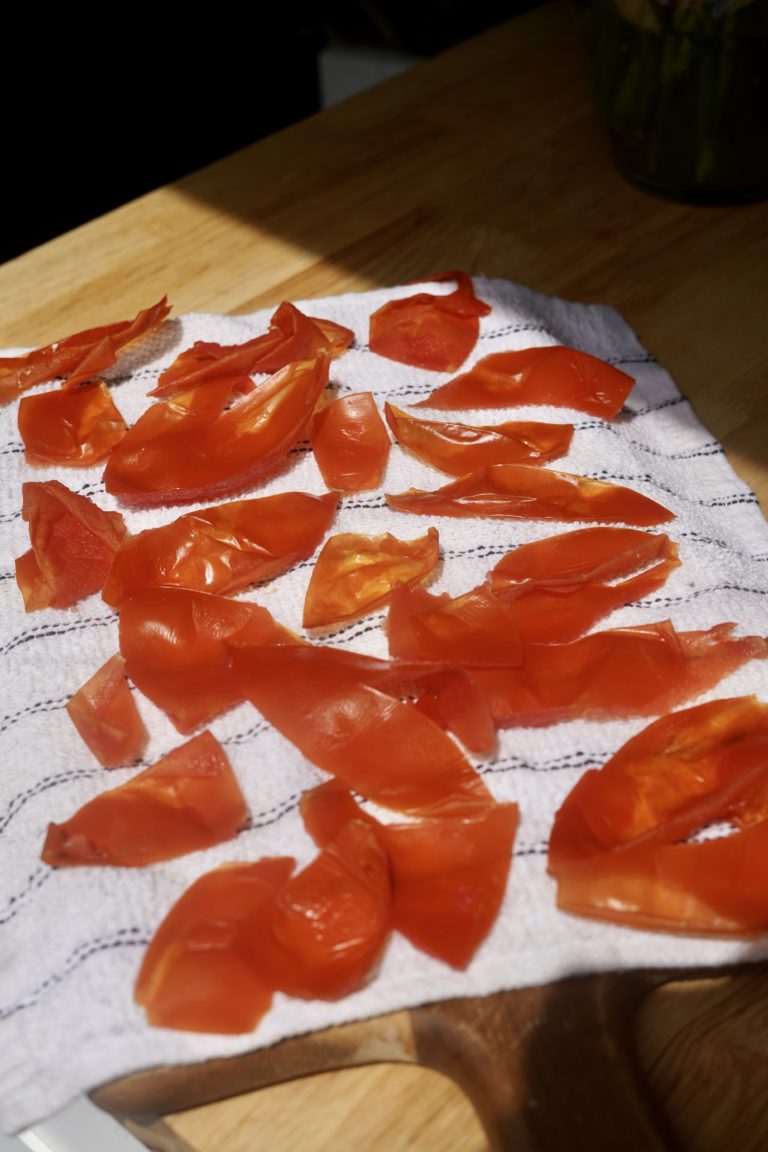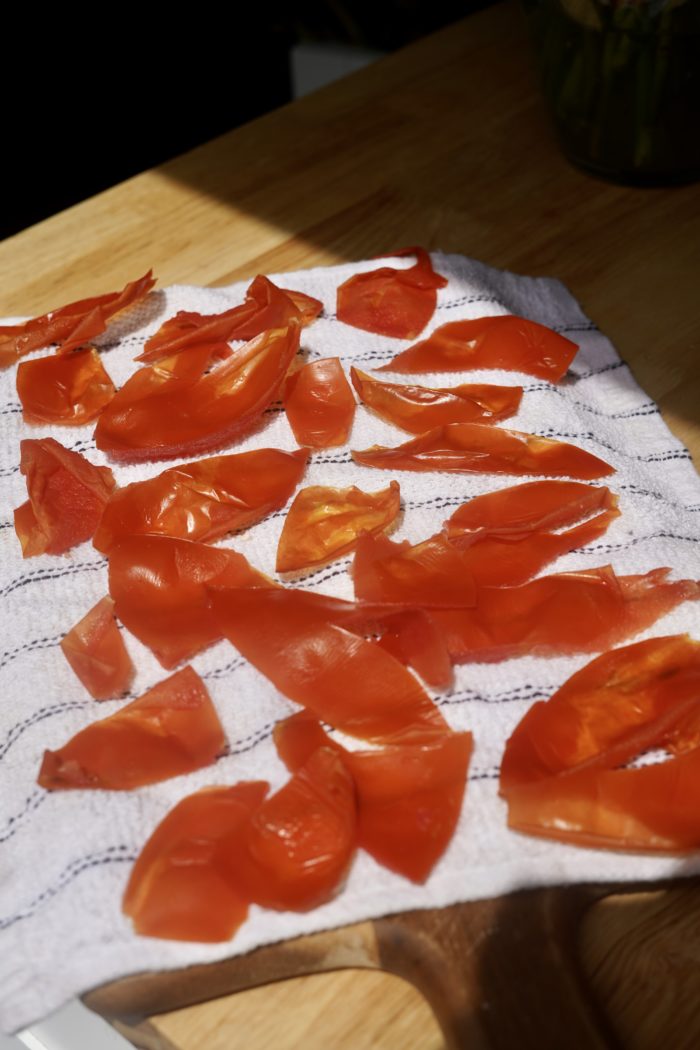 Other Recipes You'll Love
If you enjoyed learning how to make tomato powder, you'll enjoy cooking recipes from the PlantYou Cookbook! The book features over 140 delicious beginner-friendly plant-based recipes for every occasion. This includes staples like salad dressings, dips, and easy breakfast recipes!
And if you like even more diversity, check out the PlantYou Planner! It's a digital meal planner platform with OVER 600 WFPB recipes for you to choose from! You can select the meals you'd like to cook and set the number of servings for every single recipe. The planner even generates a checkable shopping list based on your selection. Plant-based living has never been easier!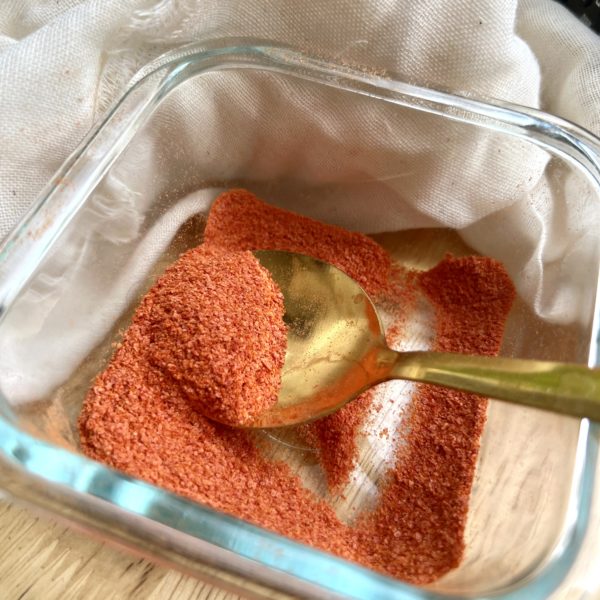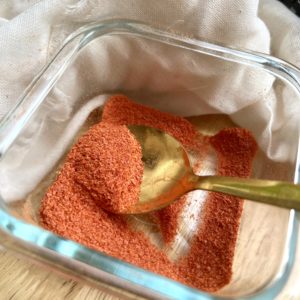 The Recipe: Homemade Tomato Powder
A zero-waste recipe for making your own tomato powder, perfect for spice rubs and to add a tomato flavor to soups, stir fries and more!
Instructions
If making tomato sauce or stewed tomatoes, reserve the skins. Place them on a dehydrator sheet or parchment-lined baking sheet. Dehydrate at 135F for 8 to 12 hours (or out in the sun)!

Place the tomato skins in a coffee grinder or a blender, and grind until they are a fine powder. Store in a jar for up to 2 months. Use on top of soups, stir-fries and more for a subtle tomato kick.
Calories: 56kcal, Carbohydrates: 8.3g, Protein: 0.7g, Potassium: 2332.1mg, Fiber: 11.8g, Vitamin A: 8196.7IU, Vitamin C: 134.8mg, Calcium: 98.4mg, Iron: 2.7mg