How to Reduce Food Waste
Let's talk about waste, specifically food waste. In this article, we are going to share how to reduce food waste in your plant-based kitchen.
It has been reported that in Canada, 140 kilograms of food waste per household is thrown away each year. Sounds like a ton of food waste, right?
Also, in the USA this is a big problem with about 40% of household food is wasted. To my surprise, the most wasted items are vegetables and fruits. Which we might not realize can be salvaged and eaten.
There are actually very few food items that we can't avoid wasting before being spoiled. Which is a bonus for plant-based eater.
This is also where meal prepping comes into play. Meal planning helps reduce food waste considerably. When you buy only what you need and plan out what you will be making for the week ahead. Meal planning is one of the easiest ways to reduce your food waste.
To get a head start, head over to the Plant Ahead Meal Plan Program. We curate a new healthy meal plan each week that is whole-food plant-based and oil-free. This plan is one step closer to helping you reduce your food waste for good.
Meal prepping is also helpful in figuring out what needs to happen when it comes to reducing food waste. Can you use the scraps to make broth? Or should your household have a compost? Starting with a plan is the best way to go.
Here are our best tips to reduce food waste in your plant-based kitchen!
Take stock of what you got!
Every week take a browse through your pantry, fridge and freezer. Ask yourself important questions when browsing…
What can I use to make meals this week?
Do we have any leftovers that need to be eaten?
What will go bad soon?
Ok perfect! You've answered these questions. Now we've created an incredible meal planning chart that is printable, and we suggest writing everything you plan to make here before heading to the grocery store. This is a fantastic tool to plan your meals based on what you already have in stock. This way, you have a clear and set plan heading into the grocery store with no distractions on purchasing too much or too little. We want to save you time here as well!
Treat your fruits and veggies, right!
Yes, you read that correctly. We need to be treating our fruits and veggies right. This starts with proper storage. I shared a ton of information about this in my article Fruits and Vegetables That Last the Longest and Fruits and Vegetables that Freeze The Best.
To summarize these articles you need to start storing your veggies and fruits properly to reduce your food waste and for optimal longevity.
For example, root vegetables do the best when stored in dark places that are raised from the ground, this will help them remain fresh longer. As well as most veggies don't do well in plastic bags. Therefore, we suggest opting for mesh or cotton bags if needed to be stored in the fridge, but you can always go without too.
Another thing to consider is how you store your meals. We suggest always using glass containers and, if possible, cut down or elimate the plastic. Plastic containers contain chemicals that could be potentially harmful. Glass will keep your food fresher longer, and the taste will remain as delicious. Not to mention how much an impact plastic creates on our environment, and this is a great way to protect the planet. Check out our article on our favorite meal prep containers here.
Finally, let's chat a bit about expiry dates, so for fruits and veggies, it is not common to have expiry dates. I often still hear people throwing out vegetables when they have a few brown spots or imperfections. Which I think needs to be addressed if your vegetables and fruits are not rotten or mouldy, they are still good to eat or salvage. Therefore, don't through away that spotty banana or welted cabbage just yet! You can save these vibrant nutrient-dense foods!
When it comes to pantry items please note the best before date vs expiry date. Often these two dates get confused, and food is wasted since commonly people think the best before is the expiry.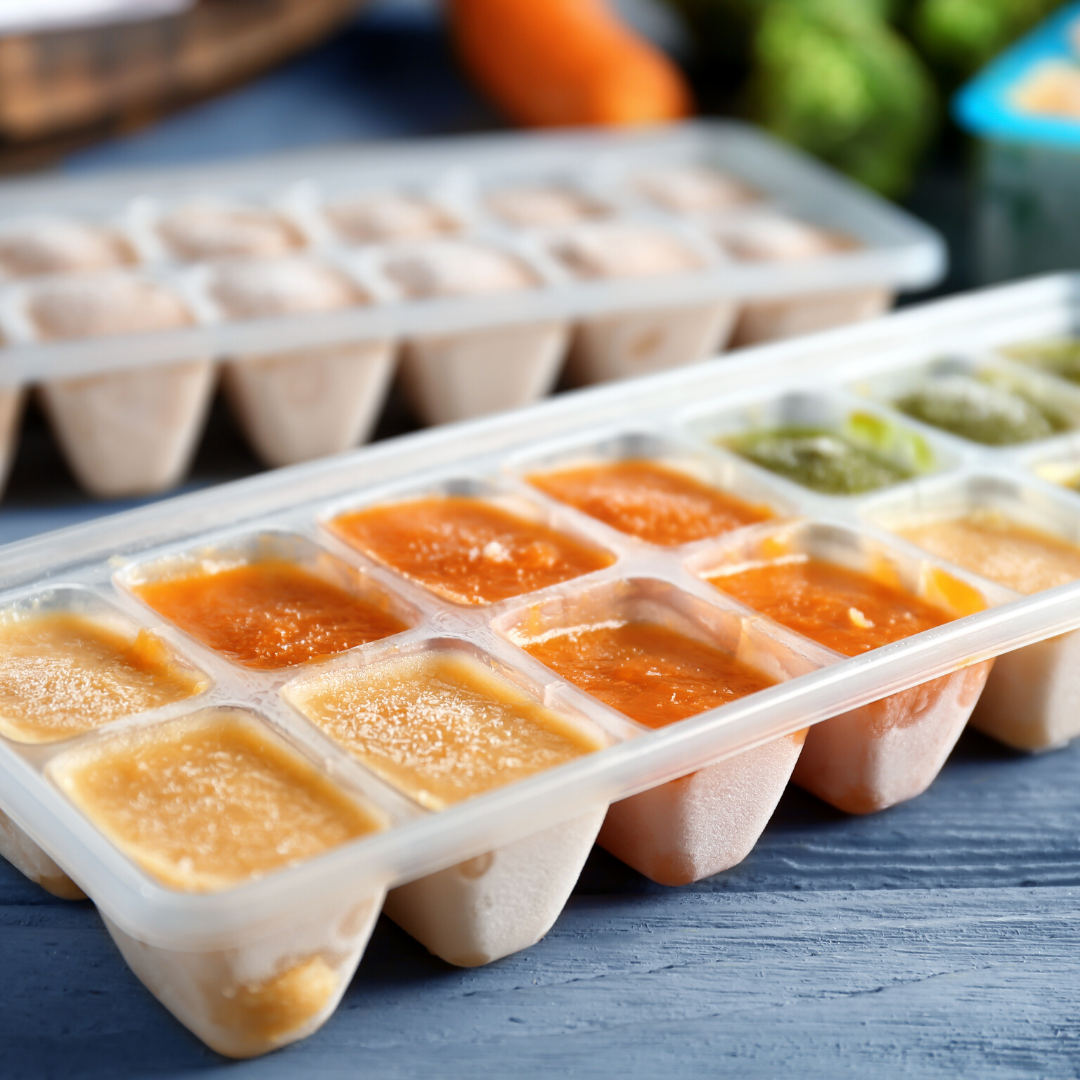 Make leftovers fun again!
Leftovers can be fun! If people in the household can't finish what is on their plate, save it for another meal the next day. And, now it may sound boring or bland to just eat the same meal. I want to suggest trying to incorporate it into other meals or freeze it for when you have a lunch or dinner recipe that it will work with. For example, if you have chickpea curry. Freeze the leftovers and add it to a rice bowl or to a soup!
Another fun hack for leftovers would be is to season the leftover differently from when you originally ate them. Or add in some other ingredients to the meal. This way nobody will be saying "boring leftovers again". They probably won't even realize that they are eating leftovers too!
Also, if you have any leftover smoothies, sauces or herbs try freezing them into cubes! This is a great way to repurpose those liquid-based leftovers.
Leftovers are also a great way to save money and are a big part of our Plant Ahead Program. Leftovers or eating the same meal during the week shouldn't be thought of as boring but as a way to enjoy a delicious meal multiple times throughout the week. It also will save tons of time in the kitchen, which I think we can all agree is fantastic!

Don't through away your scraps!
Scraps are valuable, and we should be resourceful with them to reduce our food waste. You can make many delicious creations with scraps for example vegetable broth, soups, salads, chilli, stews and sauces!
Scrap herbs are great to add to a dish that can be designated for season toppings for food. This has been one of my favorite tricks for reducing food waste.
Also, don't be afraid to use the whole vegetable! Vegetable tops and stalks can be added into your recipes and actually taste great in dishes. I love adding radish and beet tops to salads these days.
We've also experimented with regrowing our own veggies with scraps! Check out this article to learn – How to Regrow Vegetables from Scraps!
We've seen many people using peels to create DIY disinfectant and cleaning solutions. I would suggest checking this out too for reducing food waste.
At last, composting! If you eat a ton of vegetables and fruits we recommend that you get a compost. This is an easy way to make sure you are doing your part for the planet. You can find many great urban compost options or you can build your own right in your backyard.
Start with the best solution: meal planning!
Meal planning is the best place to start. This is the solution for reducing your waste and impact almost instantly. When you head to the grocery store with a plan and organized meal strategy for the week, you will be set for success. Not only will you be reducing your food waste, but you will see that you are saving money and time when it comes to cooking each and every week. This is also an easy solution to eating healthier meals and sticking to a plant-based diet.
We've made the Plant Ahead Meal Plan Program to make this more accessible than ever for you to start doing and implementing into your lifestyle. Our plan includes an itemized shopping list, meal plan schedule for the week and 7 new recipes weekly. We have a database of over 70 meal plans for you to pick and choose from. Not to mention that we have every occasion covered from holidays to weekend adventures.
Start here with the Plant Ahead Meal Plan Program and reduce food waste today.
Note: This article includes affiliate links