How to Use Aquafaba
Have you heard of Aquafaba?! This magic chickpea water can used as an egg replacement, as a meringue and so much more.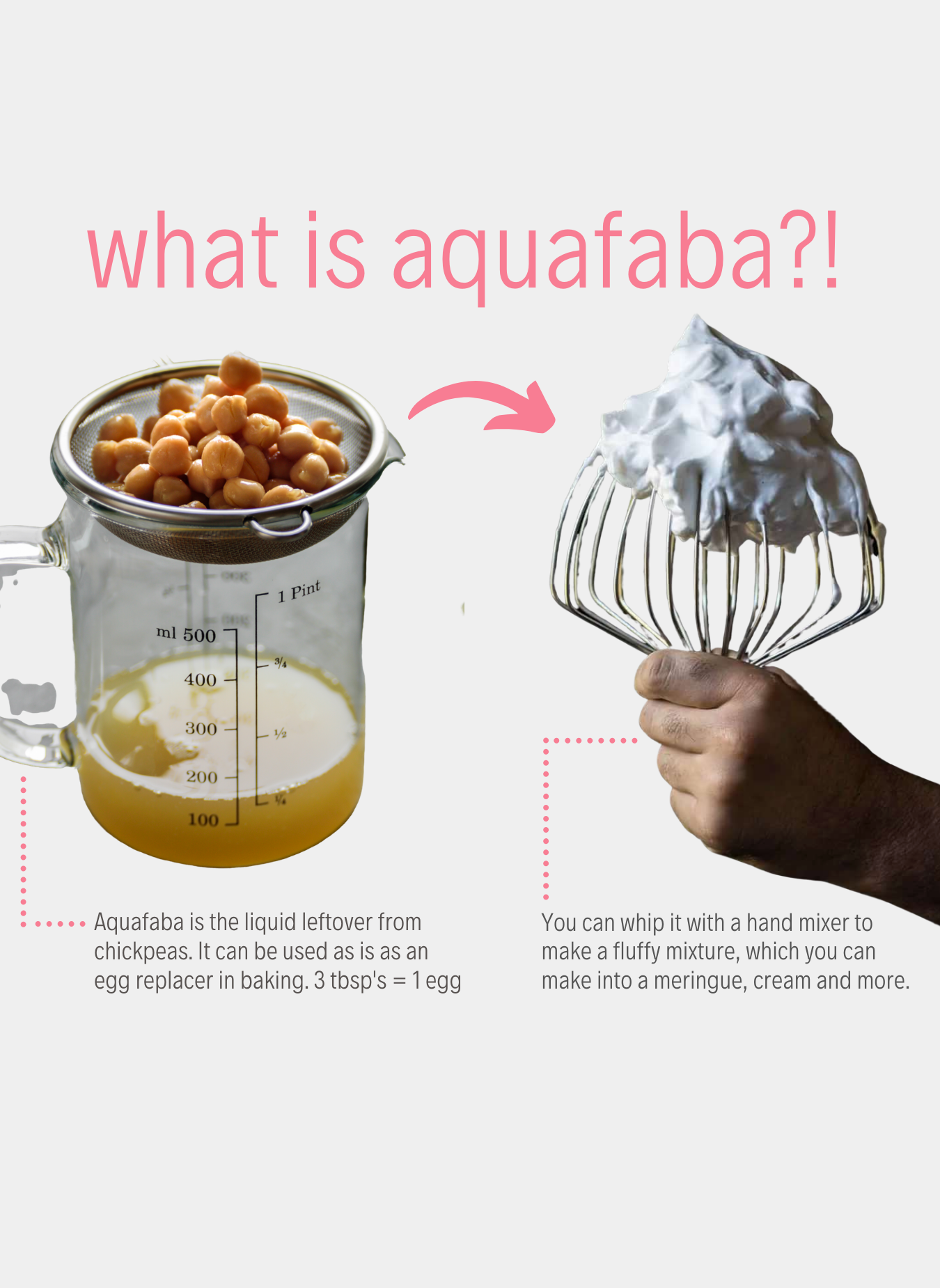 Aquafaba is the water you find at the bottom of your can of chickpeas! It is the combination of water and beans that is packed with starch making it an excellent option for a plant-based egg replacement. This magical liquid can be whipped into a foam or create a full textured egg white with fantastic binding abilities!
This fluffy texture called aquafaba is lovely in baked goods and decadent desserts. You can also create aquafaba by cooking your own beans from scratch but suggest if this is your first time to start with the basic can of chickpeas method.
It is possible to use any bean liquid, but aquafaba from the chickpea canned variety is light with a yellow color and when whipped turns white! That is why it works well compared to other legumes. But, it is definitely possible to try out other canned bean liquids.
Also, canned chickpea liquid is soy-free, gluten-free, oil-free and vegan! It fits the marks for dietary preferences and is an allergy-friendly option for eggs.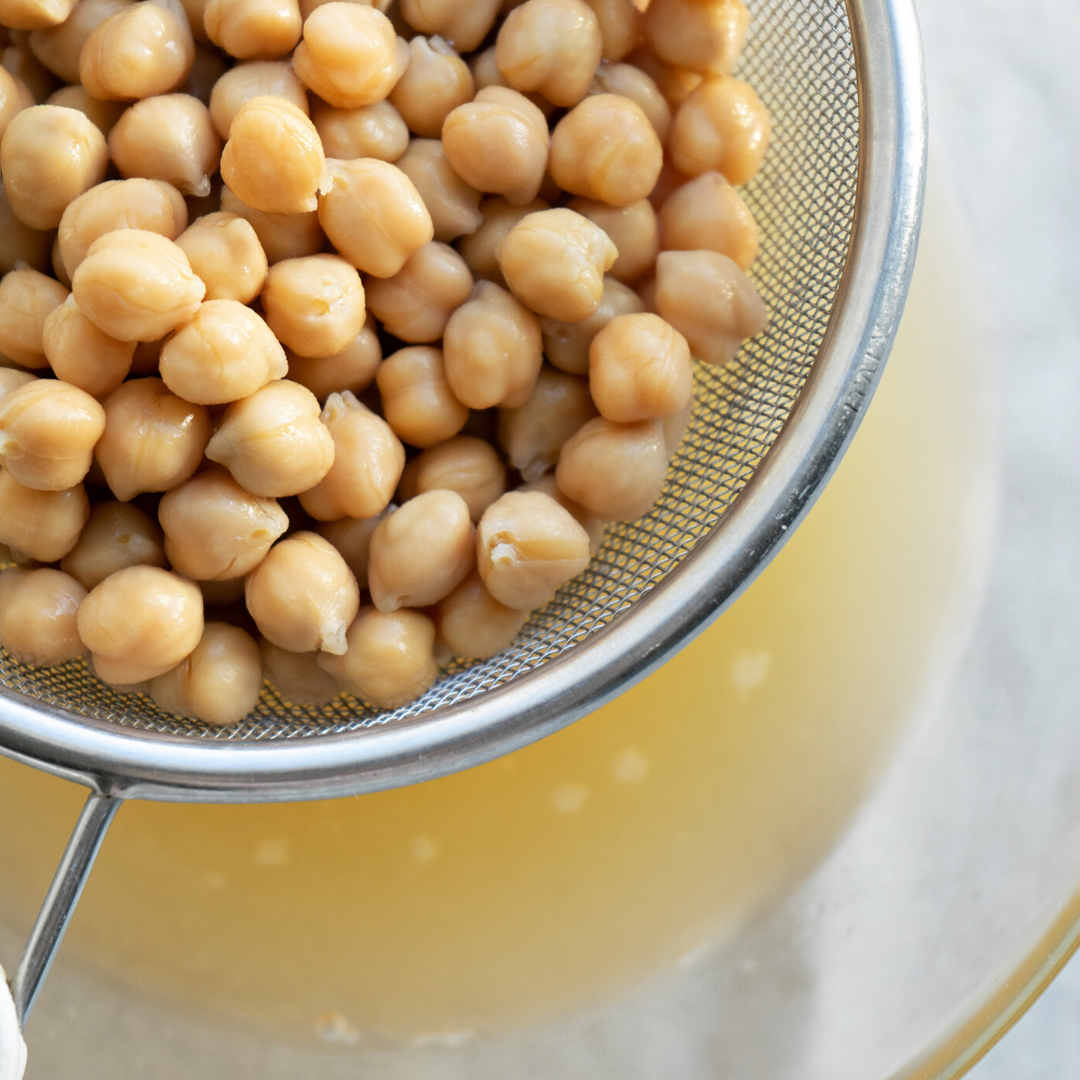 In our article today, we are going to share how to use aquafaba!
Let's start with the basics of using aquafaba as an egg replacement!
Aquafaba is best as an egg replacement in desserts because of the beautiful fluffy peaks that can be created when whipped. It is also a useful binder in vegan baked goods. When it comes to traditional egg substituted recipes, it works well when replacing the texture of egg whites, for example, it tastes delicious when used in a vegan omelette or vegan quiche.
Here is a simple rule of thumb to using aquafaba as an egg replacement:
3 tbsp liquid – 1 whole egg
2 tbsp liquid – 1 egg white
How to Make Aquafaba!
Whipped
Aquafaba can be whipped! To create beautiful textures and fluffy desserts. To get started, you will need a hand mixer to whip your bean liquid and it will take about 3-7 minutes to reach a robust whipped consistency. Depending on the recipe, you will need to determine how firm your whip needs to be. Please take a look below at amazing recipe ideas you can make with whipped aquafaba.
Instructions:
Drain your can of chickpeas into a mixing bowl

Beginning mixing on low with a hand mixer

A creamy consistency will start to foam and bubble at the 3-minute mark

After this point, you will notice that your whipped aquafaba will start to become thick and fluffy
Non-Whipped
Use the simple rule of thumb above based on how many eggs your baking or dessert recipe needs to create a fantastic binding agent. One of our favourite Plant You recipes using aquafaba is our Vegan French Toast. For non-whipped aquafaba you will use the liquid directly from the can for the recipe.
Ways to Use Aquafaba
Aquafaba creates fluffy peaks for traditional recipes that have been made vegan! A few of our favorites vegan desserts options include meringue, marshmallow topping, buttercream icing, mousse and even vegan ice cream!
When it comes to vegan baking, aquafaba you can easily replace eggs in baked goods such as cookies, cakes, muffins, bread or brownies! Follow the non-whipped instructions to enjoy as a vegan egg replacement in your recipe.
Remarkably, you can use aquafaba for recipes other than in baking and desserts such as dairy substitutes like vegan cheeses, mayo, whipped butter or creamy sauces and dips.
Lastly, you can use chickpea liquid in cocktails! Yes, it is versatile enough to use in a classic egg white cocktail but veganized! This will blow away just about anyone at the party.
Aquafaba Tips
Cream of tartar can be a game-changer and increase the speed it takes for your aquafaba to whip. Add 1/4 teaspoon before you start to whip with your hand mixer. This is a simple trick to be able to make fluffy whipped aquafaba to perfection every single time.

When you are ready to store we recommend putting your aquafaba in an airtight container or mason jar for 2-3 days. It is also possible to freeze your liquid to extend the life! Check out our favorite durable eco-friendly containers here.

Aquafaba is pretty sustainable for reducing your food waste because usually, we toss this liquid down the sink without a second thought. This way, you are using all components to the canned or cooked chickpeas!
Are you looking for healthy vegan desserts and baked good recipes?
We have many healthy plant-based desserts and baked good recipes in the Plant Ahead Program. We are always serving up delicious recipes that will satisfy your sweet tooth. Not only will you be able to explore our database of plant-based recipes but you will receive a new weekly meal plan of recipes to discover! Each of your meal plans comes with guidelines for meal planning, itemized labelled shopping list and macro breakdowns with each recipe.
When signing up for the Plant Ahead Meal Prep Program, you will see the benefits of how easy it is to stick to your plant-based lifestyle as well as perks such as saving money and time!
Become a member of the program today for $7.99/per month and remember that you can cancel anytime!