No Bake Banana Bread Bliss Balls (Vegan & Gluten Free)
These No Bake Banana Bread Bliss Balls are your new breakfast, dessert and pre-workout snack. Loaded with peanut butter, chia seeds and oats they provide a great balance between fibre and energy, and are perfect for meal-prep.
Ever since I made these No Bake Banana Bread Bliss Balls, I've had the ACDC song Big Balls in my head.
These balls are big and delicious LOL. Made with ooey gooey peanut butter, banana and dark chocolate, they're also healthy, gluten free and vegan!
Energy balls are a viral sensation and come under a myriad of different name on the internet including energy bites, protein balls and power balls (just to name a few). If you're a peanut butter fan, you will also love these peanut butter power balls (it's one of the first recipes I ever posted on www.plantyou.com)!
I've nicknamed these ones "bliss balls" for obvious reasons. As much as I love trying all different types of energy balls, today's basic recipe takes the cake for simplicity and deliciousness with basic wholesome ingredients.
Meal Prep Perfection
Making these balls ahead of time as part of this week's meal-prep was also key. They took less then 10 minutes to prepare, and were ready in the fridge all week long when I needed a pick-me-up or something sweet. A much better alternative to a candy or packaged protein bar.
That's what I love so much about meal-prep. Having all my delicious meals  in the fridge and ready to be eaten at the beginning of the week means I'm less tempted to stray from my plant-based diet, and spend less money buying take-out or prepackaged microwave meals. I also have way more time to spend on the things I love after work.
If you haven't heard, I will soon be launching my low-cost digital plant-based meal prep subscription service, Plant Ahead! For just $7.99USD a month, you will get a digital plant-based meal prep plan designed by Holistic Health Coaches sent to you every Thursday. This will include breakfast, lunch & dinner for Monday – Friday. You will also receive a grocery list, nutritional information for each recipe, and support through an exclusive Facebook group. Stay tuned – we'll be launching in just about a month!
The Recipe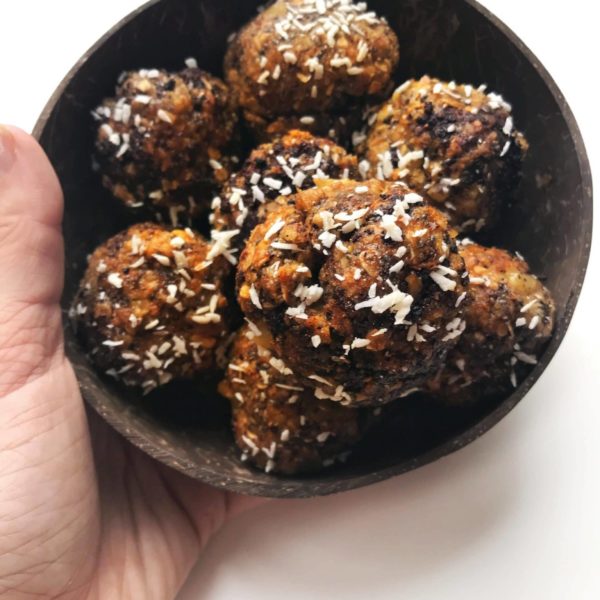 The Recipe: No Bake Banana Bread Bliss Balls (Vegan & Gluten Free)
These Banana Bread Bliss Balls are vegan, gluten free and healthy! The perfect breakfast, pre-workout snack or dessert.
Ingredients
1 1.4 Cup Gluten Free Rolled Oats
2 Ripe Bananas
2 Tbsp Chia Seeds
½ Cup Natural Peanut Butter
⅓ Cup Pure Maple Syrup
1.4 Tbsp Sea Salt
1 Tbsp Unsweetened Flaked Coconut
½ Cup Melted vegan chocolate
Instructions
Place all of the ingredients except the salt and coconut in a large mixing bowl. Stir to combine. It should begin to resemble a slightly sticky dough. Add more oats or more peanut butter depending on whether the mixture is to liquidy or too hard. Place the bowl in the refrigerator for 30 minutes to set.

Remove the bowl from the refrigerator and portion the dough into balls of desired size. Wet your hands and roll them into balls.

Store in the fridge in an air-tight container for up to 1 week.