Tempeh Teriyaki Rice Bowl Meal Prep
This vegan tempeh teriyaki rice bowl meal prep is satisfying, delicious and packed with protein to get you through the work day!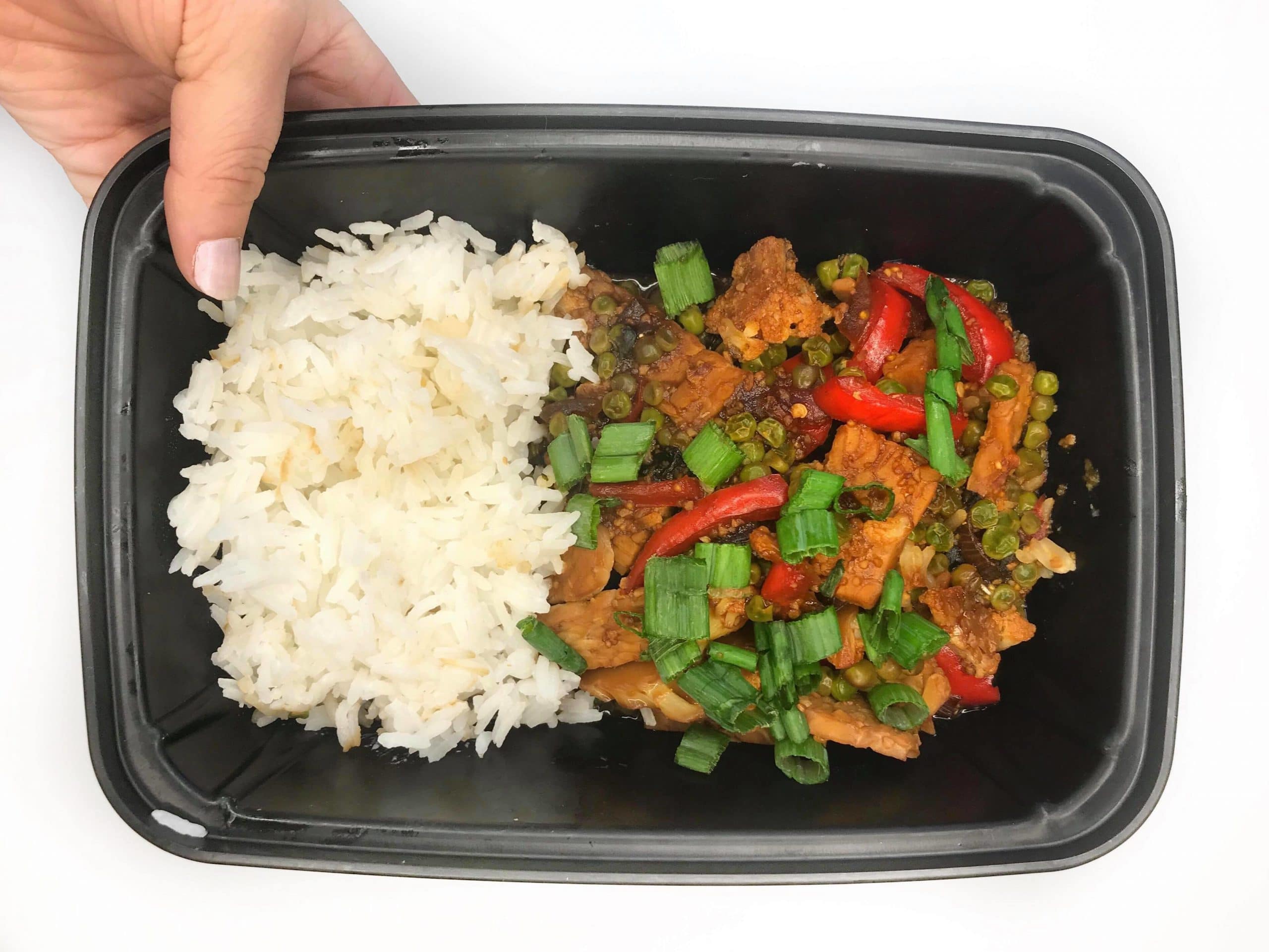 Meal prepping can make or break my week. If I screw up a recipe, that means I'm stuck eating it for lunch for the next three days. But when I get it right… Magic.
That's how I'd describe this tempeh teriyaki bowl. A delicious simple teriyaki sauce blends with the 'meatiness' of the tempeh and sauteed vegetables. Paired with a fluffy jasmine rice cooked in coconut milk we're left with a beautiful melding of deliciousness that will have you anticipating lunch all morning long. This recipe is also easy to throw together (for more quick easy plant-based meals, click here). This tempeh teriyaki meal prep bowl is also vegan, oil free and refined sugar free!
So what's tempeh?
Tempeh is one of my most recent obsessions. This was only my second time eating it – but I know it will quickly become a staple in my diet! For those who don't know, tempeh is made by a natural culturing and controlled fermentation process that binds soybeans into a nice 'cake' form.
Tempeh is high in probiotics and a range of vitamins, and also packs 19g of protein per 100g!
I would say it's like a firmer version of tofu, that has a 'nutty' profile. Basically, like tofu, it will take on the flavor of whatever you're cooking it with.
You will find tempeh where you find tofu in your grocery store. I bought a "blue menu" organic version from Loblaws. Make sure it isn't flavored or smoked.
Recipe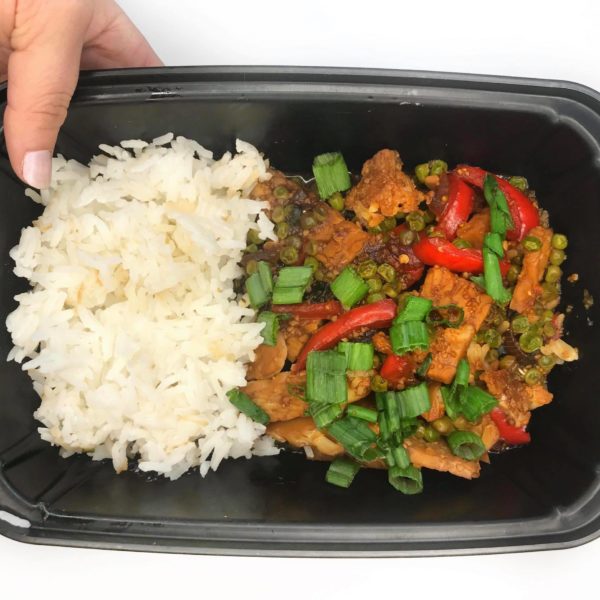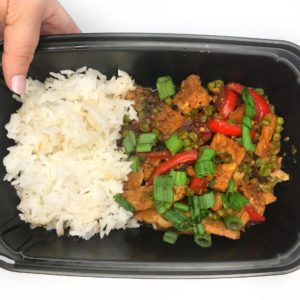 The Recipe: Tempeh Teriyaki Rice Bowl Meal Prep
Ingredients
Vegetables
1 Red Bell Pepper
1 Cup Green Peas
½ Cup Vegetable Borth
2 Cup Cauliflower
½ Red Onion
1 Green Onion
Teriyaki Marinade
200 gram Box of Tempeh
4 tbsp tamari or low sodium soy sauce
2 tbsp maple syrup
1 tbsp sriracha or hot sauce
½ tbsp garlic powder or fresh garlic
½ tsp corn starch
Coconut Jasmine Rice
1 Cup Jasmine Rice
¾ Cup Coconut Milk
½ Cup Water
Instructions
Teriyaki Tempeh Marinade
In a bowl, mix the soy sauce, maple syrup, hot sauce, garlic powder and corn starch. Add the tempeh slices and let it marinade for 15-20 minutes.
Vegetable Stir Fry
As the tempeh is marinading, add the vegetable broth to a pan on low with chopped red bell pepper, cauliflower, frozen green peas and red onion. Cover and let the vegetables steam. Add more vegetable broth as needed.
Coconut Jasmine Rice
Add the coconut milk, water and jasmine rice to pot and bring to a boil. Turn the burner to low and cover rice. Let it simmer for up to 18 minutes, then remove from heat and let it steam for another 5 minutes.
Combine Tempeh and Stir Fry
Pour the tempeh and marinade mix into the pan with the vegetables and broth. Cook for 4-5 minutes until combined. Add more soy and hot sauce as needed.
Finish It Off!
Pour the tempeh mixture into air tight containers and top with chopped green onion, along with a scoop of the coconut rice on the side. Let cool before putting in the fridge and enjoying for the week!