Roasted Garlic Tomato Soup
This roasted garlic tomato soup is proof that dishes don't have to be complicated to be tasty. Make this recipe and see for yourself!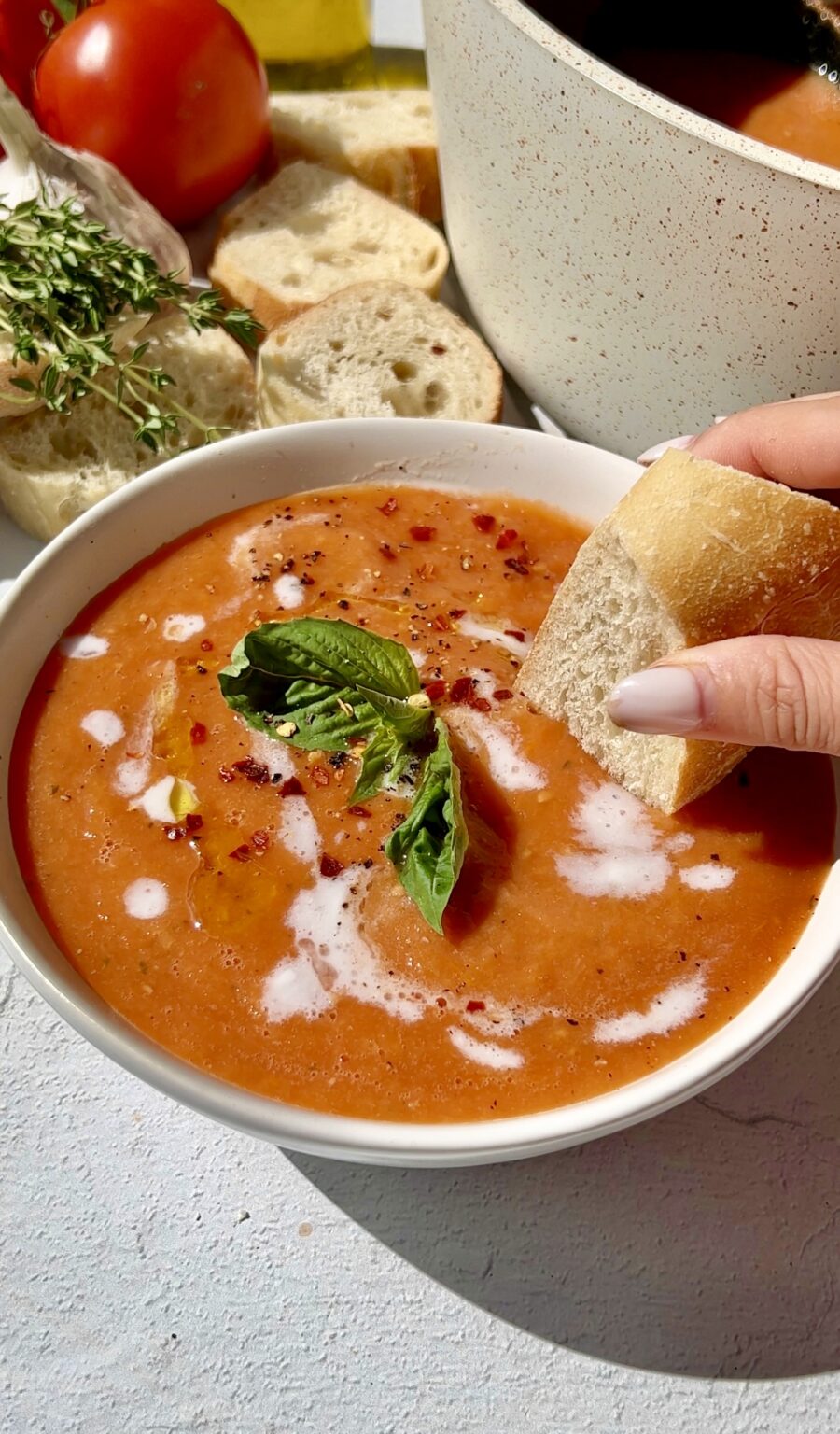 Have you ever come across a recipe and thought, "wow, I just have to make this!", only to realize that the recipe requires many hours? Or calls for a million ingredients, some of which are really expensive or simply unavailable! Thankfully, this roasted garlic tomato soup is the complete opposite. It's simple, quick, and affordable.
Now, you might have looked at the list of ingredients and thought that there must be some mistake. Did she mean to write two heads of garlic, or did she mean cloves? I'm here to reassure you, this recipe indeed calls for about 16 cloves of garlic.
But don't worry, roasted garlic tastes entirely different from raw garlic. Instead of a sharp, pungent taste, you get a smooth, earthy flavor. It also has a soft, creamy texture – perfect in a soup!
Why You'll Love This Recipe
Most of the cooking process is done without your participation. Once the veggies are in the oven, you can sit back and relax.
All the ingredients are commonly available, and even more importantly, very affordable. If you have a vegetable patch in your garden, you might even be able to grow most of the required veggies yourself!
Roasted garlic has a wonderful flavor. It's earthy and creamy. In this dish, the garlic is balanced perfectly with the tartness of the tomato.
This roasted garlic tomato soup is essentially a one-pan wonder. All the vegetables are roasted together in one pan, and blended together before serving.
It's a great recipe for meal prep fans. You can double the recipe if needed, and enjoy it throughout the week.
How to Make This Recipe
First, preheat the oven to 375 F. In the meantime, prep your ingredients. Don't worry, the prep is minimal. Cut your tomatoes in half, and the bell pepper into quarters. Slice the top off the garlic heads, exposing the cloves.
Next, add your veggies to a cast-iron pan, large enough to fit them in a single layer. You also want to make sure your pan is not too shallow, as the tomatoes will release their juice while they are in the oven.
Drizzle with olive oil (optional) and place your dish in the oven for 45 minutes, until the vegetables are nice and soft.
Once they are cooked, remove your pan from the oven and allow the contents to cool enough to handle. Using your hands, squeeze the garlic cloves from the skins and discard the rest.
Transfer the roasted vegetable mix into a pot, add the broth, basil, and cashews (if using), and blend with an immersion blender until smooth. Enjoy immediately!
Hack It!
When you blend everything together with the immersion blender, this roasted garlic tomato soup still won't be perfectly smooth. It will likely have some vegetable skins and tomato seeds (yay for fiber!). However, if you want a super-smooth soup, strain your bisque through a sieve or ricer.
Basil and tomato are a match made in heaven, but feel free to add more of your favorite herbs, like thyme or rosemary sprigs. Not only will they add to the flavor, the soup will also have a beautiful aroma. Just make sure to remove them before blending.
To make a larger batch, simply double the recipe and use a bigger roasting pan. Perfect for a big family or meal prep.
Want to add some kick to your dish? Add a couple of chili peppers to the pan. You can use fresh or rehydrated chilis.
Store This Recipe
Once blended, this soup can be stored for up to 5 days in a refrigerator. Alternatively, split into portions and freeze.
Other Recipes You'll Love
When I became a food blogger, my main goal was to encourage people to eat more plants. Imagine if there was an app that would make it easier to eat plant-based? Oh wait, there is! Head over to PlantYou Planner, where you can create customized weekly meal plans, choosing from a database of over 600 vegan recipes. The planner even generates a shopping list that reflects your weekly menu!
And if you love delicious, beginner-friendly vegan recipes, you will definitely enjoy my debut cookbook. The PlantYou cookbook contains over 140 whole-foods plant-based recipes for every occasion!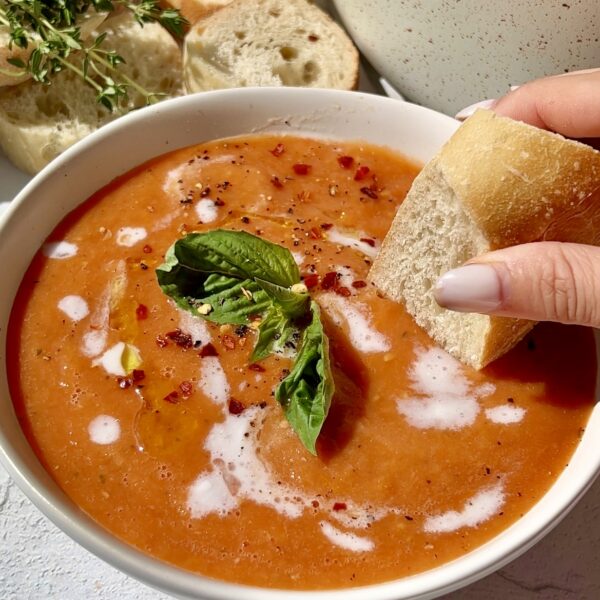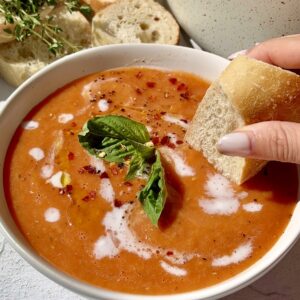 The Recipe: Roasted Garlic Tomato Soup
An easy and delicious tomato soup recipe featuring roasted garlic.
Ingredients
12 vine tomatoes
1 cup cherry tomatoes
1 yellow onion
1-4 heads garlic, top cut off
2 spring thyme
¾ tsp salt
½ tsp black pepper
¼ cup fresh basil
2 tbsp nutritional yeast
2 cup vegetable broth
Instructions
Preheat the oven to 400F and line a baking sheet with parchment paper.

Add all ingredients apart from basil, nutritional yeast and broth to the sheet pan, seasoning with salt, pepper and olive oil as desired. Roast for 40 to 45 minutes, until everything is softened.

When it's safe to handle, transfer all of the ingredients including basil, nutritional yeast and broth to a high speed blender. Combine until a smooth. Alternatively, transfer the ingredients to a large pot and puree with an immersion blender. Heat back up and enjoy immediately.
Calories: 90.1kcal, Carbohydrates: 14.8g, Protein: 3.8g, Fat: 2.9g, Saturated Fat: 0.5g, Polyunsaturated Fat: 0.7g, Monounsaturated Fat: 1.4g, Sodium: 307.6mg, Potassium: 712mg, Fiber: 3.7g, Sugar: 7.8g, Vitamin A: 2240.7IU, Vitamin C: 42.2mg, Calcium: 43.9mg, Iron: 1.4mg