Vegan Hamburger Helper
Do you love burgers? Do you love pasta? Then you'll definitely love this Vegan Hamburger Helper macaroni recipe!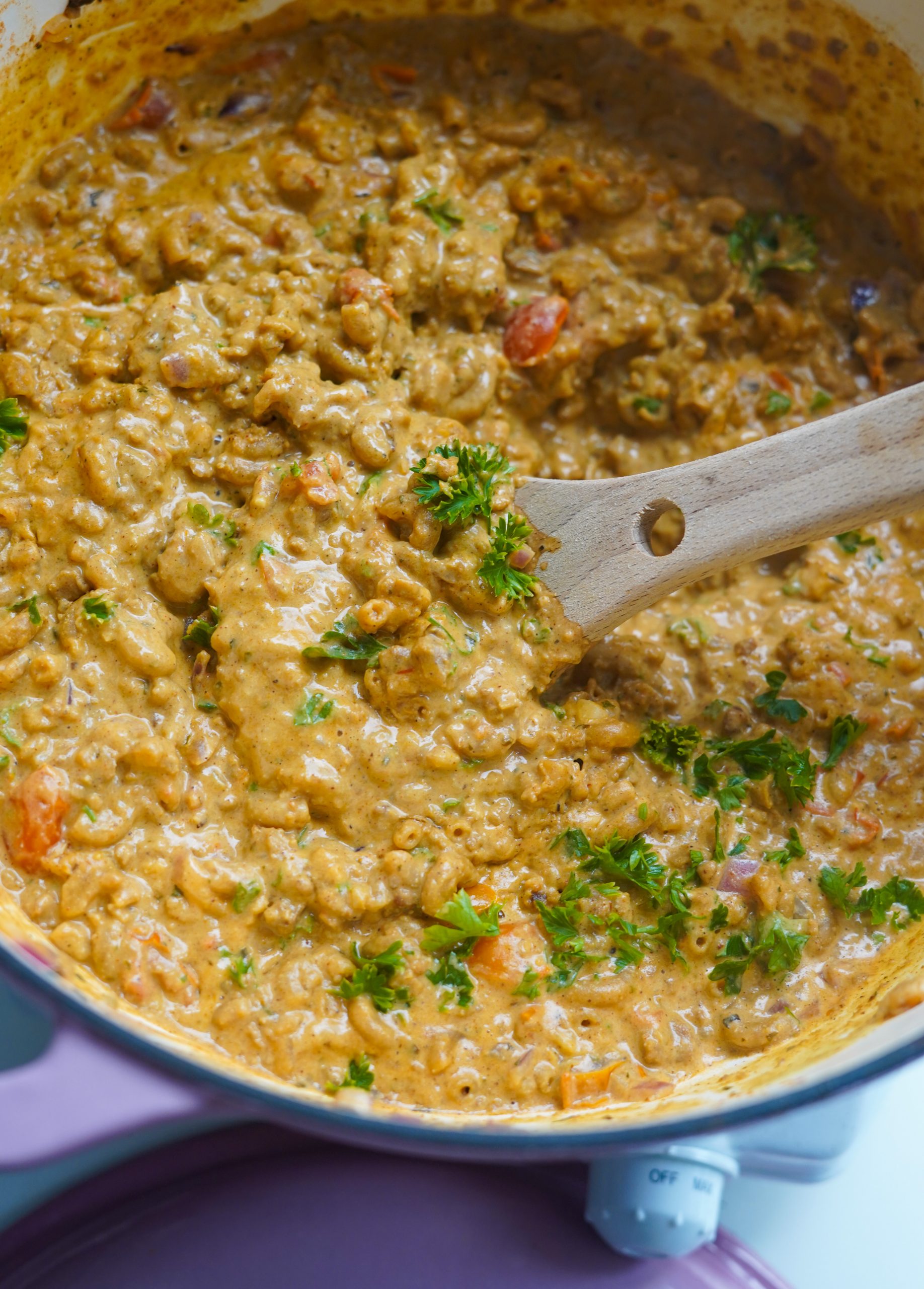 There is something inherently comforting about a hearty macaroni dish, isn't there? This plant-based hamburger helper pasta is going to bring joy to your taste buds and soothe your soul at the same time!
Why You'll Love This Recipe
Family favorite – this dish is kid-friendly and perfect for big family dinners!
This recipe is plant-based and made with whole food ingredients. In other words, it is full of goodness!
You only need one pot to make this dish, and who doesn't love a one-pot wonder?
This Vegan Hamburger Helper recipe has 24.7g of protein per serving. Delicious and nutritious!
Ideal for meal prep: make a big batch, split it into portions and enjoy throughout the week!
How to Make This Recipe
Start by preparing your ingredients. Peel and chop your veggies, measure the required amount of broth and cashew milk, and find the right herbs and spices.
Before we go any further, we are going to make the cashew cheese sauce. Add all of the cheese sauce ingredients into a blender and blend until smooth. If the sauce came out thicker than you prefer, add extra plant-based milk and blend again.
Place your pot over medium heat. Add garlic, onion, and cherry tomatoes. Saute until softened, approximately 3 minutes. Add the herbs, spices, and the taco "meat". Break it up with a spatula and keep cooking for a few more minutes.
Next, add cashew milk, vegetable broth, and pasta sauce. Stir and bring it to a boil. Add macaroni and cook for approximately 6 minutes, until your pasta is al dente.
Stir in the cashew cheese sauce.
Serve your Vegan Hamburger Helper topped with fresh parsley and enjoy!
Hack It!
If you prefer to make your own taco "meat", check out our Vegan Ground Beef recipe!
Gluten-free? No problem! Use your favorite gluten-free macaroni (e.g. chickpea pasta or brown rice pasta). For a gluten-free "beef" crumble, use our tofu-based Ground Beef recipe!
For a nut-free version of this recipe, replace cashew milk with your favorite plant-based milk alternative and use soaked sunflower seeds for the cheese sauce.
If you forgot to soak your cashews, don't worry. Boil them for 30 minutes and drain. You are good to go!
Store This Recipe
Store for up to 4-5 days in the fridge. Alternatively, split into servings and freeze for up to a month. When you're ready to enjoy the Vegan Hamburger Helper again, let the dish fully thaw and reheat thoroughly before serving.
Other Recipes You'll Love
If you loved this recipe, check out PlantGenie – our digital meal planner with a huge database of healthy plant-based recipes! With 400+ available recipes, you can customize your weekly meal plan, and PlantGenie will automatically generate a shopping list you can take with you to the store. Eating plants has never been easier!
The Recipe: Vegan Hamburger Helper
A delicious cheeseburger pasta recipe your whole family will enjoy!
Ingredients
4 cloves garlic, minced
1 cup cherry tomatoes, chopped
½ red onion, diced
1 package The Very Good Butchers Taco Stuffer
1 tsp dried oregano
1 tsp paprika
1 tsp dried thyme
½ tsp onion powder
¾ tsp salt
1 ½ cup cashew milk
1 cup vegetable broth
½ cup pasta sauce
2 cups wholewheat macaroni
For the cheese sauce
½ cup cashews, soaked for 8-10 hours
½ cup nutritional yeast
½ tsp salt
1 tsp apple cider vinegar
½ tsp garlic powder
½ tsp turmeric
½ cup non-dairy milk, add extra if desired
Equipment
large pot

chopping board

knife

Blender
Instructions
To make the cashew cheese sauce, add all ingredients to a blender and blend until smooth. This should yield about 1 cup of cashew cheese sauce.

In a pot over medium heat, sauté your garlic, onion, and tomato until softened, approximately 3 minutes. Add the spices, followed by the taco stuffer "meat". Break up with a spatula and cook for an additional few minutes.

Add the milk, broth and pasta sauce, stir and bring to a boil. Pour in the macaroni and cover until cooked al dente, approximately 6 minutes.

Pour in the cashew cheese sauce, stir, and garnish with fresh parsley as desired.
Calories: 392.4kcal, Carbohydrates: 53.6g, Protein: 24.7g, Fat: 11.9g, Saturated Fat: 1.7g, Polyunsaturated Fat: 1.4g, Monounsaturated Fat: 3g, Sodium: 1117.1mg, Potassium: 549mg, Fiber: 5.7g, Sugar: 3.4g, Vitamin A: 408.6IU, Vitamin C: 11.1mg, Calcium: 71.3mg, Iron: 5.6mg