Grated Tofu Recipe
This grated tofu recipe is a revelation! The combination of texture and flavorings makes it taste just like vegan ground turkey or ground beef, and it is incredibly easy to make.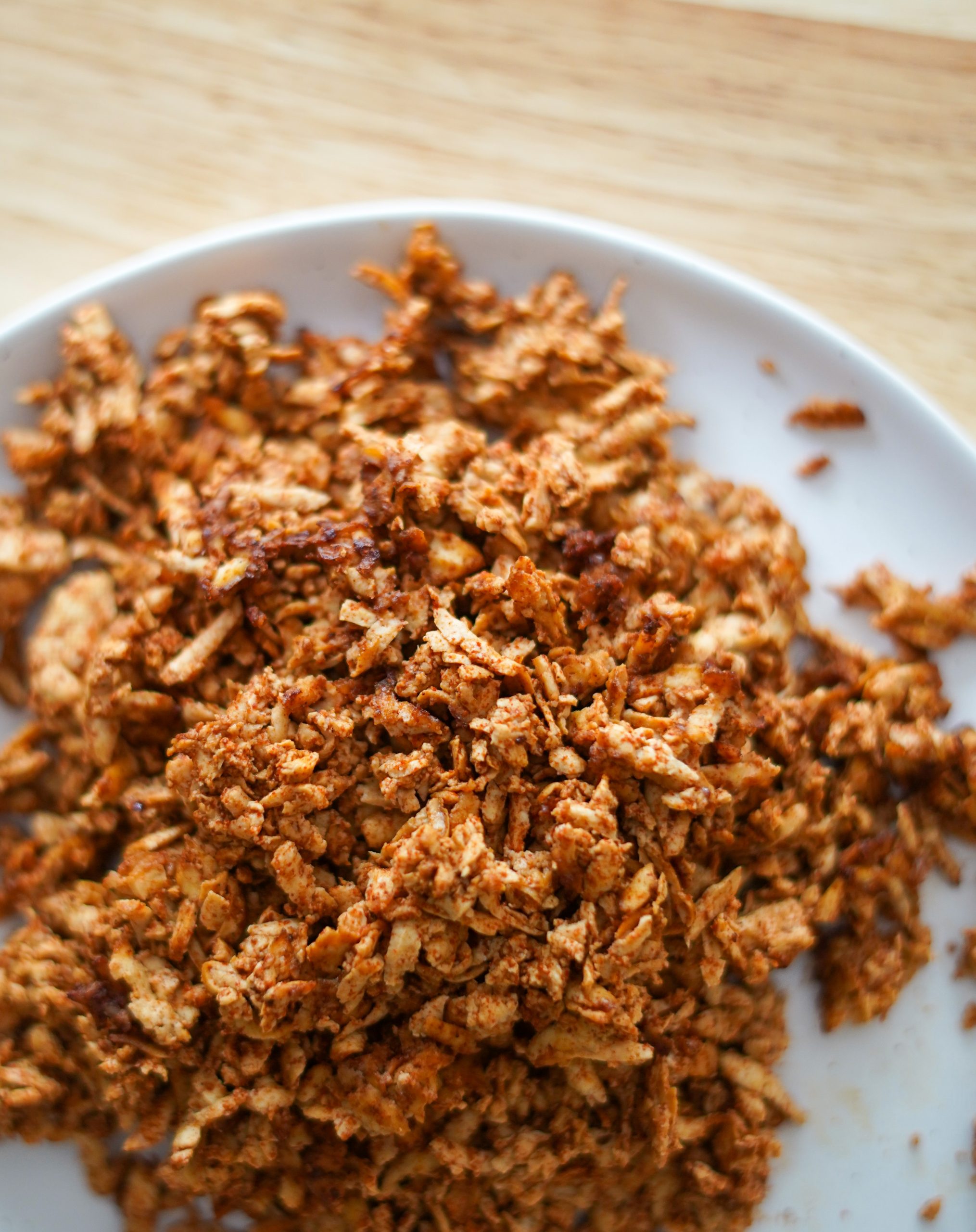 When I first had the idea for this grated tofu recipe, I thought to myself, "This is either going to be epic… or go terribly wrong". And I am happy to report that this recipe was definitely a WIN.
I've tried plenty of different ways of preparing tofu, and yet I've never considered I could grate it. Frankly, I was completely blown away by the results! The texture of this grated tofu is out of this world, and the best part? You don't even have to press your tofu before making this grated tofu recipe!
Why You'll Love This Recipe
It's so easy! It requires minimal equipment and minimal prep! In exchange, you get a delicious ground meat substitute with incredible texture.
This grated tofu recipe is super-versatile! It can be used in stews, pasta dishes, salads, sandwiches, and more.
It's budget-friendly! Let's face it, store-bought vegan alternatives can be pretty expensive. This grated tofu recipe will keep your tastebuds and your wallet happy!
A tofu recipe that doesn't require pressing it first? Yes, please!
How to Make This Recipe
Take your large block of tofu and grate it. No pressing, no fuss! Easy, right?


Next, add the tofu to a mixing bowl, along with the rest of the ingredients. Mix everything together, making sure that tofu gets evenly coated.
Heat the oven to 400F and spread your grated tofu on a lined baking tray. Bake for about 20 minutes until tofu is slightly charred.
Hack It!
If you have a soy allergy, you may think this recipe isn't for you. But have you heard of Burmese tofu? Unlike soybean tofu, Burmese tofu is made from chickpea flour and is relatively easy to make at home. Swap the soy sauce for coconut aminos, and you can enjoy this recipe along with the rest of us!
Want to spice it up? Add some chili flakes or cayenne powder to the mix!
If you're a busy person who often has to eat on the go, this grated tofu is a game-changer. Use it in sandwiches, wraps, tacos, and more!
You can enhance so many dishes with this grated tofu recipe! Take your lasagna and spaghetti bolognese to the next level. Up the protein content of your chili dish. Surprise your family with grated tofu wellington or tofu pot pie. The possibilities are endless!
Store This Recipe
Store in an airtight container for up to 5 days in the fridge. Even better, make a large batch, divide it into servings and freeze it.
Other Recipes You'll Love
If you liked this recipe, you are going to LOVE our digital meal planner PlantGenie! With 450+ plant-based recipes in our database, you'll be able to eat healthier, customize your weekly menu, plan ahead, and even take an automatically generated shopping list to the store!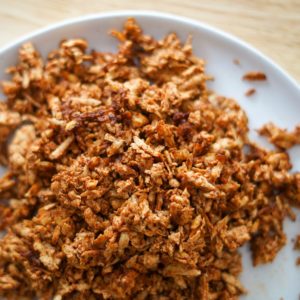 The Recipe: Grated Tofu
A perfect vegan substitute for ground turkey or beef
Ingredients
1 block extra firm tofu
4 tbsp soy sauce
1 tbsp garlic powder
1 tbsp paprika
1 tbsp apple cider vinegar
1 tbsp hoisin sauce or maple syrup
Equipment
grater

Baking Sheet

baking parchment

mixing bowl
Instructions
Grate the entire tofu block and transfer grated tofu into a mixing bowl.

Add the rest of the ingredients and mix thoroughly.

Spread the tofu on a lined baking sheet and bake at 400F for about 20 minutes until slightly charred.
Calories: 328.7kcal, Carbohydrates: 25.5g, Protein: 38.8g, Fat: 8.2g, Saturated Fat: 1.3g, Polyunsaturated Fat: 4.5g, Monounsaturated Fat: 1.5g, Cholesterol: 0.5mg, Sodium: 4535.7mg, Potassium: 907.5mg, Fiber: 2.4g, Sugar: 10.1g, Vitamin A: 292.1IU, Vitamin C: 12mg, Calcium: 150.3mg, Iron: 7.1mg