Crispy Tofu Recipe (Air Fryer, Baked)
You asked for it, and here it is: a crispy tofu recipe that will make it into your weekly meal rotation. You can't go wrong with this easy five-step formula for delicious and CRISPY tofu every time.
Many first-time vegans and vegetarians are wary of tofu. Which is fair! On the surface, tofu is just a flavorless white… something.
The trick to falling in love with tofu is to find a recipe that highlights its texture and provides it with flavor. This crispy tofu recipe is the perfect starter recipe for anyone who is on the fence.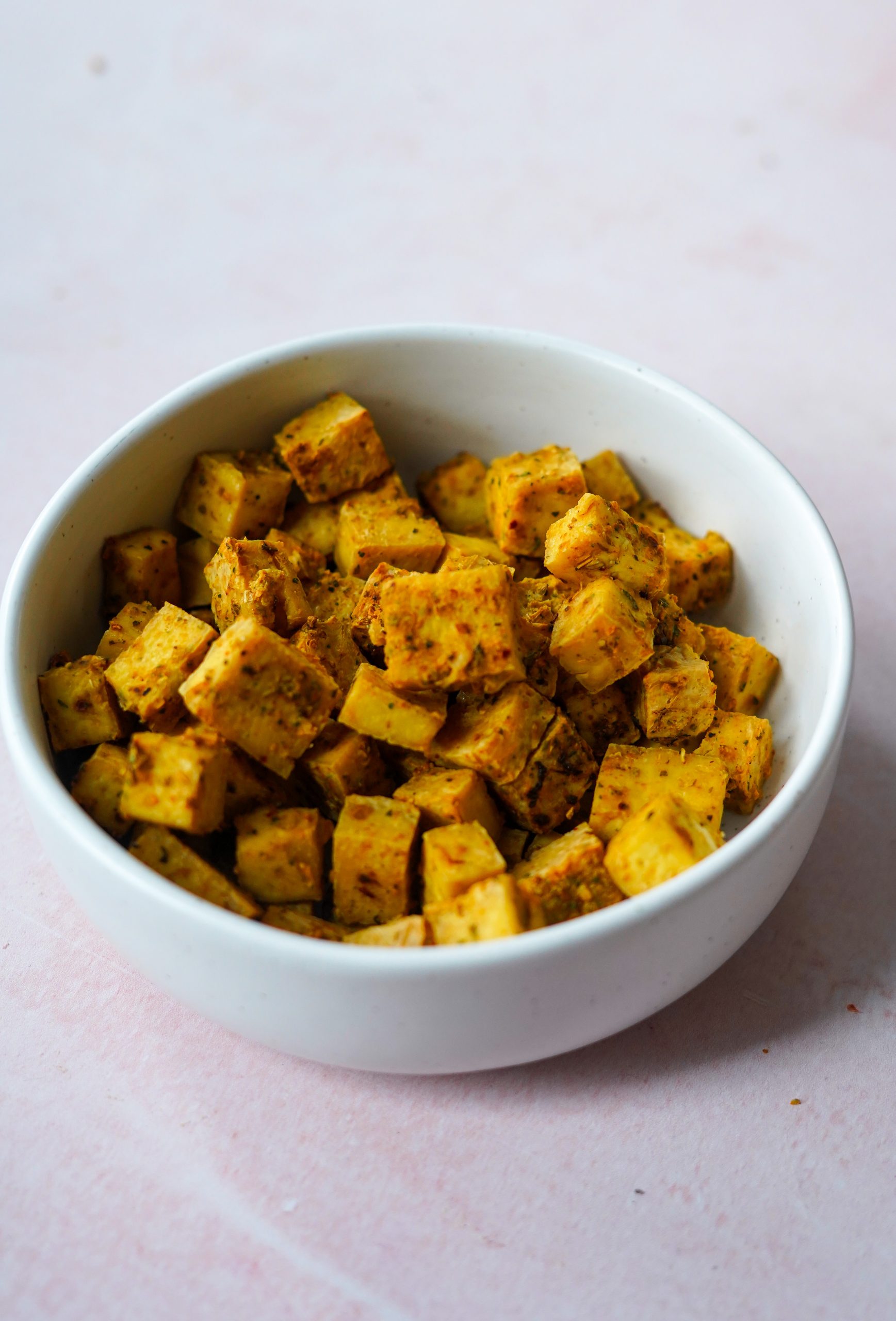 What is Tofu?
Tofu is a plant-based curd made from soy beans. The process involves transforming the beans into soy milk, which is then curdled using a form of acid (such as lemon juice).
Once the liquid is strained, you are left with a block of tofu. The firmness varies depending on preparation process. Pressing your tofu is a common way to rid the block of excess moisture and ensure a dense, meaty texture.
Plain tofu does not possess much flavor, but that's actually a good thing! It means that you can make it taste like anything you like!
Why You'll Love This Recipe
This recipe only has a few steps! It is so simple and easy, you can make it anytime (and almost anywhere). This secret formula is only FIVE steps, so you will always have the perfect tofu every time. Just add your favorite seasonings, bake, and enjoy. 
So versatile! This crispy tofu formula is just a start. You can add any seasonings you want or toss them in sauce before serving. Possibilities are endless!
It's a kid-friendly snack! If you have some food skeptics in your house, they won't even notice they're having tofu when eating these delicious, crispy cubes. 
This recipe is pantry-ready! The seasonings used for this recipe are staples that you most likely already have on hand. This ready-made is perfect for a quick pantry meal when you have extra tofu and don't feel like heading to the store.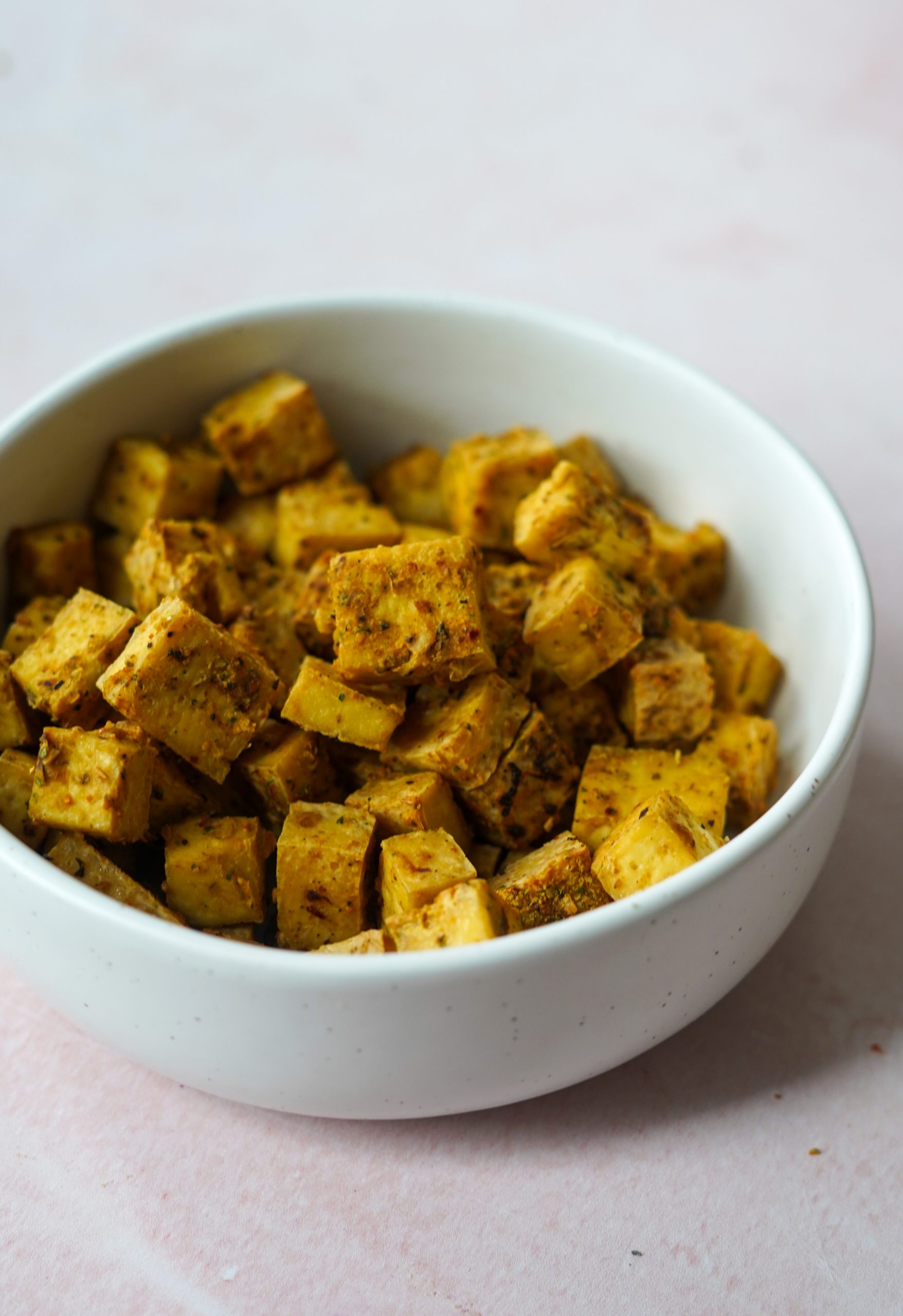 How To Make This Recipe
I'm finally sharing this long-held secret of how to get the perfectly crispy tofu every single time. I love eating this crispy tofu as a big snack or mixing it into some of my favorite tofu dishes, like a tofu stir fry.
Breading adds the perfect amount of crunch to your tofu, and it is made with all ingredients you already have sitting at home. 
First, prepare your tofu by pressing it under something heavy for at least 20 minutes to get out excess water. Here's a step-by-step guide on how to press tofu! Extra-firm work the best.
Once it is pressed, slice it into equal cubes.
Then, coat the cubes with vegetable broth or oil. Oil will lend crispier tofu.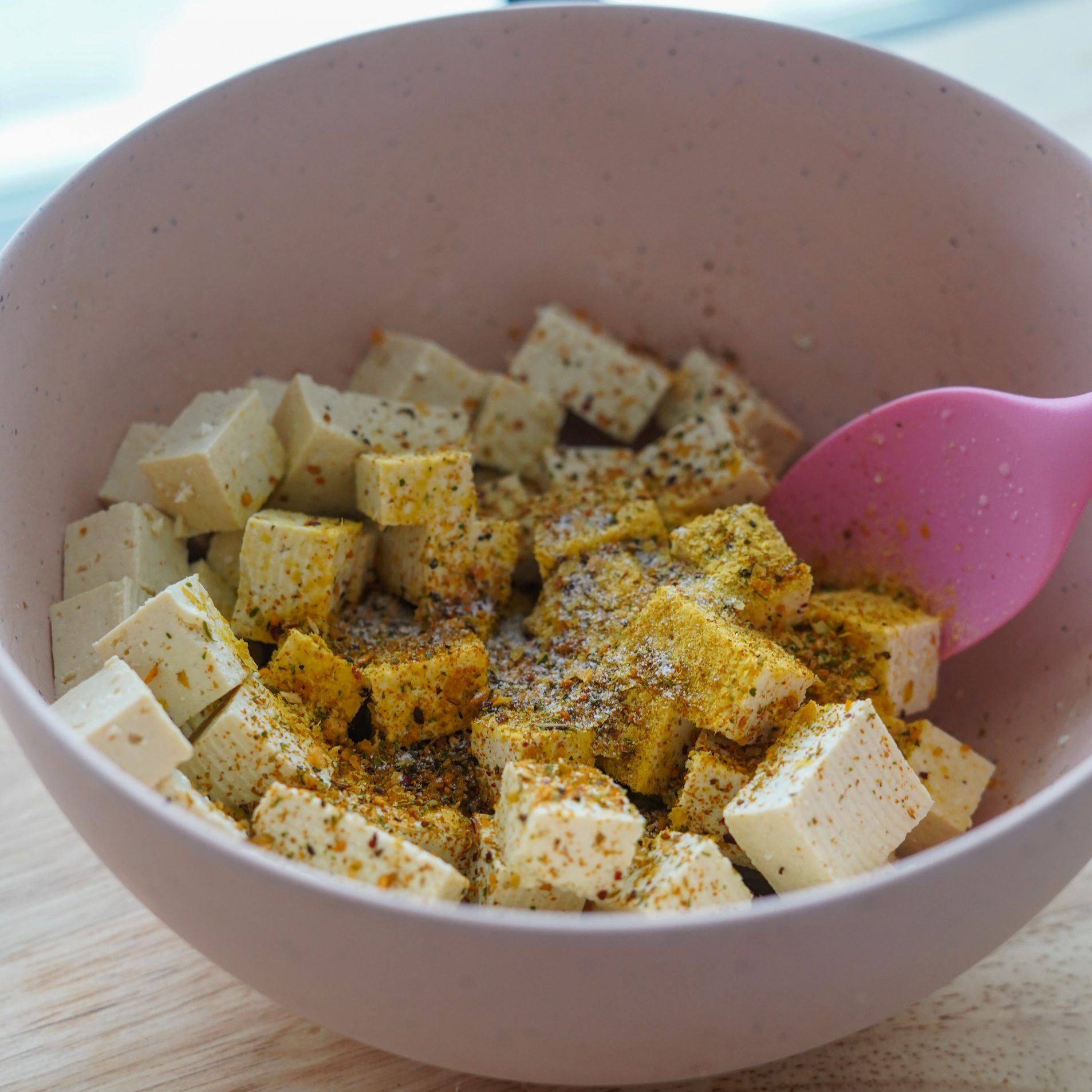 Next, toss the tofu in the nutritional yeast, garlic seasoning, sea salt, and cornstarch. 
Once it is fully coated, air fry or bake it at 400F for 30 minutes.
Finally, enjoy.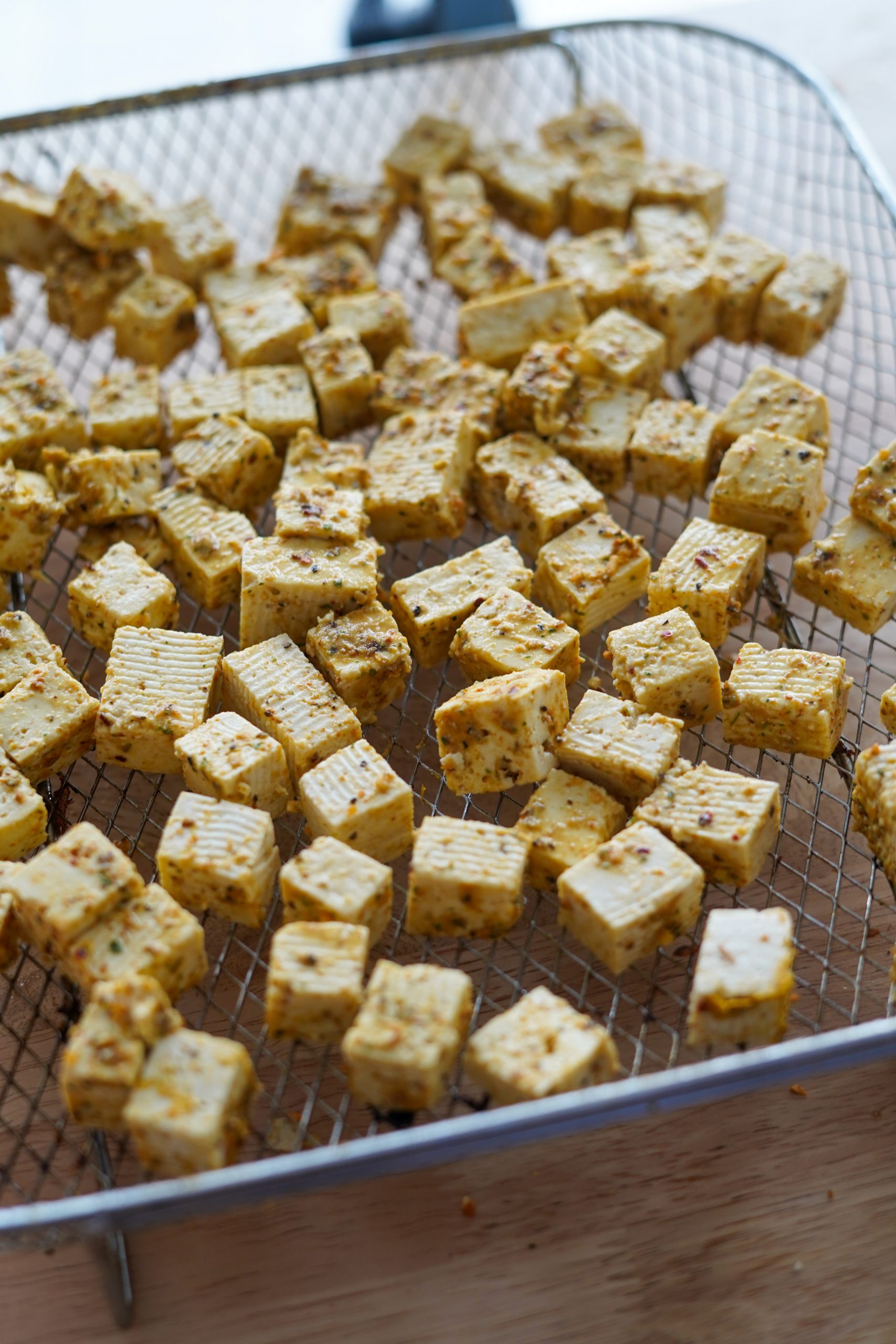 Hack It!
Spice it up! Add sriracha to your broth or oil when coating the tofu cubes. Alternatively, you can add some ground chilli to the seasoning mix.
Add some sauce! Toss (or dip) these crispy cubes in the sauce of your choice for some extra fun. 
This crispy tofu recipe is a perfect plant-based substitute in any meal that calls for fried chicken. The shape may give it away, but when it comes to flavor and texture, you won't be disappointed.
Personally, I like to use this recipe as a quick and reliable snack. It's healthy, delicious, and easy to eat. However, you can use it as a sandwich filling, salad topping, vegan charcuterie element, and more.
Soy Free Alternatives to Tofu
Soy is among the most common allergens. Unfortunately for vegans and vegetarians with a soy allergy, it's also a common ingredient in plant-based cuisine.
However, there is an amazing solution to this problem! Did you know that you can follow a similar process to create firm, soy-free tofu from seeds or legumes?
Some stores may stock pumpkin seed tofu or a similar alternative. You can also make homemade soy-free tofu using sunflower seeds, red lentils, chickpeas, or mung beans.
The best-known version of soy-free tofu is made with chickpeas or chickpea flour. It's known as Burmese tofu, and it has a consistency similar to polenta.
Equipment We Used
The key to the perfectly crispy, indulgent tofu with minimal use of oil is everyone's favorite kitchen appliance: the air fryer! It is basically is a small convection oven, and I think we can all agree that whoever invented an air fryer was a culinary genius!
Other Recipes You'll Love
*Note: Affiliate links are used in this article!*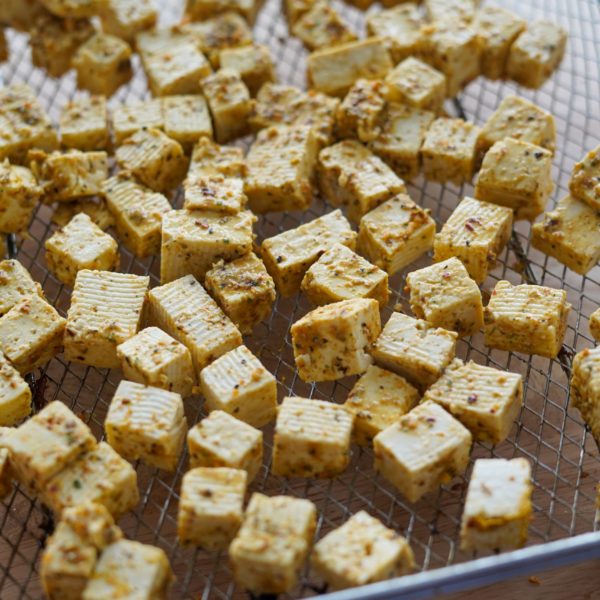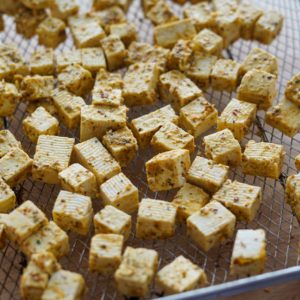 The Recipe: Crispy Tofu
This is my best kept secret to making perfect crispy tofu everytime!
Ingredients
1 block Extra firm tofu , cubed
1 tbsp Vegetable broth or oil
¼ cup Nutritional yeast
3 tsp Garlic powder
1 tsp Sea salt
1 tsp Corn starch
Instructions
Press under something heavy for at least 20 minutes to get out excess water.

Slice into equal squares.

Coat the tofu with vegetable broth or oil. Oil will lend crispier tofu.

Toss the remaining ingredients with the tofu.

Air fry or bake at 400F for 30 minutes.
Calories: 74.1kcal, Carbohydrates: 5.2g, Protein: 9.1g, Fat: 2g, Saturated Fat: 0.3g, Sodium: 645.1mg, Potassium: 234.4mg, Fiber: 1g, Sugar: 1g, Vitamin C: 0.1mg, Calcium: 32.8mg, Iron: 1.5mg