Tofu Burrito
If you're looking for a delicious and easy meal prep for lunch, this tofu burrito is the perfect fit for you.
Whether you're working from home or commuting to work, such breaks always present a dilemma. On one hand, meal prep is a cheaper option that can help you eat healthy away from home. On the other hand, it can be quite time-consuming, especially when the temptation to go to the nearest deli is right there.
This tofu burrito solves several of these problems at once. It combines the indulgent taste of takeout food, it's easy to make, and even more importantly, easy to eat!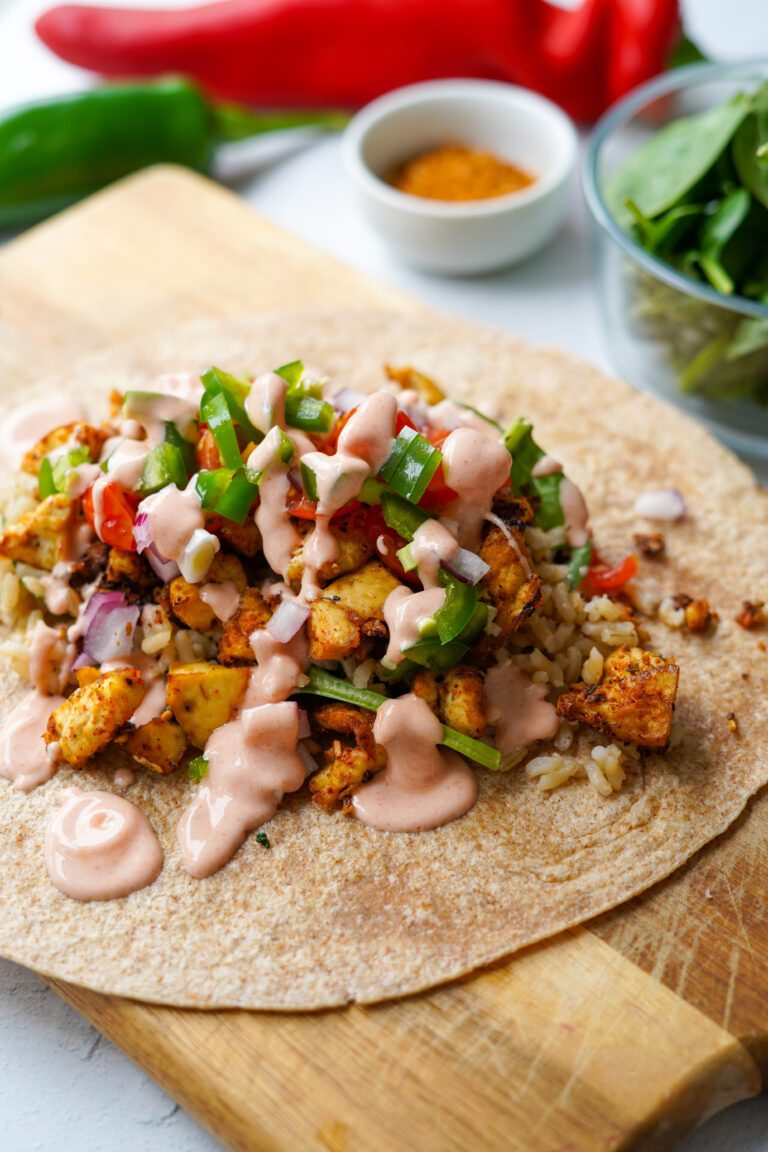 Why You'll Love This Recipe
I love intricate salads and buddha bowls as much as the next person… But let's face it, they're not very convenient to transport or to eat at your desk. Handheld items like this tofu burrito are much better suited for people who eat on the go. No need for utensils, or even a plate!
Burritos are a great example of a meal that has everything you need. This tofu burrito has two great sources of carbs, along with protein, fat, and plenty of fiber.
Let me tell you about the sauce! It will be the easiest sauce you'll ever make, yet it is so perfectly creamy and spicy you'll be adding it to everything!
If you love tofu, this is yet another great way to utilise it in your cooking. And if you're on the fence, this recipe will convince you to give tofu another chance!
You can eat this burrito hot or cold. It's completely up to you!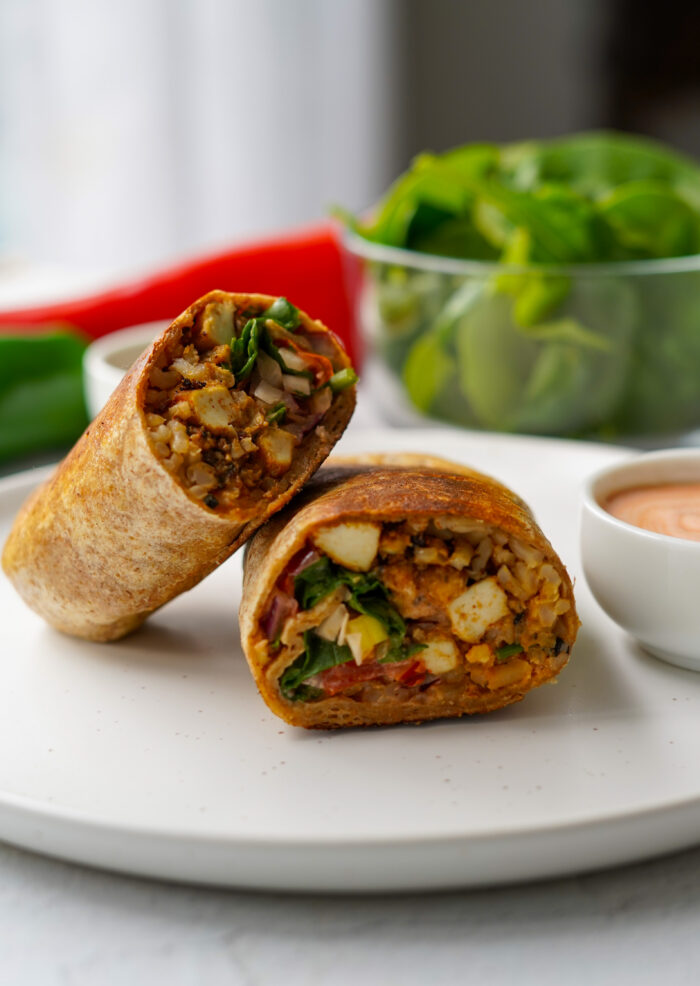 How to Make This Recipe
To make this delicious tofu burrito, you first need to prepare your tofu. You toss it in spices, then air fry or bake.

In the meantime, you just prepare my super easy two ingredient creamy hot sauce by combining yogurt and your favorite hot sauce. Chop up all your veggies – and before you know it, it will be time to assemble. Throw everything on a wrap, roll, and then grill.

Enjoy immediately, or take a page out of the meal prep book and enjoy these throughout your week!
Hack It!
Let's break down our meal prep options. You could store these burritos in the fridge for up to 3 days and reheat if desired. You could also store these in the freezer in tin foil and a ziplock for up to 3 months! Alternatively, you can store the ingredients separately and assemble your tofu burrito right before you eat. Game changer!
Just because you're gluten-free, doesn't mean you can't enjoy this dish. Replace the wheat wrap with a GF wrap, or enjoy these components as part of a burrito bowl. You could even add some corn chips on a side!
If you have a soy allergy, you can replace tofu with a soy-free alternative like Burmese tofu, lentil tofu, seitan chunks, or beans of choice. Just mix your protein of choice with the spices and bake for 10-20 minutes as instructed.
You can reheat this burrito in a grill, an air fryer, an oven, a frying pan, or a microwave. So versatile! You can also enjoy it cold as long as you keep it refrigerated.
You can use microwave rice if you prefer! It's a great way to save time and to inject extra flavor to your tofu burrito!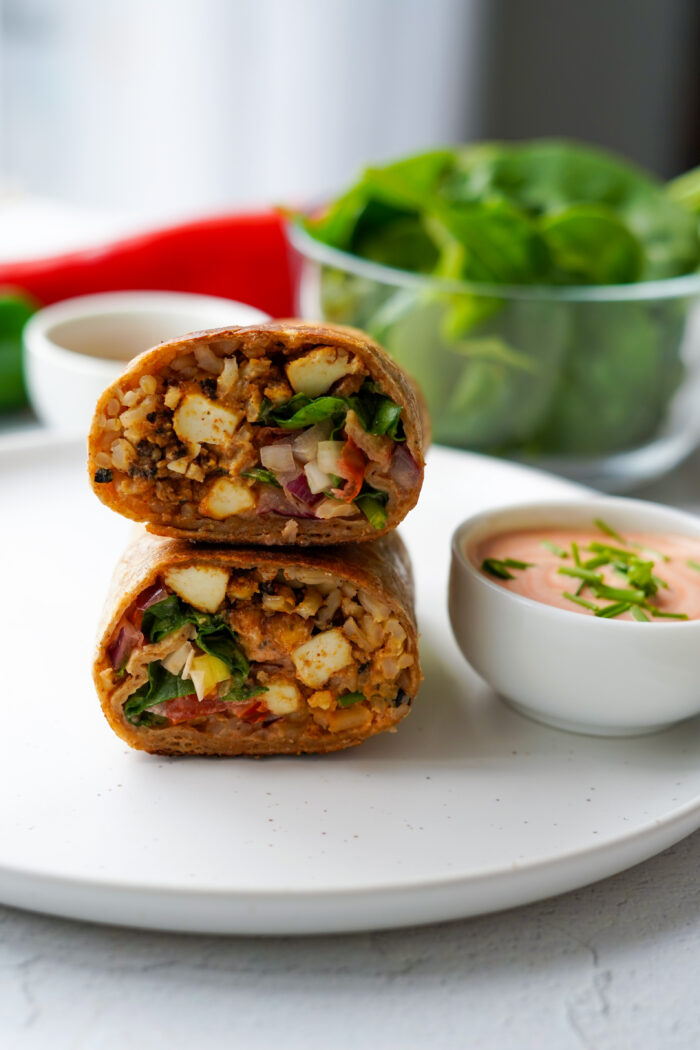 Other Recipes You'll Love
If you love meal prep, you've come to the right place. Check out the PlantYou Planner! It's a digital meal planner that allows you to fully take control over your weekly menu. Not only can you choose from over 600 delicious vegan recipes, you can customise the number of servings and enjoy the grocery list generated by the planner. Being plant-based has never been easier!
And in case you haven't already, you should get your hands on the PlantYou Cookbook. It has recipes for every meal and every occasion. And the best part? They are all plant-based, made with whole-food ingredients, oil-free, and beginner-friendly. It's a great book to have in your kitchen library!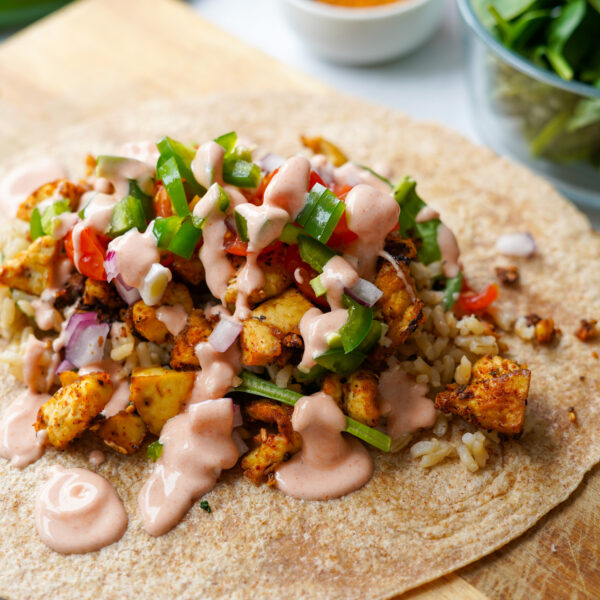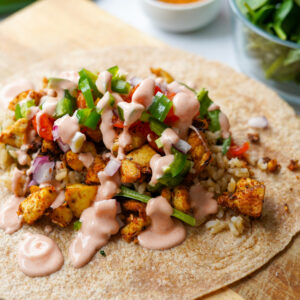 The Recipe: Tofu Burrito
A delicious and easy lunch and meal prep recipe
Ingredients
340 gram tofu, 1 block, cut into 1-inch chunks
½ tsp cumin
½ tsp garlic powder
1 tsp paprika
1 tbsp hoisin sauce
½ tsp sea salt
2 handfuls spinach
½ cup cherry tomatoes, diced
½ red onion, diced
¾ cup vegan yogurt, unsweetened
4 tbsp hot sauce
½ tsp garlic powder
1 tsp italian seasoning
2 whole grain tortillas
½ cup Brown rice, cooked
Equipment
Baking Sheet

Parchment Paper

chopping board

knife

Rice cooker or pot

Frying pan or grill
Instructions
Preheat the oven to 400F and line a baking sheet with parchment paper.

Cook your rice and allow it to sit with the lid closed. Any leftover rice can be used for a different recipe.

Toss the chunks of tofu in a bowl with the cumin, garlic powder, paprika, hoisin and sea salt. Transfer to the baking sheet, and if desired, spray with a small amount of oil. Bake for 20 minutes, tossing halfway through, until crispy.

In the meantime, make the creamy hot sauce. Combine the vegan coconut yogurt with hot sauce, garlic powder and italian seasoning. If it is too thick, add a small amount of water.

Once the tofu is cooked, assemble the wraps. First with the spinach, then rice, tofu, vegetables and finishing with the sauce. Wrap, and then grill in a hot pan to seal and make the outside crispy.
Calories: 441.7kcal, Carbohydrates: 57.4g, Protein: 25g, Fat: 13.2g, Saturated Fat: 2.3g, Polyunsaturated Fat: 5g, Monounsaturated Fat: 2.4g, Cholesterol: 0.2mg, Sodium: 1733.6mg, Potassium: 419mg, Fiber: 8g, Sugar: 12g, Vitamin A: 3138.9IU, Vitamin C: 52.9mg, Calcium: 478.6mg, Iron: 5.5mg