Vegan Taco Bowl
If you love a meal that has all of your essential nutrients in one bowl, this Vegan Taco Bowl will be your new obsession. This delicious power bowl is inspired by classic Mexican flavors, including avocado, cilantro, and chipotle dressing.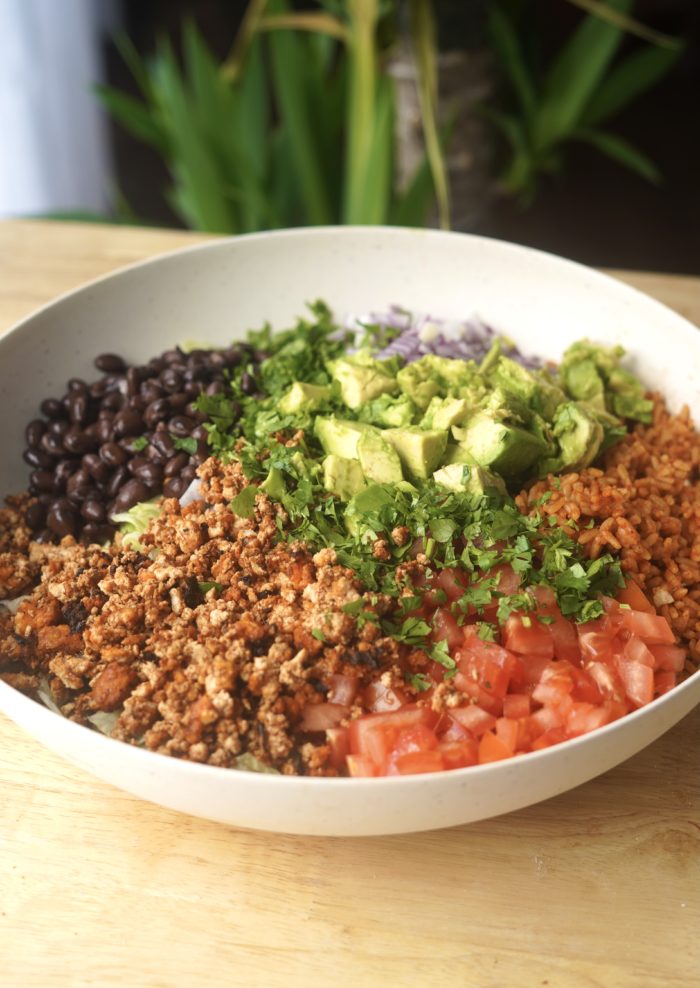 d, I am here to make your wish come true! This vegan taco bowl sports the classic ingredients from the Mexican cuisine, including rice, black beans, avocado, and fresh veggies. The protein component is fulfilled by delicious taco-spiced grated tofu. And to top it all off, the salad comes with spicy chipotle dressing.
Why You'll Love This Recipe
Despite being a full-time food blogger, I don't like to spend all day everyday cooking. The way I avoid spending hours in the kitchen is by making dishes suitable for meal prep. This vegan taco bowl is a perfect example of a dish that can be prepared in advance and enjoyed over several days.
Can you imagine all of your nutritional needs met with a single meal? It doesn't get better than this nourishing salad. It features healthy sources of carbs, fats, and protein, not to mention plenty of fiber!
Speaking of protein, a single serving of this salad comes with a whooping 23 grams of protein, thanks to tofu and beans!
Once you try this chipotle yogurt dressing, you'll be adding it to absolutely everything, from nachos to fries.
This vegan taco bowl looks as good as it tastes! It truly feels like you're eating the entire rainbow.
How to Make This Recipe
Start by tossing tofu with taco seasoning. Spread it on a lined sheet pan and bake at 400F for 10-15 minutes.
While it's cooking, prep the rest of your base ingredients and add them to the bowl. The dressing comes together in under a minute. Just whisk all the dressing ingredients until you get consistent texture and color.
Add spiced tofu to your salad bowl and drizzle the dressing all over. Enjoy immediately!
Hack It!
If you prefer to make everything from scratch, you can make a large batch of DIY taco seasoning by combining chili powder, cumin, salt, pepper, garlic powder, onion powder, red pepper flakes and dried oregano.
If tofu isn't an option for you (e.g. due to soy allergy) you can cook seitan, Burmese tofu, or lentil tofu with taco seasoning.
You can use virtually any type of vegan yogurt for the dressing, as long as it is unsweetened. My favorite one to use is coconut yogurt.
If you have a gene that makes cilantro taste like soap, simply replace it with fresh parsley.
If you are making this as your meal prep dish, keep the dressing separate until you are ready to enjoy your meal.
Other Recipes You'll Love
If you like delicious and nutritious plant-based recipes like this one, check out the PlantYou Planner! It's a digital meal planner platform that allows you to plan your weekly menu with the power to customize it! You can toggle the number of servings, and enjoy the perks of a checkable shopping list generated based on your selection. The planner has a huge database of healthy, beginner-friendly vegan recipes, and once you sign up, you can FULL ACCESS to all recipes and past meal plans.
And if you like to have all of your favorite recipes in one place, I strongly recommend that you get your hands on the PlantYou Cookbook. The book features over 140 delicious plant-based recipes, including appetizers, mains, sides, desserts, and even dressings and dips! Whatever the occasion, you'll find an appropriate recipe in this cookbook!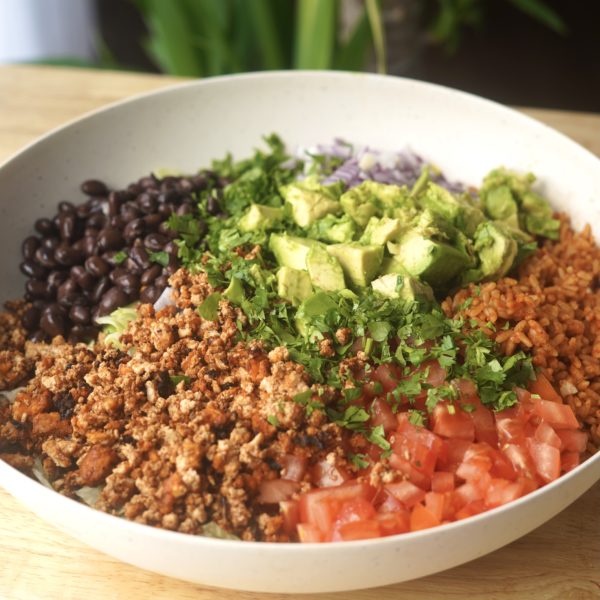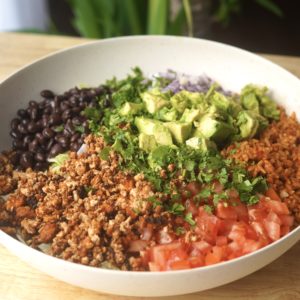 The Recipe: Vegan Taco Bowl
A nourishing Vegan Taco Bowl filled to the brim with plant-based goodness.
Ingredients
1 ½ cups Mexican rice, packaged
1 avocado, peeled, stoned, diced
1 cup cilantro, finely chopped
2 tomatoes, diced
1 red onion, peeled, diced
1 cup black beans, drained and rinsed
1 pack firm tofu, grated
1 packet taco seasoning
Chipotle Dressing
1 cup vegan yogurt, unsweetened
¾ tsp paprika
¾ tsp chilli powder
1 tso onion powder
1 tsp garlic powder
1 tsp apple cider vinegar
½ tsp ground cumin
Equipment
chopping board

knife

Large bowl

Sheet pan

Baking parchment or silicone

Jar
Instructions
Toss tofu with taco seasoning. Spread it on a lined sheet pan and bake for 15 minutes.

In the meantime, prep the rest of the ingredients and add them to the bowl.

Whisk all the dressing ingredients together in a bowl.

Oncethe grated tofu is ready, add it to the bowl and pour in the dressing. Enjoy immediately.
Calories: 500.3kcal, Carbohydrates: 65.2g, Protein: 23.5g, Fat: 18.1g, Saturated Fat: 2.4g, Polyunsaturated Fat: 5.1g, Monounsaturated Fat: 8.3g, Sodium: 982.7mg, Potassium: 846.3mg, Fiber: 15.7g, Sugar: 10.9g, Vitamin A: 2430.5IU, Vitamin C: 39mg, Calcium: 321.8mg, Iron: 6.2mg