Vegan Lemon Lentil Salad
This vegan lemon lentil salad recipe is to die for! Take your meal prep to the next level and enjoy this delicious high-protein salad all week.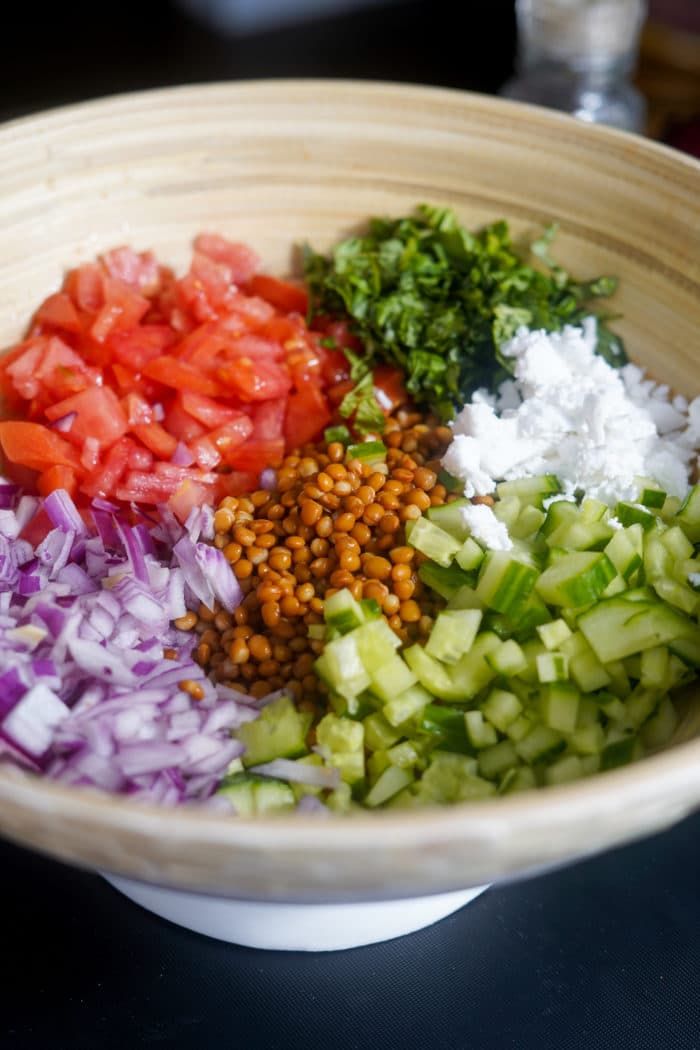 This vegan lemon lentil salad can be made in only 10 minutes, so fresh and delish! I have recently started a new recipe series I like to call Cool Beans. The goal is to encourage people to eat more beans and pulses by incorporating them in recipes in fun and creative ways. If you have a problem with the texture of beans, I implore you to try lentils! I assure you, they don't taste the same. In my opinion, they have a beautiful nutty flavor and a great texture.
Why You'll Love This Recipe
It is PACKED with protein, dietary fiber, and other nutrients such as vitamins and antioxidants. This vegan lemon lentil salad is a well-rounded meal in itself.
DId I mention that the entire dish can be made in JUST 10 MINUTES? This is not a drill! If you're looking for a quick and delicious meal, you'll almost certainly love this recipe!
If you like to prep your meals in advance, this lentil salad works splendidly as a meal prep dish.
I know I am tooting my own horn a little bit, but the flavors of this salads marry beautifully together. The tangy lemon dressing complements the earthy flavor of the lentils, while fresh vegetables give it the crunch. Yum!
It's a great way to incorporate more legumes into your diet, whether you're vegan or not!
How to Make This Recipe
The first step is to prep your ingredients. Finely chop and dice the veggies, drain and rinse the lentils.
To make the dressing, whisk lemon juice, dijon mustard, maple syrup, salt, and pepper.
Bring everything together in a mixing bowl and mix it all together. Enjoy immediately or split into portions and enjoy throughout the week.
Hack It!
Although the vegan feta is optional, it really enhances the recipe. You can use store-bought, or make your own. Did you know I have a super-easy tofu feta recipe?
If you love the flavors of Greek cuisine, why not add some kalamata olives or artichoke hearts?
You are welcome to use dry lentils instead of cooked and canned ones. You will just need to cook them in advance and let them cool down before you make your salad.
If you're curious to try this salad with other dressings, consider making it with one of PlantYou oil-free dressings. I also have plenty of dressing options in my brand new cookbook!
It's a great opportunity to use up extra veggies and herbs from your fridge. From bell peppers to parsley, feel free to enhance your salad with even more plant diversity!
Other Recipes You'll Love
Did I mention that I now have a cookbook? That's right, the PlantYou Cookbook is officially out! It has 140+ beginner-friendly, delicious plant-based recipes. It was specifically designed to make your plant-based journey as easy as possible, including ingredient swaps for common allergens, and an infographic accompanying every recipe for visual learners! If you haven't snatched a copy yet, the first print is almost out of stock, and the second print is likely not hitting the shelves until June. Be sure to tag @plantyou when you share your beautiful meals from the book on social media!
If you love simple vegan recipes like this one, why not join the PlantYou Planner! It's a digital meal planner with a huge database of over 500 recipes, all optimized for easy meal planning! Not only can you drag and drop the recipes to create your weekly menu, you can also take advantage of the autogenerated shopping list. Believe me, plant-based living has never been so easy!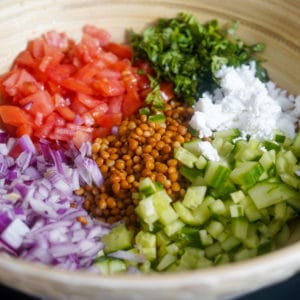 The Recipe: Vegan Lemon Lentil Salad
This lemon lentil salad is a delicious vegan meal prep lunch high in protein and fiber!
Ingredients
1 ½ cups brown lentils, canned, drained and rinsed
1 tomato, core removed, diced
½ cucumber, diced
¼ cup fresh basil, diced
½ red onion, diced
½ cup vegan feta
Lemon Dressing
1 lemon, juiced
1 tbsp maple syrup
2 tbsp dijon mustard
¼ tsp sea salt
¼ tsp pepper
Equipment
chopping board

knife

mixing bowl
Instructions
Combine dressing ingredients in a jar and whisk. Dice all of your vegetables fine, and add them to a bowl with the lentils along with the vegan feta if using. Drizzle the dressing over top and enjoy.