DIY Lemon Cleanser
If you love using freshly squeeze lemon juice for food and drinks, you might be faced with a waste dilemma. Next time, make this gentle DIY lemon cleanser for your countertops and sink, instead of throwing the rinds away!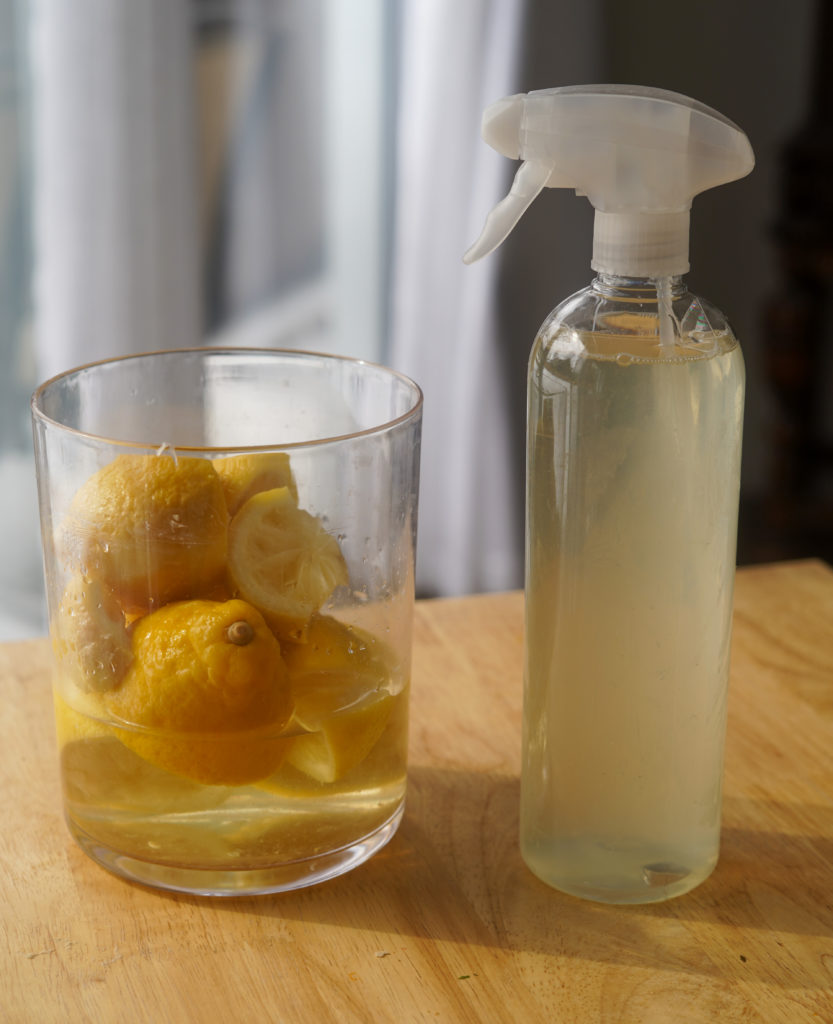 I don't know about you, but in my personal experience a squeeze of lemon juice can elevate a meal to the next level. It provides a sense of freshness and a hint of acidity that helps to balance a dish. However, it comes with a slight downside. With the amount of lemons I go through in a week, it creates a pile of lemon rinds.
I know I could just compost them, but not everyone has that opportunity. And so, in our household, we use the lemon rinds to create a gentle DIY lemon cleanser that we can then use to clean kitchen counters and the sink. And the best part? The rinds can still be composted afterwards!
Please note it is not a replacement for an antibacterial deep cleaner but anything you would typically quickly clean vinegar with (we wipe down our fridge, dishwasher and counters with this)!
Why You'll Love This Recipe
This DIY lemon cleanser is a great way to utilize lemon rinds and reduce your household's food waste.
Unlike store-bought cleaning products, you'll know exactly what yours is made of. With full control over the ingredients, you can make sure your cleaning product doesn't contain any harmful chemicals.
It couldn't be easier! For the most part, you just have to have patience. It only takes about 5 minutes to prep a large batch.
This is a great way to save money on cleaning products, and to avoid buying a new spray bottle every time.
This DIY lemon cleanser has a light and refreshing smell that doesn't linger. Additionally, it may be a great option if you have skin sensitivity or respiratory reaction to store-bought cleaners.
How to Make This Recipe
Get a jar, larg enough to accommodate lemon rinds and vinegar. Soak the lemons in vinegar (make sure they are properly submerged) for at least 48 hours. Overall, the liquid can be infused for up to a week.
Take out the lemons. They can be composted or buried. The next step is to pour lemon-infused vinegar into a spray bottle until it is halfway full. Add castille soap, then fill the bottle to the top with water.
A voila! Make cleaning easy and affordable!
Hack It!
Why not make a larger batch? Simply upscale the ingredients and enjoy hassle-free cleaning for months!
This DIY lemon cleanser makes a good gift for enviromentally-minded friends and family.
Want to make a double-scrappy recipe? You can use homemade apple cider vinegar for this lemon cleanser too!
If you love the idea of this cleaning product, but you don't use that many lemons at once, you can use lemon juice to make lemon ginger ice cubes and kill two birds with one stone!
Other Recipes You'll Love
My mission is to make plant-based living easy, which includes eating a wide variety of plants, and cooking easy, affordable recipes. This is why I created the PlantYou Planner, a digital meal planner with a huge database of beginner-friendly vegan recipes. A new meal plan is released every week, with the option to either modify or create your own from scratch! With over 500 recipes available in the planner, there is something for every occasion!
And if you prefer to have a tangible, physical recipe book, I have some great news for you. I have recently released my debut cookbook, and with the incredible support from the plant-based community, it made the New York Times Bestseller list! If you haven't snatched your copy of the PlantYou Cookbook yet, hurry up to get your hands on 140+ delicious easy vegan recipes!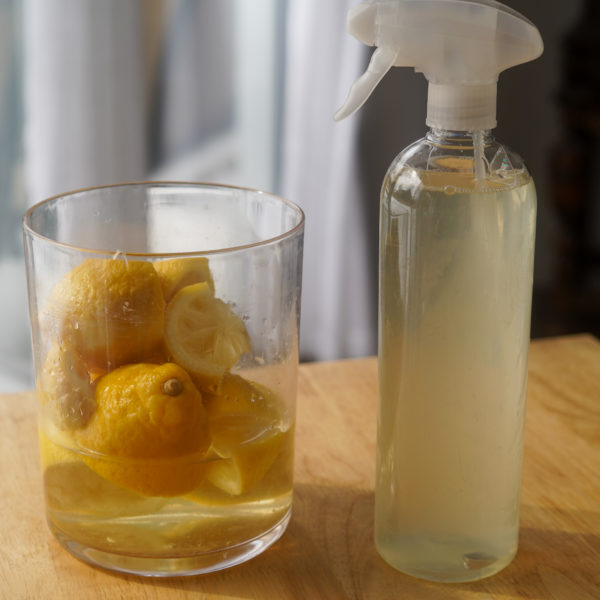 The Recipe: DIY Lemon Cleanser
A gentle homemade lemon cleanser to help you use up lemon rinds!
Ingredients
4 lemon rinds, sliced in half
3 cups white vinegar
2 cups water
1 tsp liquid castile soap , organic if possible
Instructions
Add lemon rinds to a jar and pour over the vinegar until they are covered. Allow them to sit in the mixture at least 48 hours and up to a week.

Strain out the lemons, and add the vinegar mixture to a spray bottle until half full. Fill the rest of the bottle with water, and the teaspoon of Castile soap. You now have a gentle lemon cleanser. Make sure your countertops or wood sealant can take lemon as it can be quite abrasive.