Strawberry Top Vinegar
Welcome to the Scrappy Cooking series, where I take common food scraps and turn them into delicious plant-based recipes. This strawberry top vinegar is a great way to reduce your food waste and add flavor to your dishes! 
As a full-time food blogger, I spend a lot of my time cooking. Naturally, every recipe comes with some amount of food waste – veggie peels, fruit stones, offcuts, and more. One of my great passions is finding a way to repurpose these food scraps in a way that reduces my personal food waste and encourages others to follow suit.
This recipe is for all of my strawberry lovers out there. Did you know the strawberry tops are edible? Stop throwing them away, and let's make strawberry vinegar instead!
Why You'll Love This Recipe
You only need two ingredients to make this, and one of them is basically free!
This recipe is very hands-off. It takes about 5 minutes, and then, all you have to do is wait!
It's a great way to reduce your personal food waste.
Strawberry-infused vinegar makes a fantastic addition to salad dressings, dips, and marinades.
Vinegar is a preservative, which means a batch of strawberry top vinegar with last you a long time!
How to Make This Recipe
The best time to make this strawberry vinegar is when you're using strawberries for another dish, like a smoothie or a dessert. You can even add your strawberries to a salad.
Cut off the tops and add them to a sealable jar. Pour white wine vinegar to the top of the jar and close it.


Easy-peasy, right? Now all you have to do is let your vinegar infuse. Rest it at room temperature for at least two days. It should turn a vibrant red color.
Strain it into a clean bottle (bonus points if you're reusing a bottle) and use the same as you would with regular vinegar.


Hack It!
This strawberry top vinegar has a slightly sweet flavor and a lovely aroma, which adds an extra dimension to almost any dish.
Some of the best ways to use it are to add it to salad dressings, marinades, or dips.
This recipe can be made with any type of clear vinegar – white wine vinegar, apple cider vinegar, or even rice vinegar.
Strawberry top vinegar is a great option for pickling your veggies or making fruit chutneys.
Store This Recipe
Once you've strained it into a bottle, it will last for weeks, because vinegar is a preservative in itself. It doesn't require refrigerating, so store it in your pantry or display it proudly on a kitchen shelf.
Other Recipes You'll Love
If you've enjoyed this simple recipe, you're going to love PlantYou planner! It's a digital meal planner with over 450 easy, plant-based recipes in the existing database, and new recipes added every single week! A perfect resource for anyone trying to eat more plants, the PlantYou planner allows you to choose dishes and set the number of servings, and it even generates a shopping list you can take with you to the store.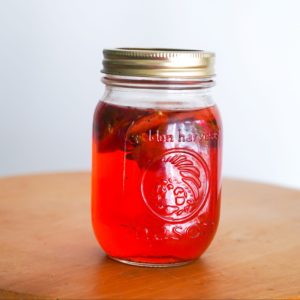 The Recipe: Strawberry Top Vinegar
A great way to save strawberry tops from going to landfill
Ingredients
½ cup strawberry tops
1 ½ cup white wine vinegar
Equipment
knife

chopping board

Jar

Bottle
Instructions
Pour vinegar and strawberry tops in a sealable jar.

Allow to rest at room temperature for at least 2 days.

Transfer mixture to a sealable bottle, discarding the tops. Use as you would regular vinegar!
Calories: 91.2kcal, Carbohydrates: 6.5g, Protein: 0.6g, Fat: 0.2g, Saturated Fat: 0.1g, Polyunsaturated Fat: 0.1g, Monounsaturated Fat: 0.1g, Sodium: 29.4mg, Potassium: 250mg, Fiber: 1.4g, Sugar: 3.5g, Vitamin A: 8.6IU, Vitamin C: 44.1mg, Calcium: 33mg, Iron: 1.9mg