How to Pickle Vegetables
I think we can all agree that we've been getting a bit more creative in the kitchen lately. We've been trying out recipes like never before and stocking our kitchen with pantry staples. I think everyone is looking for more ways to keep stocked up on veggies but also how to have them last a long time too.
In this blog article, we are sharing how to pickle vegetables and how it is so simple to do at home!
The bonus of pickling your vegetables yourself is that its also fun to do!
Pickling vegetables is a great way to have vegetables at your disposal because once your veggies are pickled, they have a longer lifespan. The pickling process has been around for thousands of years and is one of the oldest ways of preserving food.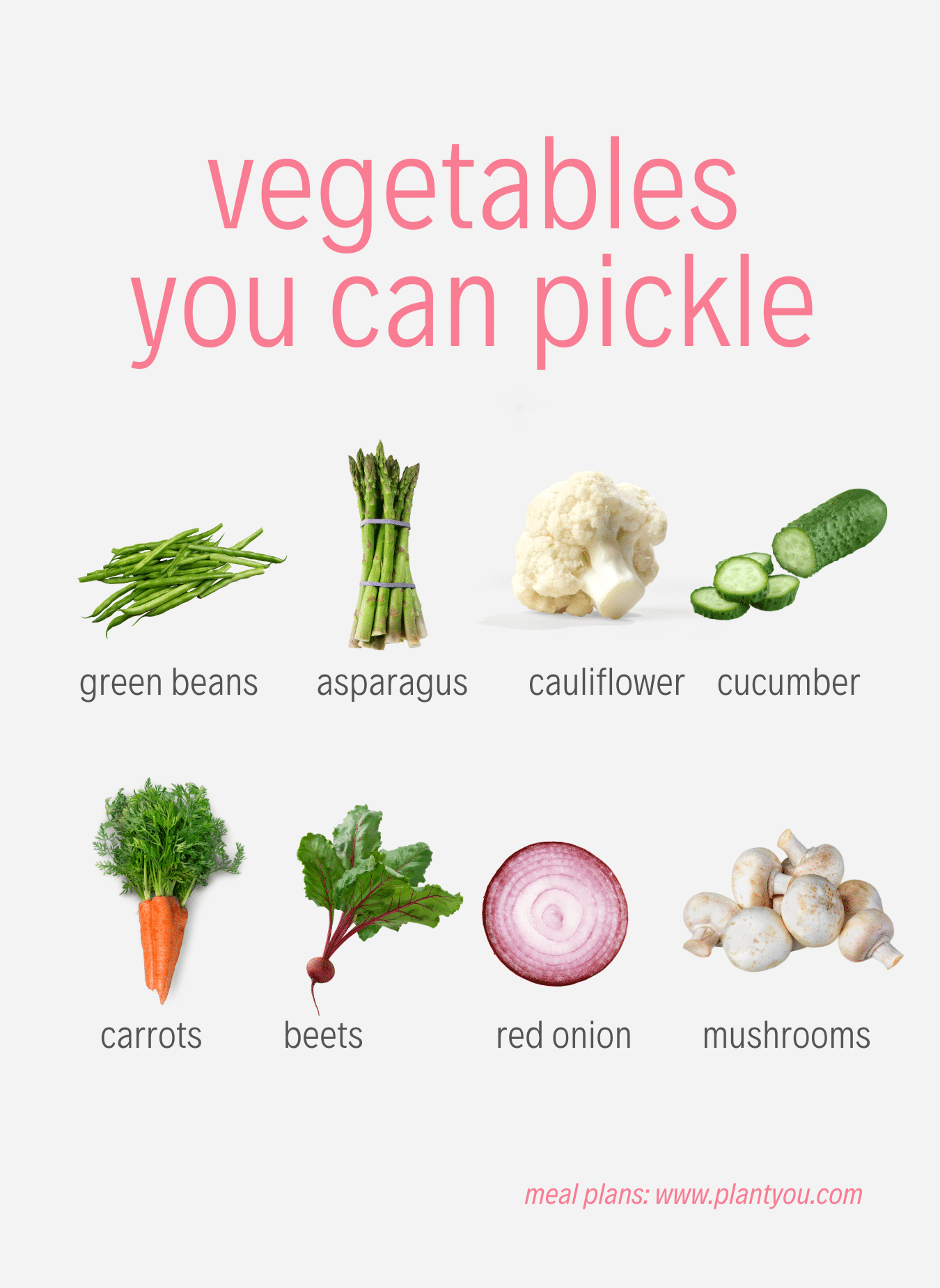 There are many benefits to pickling vegetables!
Pickling is an easy way to enjoy out of season vegetables and add variety to your plant-based dishes. Pickling your leftover vegetables is also a good way to reduce your food waste. You can start by saving vegetable scraps you aren't using in your recipes for pickling, this way you get more out of your fresh produce. Another beneficial factor of pickling vegetables is that it is very inexpensive to do and will save you money from buying canned pickled goods.
To get started pickling vegetables, all the equipment you need to have is either a glass container or mason jar! This is it!
Which Vegetables To Pickle
Well, just about any vegetable can be pickled, but some veggies work better than others. Pickled vegetables are wonderful to add to many different dishes and pack a powerful punch of flavour!
The list below are vegetables that turn out well when pickled:
Red Onion

Cucumber

Asparagus

Cauliflower

Beets

Radishes

Green Beans

Mushrooms

Parsnips

Tomatoes

Fennel

Jalapeno

Red Peppers

Carrots

Garlic

Zucchini

Cabbage
How to Pickle Vegetables
Grab your mason jar or glass container

Pick your vegetables and spices of choice

Heat your vinegar and water in a pot

Add sugar and salt to your vinegar and water mixture till dissolved completely

Add any spices to the brine

Pour pickling brine over vegetables of choice

PRINT RECIPE

Simple Pickle Brine

Pin Recipe

This brine works well for pickling vegetables.

Ingredients

1⅓

cup

Vinegar

refer to the vinegar option list

2½

tbsp

Cane sugar

2

cup

Water

2

tbsp

Sea salt

1-2

tbsp

Desired spices and herbs

refer to the spice and herb option list

Instructions

Prepare your vegetables by cutting them into slices, cubes or you can grate. Once your veggies are prepared add them to your mason or glass containers.

Bring your water, vinegar, sea salt and cane sugar to a simmer.

While your waiting for the brine to come to a boil, add in your spices to your vegetable jars.

Once your brine is boiled, add to the liquid to the jars.

Tightly seal your mason jar or glass container.

Marinate your veggies for at least 1-2 hours before tasting. It is best to let your pickled vegetables marinate overnight for the best flavor.

These veggies will last between 2-4 weeks depending on the vegetable.
Ways to Spice Your Pickled Vegetables
When pickling your vegetables, adding spices and different kinds of vinegar will improve the flavour. We've found starting with your vinegar brine, then adding a classic blend of peppercorn and mustard seed is an easy base recipe to spice up your vegetables, but you can get creative!
Types of Vinegar To Use:
White or Red Wine Vinegar

Apple Cider Vinegar

White Vinegar
Herbs to Add to Your Pickled Vegetables:
Cilantro

Parsley

Ginger

Cloves

Garlic

Bay leaves
Spices to Add to Your Pickled Vegetables:
Dill seeds

Tumeric

Black pepper

Chilli flakes

Celery seeds

Cinnamon

Anise Pods

Corridor or cumin seeds
When you pick your vinegar and spices for your brine this will give your vegetables different flavours once the marinating process is complete. We suggest determining whether you want a spicy, sweet or tangy taste to your pickled vegetables and pick your ingredients accordingly.
Pickling Flavour Options
Spicy: Add in a few slices of jalepeno to really kick up the heat! You can also add in chilli flakes, black pepper, chilli peppers, mustard seeds and onions!
Tangy: Bay leaves, cilantro, parsley, dill seeds and loads of garlic will do an excellent job at adding a sharp tang to your pickled veggies. To balance out your tangy flavour, try adding ginger, cloves or citrus peel!
Sweet: Do you want a bit of sweetness added to your beets, cucumber, carrots or parsnips? Add fresh dill, turmeric, citrus peel, ginger or cinnamon. We would suggest going for a white wine vinegar or apple cider vinegar option for a sweet taste.
Our Pickling Combo Favourites:
Carrots, jalapeno, garlic, cumin seeds and white wine vinegar

Cucumbers, dill seeds, black pepper and apple cider vinegar

Beets, cloves, cinnamon, allspice and white vinegar

Red onion or radish, cloves, black peppercorn and red wine vinegar

Tomatoes, garlic, cloves and apple cider vinegar
Green beans, chilli flakes, mustard seeds, coriander seeds, garlic and white vinegar
How to Serve Pickled Vegetable
Pickled vegetables work well in many plant-based recipes; this includes breakfast, lunch and dinner! For breakfast, try adding them to your tofu scramble or breakfast sandwich. When it comes to lunch, try it in a wrap, salad or use it as a topping for a veggie burger! My favourite ways to add pickled vegetables to dinner recipes would be tacos, buddha rice bowls and is also fantastic as a pizza topping! With that being said, there are many delicious ways to incorporate pickled veggies into your recipes. Pickled vegetables also make for an easy snack on their own and are great on the go!
Add Pickled Vegetables to These Plant You Recipes:
Are you looking for more ways to preserve your vegetables and have them last a long time?
Check out these blog articles below:
Fruits and Vegetables That Freeze Well
Fruits and Vegetables That Will Last the Longest