Vegan Egg Breakfast Sandwich
Here's a delicious Vegan Egg Breakfast Sandwich that is equal parts delicious and healthy for you!
"What's a good vegan savory breakfast?"
That's one of the most common questions I get asked on Instagram, and my answer is always a delicious Vegan Egg Breakfast Sandwich like the recipe I'm going to share with you today!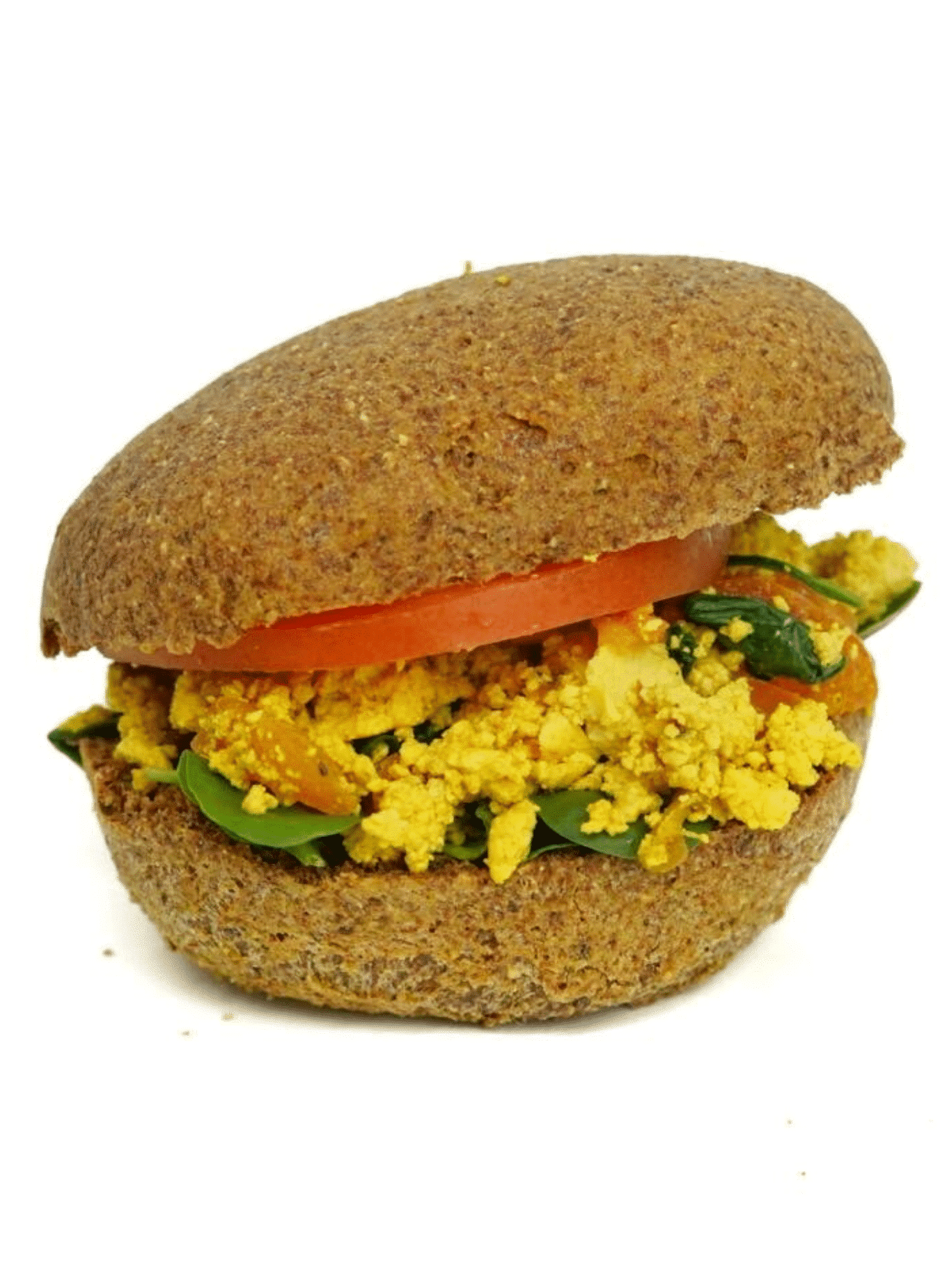 For this simple Vegan Egg Breakfast Sandwich you only need a few key ingredients:
Extra Firm Tofu
Spinach
A Tomato
Turmeric
I based this yummy Vegan Egg Breakfast Sandwich after one of my old favorites (from before I wasn't plant-based): The McDonald's Egg McMuffin.
Luckily for all of us, the Egg McMuffin can be remade into this much healthier vegan version that is also gluten free, whole-foods, plant-based compliant and refined sugar free.
What's an Unbun?
I'm super excited to share with you my latest bun obsession.
Unbun Foods is a Toronto based, certified keto, paleo, grain-free & gluten-free food company. They also happen to have a Vegan Unbun that is absolutely amazing and perfect for today's Vegan Egg Breakfast Sandwich!
It's pretty cool to bite into a soft, warm bun knowing it is completely gluten, grain free and vegan. The best part, these buns are also packed with 11g of protein and 11g of fiber. They truly can't be beat.
Also, take a look at the ingredients list. You can't go wrong with a bun this nutrient packed!
Ingredients: Water, Blanched Almond Flour, Pumpkin Seed Protein Powder, Coconut Flour, Psyllium Husk, Olive Oil, Coconut Milk, Flax Meal, Chia Seed Meal, Apple Cider Vinegar, Paleo Baking Powder (Baking Soda, Cream of Tartar, Salt).
You can find out where to buy Unbun products through their store locator here.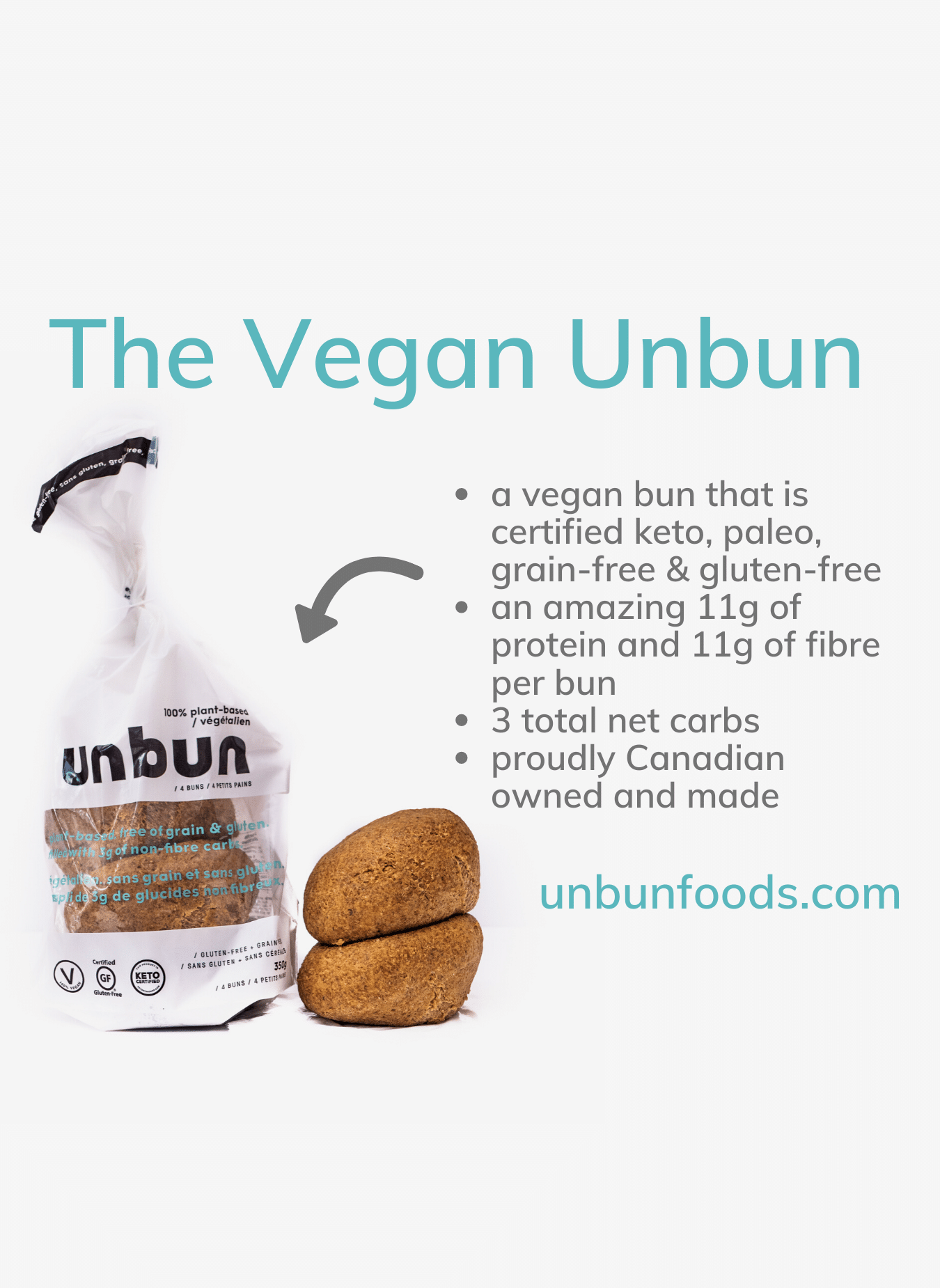 A High Protein Breakfast
Because we are using both a high protein bun and tofu in this recipe, it actually comes in at a whopping 31 grams of protein! Knowing that the daily recommended intake for protein for the average human is right around 46 grams of protein, it is incredible to know that you have already reached over half your target by breakfast time.
Not only is this Vegan Egg Breakfast Sandwich super nutrient dense, you will also feel full for hours upon end.
If you are searching for more high protein plant-based foods, you have to check out our blog post on this topic! You'll see that it's actually very easy to eat daily protein requirements on a plant-based diet, and really not something to be concerned about at all.
How To Make Tofu Taste Like Egg
I also have another magic trick up my sleeve. If you've never heard of Kala Namak salt, it's time to get familiar with this super powerful seasoning!
No word of a lie, this black salt from India makes tofu taste just likes EGGS!
Because this salt contains Gereigite, it is a brownish pink or black color! The signature umami savory taste that this Indian Black Kala Namak salt emits is due to the sulfur in the salt. You can put it on any vegan dish that you want that "eggy" flavor in like Vegan Pad Thai, a Vegan Quiche, Vegan Scrambled Eggs or a Delicious Vegan Egg Breakfast Sandwich Recipe like the one I will be sharing today!
You can read more about Kala Namak salt in this super in depth article on Mind Body Green.
Here's a good black salt brand if you can't find it at your natural food store: Kala Namak Black Salt
What Kind Of Tofu For This Vegan Breakfast Sandwich
Whether I'm making a Vegan Tofu Scramble or a Vegan Egg Breakfast Sandwich, I always like to use an organic extra firm tofu.
If you are able to find extra firm tofu, you don't even need to press it! This is because it has a lot lower water content than medium or soft tofu, so it stays nice and firm in the pan.
You simply add it a non-stick or oiled pan, break it up with a fork, add your turmeric and kala namak salt, and voila.
To amp up your scrambled tofu, I love to add lots of veggies like fresh baby spinach, chopped cherry tomatoes and onion. You can never go wrong with more veggies!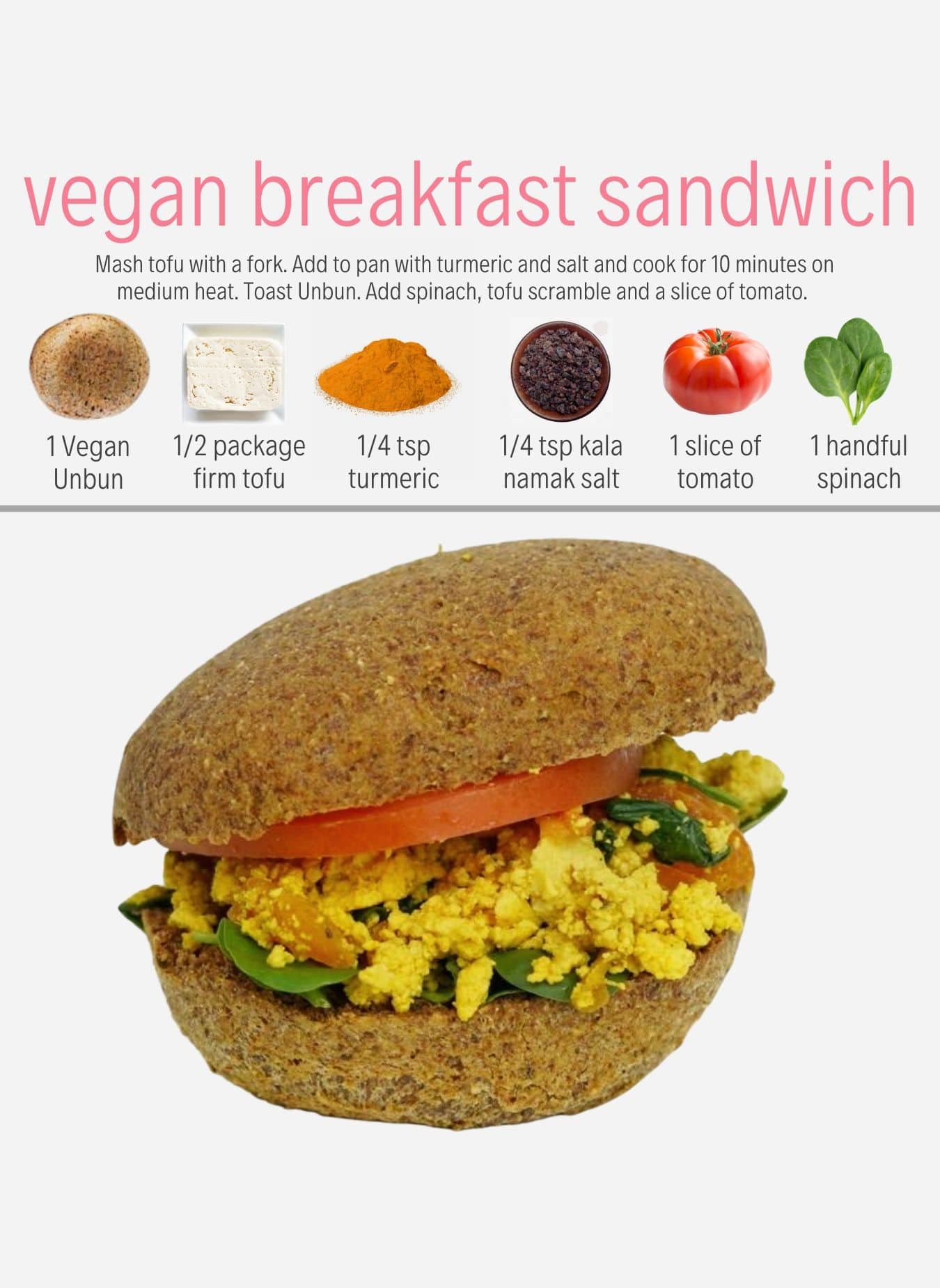 Other Toppings To Put On Your Vegan Egg Breakfast Sandwich
Like all of my recipes, this Vegan Egg Breakfast Sandwich is truly ridiculously simple to make. With that said, I always encourage readers to use my recipes as a helpful base to jump off on when creating delicious whole-foods, plant-based meals.
Here are some suggested add ons that will take this Vegan Egg Breakfast Sandwich over the edge:
Serve it with hot sauce
Add avocado or a creamy guacamole
Spread vegan mayonaisse on your unbun
You can't ever go wrong with a little bit of ketchup
Add sauteed mushrooms and onion
Use a vegan beyond meat or other plant-based sausage
If you're not feeling this easy vegan breakfast sandwich, I have a few more delicious breakfast ideas I think you will love!
PRINT RECIPE
Vegan Egg Breakfast Sandwich
Pin Recipe
An easy healthy vegan breakfast sandwich with a soft gluten free bun and scrambled tofu!
Ingredients
250

Grams

Extra Firm Tofu

1

Vegan Unbun

1/4

Tomato

Sliced

1/4

Cup

Baby Spinach

1/4

Tsp

Kala Namak Salt

Or regular salt

1/4

Tsp

Turmeric
Instructions
Heat a non-stick pan or oiled pan over medium heat.

Add half a block of tofu and break it up gently with a fork.

Add your 1/4 tsp of Kala Namak Salt and 1/4 tsp of Turmeric and mix. Cook for 8-10 minutes, stirring regularly.

While the tofu scramble cooks, toast your Vegan Unbun, slice your tomato and wash your spinach.

Assemble your Vegan Egg Breakfast sandwich by placing spinach on one half of the Unbun, adding your scrambled tofu, then your tomato and placing the other half of the Unbun on top. Add hot sauce or ketchup as desired and enjoy.
Nutrition
Serving:
1
g
|
Calories:
450
kcal
|
Carbohydrates:
18
g
|
Protein:
31
g
|
Fat:
30
g