Vegan Red Velvet Smoothie
This Vegan Red Velvet Smoothie is pure magic.
Sweet cherries, succulent strawberries and cocoa powder are blended up into a nutrient dense smoothie that will sure to be on breakfast repeat in your home all year long! Give this red velvet smoothie a go and let me know what you think.
If you're looking to try something new this Valentine's Day, you need to whip together this smoothie recipe. This smoothie is chocolatey, smooth, decadent and delicious.
It's also:
Vegan
Whole-Foods, Plant-Based compliant
Gluten Free
Dairy Free
Refined Sugar Free
We packed this Vegan Red Velvet Smoothie with all good things. That means not only is it delicious, you can feel good about eating it too!
Here are the amazing whole-foods, plant-based ingredients:
Frozen Cherries
Frozen Strawberries
Unsweetened Cocoa Powder
Vanilla Extract
Oat Milk
Optional Beetroot Powder
That's it! As you can see, this quick and easy vegan smoothie uses only the simplest ingredients so you can whip it up in less than five minutes.
What is Red Velvet Smoothie Flavor
When I went to create this recipe, I had to ask myself, "What actually gives "Red Velvet" it's flavor? Of course when we think of red velvet, we automatically think of Red Velvet Cake (mmm).
Red Velvet Cake is a traditional red, or reddish-brown chocolate layered cake with cream cheese icing in between. The token Red Velvet Cake look is achieved by adding cocoa to the cake batter. Sometimes the color is intensified in the cake by adding Beetroot powder (like in today's Red Velvet Smoothie)!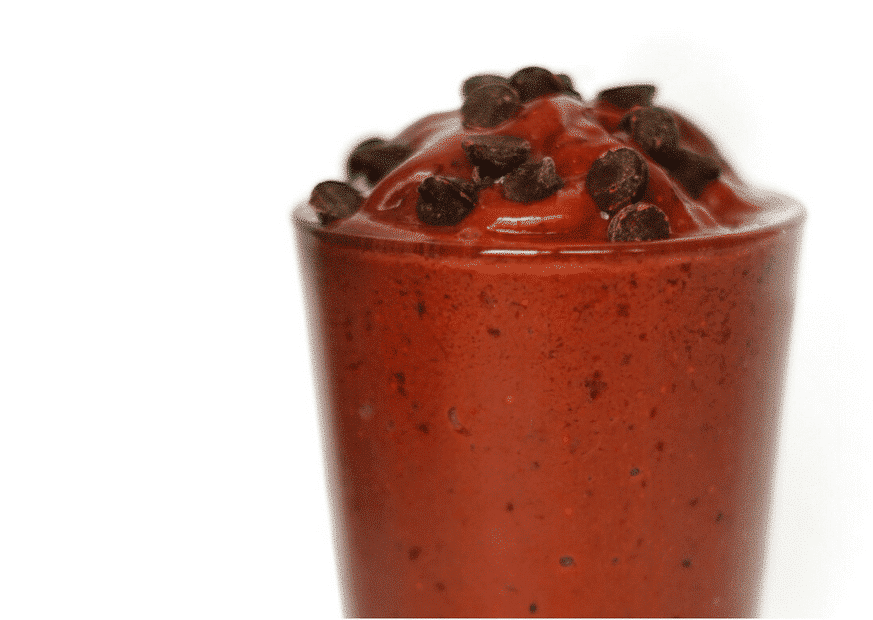 Valentine's Day Menu
If you're searching for some other vegan ideas for your Valentine's Day menu this year, look no further than our healthful plant-based recipes.
Here are a few ideas for you:
I love to indulge on all the sweet things on Valentine's Day. The best part about living a whole-foods, plant-based lifestyle is recreating some of your old favorite tasty treats into healthified ones, much like this nutrient rich Red Velvet Smoothie!
Should You Add Beetroot Powder To Your Red Velvet Smoothie?
Beetroot powder is one of those new superfoods on the market. It's touted to help lower your blood pressure, give you a natural boost of energy, and provide a whole myriad or nutrients when added to foods like gravies, smoothies and even cake batter.
I've seen a lot of plant-based articles where bodybuilders cite beetroot powder as an awesome natural pre-workout! I haven't had a chance to try it before a workout yet, but it sounds like the perfect healthy alternative.
But be forewarned, beet powder has a pretty strong earthy taste to it. I tested it in this smoothie and without and it definitely altered the flavor. For me, this is an instance where the tradeoff in flavor might be worth it because of the amazing health benefits of beetroot powder. I'd suggest maybe trying it without first then adding a little bit at a time to see if you like it!
If you don't have any beetroot powder, you can purchase it on Amazon here (this is an affiliate link): Organic Beetroot Powder
The Blender
I made this vegan Red Velvet Smoothie using my Vitamix, but you could use any standard blender like a Ninja or Magic Bullet.
I just recently got my Vitamix, and have been loving it for making things like vegan cheese sauces and soups! The motor is unbelievably powerful, and it will blend just about anything within seconds.
You can find Vitamix's on Amazon. Here's an affiliate link if you're interested (this is the exact model I own): Vitamix Explorian Model.
At the time of this post, the Vitamix Explorian Model is on sale for $268!
More Whole-Foods, Plant-Based Recipes
If you're looking for more simple smoothie recipes, or whole-foods, plant-based meal ideas in general, I've got your back. If you're new here, you might have never heard of my program, Plant Ahead.
In Plant Ahead, I release a brand new whole-foods, plant-based meal prep plan every week with seven new recipes, a shopping list to take with you to the grocery store, and the macros for each meal.
The awesome thing is, when you sign up for just $7.99/month today, you get access to our entire past database of meal plans. I started this in January of 2019, so there are now over 56 Vegan Meal Plans in the members only portal, and over 350 nutrient dense plant-based recipes.
The plans teach you the incredible powers of meal prepping your food, so you can save money, time and enjoy a balanced plant-based diet!
What are you waiting for? It's risk free and there are sooooo many more smoothie recipes you can discover on here:
The Red Velvet Smoothie Recipe
Note: Remember to try this recipe without the beetroot powder first, as it can be super overpowering! To make this recipe even more decadent, try adding some dark chocolate chips or grated dark chocolate over top. Let me know what you think of this recipe in the comments below.
PRINT RECIPE
Vegan Red Velvet Smoothie
Pin Recipe
This Vegan Red Velvet Smoothie is loaded with nutrients and tastes like a chocolatey dream!
Ingredients
1

Cup

Frozen Cherries

1

Cup

Frozen Strawberries

1

Tbsp

Cocoa Powder

1/2

Tsp

Vanilla Extract

1.5

Cup

Oat Milk

1

Tsp

Beetroot Powder

Optional
Instructions
Combine all ingredients in a blender until smooth.
Nutrition
Serving:
1.5
Cup
|
Calories:
379
kcal
|
Carbohydrates:
56
g
|
Protein:
3
g
|
Fat:
3
g