Easy Vegan Coconut Truffles
These easy vegan coconut truffles require just four whole-foods, plant-based ingredients and come together with very little effort.
If you love rich, decadent treats, you'll go nuts for these vegan coconut truffles.
Here's what you'll need to make these delicious vegan truffles:
Vegan Dark Chocolate (70%, 80% or 90% work best)
Coconut Milk
Vanilla Extract
Unsweetened Coconut Flakes
That's it! Just four simple ingredients. Along with being absolutely delectable, these truffles are entirely vegan, gluten free, oil free, low carb and can be considered a whole-foods, plant-based treat.
Can Truffles Actually Be Vegan?
Since one of the main ingredients of truffles is usually cream, it may seem strange that they could be both vegan and traditional tasting.
Thankfully, coconut milk acts as an excellent base in place of cream. Coconut milk is the white milky liquid extracted from the grated pulp of coconuts. It has an extremely opaque color and rich taste due to its high fat content, similar to cream.
Because of this, it makes it the perfect ingredient for these Vegan Coconut Truffles. Honestly, you would not be able to tell these truffles are vegan. Just make sure you get the full fat coconut milk rather than light. We used a simple canned coconut milk for this recipe!
How Do You Firm Up Truffles
After you warm your coconut milk and combine it with your rich, dark chocolate, you will want to firm up the mixture so that it can be rolled into truffles.
To do this, we simply set the mixture in the fridge for two hours. You don't want to leave it in there too long so it becomes grainy.
Once you're done rolling up your truffles and covering them in coconut flakes, you can eat them right away or pop them back in the fridge to firm up even more!
What Coating Should You Put On Your Vegan Truffles
We rolled our delicious Vegan Coconut Truffles in unsweetened coconut flakes. It creates a nice coconut shell for these yummy truffles, but there are lots of possibilities for the coating.
Here are just some simple ideas:
Roll them in cocoa powder
Grind up some nuts like almonds or peanuts and sprinkle them on your truffles
Dip them in melted chocolate
Sprinkle them with pink himalayan sea salt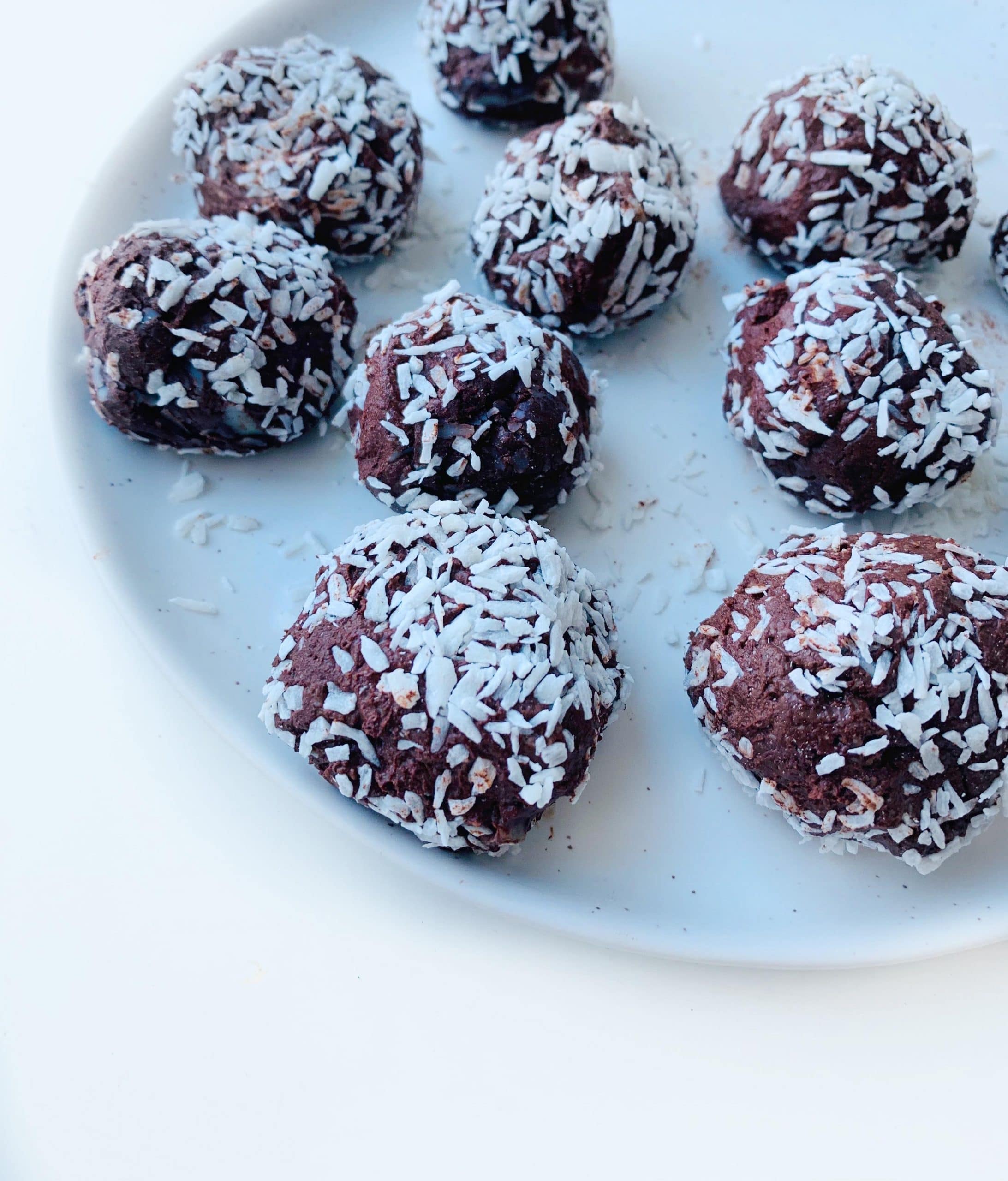 Other Delicious Vegan Treats
If you're looking for some other vegan treats to enjoy, we've got a whole bunch on our blog.
Checkout our:
If you like the simplicity of our plant-based recipes, you will absolutely LOVE our weekly meal plan subscription program. Members of our program, Plant Ahead, receive a brand new whole-foods, plant-based (WFPB) meal plan in their inbox each week with seven new recipes that are ideal for meal prep. These recipes all include the calorie, protein, carb and fat content, and an itemized shopping list to take with you to the grocery store.
Being plant-based could literally not be easier. Right now, you can get access to all PAST meal plans in the program for just $7.99. I started this program in January 2019, which means there is over a year's worth of plans on the website now.
Save time, money and eat healthier by subscribing to Plant Ahead meal plans here:  Sign Me Up!
The Recipe
The Recipe: Vegan Coconut Truffles
These vegan coconut truffles are a decadent easy treat that require just four whole-foods ingredients.
Ingredients
1 ½ Cup Dark Chocolate, Vegan
¾ Cup Coconut Milk
¾ Tsp Vanilla Extract
1 Cup Unsweetened Coconut Flakes
Instructions
Break up your chocolate bar and add it to a bowl.

Put your coconut milk in a microwave safe container and heat up in the microwave for 25 seconds.

Pour the coconut milk over the chocolate bar, mix and cover for five minutes. Once uncovered, whisk until a creamy consistency is achieved. Add your vanilla extract.

Place the chocolate mixture in the fridge for two hours.

Once two hours has passed, remove the chocolate from the fridge, and use your hands to roll it into truffles.

Pour your coconut flakes on a flat surface and roll the truffles in the flakes until covered.

Enjoy! Keep in the fridge covered for up to four days.
Serving: 12g, Calories: 251kcal, Carbohydrates: 18g, Protein: 3g, Fat: 17g