Classic Vegan Peanut Butter Cookies With Chocolate Chips
These classic vegan peanut butter cookies are deliciously soft, light, peanut buttery and satisfying. No one will have any idea they are vegan, gluten free and refined sugar free! 
Peanut butter and chocolate are the best food combination ever! I refuse to hear anything differently.
Smoosh those two into a cookie and you've got one mouth-watering recipe sure to impress.
Do you remember that peanut butter cookie recipe that used to be on the back of the Kraft Peanut Butter jars? That's what these cookies are like. Only better because they have chocolate chips in them.
They are just as easy to make, too. Throw all the ingredients in a bowl, mix up, and bake for 8 minutes and you're good to go.
These vegan peanut butter cookies only have good-for-you stuff in them. They are made moist with apple sauce, and sweetened with maple syrup. I used brown rice flour, so they are gluten free friendly as well!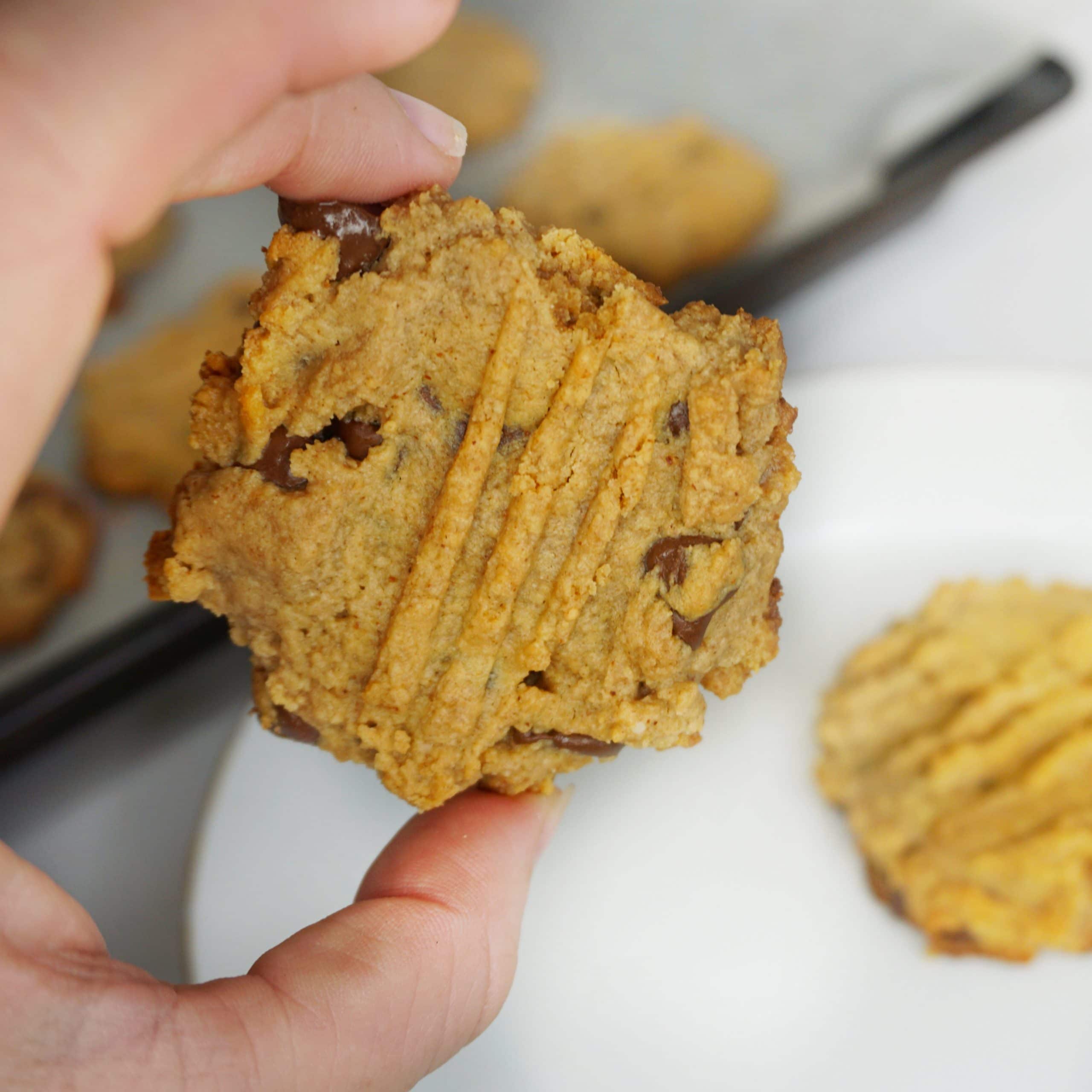 The Nutraphoria Blog 
In the meantime, if you're not feeling like vegan peanut butter cookies, you should seriously head on over Nutraphoria's blog, where students share their favourite recipes, nutrition tips and more. This is the first place I go when I need inspiration for a tasty recipe, or to get back on track with healthy eating.
If you follow me on Instagram, you would have saw my most recent post answering questions about my Health Coach Certification Program with Nutraphoria. Here's some of the common ones I get from my followers.
1. What's this course you're taking all about? I am currently taking a Holistic Nutrition & Health Coach Certification Program with @Nutraphoria. The course is one year long for the Holistic Nutrition Health Coach Certification, with the option of taking a 2nd year for your Advanced Holistic Nutrition Diploma. I am currently halfway through the first tier.
2. The program is online? Yes it's entirely online, and is possible to do while holding down a full-time job. I commit around 7-10 hours a week.
3. So why did I choose Nutraphoria? They offer the most comprehensive health coaching courses online, and their designations are recognized by several industry organizations in Canada and the US. Having no scientific background, I also wanted to learn the basics of nutrition and beyond, and I was able to achieve this in the first few months of the course.  Overall, I'm thrilled with my experience so far with @Nutraphoria and I'm learning more everyday. If you have anymore questions about the course, or just want to chat nutrition, feel free to message me or post below!
Back to the Cookies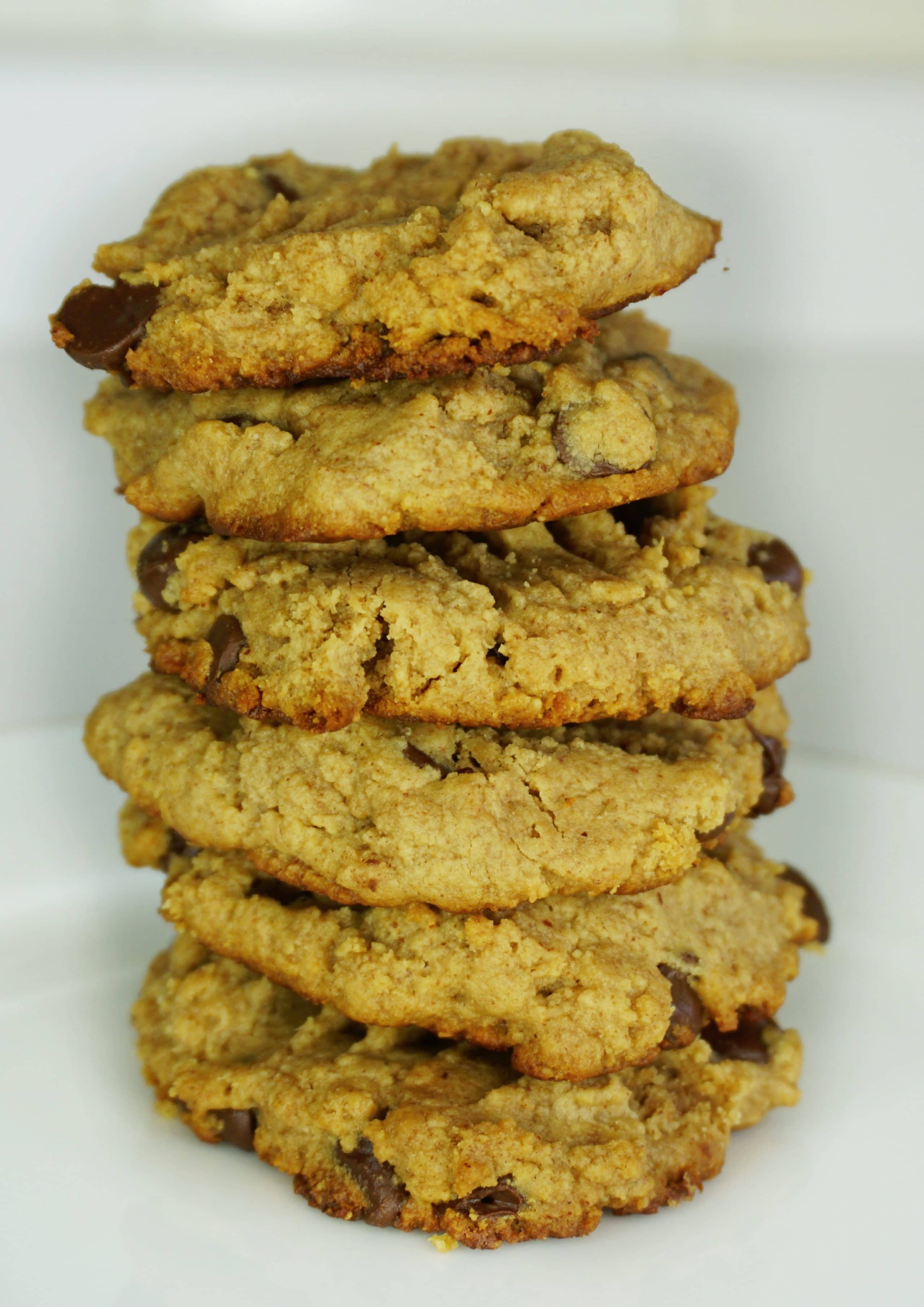 Okay, back to these delicious vegan peanut butter cookies. A couple notes to read before you make them:
– These cookies are made using natural peanut butter. I bet they'd be equally delicious with normal peanut butter, but I found them just the right amount of sweetness with the natural
– To bake these, I used parchment paper on a baking sheet. With maple syrup, these cookies are a bit on the sticky side so it's an easy, oil-free solution!
– If you want to achieve the classic mom's peanut-butter cookie look, just stick a fork in the top of cookies for the signature four lines on top
That's it — That's all. Happy healthy baking my friends!
The Recipe: Classic Vegan Peanut Butter Cookies With Chocolate Chips (Gluten Free, Dairy Free & Refined Sugar Free)
A delicious veganized take on classic peanut butter cookies with chocolate chips! Gluten-free, refined sugar free, and ready in 15 minutes or less!
Ingredients
1 Cup All Natural Peanut Butter
4 Tbsp Brown Rice Flour
2 Tbsp Pure Maple Syrup
2 Tbsp Unsweetened Applesauce
½ Tbsp Vanilla Extract
¾ Tbsp Baking Powder
½ Cup Dark Dairy Free Chocolate Chips
Instructions
Combine all ingredients in a mixing bowl.

Roll into small cookie sized balls and put on a baking sheet with parchment paper. You should have between 9-12 cookies.

Bake in a preheated (350F) oven for 8 minutes.

Remove cookies and let them set for 10 minutes. *They may seem undercooked when you first take them out of the oven