Free Weekly Meal Planning Chart
A Weekly Meal Planning Chart can truly be a transformational tool in your health journey.
This simple planning schedule is one of the greatest reasons I was finally able to stick to a whole-foods, plant-based lifestyle for good. By writing down a plan in a Weekly Meal Planning Chart, you can save a ton of money on groceries, develop an effective meal prep strategy and eat healthier than ever.
In this blog article, we are going to take you through a step-by-step weekly meal planning system to set you up for success. First, to get you started, please download our 100% free Weekly Meal Planning Chart. You can print this off each week and put it on your fridge to plan out you weekly meals.
If you want all the planning and shopping list development done for you, for just $7.99/month you can join the Plant Ahead Program. There's over 60 done for you whole-foods, plant-based meal plans in the program that come with a schedule each week, step-by-step recipe instructions and macros for each meal. We release a brand new meal plan every single Thursday.
Alright. Now let's get down to the step-by-step guide on how to actually use our Free Meal Planning Chart to help you save time and money.
A Step by Step Guide to Weekly Meal Planning
Here's a detailed step by step guide on how to put weekly meal planning into action. Grab your Digital Weekly Meal Planning Chart download and let's get down to business.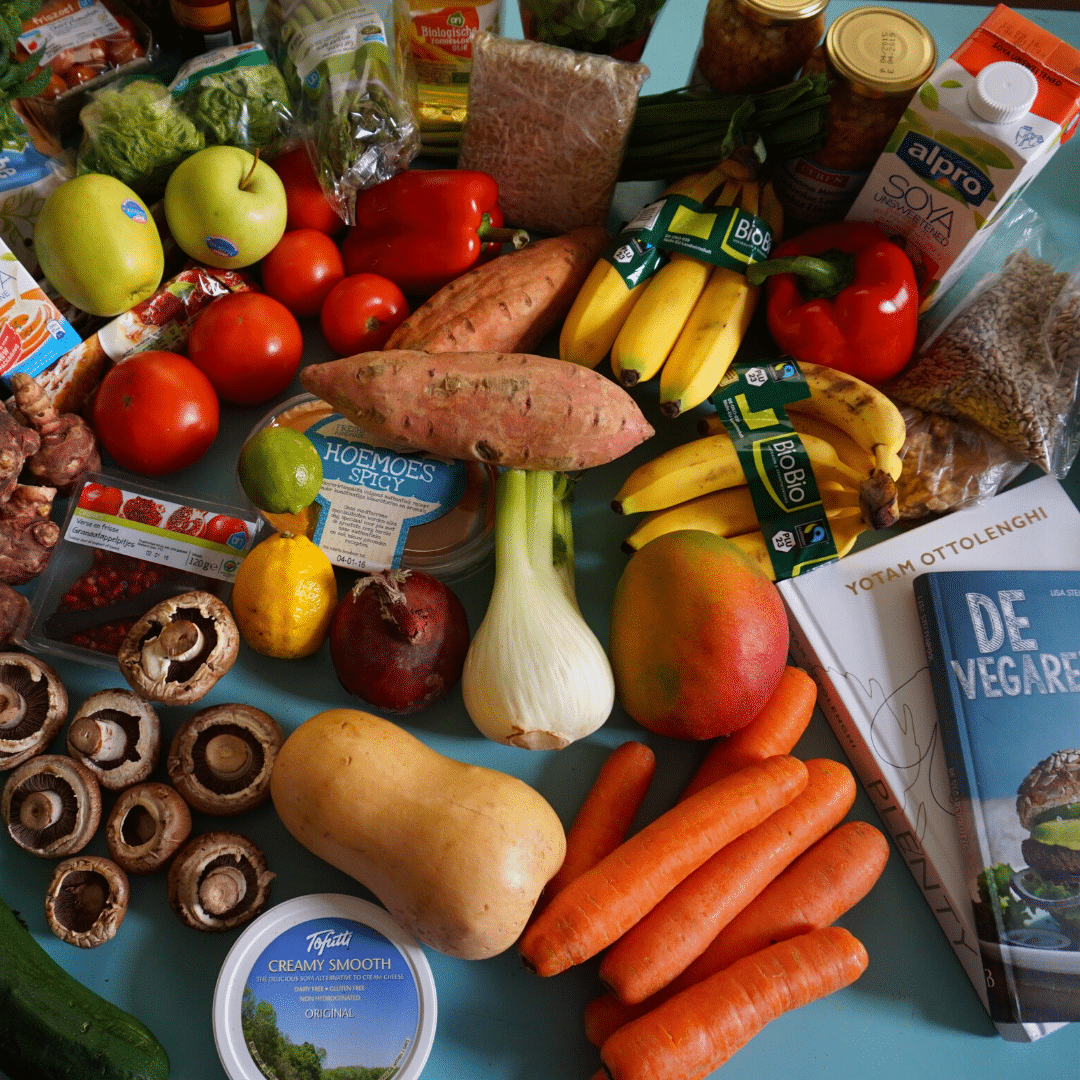 Set A Schedule
Pick a set time and date every single week to do your grocery shopping and meal prepping. We do our meal preps on Sunday to help us better prepare for the work week ahead. We suggest picking a day that you're off work and have the time to spend a few hours that you can commit to preparing a week's worth of meals. In the Plant Ahead Meal Prep Program, we have included a grocery list that you can take with you every single week to save you time from making one of your own.
Having this organized list will save you tons of time from having to compile your own. Otherwise, you can take the time to write a list to take with you when you go grocery shopping. We also suggest doing a small prep mid-week on Wednesday. We suggest doing this additional mini meal prep in order to keep your food fresh. This short prep typically is for your lunches or quick dinner meals.
Storage and Meal Prepping Containers
Using the best quality meal prep and food storage containers is a large aspect of enjoying your meal prep each week when following a whole-food plant-based diet since you will be eating an abundance of fresh produce. You want your containers to be high quality and air-tight to keep your food as fresh as possible for the longest period of time. When you've covered off these important aspects, you'll be set up for success when it comes to effectively meal prepping each week.
We've recently written an article on why Carliegh the founder of Plant You made the switch from plastic containers to glass and other eco-friendly materials – The Best Eco-Friendly Meal Prep Containers in 2020. The benefits of this switch have transformed her meal prep experience and contributed to a better planet as well. We want you to be aware that the best meal prep containers are usually glass or stainless steel, BPA free, freezer/dishwasher safe and microwave friendly.
To simplify what you need to consider when choosing meal prep containers; ask yourself these following questions:
Are they durable or leak-proof?

Will my food keep fresh for an extended period of time?
Once you've got your proper meal prep containers, you're ready to start prepping!
Plan Your Prep
We suggest giving yourself 2 breakfast options, mixing and matching your lunch & dinner recipes to enjoy as leftovers throughout the week. This is usually 2-3 recipes that you prep ahead of time and swap each day depending on what you prefer. Some people like to eat the same thing every day in order to save time and you can do this too if it works best for your schedule. We find that we do this for breakfast or lunch when we know that we have a jammed packed week ahead and are looking to save as much time as possible.
In the Plant Ahead Meal Prep Program, we've set the caloric goals to an average of 1200 per day for one person. This allows for variety of meals including snacks and desserts in your diet. We also have a whole food plant-based snack and dessert e-book when you become a member that you can draw inspiration for healthy options!
Expert Tips and Tricks For Weekly Meal Planning
Batch Cook

We love to cook in large batches for the week, especially on very hectic weeks. Therefore, pick three meals from the Plant Ahead Meal Plan including breakfast, lunch, dinner and make these in large batches! We also encourage using your crockpot or instant pot when your cooking for your family as well.
Review Ingredients
Check if your recipes use similar ingredients to save a bit more money on your grocery bill and time in the kitchen. For example; if you're looking at a dinner recipe like "Lentil Sloppy Joes", we suggest making a lunch recipe that has lentils in it as well! You can use your ingredients in multiple recipes and this will speed up the process.
Learn To Multitask
We love preparing multiple recipes at once. For example, when you have your potatoes boiling, start cutting your veggies or prepping the quicker recipes to get them out of the way before moving to the next step for your more in-depth recipes. Once you get into the rhythm, you won't be able to stop!
Join A Meal Planning Program
When you're short on time, determine how long the recipe will take to make. In the Plant Ahead Meal Prep Program we have recipes that take as little as 10 to 30 minutes. Therefore, you have the ability to make your whole week's worth of lunches in under 30 minutes! Can you say, TIME SAVER!?! Therefore, take a look at the recipe card time length when searching for a quick meal.
Use a Free Meal Planning Chart
We have created a meal planning chart to help you get started on your meal prep. We're here to support you in the best way possible and becoming organized in the kitchen will be the first step. Therefore, download this meal prep chart now!
Finally, you're ready now to start meal prepping except you're now left wondering where to find all those healthy recipes, right?
Don't worry, we've got you covered when it comes to whole food plant-based refined sugar and oil-free recipes! Our meal plans are simple and always easy to make. We highly recommend that you become a member of our Plant Ahead Meal Prep Program when transitioning to a plant-based lifestyle or becoming a beginner plant-based meal prepper for an effortless experience that supports your goals to stay on track by adhering to a healthy lifestyle. You don't want you to spend any more time than you need to when it comes to weekly meal prep!
Now, you can join the Plant Ahead Meal Prep Program for only $7.99/per month and receive a database with a year's worth of whole-food plant-based recipes to pick from as well as a new meal plan each week! Don't delay and join the Plant You community today.