Vegan Snickers Breakfast Cookies
Can you imagine eating cookies for breakfast? Well now it can become reality with this ridiculously delicious Vegan Snickers Breakfast Cookies. But don't worry – these cookies are made entirely of whole-foods, plant-based ingredients. Not only do they taste amazing, but they're good for you too!
I'm a big believer that delicious vegan food doesn't need a hundred different ingredients and fancy cooking utensils. These Vegan Snickers Breakfast Cookies are proof, as they integrate just six of my favorite simple plant-based ingredients to create a delicious cookie fit for your morning snack.

Oats Are Perfect For Breakfast
I've become a bit of a breakfast cookie fiend over the last year. I'm obsessed with those "What I Ate In A Day" YouTube videos, and have been seeking out all my favorite plant-based doctors to see what they eat. Nine times of out ten, they start their day with oatmeal.
It's no surprise, since oats are an incredible source of powerful soluble fiber to keep you full and your blood sugar in check. They're also so versatile.
I like to think of Breakfast Cookies as a bowl of oatmeal in cookie form! We use all the same basic ingredients but bake them into delicious vegan cookies for breakfast.
Plant Powered Meal Plans
Breakfast Cookies are a mainstay in our weekly vegan meal plans. If you haven't heard, I have a digital program for people wanting to adopt a truly simplistic whole-foods, plant-based lifestyle. Every week, members receive a brand new plant-based meal plan with a shopping list, prep plan and the caloric information for each recipe.
The recipes are ridiculously easy and specifically designed to be meal prep friendly. We've had nutrient bomb breakfast cookies, pumpkin breakfast cookies and classic banana chocolate chip breakfast cookies appear in past meal plans!
Meal prepping changed my life because it finally took the work out of my healthy balanced plant-based lifestyle. It means that instead of grabbing a microwave meal or hitting the drive-thru on the way to work, I always have healthy plant-based meals at arms length.
Right now, you can get access to our entire database of whole-foods, plant-based, oil-free meal plans for just $7.99/month (risk free, cancel anytime). Jump on board and make 2020 the year you finally embrace a wholesome plant-based lifestyle!
Other WFPB Cookie Recipes
If you're looking for other cookie recipes, you've gotta check-out these Vegan Gingerbread Cookies that are also whole-foods, plant-based. We also have this Creamy Edible Chickpea Cookie Dough that I know you will LOVE. Finally, my absolute favorite classic cookie are these Peanut Butter Cookies with Chocolate Chips! They are truly to die for.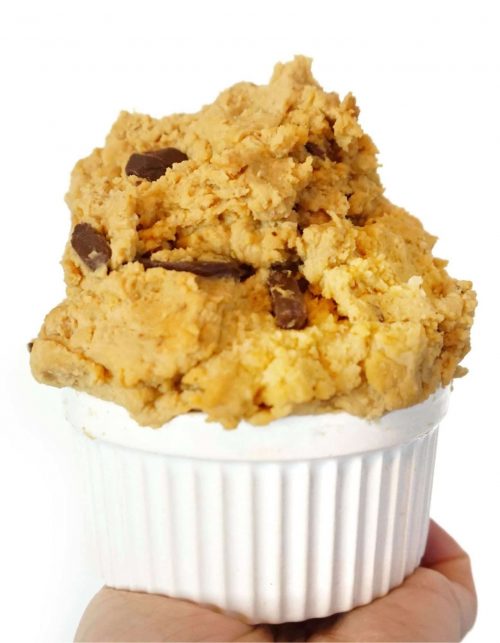 The Recipe
PRINT RECIPE
Vegan Snickers Breakfast Cookies
Pin Recipe
A delicious and nourishing whole-foods, plant-based breakfast cookie to start your morning off right!
Equipment
Baking Sheet

Food Processor
Ingredients
3/4

Cup

Rolled Oats

3/4

Cup

Whole Wheat Flour

3/4

Tsp

Baking Powder

1/2

Cup

Date Paste

Sub maple syrup or honey

1/2

Cup

Peanut Butter

1/2

Cup

Dark Chocolate Chips

4

Tbsp

Almond Milk
Instructions
Preheat your oven to 375F and line a baking sheet with parchment paper.

If making your own date paste, add 1/2 cup of dates with 4 tbsps of water to a food processor and combine until smooth.

Add all ingredients to a large bowl and mix until completely combined. Add more almond milk as needed to thin the batter.

Using an ice cream scooper or your hands, seperate the batter into 12 cookie shapes on the parchment paper. Press down the batter with a fork to flatten.

Bake at 375F for 12-15 minutes. Store covered in the fridge for up to five days.