Mushroom Wellington Recipe
Have you been searching Pinterest and pulling out the cookbooks trying to figure out what you're going to make for your holiday dinner? Maybe you're bored of last years Tofurky and want to change it up?
We are here to save the day once again!
We are excited to share with you this delish, simple and easy to make Mushroom Wellington recipe.
What's In This Mushroom Wellington?
This delicious vegan mushroom wellington recipe is packed with potato, mushroom and spinach with seasonings like sage, thyme and soy sauce to give it that Holiday flavor.
It can be served as the main dish of your Thanksgiving or Christmas dinner, or for a fancy plant-based meal for just about any celebration.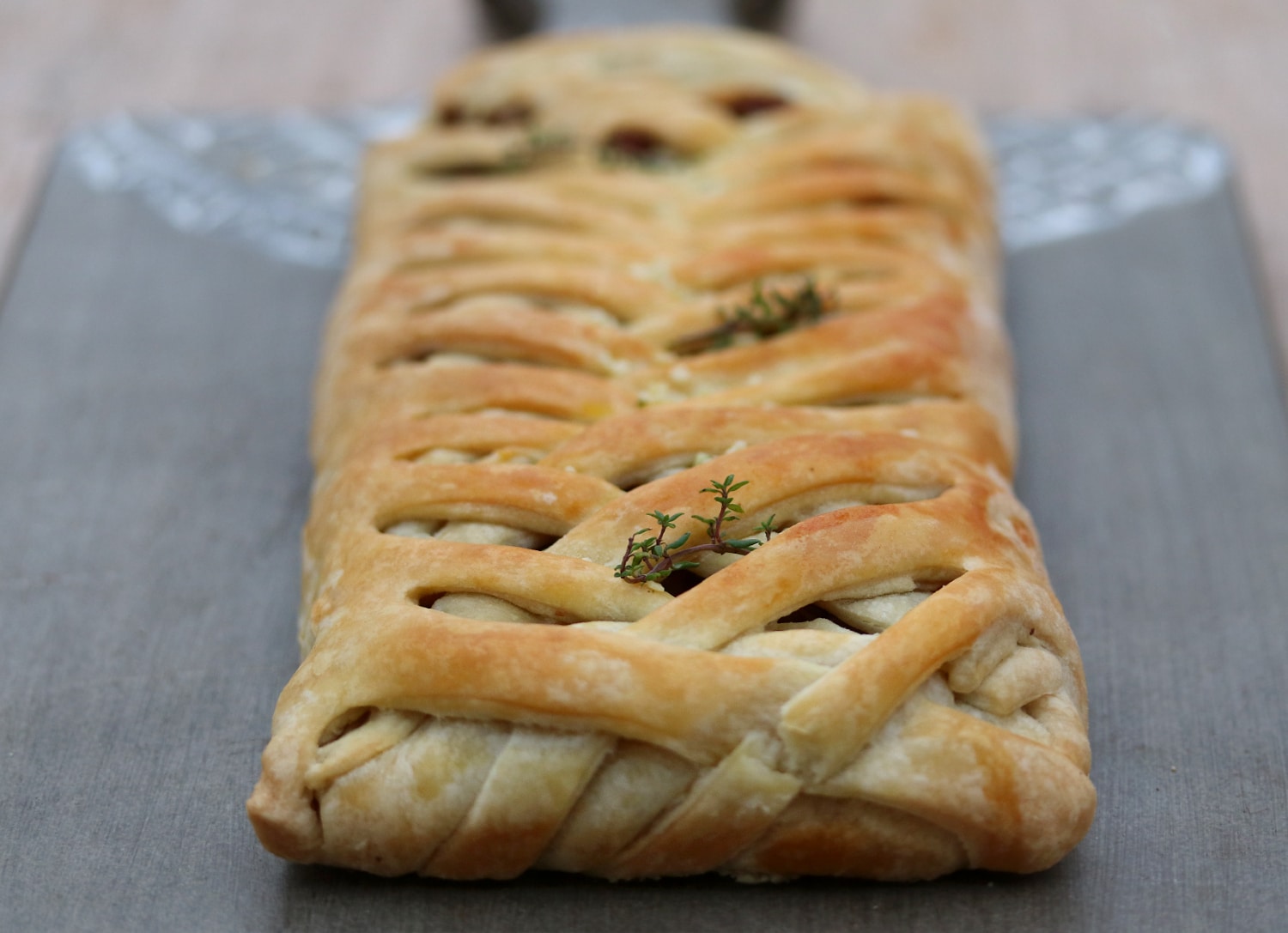 Can Vegans Eat Puff Pastry?
When you think of puff pastry, butter probably comes to mind. But the truth is, many puff pastry brands are actually vegan, and made with vegetable oil bases instead.
Just check the ingredients list carefully to see which brands are vegan and which are not. At the time of writing this, you're safe using the Pepperidge Farm Puff Pastry, Wewalka brand and Annie's.
What Do You Serve a Wellington With?
We've got a full Thanksgiving rundown of our favorite recipes to serve at a delicious plant packed dinner, including mashed potatoes and gravy. You can find them here.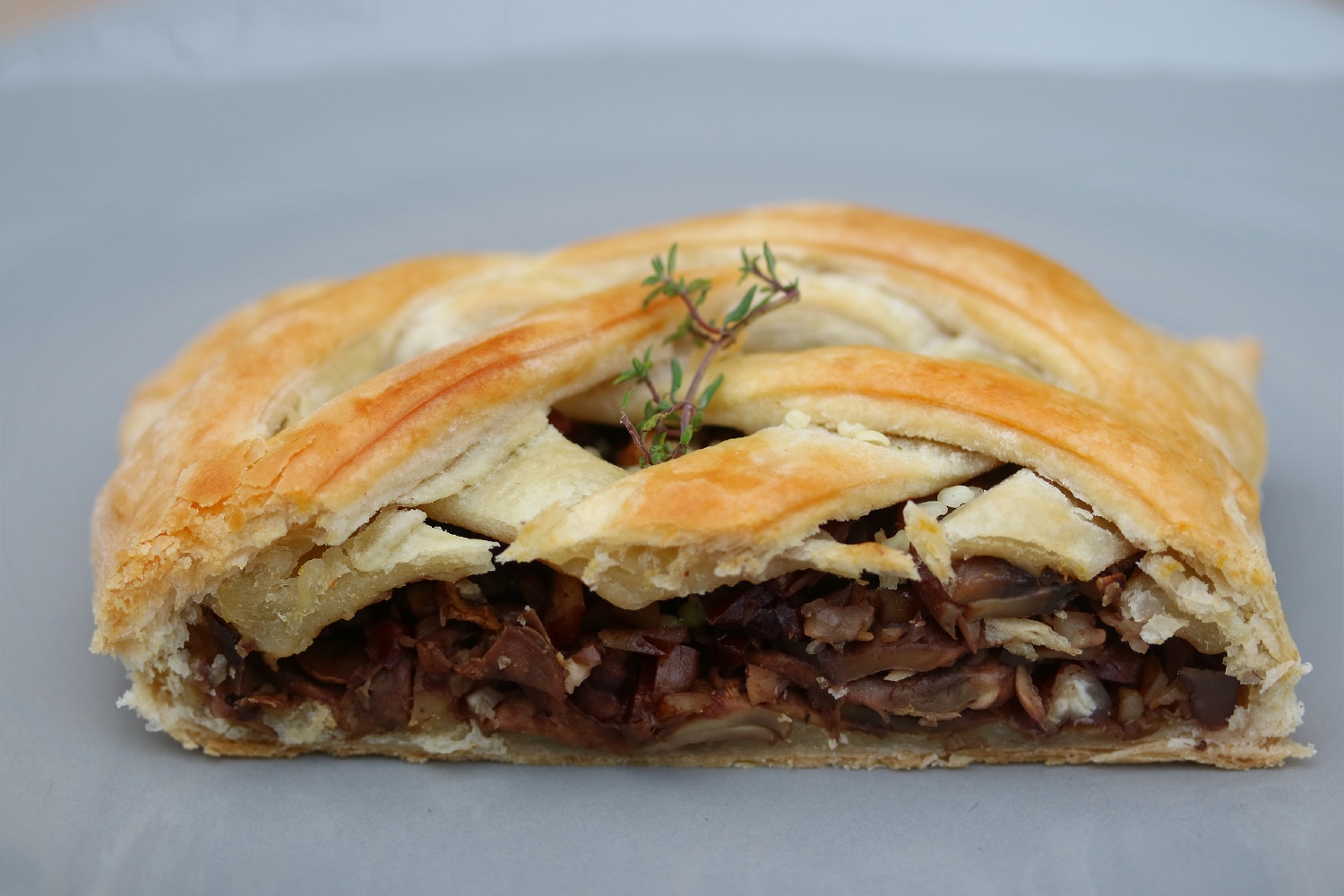 Thanksgiving Themed Menu
This week in our Plant Ahead Meal Prep Program, we are releasing a holiday-inspired menu.
We are so excited!
Also, when you sign up, you get access to ALL our previous whole food plant-based meal plans. This week will include all the staples you will need to serve up your HOLIDAY FEAST. As a result, we take out the guesswork and make sure you are enjoying delicious, refined sugar-free, and mostly oil-free plant-based food all week long.
This is the perfect time to join the Plant Ahead Meal Prep Program because this is one of the most requested meal plan themes of the year and it is finally here this week! We would love to make it a little easier in the kitchen this holiday season.
We truly can't wait to see your holiday creations along with this marvellous Mushroom Wellington main!
The Recipe: Mushroom Wellington
Ingredients
2 cups Cremini Mushrooms, chopped
4 cups Spinach
1 large Yellow Onion, diced
3 Garlic Cloves, minced
½ cup Organic Vegetable Broth
2 large Yellow Potatoes
2 sheets Puff Pastry, large
1 tbsp Soy Sauce
1 tbsp Plant Milk
1 tsp Sage
1 tsp Thyme
Instructions
Saute cremini mushroom, onion, garlic cloves until soft in vegetable broth. 

Meanwhile, boil your potatoes chopped for 20-30 mins till soft.

Add 2 cups of your spinach, soy sauce, sage and thyme and continue to saute on low heat. 

Lay your one layer of puff pastry on a baking tray and preheat oven at 375F.

Lay the remaining spinach as a base in the centre of the puff pastry.

Layer on-top of the bed of spinach your potatoes and mushroom mixture. 

Cover with the other piece of puff pastry and seal the edges off with a fork. You may need to cut off any remaining puff pastry around the edges. 

Brush plant milk on the outside of the puff pastry and bake in the oven for 40 minutes. Serve and enjoy!