One Week in San Pedro, Ambergris Caye (Vegan Food & Travel)
After spending a week on the sunny island of Ambergris Caye, I know one thing forsure… I'll be making a trip back soon!
My fiance and I booked our vacation to Belize on a whim, and didn't do a heck of a lot of research before we jetted off. We were swept away by the crystal blue waters, the laid back and friendly locals and the incredible food! Truly, Belize islands are paradise on earth.
San Pedro, Ambergris Caye
Ambergris Caye is the largest island in Belize, and is located northeast of Belize's mainland in the Caribbean Sea. We spent one week on this beautiful island. Here are my recommendations on what to do, where to stay and what to eat as a vegan.
Where to Stay:
We stayed at the gorgeous Tres Cocos Resort which is about a 10 minute walk from San Pedro, the main town in Ambergris Caye. We found that Tres Cocos Resort was just enough away from town that you felt like you had your own slice of paradise, but close enough to walk and grab a bite to eat!
Tres Cocos has a series of suites right on the Caribbean Ocean that are equipped with air conditioning (trust me, you're going to need it), strong WIFI (rare on the island), televisions, kitchens, comfy beds and more. They also have a beautiful pool which is cleaned daily, and beach chairs overlooking the ocean that were perfect for an afternoon spent reading or lounging.
The owner Lexi is extremely knowledgeable about the island and gave us expert recommendations on restaurants and must-see spots. We were able to rent a golf cart from the front desk and cruise around the island on one of our day trips!
Ultimately, Tres Cocos Resort in Ambergris Caye has absolutely everything you need to have a fabulous vacation. We cannot recommend it enough. You can use code plantyou! to get 5% off your booking!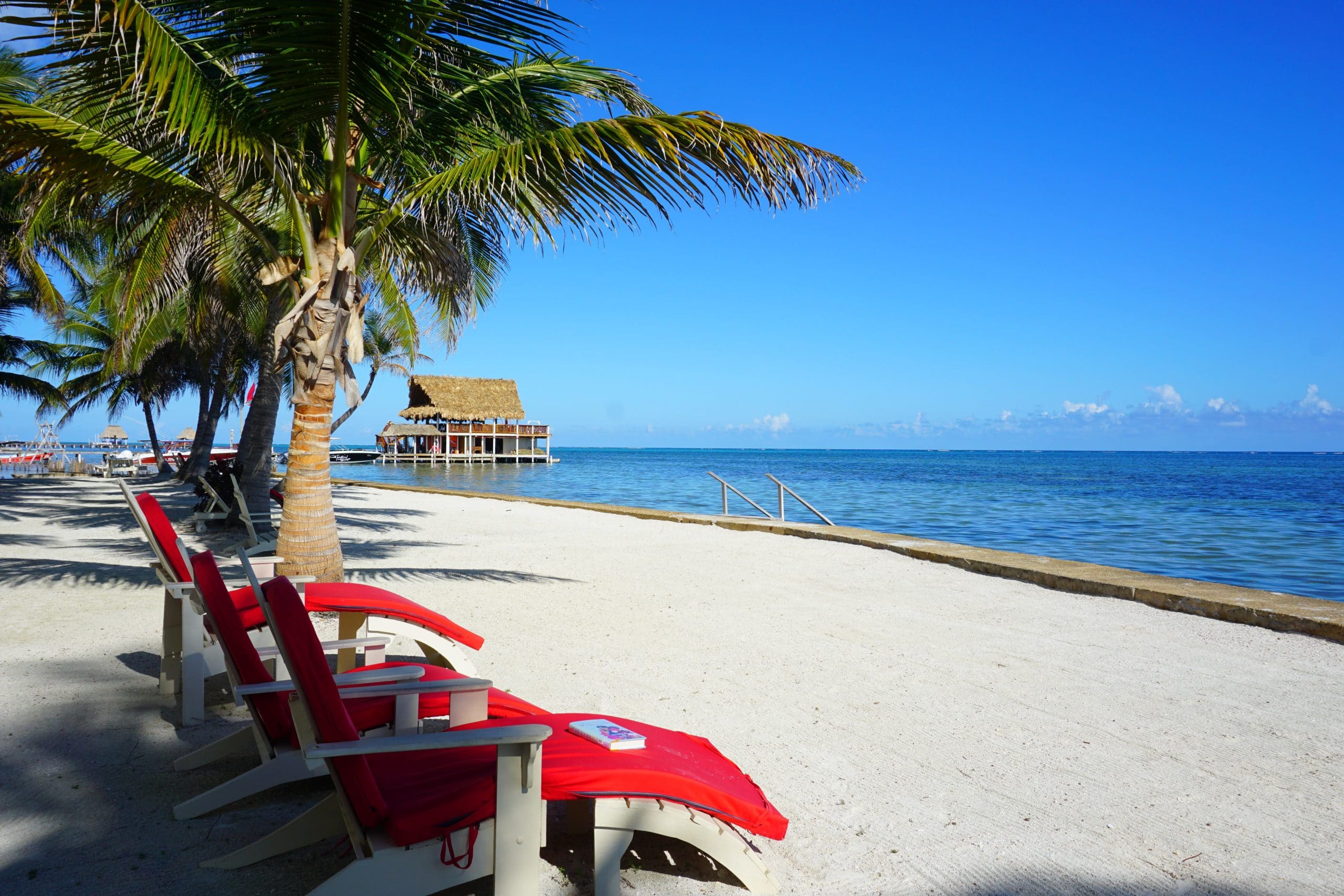 What To Eat:

We had three main food spots that we absolutely fell in love with in San Pedro.
The Truck Stop: The Truck Stop on Ambergris Caye, which is just down from Tres Cocos Resort, is a group of shipping container restaurants. There's an Thai one, pizza and Mexican as well as a bar. The food is insanely affordable and delicious. We got the Kung Pao Tofu dish from the Thai container, and asked for a cheeseless pizza from the Italian one. Both were fabulous!
Pur Taco Bar: Pur had a taco bar where you could select different ingredients to go into your taco or burrito! This is a vegan's dream, especially with the laundry list of ingredients Pur had. We went here twice and I had a delicious burrito stuffed with rice, beans, pickled onions, lettuce, sauteed peppers and more. It is a must visit!
Elvi's Kitchen: Ask anyone in San Pedro what restaurant they recommend, and you'll hear them say Elvi's. It is one of the highest rated restaurants on the island, and for good reason! We checked it out ourselves and the food was delicious. They had more than three vegan items on the menu. I had the veggie pasta which was divine.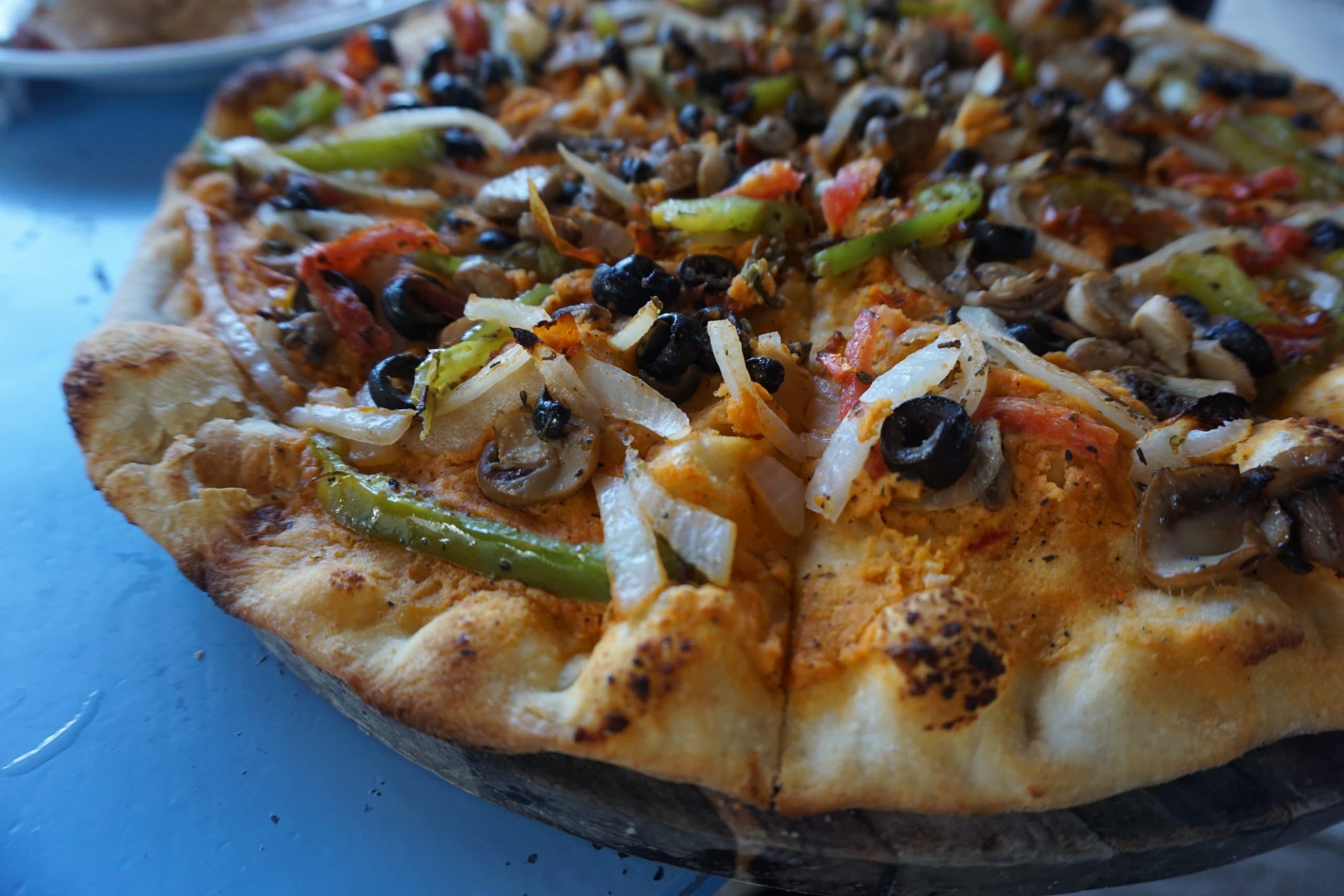 What To Do:
We had so much fun during our week in Ambergris Caye, Belize.  From snorkelling, trying local cuisine to relaxing in a beach-chair, the possibilities are endless! Below I'm going to highlight a few of our favorite activities.
Golf Cart Around the Island: Golf carts at the main form of transportation on Ambergris Caye (which is so fun). If you are staying in and around San Pedro, you must rent a golf cart for the day and tour around! We went all across the island, seeing a ton of wildlife, and jumping off many of the islands piers.
Go To Secret Beach: Secret Beach, despite its name, is the most popular sandy beach on Ambergris Caye. It is a bit off the beaten path, so it's the perfect place to take your golf cart. The water is crystal clear and you can walk out for at least a mile on the white sand. There are also a several restaurants at Secret Beach where you can plop down and enjoy a drink or something to eat.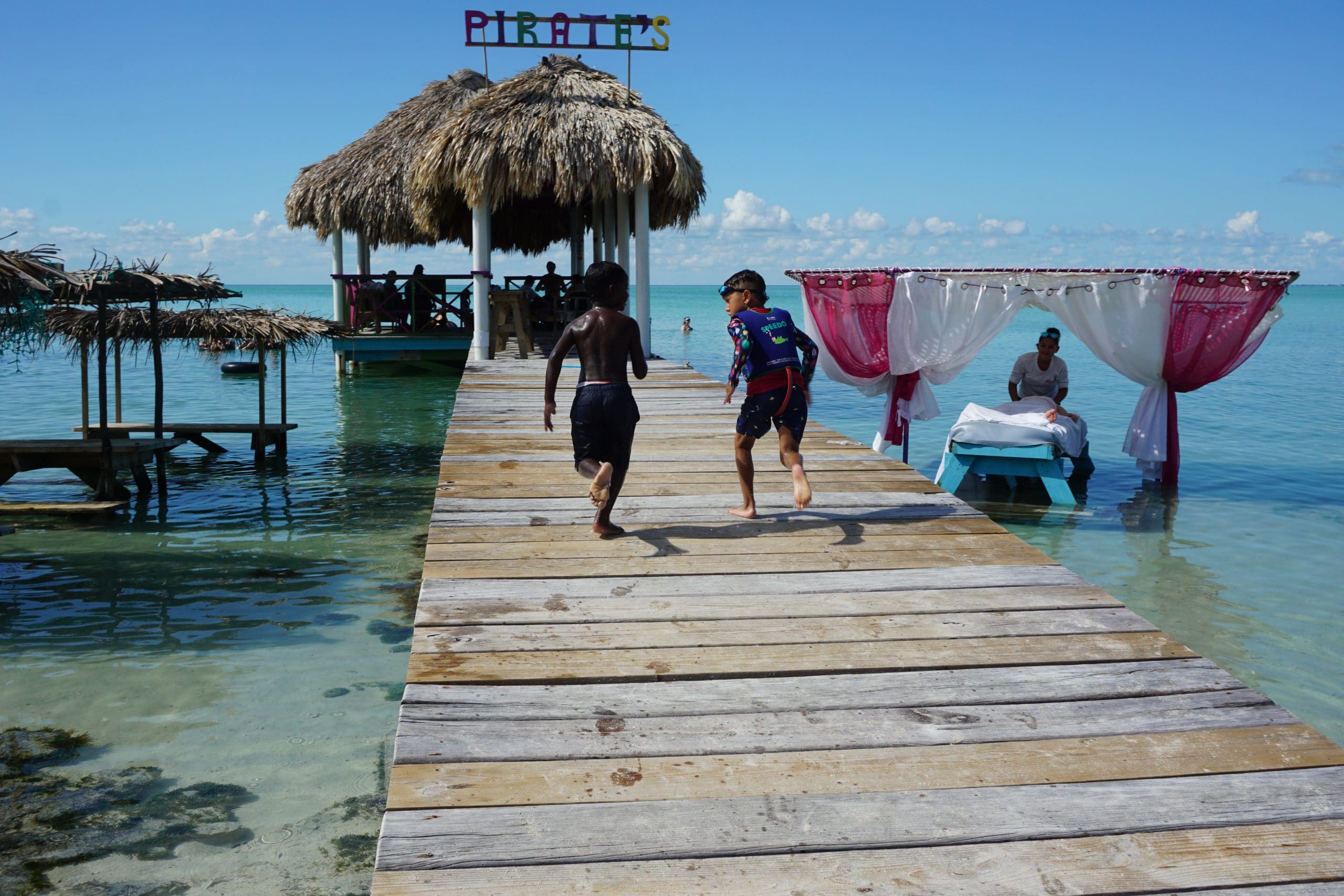 Explore Town: San Pedro (the main town on Ambergris Caye) is an awesome place to explore. You will find bright colorful street, artisan shops and tons of restaurants to explore. We spent a whole day wandering around, and even popped into the Belize Chocolate Company to get some air conditioning. To my surprise, they even had vegan chocolate samples!
Snorkel: While you're visiting any Belize island, you must go out on a snorkel or dive tour. Belize is home to the second largest barrier reef in the world, and the sea life is jaw dropping. We ended up booking our snorkel tour with Salt Life Eco Tours on Caye Caulker (a neighbouring island) and got to snorkel with a sea turtle, nurse sharks, sting rays and hundreds of colorful fish on our tour. Salt Life Eco Tours also had a focus on sustainability, which meant they did not bait any of the fish, did not have any plastic on board and stressed the importance of respecting the sealife and coral. Would highly recommend!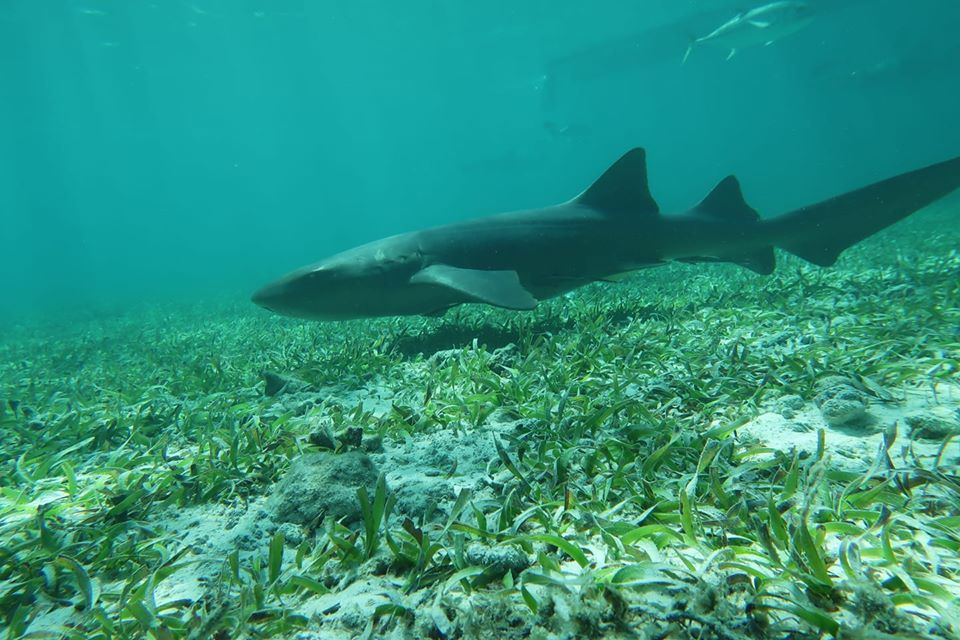 Ultimately, our trip to Ambergris Caye, Belize is one we will never forget! If you have any questions about Ambergris Caye please pop them below.