Vegan Strawberry Rhubarb Crisp
This Vegan Strawberry Rhubarb Crisp creates a perfect balance of tartness and sweetness of seasonal summer fruit. And did I mention the amazing CRISP factor?
I absolutely adore rhubarb! Unfortunately, it's only in season for a short span of the summer, so I take every opportunity to enjoy a rhubarb treat while I can.
If rhubarb is in season where you are, you're gonna love this Vegan Strawberry Rhubarb Crisp! The heavenly combination of tangy rhubarb and ripe strawberries makes my mouth water when I think about it.  The crispy topping goes perfectly with the juicy texture of the filling, and to top it all off, the smell is out of this world!
Why You'll Love This Recipe
It uses seasonal produce, which means you can shop for locally grown ingredients or use strawberries and rhubarb from your garden!
It's a great dessert option if you're on the budget – it only calls for 6 ingredients widely available in supermarkets.
Easy to make: this recipe is perfect for beginner bakers! You can also make this with your kids to create a fun bonding experience!
This recipe is allergen-friendly, suitable for nut-free, soy-free, dairy-free, egg-free, and even gluten-free people!
How To Make This Recipe
First, prepare your work station and the equipment. You will need a chopping board, a knife, two mixing bowls, a pie pan, and a spoon.
Preheat the oven to 400F.
Next, you're going to make the filling. Don't worry, it couldn't be easier! Simply add all of the filling ingredients to a mixing bowl and stir until everything is evenly combined.
In a separate bowl, we will mix the ingredients for the crisp.
Time to create some magic! Pour the filling into the pie pan, make sure it's level. Add the crisp, spreading it evenly over the top. Using the back of a spoon, gently press the crisp down, to make sure all the crevices are filled.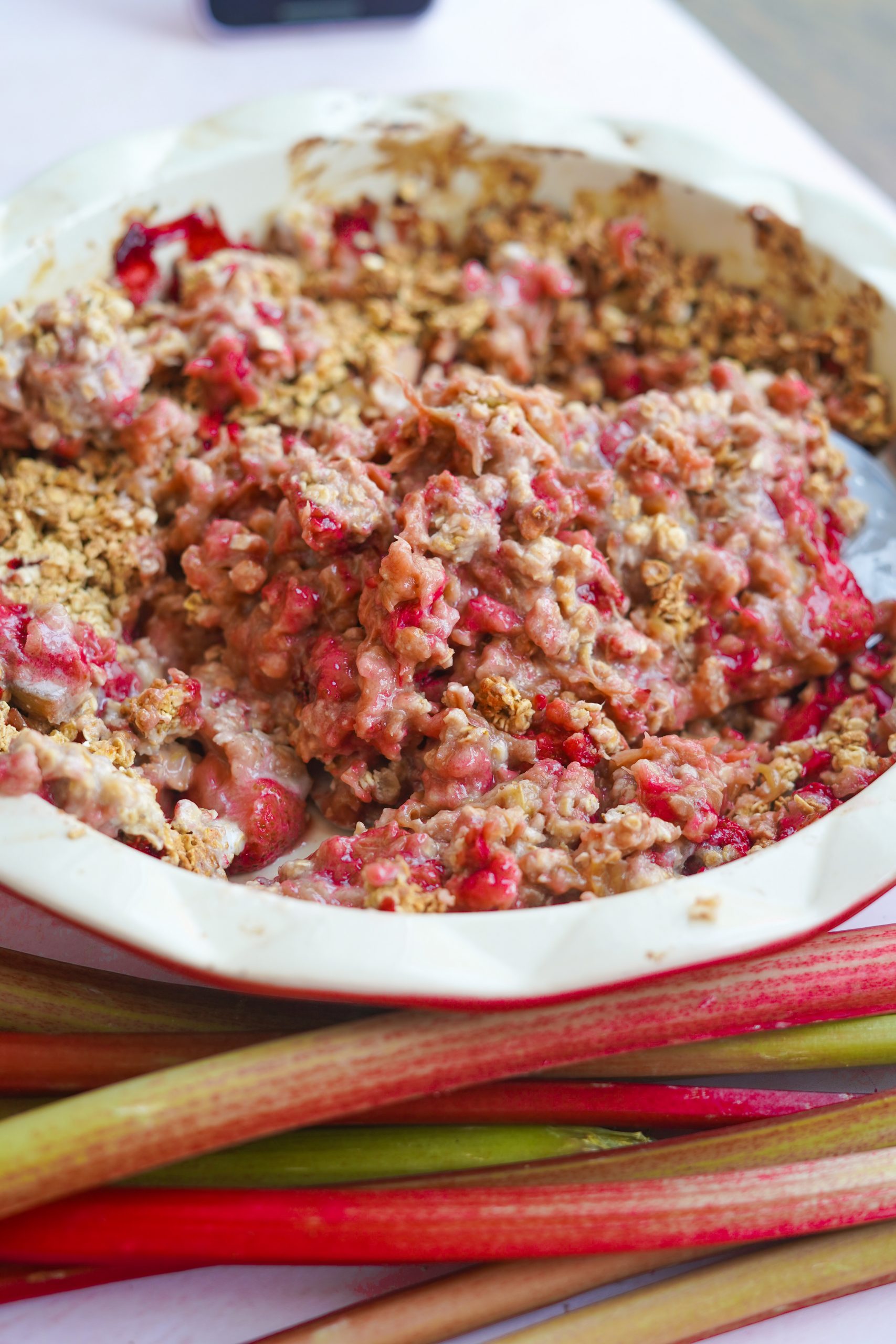 Leaving the dish uncovered, place it into the oven for approximately 40 minutes. When the dish is ready, the crisp should be a lovely golden brown color.
Take the strawberry rhubarb crisp out of the oven and let it fully cool down. It's amazing on its own, but it tastes even better with whipped coconut cream!
Hack It
Make it fancy! Instead of making a large pie, split the filling between oven-friendly ramekins and top with the crisp. This is also a great option for a smaller household – you can enjoy your serving of the dessert and freeze the rest for later!
Try it with frozen berries! If you have some mixed berries in the freezer, you can sub them for strawberries to create another beautiful version of this recipe.
Store this recipe
This dessert can be refrigerated for up to 5 days, so if you're expecting guests, you can make it in advance. Some might say it tastes even better the next day! Vegan Strawberry Rhubarb Crisp can also be frozen. To serve, allow it to defrost in the fridge before topping with coconut whipped cream!
Other Recipes You'll Love
Did you like this recipe? For more recipes like this one, check out our digital meal planner with a huge database of over 400+ whole food plant-based recipes! With new recipes added every week, you can customize your meal plan to fit your schedule, and the size of your household. The best part? PlantGenie generates a shopping list you can take with you to the store! PlantGenie – you dish is our command!
The Recipe: Vegan Strawberry Rhubarb Crisp
A heavenly summer dessert for rhubarb lovers
Ingredients
For the filling
2 cup rhubarb, chopped into 1 inch pieces
2 cup strawberries, tops removed
¼ cup maple syrup
1 tbsp lemon juice
2 tbsp oat flour, heaping
For the crisp
1 ½ cup rolled oats
1 cup oat flour
⅓ cup maple syrup
Equipment
pie pan

chopping board

knife

two mixing bowls

spoon
Instructions
Preheat the oven to 400F.

Combine all filling ingredients except for the oat flour in a bowl. Mix, then add the oat flour and stir until coated.

In a separate bowl, add the crisp ingredients and stir until combined.

Pour the filling ingredients into a pie pan, with the crisp on top. Press down with the back of a spoon so that the oats fill in any crevices. Place in the oven, uncovered, for approximately 40 minutes. 

 Allow to cool before serving with coconut whipped cream!
Calories: 414.9kcal, Carbohydrates: 82.9g, Protein: 10g, Fat: 5.4g, Saturated Fat: 0.9g, Polyunsaturated Fat: 2g, Monounsaturated Fat: 1.6g, Sodium: 15.7mg, Potassium: 630.5mg, Fiber: 7.8g, Sugar: 33g, Vitamin A: 71.1IU, Vitamin C: 48.7mg, Calcium: 149.7mg, Iron: 3.1mg