Oyster Mushroom Tacos
An amazing vegan alternative for those who love chicken tacos! The secret ingredient? King oyster mushrooms! These  Oyster Mushroom Tacos will blow you away!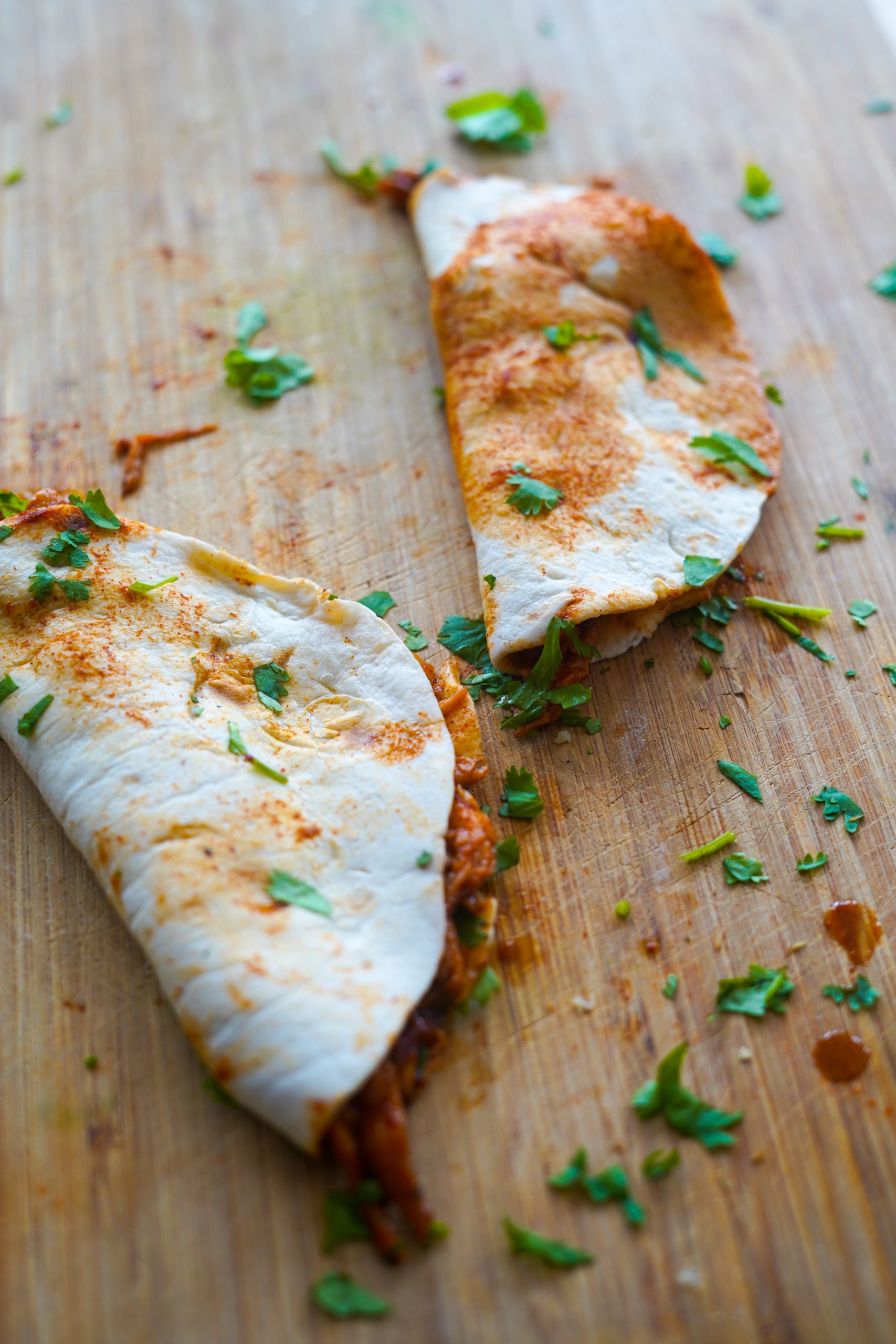 If you're someone who doesn't like mushrooms, I'm going to let you in on a secret. You probably just haven't had the right one.
It sounds like a complete cliche, but it's true! My limited opinion of mushrooms used to be based on raw white creminis chopped in a Caesar salad until I opened myself up to the culinary world of plant-based eating. Turns out, mushrooms are a really versatile food group. Not only do they vary in taste and texture, the overall impression largely depends on how you prepare them!
And if you're going to give mushrooms another chance, I implore you to try this dish! King oyster mushrooms have an incredible "meaty" texture and serve as a great substitute for shredded chicken or pulled pork. Give it a go – you may change your mind about mushrooms after all!
Why You'll Love This Recipe
It's a taco recipe! Spiced filling encased in a crunchy tortilla – who would say no to that?
Perfect for those who are transitioning to veganism. If you're craving familiar flavors, this is a great plant-based alternative to orange chicken!
It's so quick! The whole recipe can be made in under 20 minutes.
It's a gateway recipe to loving mushrooms!
How to Make This Recipe
Start by making the sauce. Squeeze the juice from an orange into a bowl, and mix it with the soy sauce, hoisin sauce, paprika, sriracha, and garlic.
Next, use a regular fork to shred the oyster mushrooms. Isn't it uncanny how much that looks like chicken?


Add the mushrooms to the bowl with the sauce. Mix until every bit of mushroom is coated in the delicious marinade.
Pan-fry the mixture on high heat until slightly charred. This should take approximately 5 minutes. Don't forget to stir while you cook!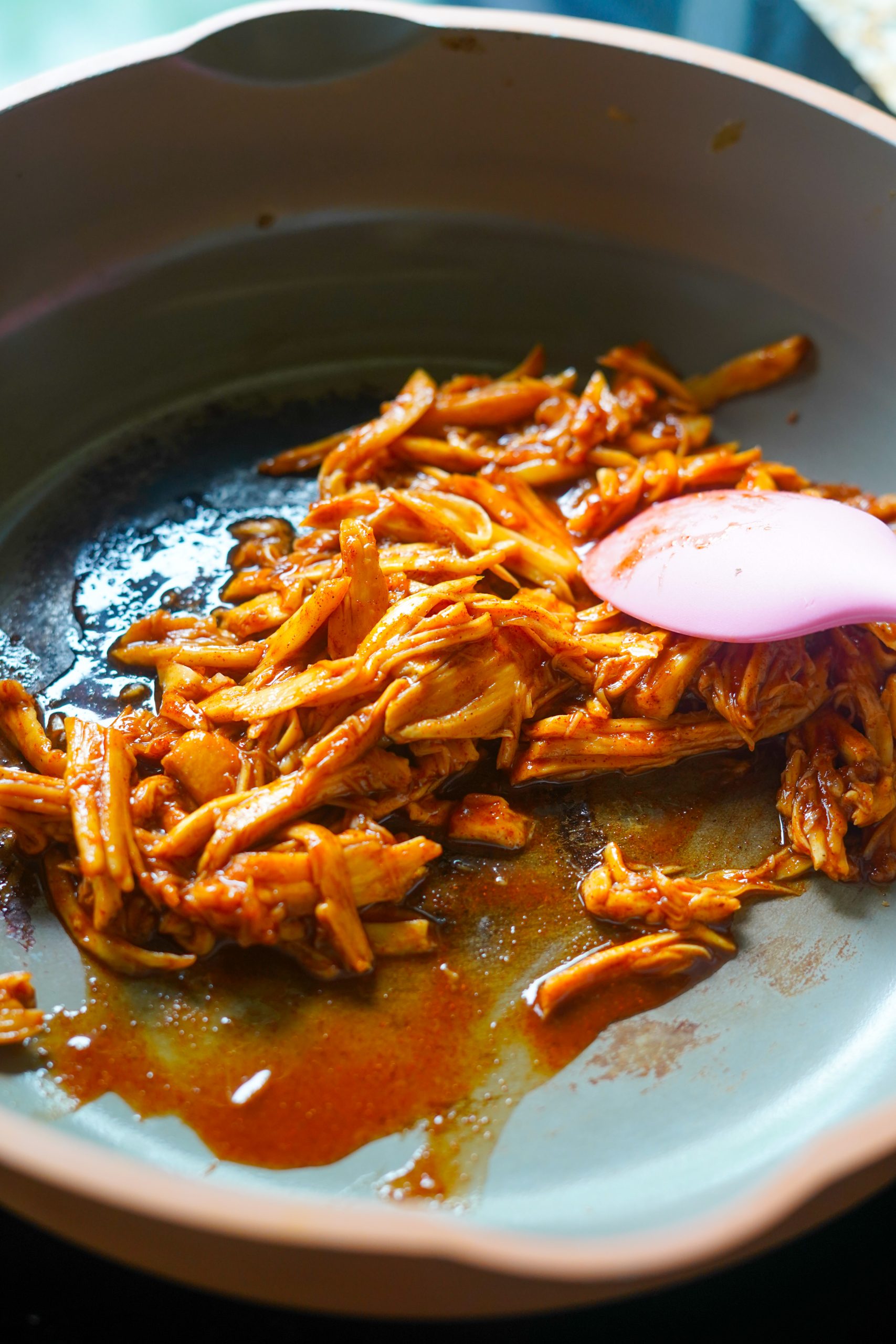 Ready for the next bit? Add the filling into a small tortilla with some fresh cilantro. Fold it in half and place it back into the pan with a small amount of oil.


Cook until crispy on both sides and enjoy! Be sure to share your creation on social media and don't forget to tag @plantyou!
Hack It!
If you love the texture of these tacos, feel free to experiment with flavors! Why not try to cook shredded mushrooms with fajita or cajun seasoning?
For a gluten-free option, use corn tortillas or taco shells. Yummy!
To make soy-free oyster mushroom tacos, replace soy sauce with coconut aminos and add peanut butter and maple syrup in place of hoisin sauce.
The filling can be used in a myriad of ways – serve it on a bed of rice, enjoy it as a salad topping, or a sandwich filling. Thank me later!
Store This Recipe
If you manage to not eat all of these at once, you can store these tacos in an airtight container in the fridge for up to 5 days.
Other Recipes You'll Love
For more recipes like this one, check out PlantGenie – our customizable meal planner with a huge database of over 400 plant-based recipes!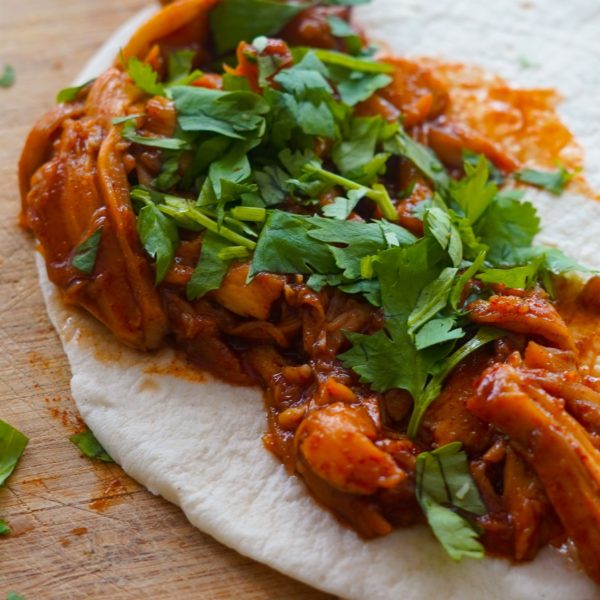 The Recipe: Vegan Oyster Mushroom Tacos
A beautifully succulent vegan orange chicken taco recipe that will leave you wanting more
Ingredients
4 king oyster mushrooms, shredded
4 soft tortillas, small
cilantro, for garnish
For the sauce
1 orange, juiced
2 tbsp soy sauce
1 ⅓ tbsp hoisin sauce
1 tsp paprika
½ tsp sriracha
3 cloves garlic, minced
Equipment
mixing bowl

fork

frying pan

tongs or spatula
Instructions
Make your sauce by combining the orange juice with the soy sauce, hoisin sauce, paprika, sriracha and garlic.

Combine with the shredded oyster mushrooms, and pan fry until slightly charred, approximately 5 minutes.

Fold into your tortilla with fresh cilantro and place back in your pan with a small amount of oil. Crisp up your tortilla on both sides, remove and enjoy!
Calories: 253.9kcal, Carbohydrates: 45.9g, Protein: 8g, Fat: 4.5g, Saturated Fat: 1.1g, Polyunsaturated Fat: 1.1g, Monounsaturated Fat: 2.2g, Cholesterol: 0.3mg, Sodium: 1617mg, Potassium: 294.3mg, Fiber: 3.6g, Sugar: 12.2g, Vitamin A: 228.2IU, Vitamin C: 40.2mg, Calcium: 105.3mg, Iron: 2.7mg