Hidden White Bean Tomato Soup
If you want to incorporate more legumes into your diet, this recipe is for you. Enjoy the hidden white bean tomato soup with all of its perks!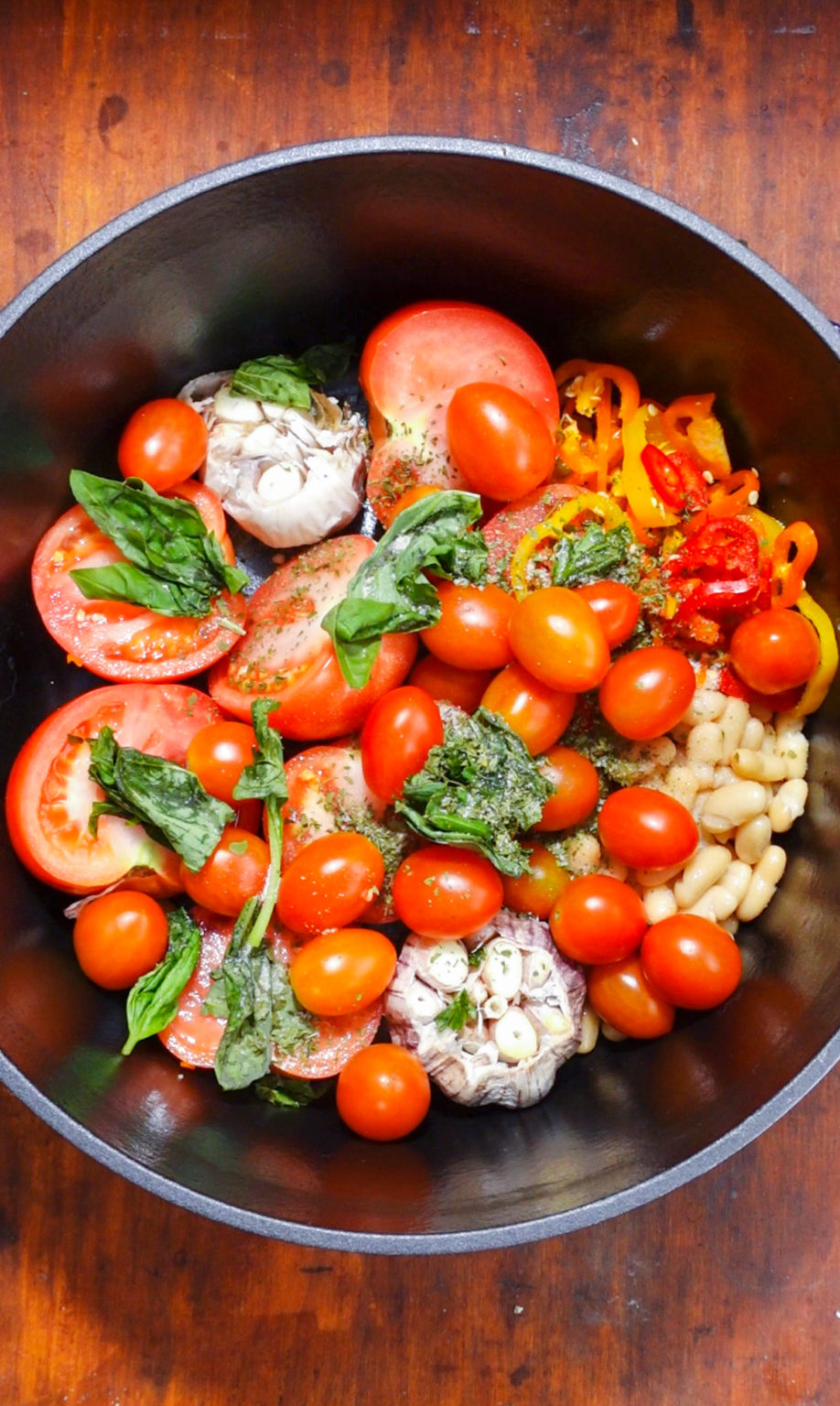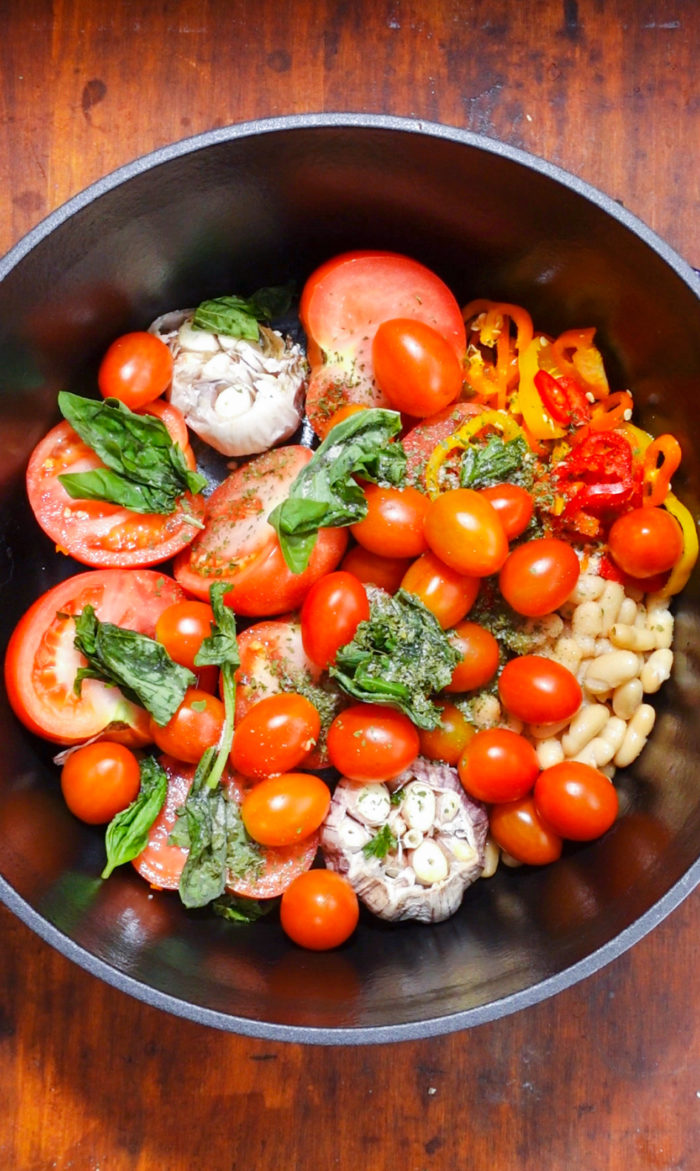 I know that the texture of beans can be offputting to some people. That said, they are a great source of fiber and protein for anyone eating plant-based. Introducing… COOL BEANS! A series where I show you cool ways to incorporate more beans and pulses into your plate without sacrificing the texture or taste.
This new series is intended for bean lovers and bean haters alike. Because honestly… beans rock! They're the number one longevity food according to my friend Dan Buettner (founder of the Blue Zones). They're packed with fiber, protein, and various other nutrients, plus they're one of the more sustainable foods. This one-pot white bean tomato soup recipe is the perfect way to start your bean journey because they're undetectable.
Why You'll Love This Recipe
Maybe you don't like the taste of beans. Maybe you're a bean lover but a family or friend isn't… They won't even know the reason this soup is so creamy is because of white kidney beans.
The combination of flavor and texture is just unbelieveable! It's smooth and creamy, savoury and tangy, earthy and warm… Well worth your time!
It's a one-pan recipe that requires VERY LITTLE effort. Pop your ingredients into the pan, roast until soft, and blend – easy-peasy.
The entire prep can be done in 5 minutes, leaving you with plenty of time to sit back and relax. Perfect for busy people including stay-at-home parents, full-time students and workers.
Do you love Italian food? Because this soup combines the best elements of Italian cuisine including fresh tomatoes, garlic, and basil.
How to Make This Recipe
Preheat the oven to 375F. Coat a cast iron pan with some oil of choice.
Add all listed ingredients to the pan except for the broth. Make sure to place the garlic the right way up.
Roast the beans and veggies in the oven for about 45 minutes, or until the vegetables are soft. The tomatoes should also release their juice in the process.
Remove the pan from the oven and allow the contents to cool down enough to handle. Using your hands, squeeze the garlic out of the skins and into a pot. Transfer the rest of the veggies to a pot and add vegetable broth.
Finally, use an immersion blender to create a smooth, creamy tomato soup. Alternatively, you can use a blender jug to blend it all together. Enjoy topped with fresh herbs, croutons, balsamic glaze, or a hearty slice of sourdough.
Hack It!
If you like your meals to have a kick, feel free to spice it up. You can roast a fresh jalapeno along with your pan of vegetables, add a dried chili into the blender, or drizzle some hot sauce into your soup.
Double the ingredients to easily upscale the recipe to feed more people! This also works as an easy meal prep recipe.
If you're out of white beans, you can also make this soup with red kidney beans, haricot beans, cannelini beans, or even cooked red lentils.
For a smoky flavor, add a teaspoon of smoked paprika or a small splash of liquid smoke. Thank me later!
Store This Recipe
This soup will stay fresh for 4-5 days if you keep it in the fridge. You can reheat it on the stove or in the microwave. You can also split it into servings and freeze it.
Other Recipes You'll Love
If you enjoy easy plant-based recipes like this one, check out the PlantYou meal planner! It's a digital planner that allows you to customize your weekly menu by choosing from over 550 delicious vegan meals. In addition, all recipes are made with whole foods and widely available ingredients. Plant-based living has never been easier!
And did you know I've just released my first cookbook? The PlantYou Cookbook features over 140 delicious plant-based recipes for every taste and every occasion! Thanks to the enormous support, the first print of the book is almost entirely sold out, so hurry up and get your cope before it's gone!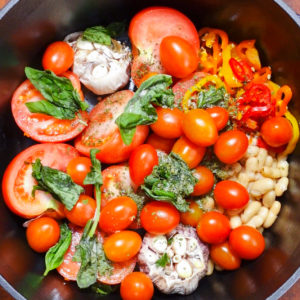 The Recipe: Hidden White Bean Tomato Soup
A simple yet delicious soup recipe perfect for cold weather
Ingredients
6 vine ripened tomatoes, cut in half
1 ½ cup cherry tomatoes
2 heads garlic, tops sliced off
½ cup fresh basil
1 red bell pepper, diced
1 ½ cups white kidney beans, canned, drained & rinsed
2 tbsp olive oil
1 tbsp dried parsley
2 cups vegetable broth
1 tbsp nutritional yeast
salt and pepper, to taste
Equipment
knife

chopping board

Roasting pan

Pot

Immersion blender
Instructions
Preheat the oven to 375F.

Coat a cast iron pan with oil of choice. Add all listed ingredients apart from the broth to the pan.

Place in the oven to 45 minutes, until the vegetables have softened.

Remove from oven and allow to cool slightly. Using your hands, squeeze out the garlic into the pan and discard of the skin.

Pour vegetable mix into a pot with the broth and using an immersion blender combine until smooth. Enjoy immediately!
Calories: 112.9kcal, Carbohydrates: 21.3g, Protein: 6.7g, Fat: 1.1g, Saturated Fat: 0.1g, Polyunsaturated Fat: 0.3g, Monounsaturated Fat: 0.4g, Sodium: 368.7mg, Potassium: 630.3mg, Fiber: 5.3g, Sugar: 5.1g, Vitamin A: 1496.9IU, Vitamin C: 29.6mg, Calcium: 57.5mg, Iron: 1.9mg