Dill Pickle Chip Soup
A creamy and comforting vegan soup recipe made with yukon gold potatoes and the secret ingredient… PICKLE JUICE! Welcome back to the Scrappy Cooking series, get ready to have your mind blown with this dill pickle chip soup.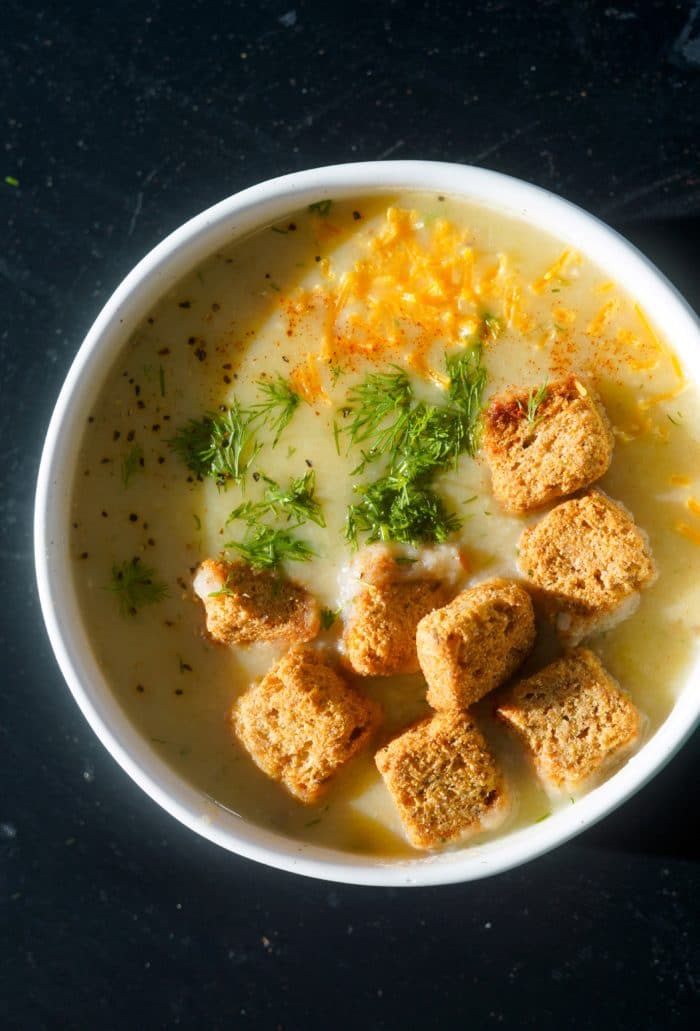 If you love pickles, you're definitely going to enjoy this dill pickle chip soup recipe. It makes use of leftover pickle juice, which makes the soup taste like dill pickle chips! It sounds like it shouldn't work, yet somehow it just does. This soup is creamy, dreamy, and filling. Plus, it's incredibly easy to make!
Personally, I can't stand throwing the pickle juice away. It can be used to add flavor to salad dressings, soups, marinades, and more! For example, you can use it to make this dill pickle tofu sandwich that tastes like crispy chicken!
Why You'll Love This Recipe
Like every other Scrappy Cooking recipe, it reduces your household food waste, which also saves you some money.
Speaking of money, this recipe is super cheap to make. It doesn't require any special equipment, and the rest of the ingredients are generally accessible (and affordable!) in your local store.
This dill pickle chip soup is a perfect winter recipe – it's so warm and comforting, it has a beautiful creamy texture, and an unforgettable umami flavor.
Trust me when I say it couldn't be any easier to make. A great recipe for beginners or busy professionals!
How to Make This Recipe
Get your ingredients ready to go. Heat the oil in the pot over medium heat and add onion and garlic. Saute for a couple of minutes, until the onions start turning translucent and the garlic becomes nice and frangrant.
Add salt (skip if using salty broth), paprika, nutritional yeast, and potatoes. Saute for another 3-5 minutes, until the potatoes have softened slightly.
Next, add your broth and pickle juice. Stir everything together and bring the contents to a boil. Allow the mixture to simmer for about 20 minutes, or untill potatoes can be easily pierced with a fork.
At this point, taste your soup and adjust the seasonings if needed. Blend everything together – if you have an immersion blender, you can do that right in the pot! Alternatively, pour it into your standalone blender, and tranfer back into the pot once processed.
Stir in about half of the dill, leaving the rest for the garnish. I also added some homemade croutons.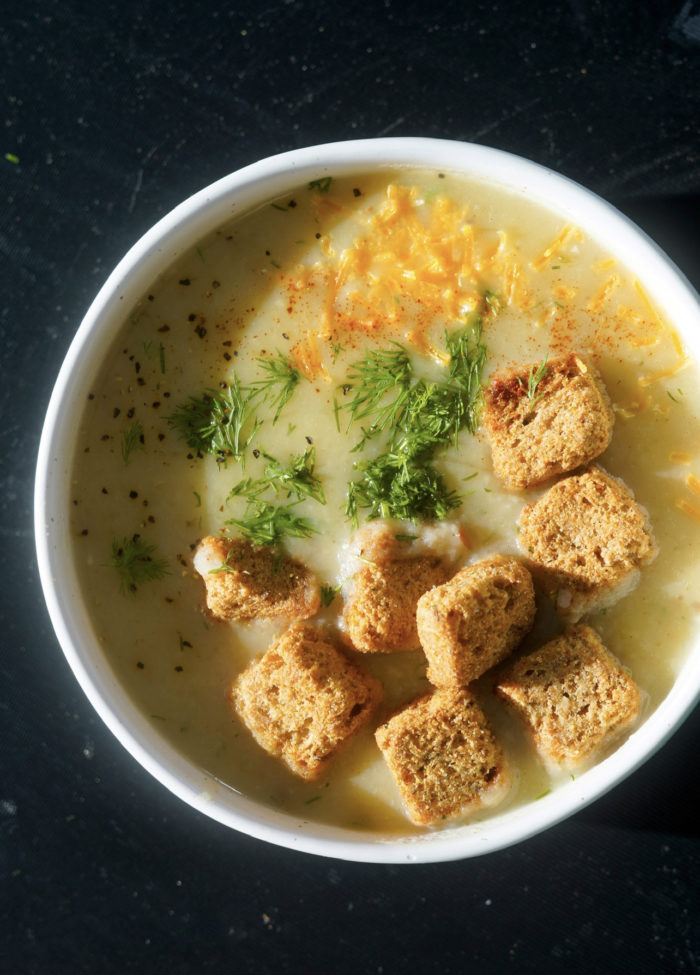 Hack It!
I used yukon gold potatoes because they provide the dish with a hit of yellow. However, feel free to use a different type of potato, just bear in mind that the cooking time may vary.
The yukon gold variety is known for its thin skin, so you won't need to peel the potatoes. However, if you are using a different type of potato that requires peeling, it's a perfect opportunity to make crispy potato skins!
If you like soup with a bit of kick, you can add a fresh green chilli or a pickled jalapeno to your soup.
Depending on the brand of your favorite pickles, the juice or brine will differ in taste. Some are more acidic, others veer toward a savoury side. It's also not uncommon to find bayleaf, mustard seed, or garlic in your pickle jar. That's why it's important to adjust the flavor before you blend everything together. You may choose to add extra salt, black pepper, or even a squeeze of lemon.
I enjoyed my bowl of dill pickle chip soup with croutons and fresh dill, but feel free to get creative with your toppings and sides! Sourdough bread, tortilla chips, roasted nuts or seeds, or crispy onions.
Store This Recipe
In the fridge, this soup will easily last 4-5 days in a sealed container. You can also divide it into portions and freeze it.
Other Recipes You'll Love
If you enjoyed this recipe, you can find even more simple plant-based meals in the PlantYou Planner. It's a digital planner with a database of over 500 whole-foods, beginner-friendly vegan recipes. As well as enjoying the perks of the planner (like customizing your weekly menu and toggling the number of servings), you get an invite to become a part of our PlantYou Facebook community. What's not to love?
If you prefer to have all of your recipes in one place, I have some great news for you. The PlantYou Cookbook is coming out VERY SOON, and it will feature over 140 recipes for every occasion! Each recipe is accompanied by an infographic outlining the ingredients, as well as nutritional informational and swaps for common allegies. If you preorder your copy NOW, you get over $200 of FREE CONTENT to help you on your plant-based journey!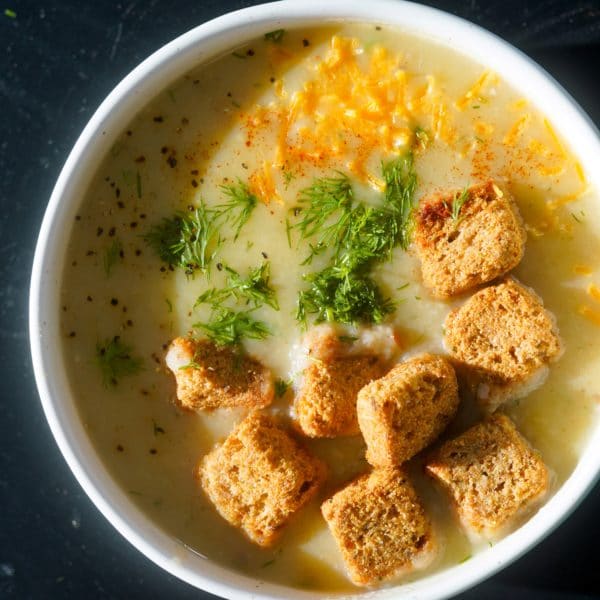 The Recipe: Dill Pickle Chip Soup
A creamy delicious vegan soup recipe made even better with leftover pickle juice.
Ingredients
1 tbsp extra virgin olive oil
½ tsp sea salt
2 garlic cloves, minced
½ yellow onion, diced
½ tsp paprika
1 tbsp nutritional yeast
4 yukon gold potatoes, chopped
3 cups vegetable broth
¾ cup pickle juice
1 bunch fresh dill, finely chopped
Instructions
Add the olive oil, garlic and onion to a pot over medium heat. Saute until fragrant, for approximately 2 minutes.

Next add the potatoes, paprika, nutritional yeast and sea salt. Saute for an additional 3 to 5 minutes, until the potatoes have softened slightly.

Add the vegetable broth and pickle juice. Bring to a boil, then simmer over low heat for approximately 20 minutes, until the potatoes are cooked through.

Taste and adjust seasonings as needed. Blend your soup until smooth. Stir in half of the fresh dill, and use the other half to garnish.
Calories: 199.8kcal, Carbohydrates: 38.1g, Protein: 4.6g, Fat: 3.8g, Saturated Fat: 0.5g, Polyunsaturated Fat: 0.4g, Monounsaturated Fat: 2.6g, Sodium: 1789.8mg, Potassium: 782.5mg, Fiber: 4.5g, Sugar: 3.7g, Vitamin A: 480.4IU, Vitamin C: 36mg, Calcium: 27.1mg, Iron: 1.5mg