Veggie Power Bowl
This veggie power bowl is the most delicious nutrient-packed lunch EVER! Loaded with edamame, roasted red pepper, cilantro, crunchy peanuts, and rice, the combination is like nothing you've ever tasted in your life. Finish it off with the incredible spicy tahini dressing and you're in heaven.
Welcome to the first installment of the BIG A$$ BOWLS! In this new series, we'll be making delicious meals with a focus on nutrition, volume, and diversity. Research shows that plant diversity is a great way to support a healthy gut, and we are going to do that IN STYLE.
I don't know about you, but I love those massive salad bowls you get at fancy salad bars. It feels like you are eating an entire rainbow, and you can taste so many flavors! But who says you can't make a delicious veggie power bowl at home?
Why You'll Love This Recipe
Let's start with the fact that this veggie power bowl is STUNNING. All the vibrant colors come together to make a delicious and beautiful meal!
Speaking of colors. Did you know that the more vibrant your fruit and veggies are, the better they are for you? That's right, the vibrant hue of a plant indicates the high content of phytonutrients, which contribute to your longevity and overall health.
For me, a good salad has a balance of different flavors and textures. No one wants a salad that just tastes like crunchy water, right? This veggie power bowl has it all – it's nutty, earthy, spicy, savoury, refreshing, crunchy, and sweet. The combo will honestly blow your mind!
Unlike some other salads, this one will not leave you hungry. The rice makes a great starchy base, and edamame is full of protein. Peanuts and tahini dressing are a great source of fat. Plus, the sheer volume of this bowl will ensure that you're full.
This is a great meal prep option. You can chop and dice separate ingredients in advance, as well as make the dressing at the start of the week. At lunchtime, you just gotta throw everything together and drizzle with the dressing.
How to Make This Recipe
First, get your ingredients ready. If you like meal prepping, you might already have them chopped and diced.
To make the dressing, whisk tahini, sweet chili sauce, soy sauce, and water together.
All that's left to do is to arrange ingredients in a large bowl and pour in the dressing. Could it be any easier?
Hack It!
You can sub fresh produce for this salad, especially if you have some older veggies waiting in the fridge. For example, red bell peppers can be replaced with cucumber, lettuce can be mixed with kale or spinach… There are so many combinations!
If you can't have soy, replace edamame beans with green peas, chickpeas, or cooked lentils. It will be just as delicious! As for the soy sauce, you can use liquid aminos to replicate the same taste.
This recipe uses sesame seeds and tahini, so if you're allergic to sesame, feel free to replace tahini with sun or peanut butter. As for the seeds, sunflower or pumpkin seeds work just as well.
For a nut-free option, replace peanuts with seeds or add extra sesame.
Make sure to use tamari soy sauce or liquid aminos if you cannot eat gluten.
Store This Recipe
If you are making this veggie power bowl as your meal prep dish for the week, I would advise keeping all ingredients separately. keep the dressing in the jar until you are ready to serve the salad. This will also prevent the roasted peanuts from losing their crunch. Prepped, this salad can last in the fridge for 4-5 days.
Other Recipes You'll Love
Believe it or not, plant-based living can and SHOULD be easy! If you agree with that statement, check out the PlantYou Planner! It's a digital meal planner platform with over 500 beginner-friendly vegan recipes in its database. Not only can you create a custom menu for yourself and your family every week, you can also take advantage of the autogenerated shopping list that reflects your chosen dishes!
And if you like having a few core recipes that you can rely on, I am happy to say that the PlantYou Cookbook was designed with you in mind! It features 140 recipes for breakfast, lunch, dinner, and dessert. It also has dips, salad dressings and snacks that anyone can enjoy! Currently, the major online retailers are sold out of my book, so the best thing to do is to call your local bookstore!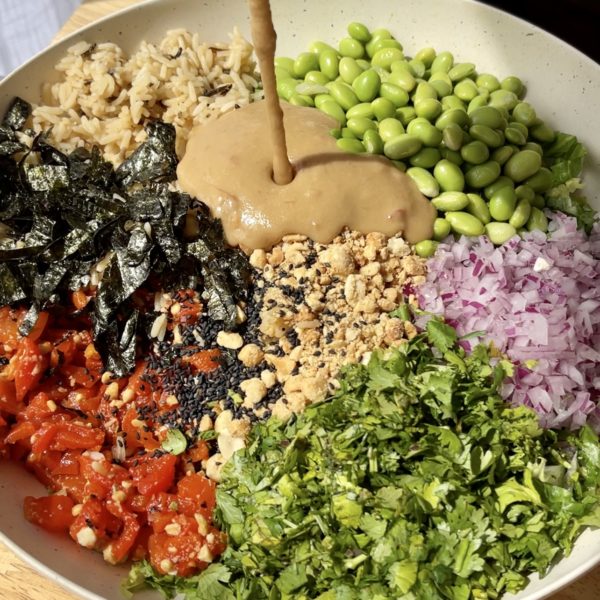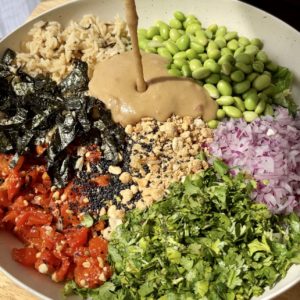 The Recipe: Veggie Power Bowl
A protein packed vegan salad bowl perfect for the work week.
Ingredients
4 cups lettuce, diced
1 red onion, diced
1 ½ cups edamame , frozen and thawed
1 cup cilantro, diced
1 cup roasted red peppers, jarred & chopped
1 ½ cups rice, cooked
2 tbsp sesame seeds
1 nori sheet, crushed
3 tbsp peanuts, crushed
Sweet Tahini Dressing
½ cup tahini
3 tbsp sweet chili sauce
2 tbsp soy sauce
2 tbsp warm water
Equipment
chopping board

knife

Large bowl

Jar
Instructions
Add all ingredients a bowl or meal prep containers.

Combine all dressing ingredients in a jar until smooth, adding more water as needed to smooth.

If meal prepping, the dressing is best kept seperate. If serving immediately, add the dressing and mix. Enjoy and tag a friend who 
Calories: 673.6kcal, Carbohydrates: 84.9g, Protein: 22.2g, Fat: 29.7g, Saturated Fat: 4.1g, Polyunsaturated Fat: 12.8g, Monounsaturated Fat: 10.7g, Trans Fat: 0.1g, Sodium: 1143.4mg, Potassium: 793.4mg, Fiber: 8.5g, Sugar: 10.2g, Vitamin A: 876.9IU, Vitamin C: 27.1mg, Calcium: 197.3mg, Iron: 5.4mg