Peanut Salad
A delicious peanut salad with ramen noodles, crunchy vegetables, and an incredible creamy peanut dressing!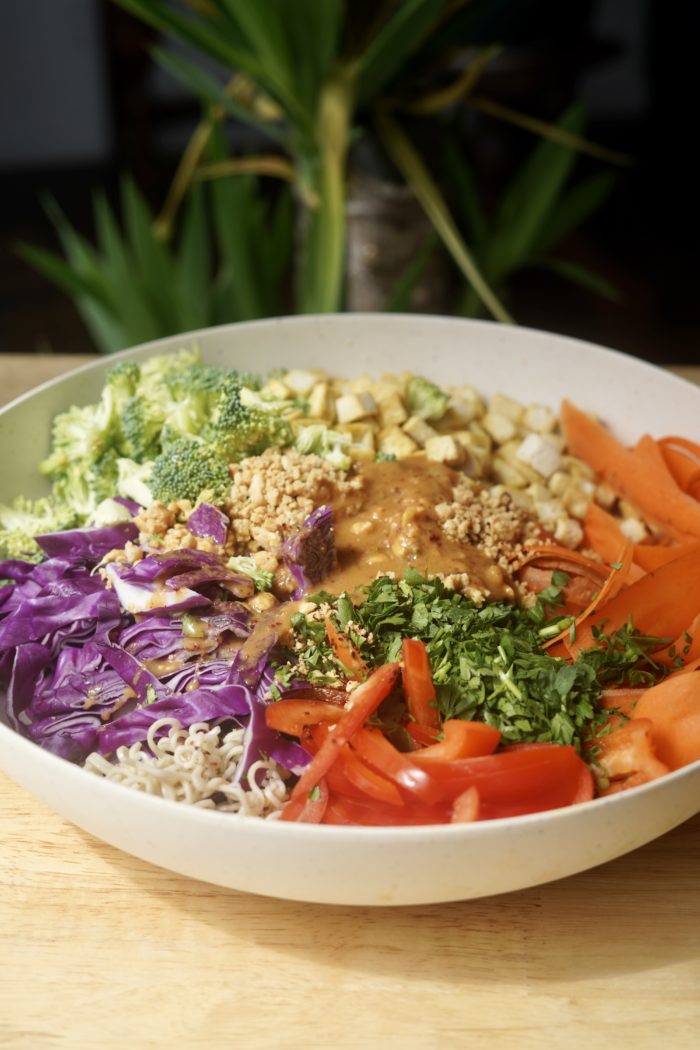 Do you ever crave noodles, but like, in salad form? I have some great news for you! This delicious peanut salad recipe will make your dreams come true. It contains ramen noodles, fresh veggies, and of course, peanuts. The centerpiece of this salad, peanut is featured twice – as a crunchy nut and a creamy dressing.
Why You'll Love This Recipe
It only takes 20 minutes to make, and you can spend the rest of your valuable time doing things you like!
That dressing is honestly to die for! Once you try it with this peanut salad, you'll be using it on everything!
The key to a good salad is flavor and texture. Fortunately, this peanut salad has both. It's earthy, zesty, savory, crunchy, and indulgent!
Did you know that vibrantly colored fruit and vegetables contain an element called phytonutrients that increase your longevity? This packs a whole rainbow of colors!
Plant diversity in your diet is a great way to promote a healthy gut microbiome. And guess what, this salad contains at least 8 different plants!
How to Make This Recipe
First, get your ramen noodles ready to go. You may need to cook them or simply soak in boiling water. Drain the liquid and allow the noodles to cool down fully.
In the meantime, bake your tofu until crispy. All you need to do is press it, cube it, air fry it for 15 minutes at 400F, and voila!
For the dressing, whisk or blend peanut butter, water, soy sauce, sweet chilli sauce, and lime juice.
Finally, add all of the ingredients together in a large bowl, pour in the dressing, mix and enjoy!
Hack It!
As you may have guessed by the name of this salad, peanut is the star of the show. However, if you have a peanut allergy, you can modify the recipe to use toasted pumpkin seeds and tahini paste in place of peanuts and peanut butter, respectively.
For a soy-free version of this salad, try it with chickpeas or seitan.
Depending on your preference and dietary requirements, you can use almost any type of ramen noodles. For example, if you are gluten-free, you can use rice noodles or glass noodles.
If you have sad-looking veggies in the fridge, this is a good opportunity to use them. A little bit of cucumber, spinach, sprouts… Add and sub as needed!
Not everyone likes cilantro, and to some people, it tastes like soap! If you are not a fan of cilantro, replace it with fresh parsley.
If you like to meal prep, this is a great option. Make your peanut salad but keep the dressing separate until it's time to serve.
If you don't own an air fryer, tofu can be baked on a lined baking sheet in the oven at the same temperature. It might take a little longer. Watch out for the moment the tofu becomes crispy on the outside but soft on the inside.
Other Recipes You'll Love
Did you know that as well as this food blog, I have an entire cookbook? Honestly, I find it hard to believe myself! The PlantYou Cookbook features over 140 plant-based recipes for every taste and every household. This is the book I wish I had when I first transitioned to veganism. And thanks to the incredible support of the plant-based community, the book was so in demand, it sold out almost instantly! Second print is coming very soon, and in the meantime you can call your local bookstore and enquire about the PlantYou Cookbook. Alternatively, you can pre-order from an online retailer.
If you like to be organized with your meals, check out the PlantYou Planner! It's a digital meal planner that allows you to pick your weekly menu out of OVER 550 RECIPES. As if that wasn't crazy enough, you can toggle the number of servings for every recipe and enjoy the tailored shopping list generated by the planner!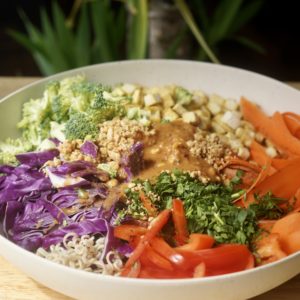 The Recipe: Peanut Salad
A delicious and easy peanut salad recipe, excellent for meal prep!
Ingredients
2 cups ramen noodles, cooked & cooled
375g extra firm tofu, chopped & air fried
½ cup red cabbage, sliced
1 red bell pepper, sliced
1 carrot, ribboned
½ cup cilantro, diced
1 broccoli, diced
¼ cup peanuts, crushed
Peanut Dressing
¼ cup peanut butter
½ cup water
2 tbsp soy sauce
2 tbsp sweet chili sauce
1 lime, squeezed
Equipment
chopping board

knife

Air fryer or oven

Large bowl

Jar or bowl
Instructions
Cook the ramen noodles according to package directions and allow to cool.

Slice the extra firm tofu into cubes, and place in the air fryer at 400F for 15 minutes.

Assemble the dressing ingredients in a jar.

Place all ingredients in a large bowl, toss and enjoy. This will keep in the fridge for up to 4 days.
Calories: 816kcal, Carbohydrates: 102.7g, Protein: 31.8g, Fat: 33.9g, Saturated Fat: 11.8g, Polyunsaturated Fat: 6.6g, Monounsaturated Fat: 14.3g, Sodium: 3197.4mg, Potassium: 1188.6mg, Fiber: 10.3g, Sugar: 14g, Vitamin A: 4707.8IU, Vitamin C: 186.7mg, Calcium: 175.7mg, Iron: 8.3mg