Lemon Orzo Salad
This lemon orzo salad with chickpeas and olives makes such a delicious vegan lunch, meal prep recipe or side dish, you'll be asking for seconds.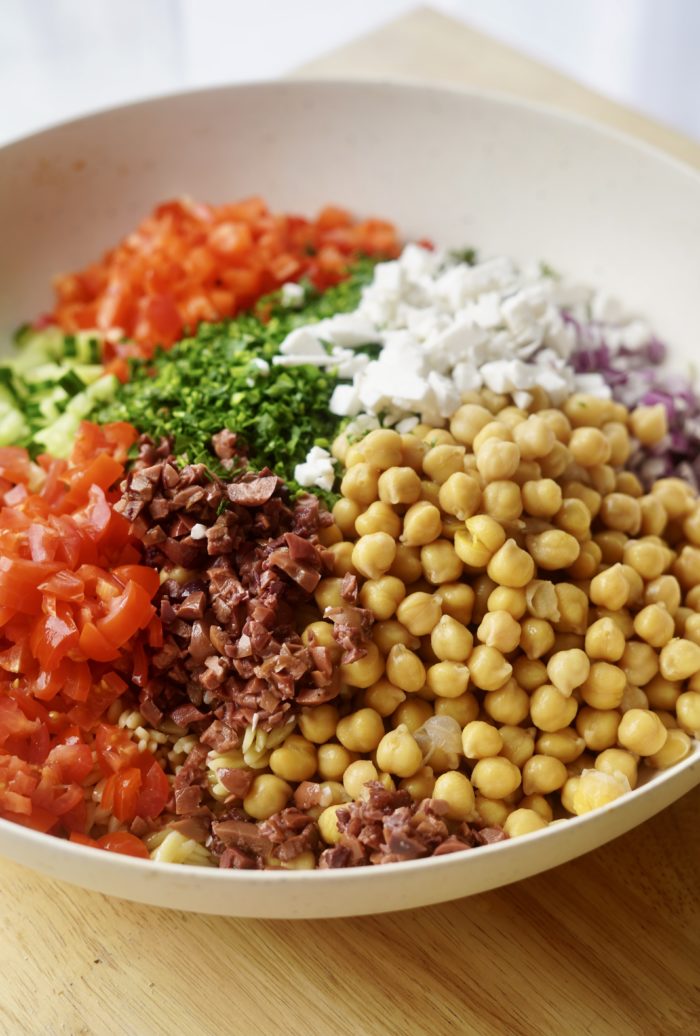 Welcome back to BIG A$$ BOWLS! Anyone who has known me for a while probably remembers me saying that I don't like salads. And I didn't, until I realized that salads don't have to be bland and devoid of calories! Salads can be vibrant, satiating, nourishing, and of course, delicious.
Recently I have been on a mission to show you all the wonderful combinations of veggies, legumes, grains, nuts, and seeds you can enjoy in a salad. And so, the BIG A$$ BOWLS series came to life. These recipes are not only tasty and nutritious, they are also designed with meal prep in mind. This lemon orzo salad is bursting with flavor, while ticking all the boxes for the various dietary needs.
Why You'll Love This Recipe
If you love Mediterranean cuisine, you'll appreciate the familiar flavors of parsley, lemon, olives, and tomatoes.
Despite being very flavorful, this salad has a super simple dressing made with common ingredients.
Chickpeas are a great source of plant-based protein! They also take on flavors very well, which makes them a great addition to almost any dish.
If you're looking for creative ways to add more beans and pulses into your diet, this lemon orzo salad is a great place to start.
Perfect for meal prep! If you don't like spending hours in the kitchen, preparing your meals ahead is the way to go. And with this recipe, it's very simple, too!
How to Make This Recipe
Start by cooking your orzo pasta. Depending on the type or brand, the cooking time may vary so check the packaging for instructions. Orzo needs to fully cool down before you add it to the salad, so drain any excess liquid and set it aside.
In the meantime, you can start chopping and dicing your veggies. To make the dressing, simply whisk lemon juice, olive oil, salt and pepper together. Couldn't be simpler!
Once the pasta has cooled down, add all ingredients into a large bowl and drizzle the dressing on top. Thank me later!
Hack It!
If you're not a fan of olives, you don't have to add them to your salad. So you can either omit them altogether or replace them with artichokes, sundried tomatoes, capers, or asparagus.
Gluten-free? No problem. Orzo is a pasta styled after grains of rice, so you are welcome to go back to the source! You may also find a gluten-free orzo alternative depending on your local store.
If you don't have access to store-bought vegan feta, you can make your own tofu feta at home!
Chickpeas are great, but feel free to experiment by adding a different legume. Black beans, kidney beans, haricot beans, green lentils, edamame… Just give it a go!
Don't be afraid to add extra veggies, especially if it helps you avoid food waste. You could add fresh cucumber, basil, spinach, arugula, roasted veg and more.
Other Recipes You'll Love
If you like simple yet elegant and delicious meals, check out the PlantYou Planner! It has a huge database of over 550 vegan recipes you can drag and drop into your weekly meal plan. The planner generates a shopping list tailored to the meals you have chosen and the size of your household. Plant-based living has never been easier!
Speaking of plant-based living… When I first transitioned to veganism, I wish there was a book that outlined the basics of eating plant-based, along with simple recipes for every occasion. And since that wasn't an option, I set out to create such book. To get your hands on a copy of the PlantYou Cookbook, call your local bookstore or pre-order online. The second print will be released soon (fingers crossed) for you to enjoy the book!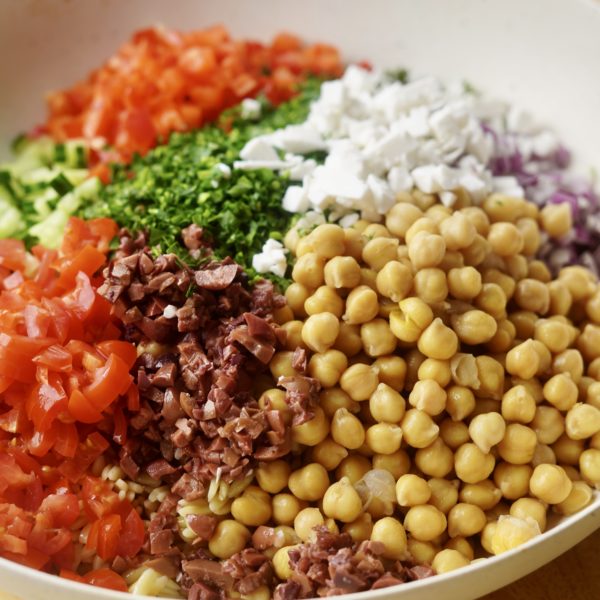 The Recipe: Lemon Orzo Salad
A delicious fresh and vibrant lemon orzo salad recipe perfect for the spring and summer months.
Ingredients
8 oz orzo, cooked and cooled
1 cup cherry tomatoes, halved
1 red bell pepper, diced
1 cup kalamata olives, diced
1 red onion , diced
½ cup fresh parsley, diced
½ cup vegan feta, crumbled
¾ cup chickpeas, canned, drained & rinsed
Lemon Dressing
2 lemons, squeezed
1 tsp black pepper
½ tsp salt
1 tbsp extra virgin olive oil, optional
Equipment
Pot

chopping board

knife

Large bowl
Instructions
Cook the orzo according to package directions and allow to cool.

Assemble dressing ingredients in a jar.

Add all salad ingredients to a bowl and drizzle on the dressing. Toss and enjoy immediately or store in the fridge for up to 3 days.
Calories: 425.9kcal, Carbohydrates: 65.1g, Protein: 16.3g, Fat: 13.1g, Saturated Fat: 2.8g, Polyunsaturated Fat: 1.6g, Monounsaturated Fat: 6.7g, Cholesterol: 10mg, Sodium: 1002mg, Potassium: 537mg, Fiber: 8.5g, Sugar: 8.6g, Vitamin A: 1901.5IU, Vitamin C: 87.6mg, Calcium: 83.9mg, Iron: 3.1mg