Mason Jar Kale Salad
I call this mason jar kale salad the KALE BEAST. Loaded with dino kale, broccoli sprouts, sunflower seeds, and creamy caesar-style dressing, you won't be able to get enough!
When I saw your response to the mason jar ramen soup, you know I couldn't resist starting a whole SERIES of mason jar meal prep recipes! I'm so excited about this.
My favorite thing about this mason jar kale salad is the super-easy dressing. The trick is using hummus as the base for your salad dressing. I just used store-bought hummus mixed with lemon juice and select seasonings to make a loose interpretation of vegan caesar dressing. It turns out so creamy and practically irresistible!
Why You'll Love This Recipe
It goes without saying that this salad is completely customizable. I already had crispy tofu in the fridge so I used that – but any legume like chickpeas or white beans would work as your protein source, and spinach can be used instead of kale.
Jars are a great way to store and transport meals. With a decent lid, you can be assured that nothing will spill, and you can mix your salad by simply shaking the jar!
You can easily make several separate servings of this mason jar kale salad, preparing ahead for the entire work week.
This meal is cheaper and healthier than any salad you could buy at the store. But it tastes just as amazing, if not better!
As far as salads go, it's the opposite of boring! People unfamiliar with plant-based living still think vegans only eat "rabbit food", and this salad is proof that plant-based food is more than just lettuce!
How to Make This Recipe
The dressing comes first. It will be added to the bottom of the jar – that way, it doesn't interact with other ingredients until you're about to eat. To make the dressing, whisk hummus, lemon juice, parsley, nutritional yeast, garlic powder, and salt together. You can combine the ingredients right there in the bottom of the jar!
The rest is simple. Add layers of cherry tomatoes, red onion, tofu, kale, sunflower seeds, and sprouts. Close the jar and store it in the fridge for up to 3 days.
When you're ready to enjoy your mason jar kale salad, just shake the jar to mix the contents together. Make sure to shake well so that the dressing coats every bit of your salad. You can eat straight out of the jar or decant into a bowl.
Hack It!
I adore kale, but I know that some people find it a bit bitter, or they're not huge fans of the texture. If you find kale quite chewy, you can marinate it in some lemon juice before adding it to the jar. Alternatively, you can steam or microwave it for 1-2 minutes to soften it up. If you don't like the taste of kale, you can also use spinach, arugula, or mixed salad.
For a soy-free version of this salad, use Burmese tofu, seitan, chickpeas or beans.
I used broccoli sprouts for my salad, but you can use any other type of sprouts or miscrogreens. Radish, mustard, alfalfa, lentil, sunflower… There are so many options, and you can even sprout them at home!
You can also play around with the "crunch" factor of your salad. Sunflower seeds are great, but you can also use toasted nuts (not if you're allergic, of course), crispy onions or croutons.
If you're not a fan of hummus, this salad also works splendidly with my green goddess dressing.
Other Recipes You'll Love
If you love simple, beginner- and budget-friendly vegan recipes, check out the PlantYou Planner! It's a digital meal planner with a huge database of over 500 recipes for every occasion. Not only can you plan your own menu, but the planner also generates a shopping list tailored to your meal plan! And the best part is that you get to be a part of the PlantYou community, full of like-minded people passionate about food.
Speaking of food, did I mention MY FREAKIN' DEBUT COOKBOOK is finally out? I have been absolutely blown away by the support it has received so far! If you managed to snatch a copy of the book, please tag @plantyou when you show off your cooking!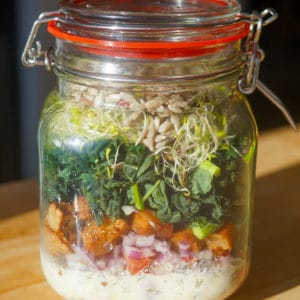 The Recipe: Mason Jar Kale Salad
A delicious vegan mason jar salad loaded with dino kale, sunflower seeds and creamy caesar-style dressing.
Ingredients
⅓ cup hummus
1 lemon, squeezed
1 tsp dried parsley
2 tbsp nutritional yeast
½ tsp garlic powder
¼ tsp sea salt
¾ cup cherry tomatoes, chopped
¼ red onion, diced
½ cup crispy tofu, or regular diced tofu
2 cups kale, dino variety, chopped
1 tbsp sunflower seeds
¼ cup broccoli sprouts
Equipment
Mason Jar

Whisk

chopping board

knife
Instructions
Add the hummus, lemon juice, parsley, nutritional yeast, garlic powder and salt to the bottom of a mason jar. Whisk until a dressing is formed.

In the order the ingredients appear on the list, add them to the mason jar, starting with the onion, then tomato, then tofu, kale, sunflower seeds and sprouts.

Store in the fridge for up to 3 days. When ready to eat, pour in a bowl, mix and enjoy.
Calories: 460kcal, Carbohydrates: 50.1g, Protein: 30g, Fat: 15.4g, Saturated Fat: 1.8g, Polyunsaturated Fat: 5.9g, Monounsaturated Fat: 5.3g, Sodium: 961.4mg, Potassium: 1669.4mg, Fiber: 14.1g, Sugar: 7g, Vitamin A: 14001.7IU, Vitamin C: 246.5mg, Calcium: 292mg, Iron: 7mg