Cucumber Lemon Mint Water
With the summer just around the corner, this cucumber lemon mint water is going to be your new go-to drink! A perfect refreshing infused water recipe for a sunny day.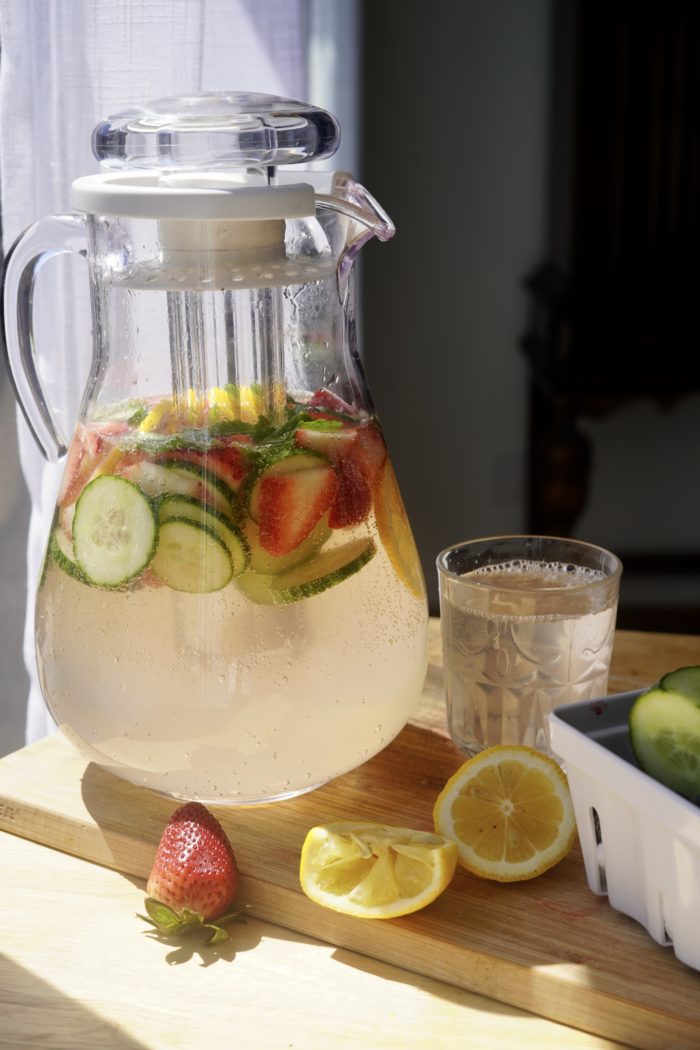 We're always told to stay hydrated, and this cucumber lemon mint water will do the job! Not everyone likes to drink water, and as of right now, there are very few alternatives that are healthy, refreshing, and budget-friendly. So if your goal is to drink more water, this recipe will show you how to infuse it with your favorite summer flavors!
Why You'll Love This Recipe
It comes together in under 10 minutes, and requires very little clean-up!
Although it is infused, this cucumber lemon mint water is first and foremost just that: WATER! If you want to drink more water, you may as well do it in style!
This is a perfect refreshment on a hot day, with a beautiful subtle flavor yet without any sugar or artificial sweeteners!
This is the classiest pitcher of water you'll ever have! If you are hosting a high-end party or a backyard wedding, this cucumber lemon mint water is a great way to keep your guests hydrated.
Another reason to have this drink in the summer is that you can use seasonal produce and reduce your carbon footprint.
How to Make This Recipe
Start by slicing cucumbers and strawberries. Squeeze the juice out of the lemons.
Next, add the ingredients into a large pitcher and allow it to infuse for at least 20 minutes. If you like, you can add ice or some lemon slices to your drink as well. That's all!
Hack It!
Feel free to experiment with your ingredients. For example, you might decide to add some grapefruit juice to your drink, or a sprig of rosemary. Even better if you grow fruit or herbs in your yard!
Why not use it as a mixer? Next time you're making a white wine spritzer, I encourage you to try it with cucumber lemon mint water instead of lemonade.
Don't throw away the fruit! Cucumber, mint, and strawberries are safe to eat for most herbivorous pets, like rabbits or guinea pigs. Alternatively, they can be composted.
This drink will last a couple of days in the fridge, so you can make a large batch to save you time in the long run.
Other Recipes You'll Love
The key to a stress-free plant-based diet is planning. When you know what you're having for breakfast, lunch, and dinner, it is so much easier to do the shopping! And to save you time cross-referencing different recipes and ingredients, I suggest you check out the PlantYou Planner! It's a digital meal planner platform that allows you to select your weekly menu from a HUGE database of over 500 vegan recipes. The planner then generates a dynamic shopping list that you can take with you to the store! And if you've already got some produce, and you're not sure what to do with it, you can search the PlantYou Planner database by ingredient and help you avoid food waste.
If you prefer to have your recipes in physical form, you may want to call your local bookstore and ask about the PlantYou Cookbook. Until the second print comes, there are only a few copies in physical stores. So if you want to get your hands on 140+ whole-food plant-based recipes, you better hurry!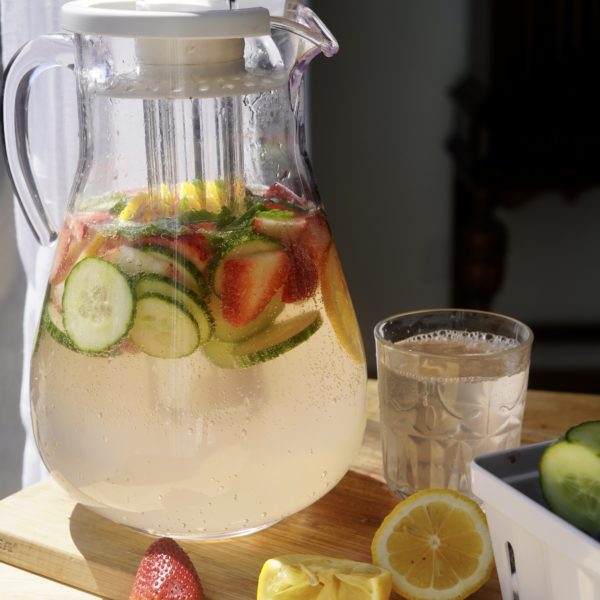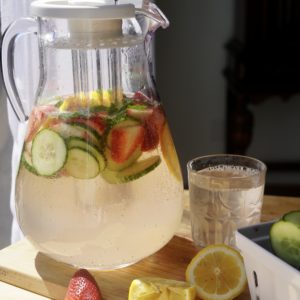 The Recipe: Cucumber Lemon Mint Water
Delicious Cucumber Lemon Mint Water perfect for a summer day
Ingredients
4 cups sparkling water
2 cups filtered water
4 lemons, squeezed
½ cucumber, sliced
1 handful mint leaves
6 strawberries, sliced
Instructions
Add all ingredients to a pitcher or large mason jar, and stir. Allow to infuse for 20 minutes with ice as desired, and enjoy immediately. This can last in the fridge for up to 2 days.
Calories: 16.9kcal, Carbohydrates: 5g, Protein: 0.6g, Fat: 0.2g, Saturated Fat: 0.1g, Polyunsaturated Fat: 0.1g, Monounsaturated Fat: 0.1g, Sodium: 23.6mg, Potassium: 95.2mg, Fiber: 1.5g, Sugar: 1.6g, Vitamin A: 38.2IU, Vitamin C: 27.7mg, Calcium: 21.6mg, Iron: 0.4mg