Whipped Coffee Recipe (Dalgona Coffee)
Whipped Coffee is a fluffy and delicious twist on your morning cup of joe that you absolutely need to try. This Whipped Coffee Cream recipe (or Dalgona Coffee) uses just three simple ingredients and a hand whisk. Let's get down to it!

Whipped Coffee Is a Viral Sensation
Whipped Coffee, or Dalgona Coffee, became wildly popular on Instagram, TikTok and Facebook! It's no surprise, because the images of the fluffy, thick and delicious cream definitely makes you want to instantly give it a try.
Here's our video we made on youtube on how to make this delicious whipped coffee step by step. Hop on there and subscribe if you haven't yet!
[embedyt] https://www.youtube.com/watch?v=gw4O6n88pmg[/embedyt]
The trend actually first started in South Korea but it's not been popularized across North America and abroad. It was nicknamed "Dalgona Coffee" because it resembles the look of a popular toffee treat with the same name in South Korea.
Today, we're going to make a vegan version of the Dalgona Coffee. We had so much fun making this "dalgona coffee" because it really makes you feel like an at home barista.
What You Need For This Whipped Coffee Recipe
Whipped coffee requires just a few really simple ingredients!
It includes:
Instant Coffee
Sugar (brown sugar or white sugar will work for this recipe)
Hot Water
Almond Milk (we like the Silk unsweetened brand, but you could use oat, soy or cashew milk too)
Ice
Now let's break down how to take these simple ingredients and make them into a wondrous whipped coffee.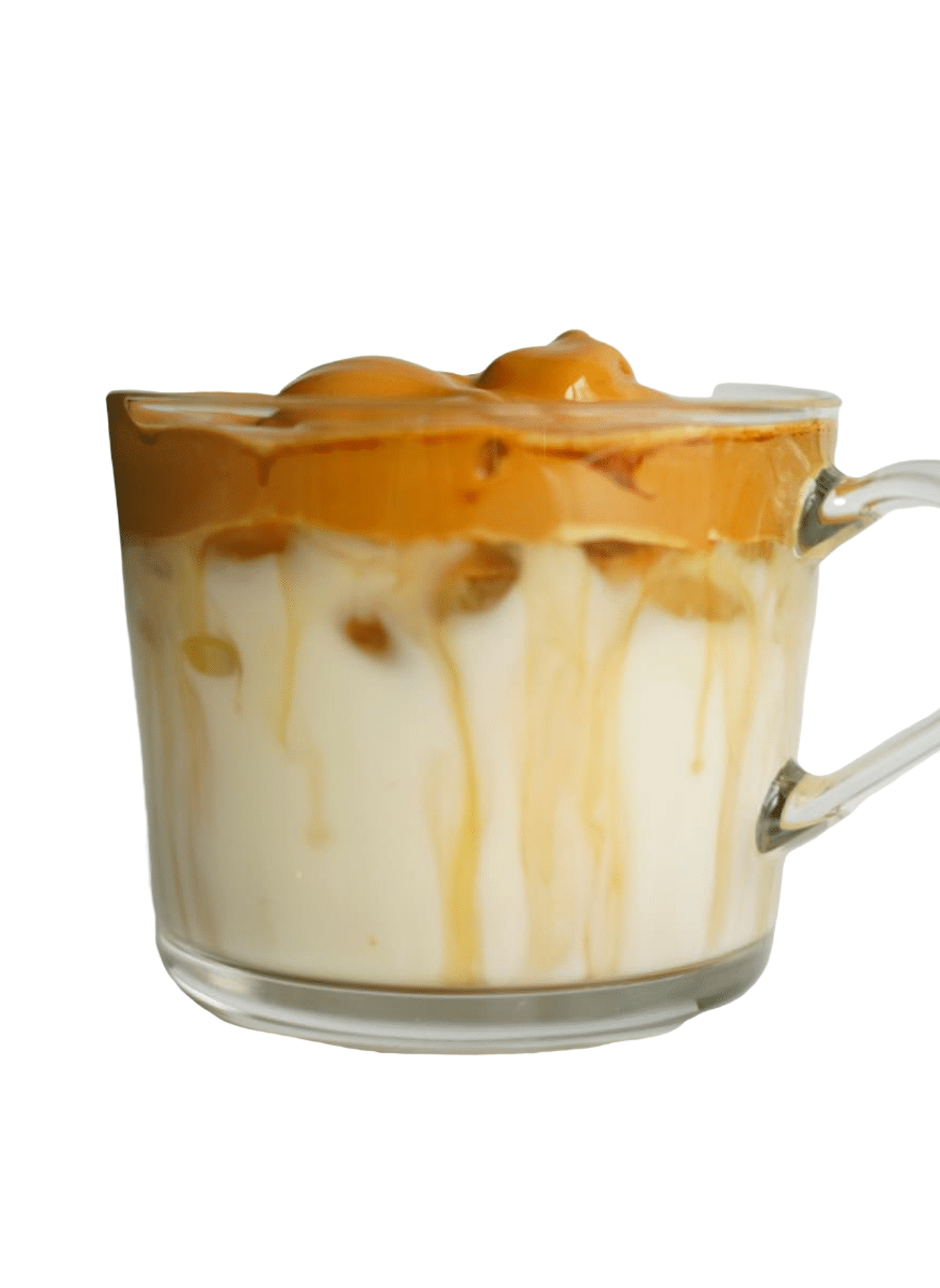 How To Make Whipped Coffee
To make whipped coffee, you simply combined equal parts instant coffee, sugar and hot water in a bowl. Then you want to use either a hand whisk or an electric mixer to make it into a froth.
For this recipe, we used a simple hand whisk, and it worked great. We did find that we had to whisk vigorously for about 7 minutes in total to get the thick, creamy consistency.
Here are some quick tips that will help move the process along:
Make sure to use hot, boiling water which will help everything combine. We suggest boiling the water in a kettle and adding it directly to the bowl.
Don't use instant coffee from the fridge or freezer. I know many people store their instant coffee in the freezer but we suggest using it directly from the cupboard for this recipe or the coffee grinds will be too cold.
Be patient. When we first started mixing we didn't believe that it would transform into the thick creamy texture we've seen all over TikTok and Instagram. But alas, after five minutes it foamed up and became super thick!
If you do have an electric mixer, we definitely recommend utilizing it for this whipped coffee recipe. Keep it on the lowest setting and let it do the work for you. We've personally been eyeing up this one on Amazon.
Once the mixture has developed into your thick "whipped coffee", pour it over a glass of almond milk with ice!
We loved using almond milk for this recipe because it's so creamy and smooth.
What Kind of Coffee Do You Need For "Whipped Coffee"
This whipped coffee recipe definitely works best using instant coffee. This is because it dissolves the best when whisking. Personally we used Nescafe's classic instant coffee, but any should will really work.
If you're wanting to add more "umph" to your whipped coffee recipe, you can also add in a bit of cinnamon and nutmeg to the mix. For this recipe, we just went with the classic steps.
What If You're Not a Coffee Fan?
You're in luck if you're not actually a fan of coffee. On TikTok, we've seen creators making whipped coffee using cocoa powder and matcha powder. Simply replace the instant coffee in this recipe with ground cocoa powder or matcha and give it a whirl. Let us know if you try in the comments below!
How Many People Does This Whipped Coffee Serve?
This specific whipped coffee recipe makes enough for one person. However, you can double, triple or even quadruple the recipe to feed a crowd. The benefit to doing this is that it's much easier to hand whisk when there's a greater quantity of the coffee, sugar and water mixture in the bowl.
What You Should Serve With Whipped Coffee
If you're wanting to wow a guest, and serve a full barista style breakfast with your Dalgona Coffee, we've got your back.
Here are a few vegan breakfast suggestions that would be delicious with this crowd pleasing coffee.
If whipped coffee just really isn't your thing, we've got another fun morning coffee recipe for you to try. Why not mix up some easy Vegan Irish Cream?! We also have a list of our absolutely favorite vegan coffee creamers, as well as a homemade recipe in this blog post.
What Does Whipped Coffee Taste Like?
If you like velvety, sweet, latte style drinks, you're going to love whipped coffee!
The star of the show for this easy coffee recipe is definitely the texture. It's a light and airy feel that some would even describe as luxurious.
I found the whipped coffee a bit difficult to combine with the almond milk, but I think that's kind of the point. You will definitely enjoy the foamy light texture on top, and try to mix it in as best as you can. WW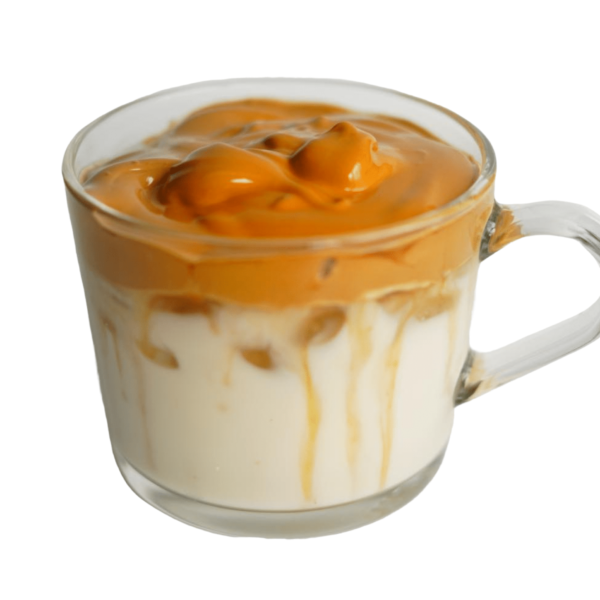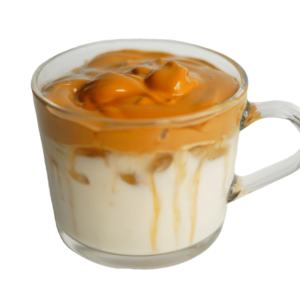 The Recipe: Whipped Coffee Recipe (Dalgona Coffee)
A simple vegan whipped coffee recipe that uses only four ingredients.
Ingredients
2 tbsp Instant Coffee
2 tbsp Sugar
2 tbsp Boiling Water
1 cup Ice Cubes
1 cup Almond Milk
Instructions
Add the instant coffee, sugar and boiling water to a bowl. Whisk until it becomes a foamy, cloud like consistency. If you are hand whisking this will take approximately five to ten minutes.

Add ice and almond milk to a glass, then pour the whipped coffee over top. Stir or drink as is.
Notes
If you have an electric mixer, the process is a lot quicker. Set it to low and let it do the work.
Serving: 2cups, Calories: 139kcal, Carbohydrates: 25g, Protein: 1g