Oat Milk Recipe
Have you been noticing how oat milk has become the most popular vegan milk alternative? Better yet, have you tried oat milk yet? Well, we sure have, and we're obsessed.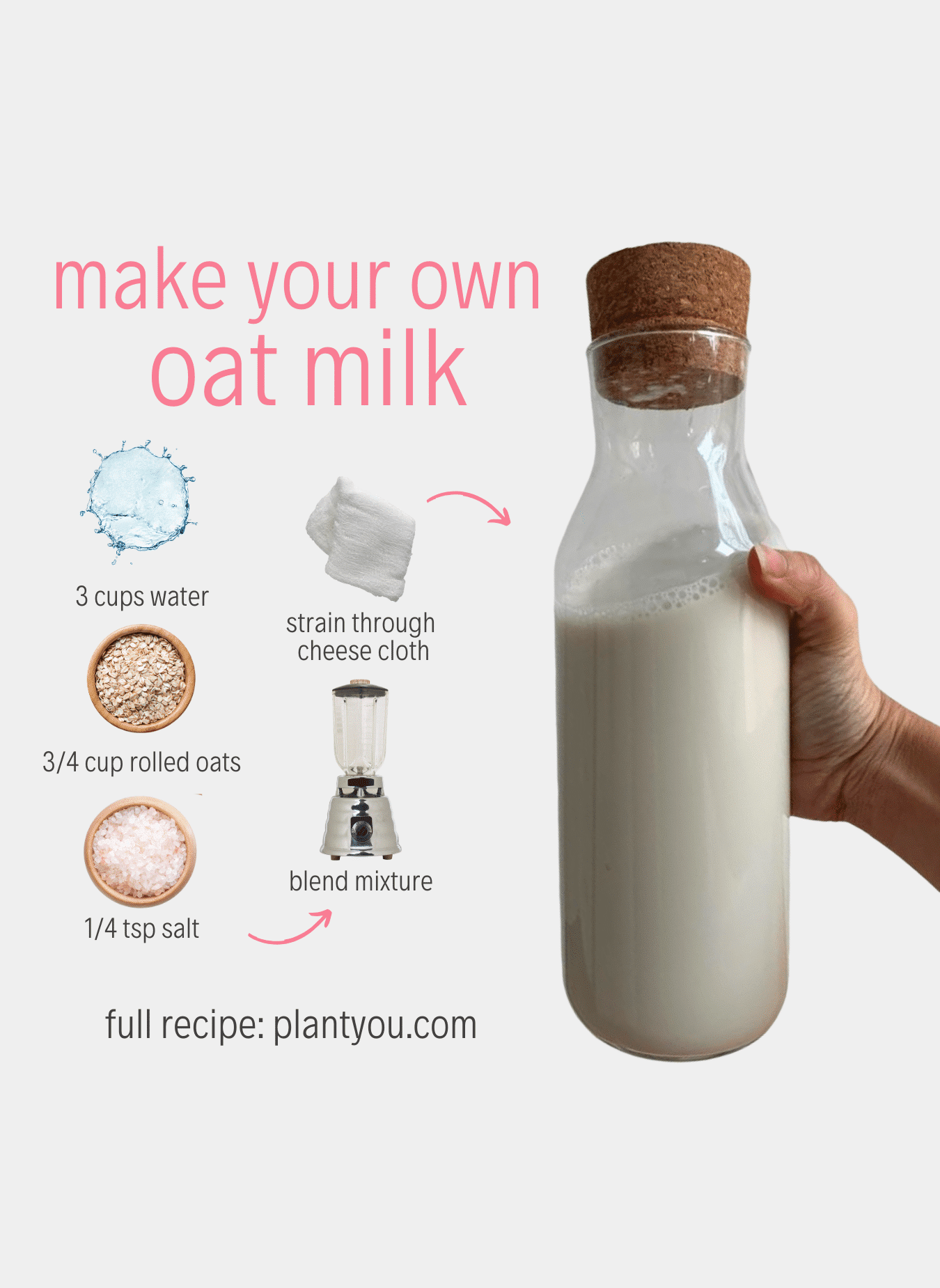 Oat milk is a plant-based milk alternative that is free from many common allergens, for example, soy, dairy, coconut and nuts. We especially think oat milk is excellent because it can serve a variety of dietary needs and is a healthier option when made from scratch.
Oat milk is also low in calories and cholesterol-free, which fits the recommendation for anyone following a wholefood plant-based diet. Drinking homemade oat milk does not include any added oils, sugars or preservatives that are common ingredients found in boxed plant-based milk on grocery shelves.
Oat milk is smooth and creamy, which is perfect for more than just your cereal.
We think it is excellent in your morning coffee, baking and makes the most delightful latte you'll probably ever drink! Oat milk texture and thickness is very similar to cow milk. Therefore, many people have been considering it as a first choice milk alternative when transitioning to a plant-based diet.
Oat milk is fast becoming a staple in the coffee world. If you're looking to perfect your morning brew, we have an article sharing the best vegan coffee creamers on the market today.
Drinking oat milk is also budget-friendly when homemade. Oat milk in the grocery store can start at $5 and up. When following a whole-food plant-based diet, oats are a staple in the pantry, which will be handy when following this simple recipe.
Having oat milk be your milk alternative of choice will help you save money on your weekly grocery bill since oats are extremely affordable. Also, if you already have oats in your pantry or leftovers from your morning breakfast, then this is the perfect time to try this recipe out!
This is not only an affordable option but healthy too since this recipe only requires 3 simple whole food plant-based ingredients.
This oat milk recipe only requires 3 ingredients:
Water

Sea Salt

Oats
For this oat milk recipe is essential to have either a nut milk bag or cheesecloth and blender. You can also use a netted strainer as a replacement for a cheesecloth. A netted strainer may be a more accessible item if you're just looking to give this recipe a try! This recipe is easy and quick to make. Also it won't be a big hassle to incorporate into a weekly meal prep since oats are a common ingredient in a wholefood plant-based diet.

How to Make Oat Milk
To make this creamy and overall delicious oat milk recipe, follow these simple and easy steps:
Soak your oats thoroughly! It's essential to soak your oats in cold water 'til they become fluffy for 30 minutes or overnight.

Drain your soaked oats to remove any excess starch from the soaking process.

Blend your oats with 3 cups of water for about 30 seconds.

Strain your oats using a netted strainer, nut milk bag or cheesecloth. With the nut milk bag or cheesecloth, it is best to double strain your oat milk to ensure the consistency is silky smooth. This step will be the best practise for those frothy lattes!
Note: Do not over blend the oats, this will result in a failed attempt at having that creamy oat milk texture. I learned this on my first attempt at this recipe! Therefore, be gentle with your oats in the blending process. If you have a high-speed blender, you may only need 15 seconds to get to the correct consistency. It will look closer to oatmeal when it is just right!
You can also adjust the flavour of your oat milk recipe.
These are a few of our favourite ideas that we've found to be delightful:
Maple syrup! Add two tablespoons to this recipe for a sweeter taste; this is amazing for adding milk to your cereal or oatmeal! Adding maple syrup will be a hit with kids because it adds a healthy hint of sweetness!

Dates are delicious! Add one or two dates into this recipe for a powerful punch of sweetness!

Vanilla extract is simple to include in this recipe since you only need to add about one tablespoon to get that vanilla taste, which is my favourite addition to my morning coffee.

Cinnamon is perfect for sprinkling into your blended oats for any baking recipe!

Chocolate milk, anyone!? Throw in a teaspoon of cocoa to get that childhood classic chocolate milk taste!

GOLDEN MILK! Add our favourite superfood turmeric to make a delicious golden milk recipe. Tumeric is well known for its health benefits which includes being a reliable anti-inflammatory and full of antioxidants, too.
How to Avoid Slimy Oats?
Avoiding slimy oats will be key to making this recipe a success! Especially if you just want to drink you oat milk from the glass, you don't want to encounter slimy-ness. As described in the instructions remember to not over blend your oats, this will be the first step you will make towards creating slimy oats. Follow the instructions to easily avoid this. Another tips for avoiding slimy oats, unless you are trying to thicken a recipe do not heat up your oats because it will act as a thicker to your recipes.
Lastly, strain your oats twice to ensure that you avoid the slim and left with only a creamy oat milk results. Simple as that, you will be sure to be enjoying smooth oat milk with these steps!
PRINT RECIPE
Homemade Oat Milk
Pin Recipe
This oat milk recipe is simple and easy to make! We also love that it a zero waste option too.
Equipment
Nut Milk Bag / Cheesecloth

Optional: Netted Strainer

Blender
Ingredients
3

cups

Water

¾

cup

Old Fashion Rolled Oats

¼

tsp

Sea Salt
Instructions
Soak your oats in cold water for 30 minutes or overnight.

Drain your oats over cold water to reduce starch from the soaking process.

Blend oats, sea salt and water for 15-30 seconds in blender.

Pour oats through your cheesecloth, nut milk bag or strainer and sqeeze out the liquid.

Strain a second time if you are using a cheesecloth or nut milk bag. This process will ensure the batch is silky smooth.

Note: Save pulp for other recipes!
Notes
Oat milk will last in a sealed container for up to one week in the fridge.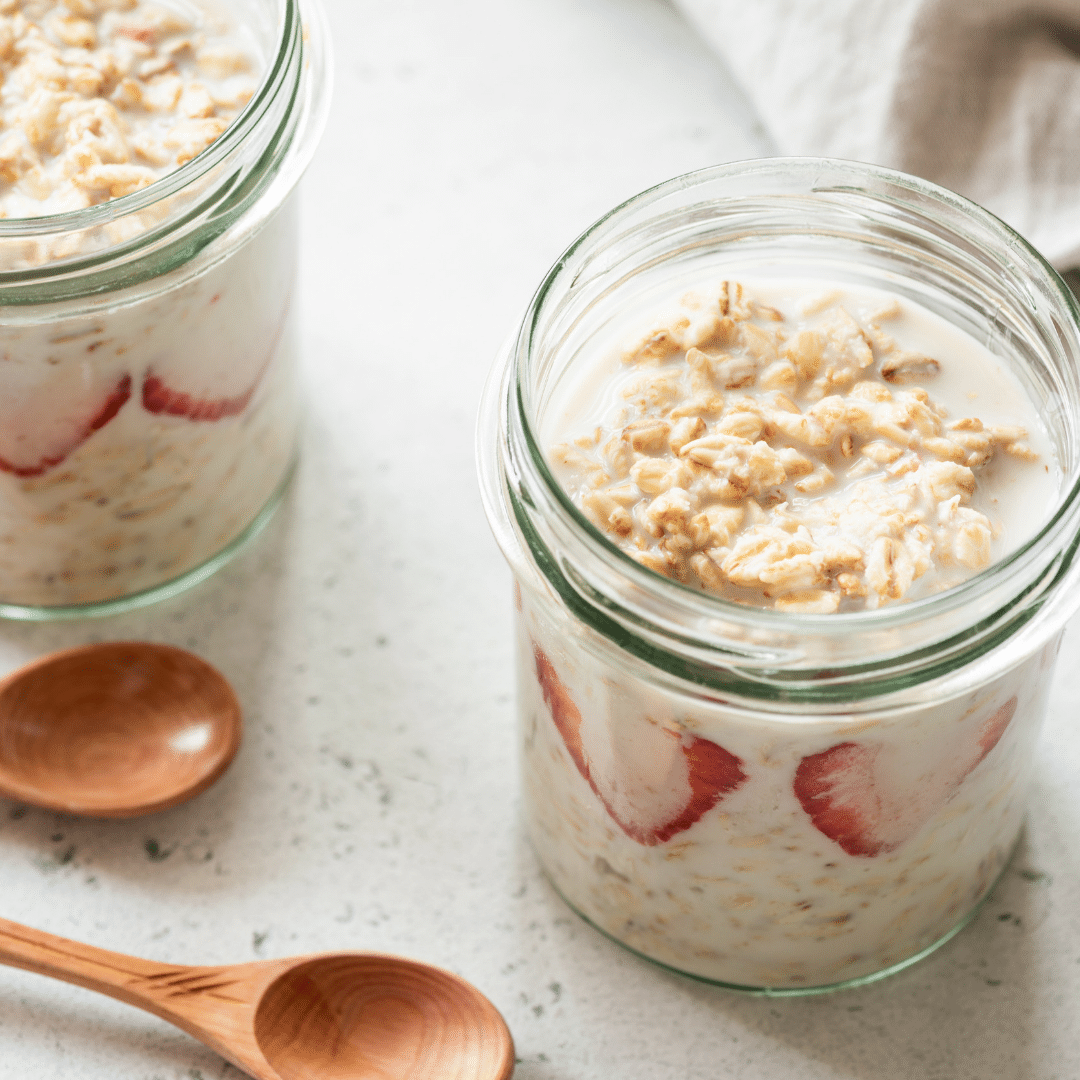 How to Serve Oat Milk
Oat milk is used in a variety of different ways, which is the reason we think it has grown in popularity among the plant-based community. We think this unsweetened oat milk recipe is perfect in breakfast recipes or for traditional breakfast meals like cereal or granola. We enjoy using oat milk in creamy morning smoothies or in an overnight oat recipe. You can use oat milk in many plant-based meals as well, for example, mashed potatoes, curry, pasta sauce or creamy soups.
Cooking with oat milk is very similar to cooking with cow's milk, which makes it very versatile in adapting to a variety of traditional recipes. We especially love using oat milk in desserts and baked goods!
How to Use Oat Milk In Baking
Oat milk is the best vegan milk option for baking! Oat milk became one of our go-to milk options when wanting that fluffy texture to our plant-based baked goods or desserts! A few of our favourite creations begin with breakfast, for instance, our classic vegan banana bread, waffles, pancakes and much more!
Oat milk also is perfect for any dessert recipe since its texture is thick in consistency with a creamy taste. Using oat milk in nice cream recipes, mug cakes and brownies is an excellent choice.
We also enjoy that when baking with oat milk, you can easily adjust the flavour to fit the recipe. We customize the flavour depending on which plant-based recipe we are making.
These are our favourite flavour to add to our oat milk when used in baking:
Berries

Cocoa

Mint Leaves

Coffee

Nut Butters

Cinnamon

Coconut

Banana
Chai Seed
We never let anything go to waste when we use oat milk! We can use the leftover oat pulp for pancakes, smoothies, breakfast bars or a quick oatmeal snack! Oat milk is easily adaptable for other recipes that you're most likely already having or are preparing on a weekly basis.
What is the best type of oats to use?
For this recipe, we used old-fashioned rolled oats. You can use quick oats or organic rolled oats but we find that the old-fashioned rolled oats works the best for this oat milk recipe. We do like using steel cut oats when we know we are making a baking recipe with oat milk, although this will require soaking the oats overnight. We find when using steel cut oats, you will get an abundant rich taste from the grain that we prefer and is much more prominent in steel-cut oats.
Is Oat Milk Gluten-Free?
Oat milk can be 100% gluten-free if you're using certified gluten-free oats. We recommend this for anyone that has celiac disease. If you're avoiding gluten for dietary reasons other than celiac disease, you can usually consider oats as an option in your diet. Oats are naturally gluten-free, but anyone with celiac disease is most likely advised to source certified gluten-free oats in case of any cross-contamination with wheat in the processing and manufacturing of this natural grain. In conclusion, oat milk can be accommodated easily for a gluten-free diet if certified as well.
How Long is Oat Milk Good for When it's Stored in the Fridge?
You will be able to store your homemade oat milk for 3-5 days in an air-tight secure glass or plastic bottle. With that being said, you can purchase a store bought version of oat milk that will last weeks in the fridge. Many brands are starting to come out with their own version of oat milk, including Claifia, Elmhurst, Oatly and Silk. We prefer making our own due to the fact it is a much healthier option, and preservative free. Making oat milk at home is a great way to enjoy fresh, quality plant-based milk in a variety of different recipes that we create each week.
Is Oat Milk Healthy?
Oat milk is naturally higher in carbohydrates, lower in fat and protein. It also includes healthy fibre, calcium and iron. Store bought brands usually fortify their plant milk with added vitamins and minerals as well to give you another healthy dose of nutrition.
Oats are a deliciously nutritious whole grain food that should be part of your diet. The benefits shown by adding oats to one's diet include lower cholesterol levels and reduced risk of heart disease.
Oats are also great to consume for improving gut health because the fiber within the oats provide prebiotics and will help fight any harmful bacteria within the gut itself! Overall, oats are a great option to consider in anybody's healthy plant-based diet.
What Are Other Kinds Of Plant-Based Milk's to Consider?
We have to say we love that we have so many options when it comes to dairy alternatives, and the possibilities seem to be endless. It has never been easier to go entirely plant-based today.
In the Plant Ahead Meal Prep Program, we have many homemade dairy-free milk recipes that our members rave about and love! We are obsessed with using cashew milk, almond milk and coconut milk. They all have their own unique flavour profiles, textures and thickness.
Cashew milk and almond milk are very similar, delivering a nutty taste with a creamy thickness. We love using nut-based milk in recipes like smoothies, breakfast muffins and vegan cheeses! Coconut milk is naturally sweeter, thinner in consistency but equally delicious too. We use coconut milk in recipes that require a sweet flavour, for example, like rice pudding, vegan dips and curries!
But there are many other options to consider when it comes to vegan milk alternatives, including:
Soy Milk

Hemp Milk

Rice Milk

Tigernut Milk

Macadamia Milk

Quinoa Milk

Pea Milk

Flax Milk

Walnut Milk
I know! The options seem endless! It is pretty incredible the options that are available when it comes to thinking about plant-based milk alternatives.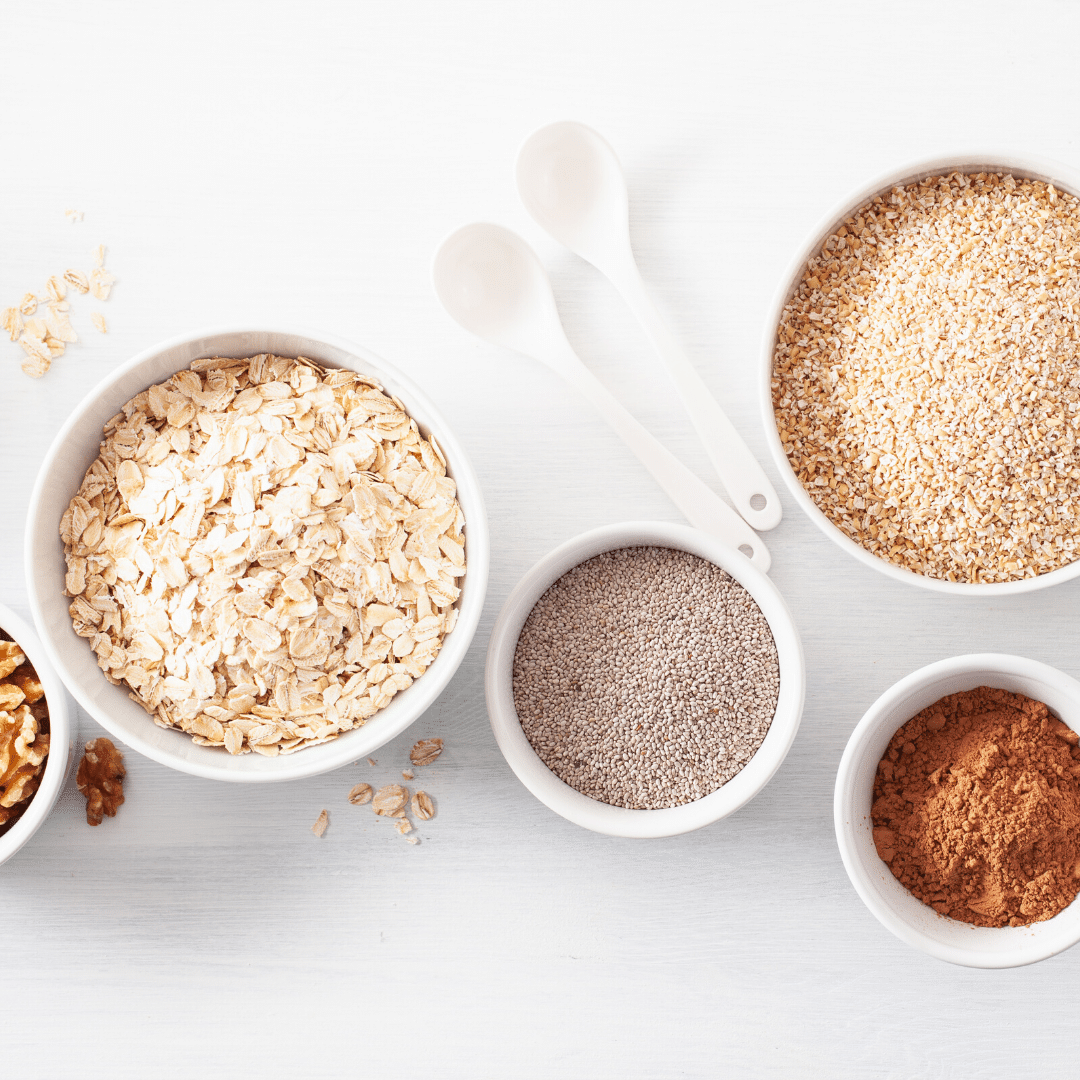 Why Homemade?
We love making recipes from scratch because they usually require minimal ingredients that are made from whole foods. We like making our oat milk homemade since it removed any added preservatives, oil and refined sugars. As we do agree that making your own oat milk is not as convenient as picking up a carton of plant-based milk from a grocery store. It does have many benefits when it comes to receiving full nutritional value with fewer additives. When making your own you can add your own flavours and sweetness.
Have You Considered The Plant Ahead Meal Prep Program?
When joining the program, you will have an abundance of healthy plant-based recipes just like this one! Our Plant Ahead Program is a whole food plant-based meal prep program in which all recipes are vegan, oil-free and refined sugar-free. We take pride in curating a new plant-based meal plan every single week that requires minimal ingredients, and that is also budget-friendly.
When you become a member of Plant Ahead, you will receive instant access to our database with over 350 plant-based recipes that all include macro breakdowns and a vegan shopping list with each plan!
The Plant Ahead Meal Prep program will also save you time and money since we have everything laid out for you to be successful on a plant-based diet.
You will quickly notice following our program that your grocery bills will be decreasing since you will be eating healthy plant-based whole foods and sticking to your shopping list every week. You'll also be saving time since we format our plan based on meal prepping each week that requires setting aside a few hours to prepare all your meals for the week ahead. You will have tons of time with freed up headspace to enjoy the simple things in life.
And we didn't stop there!
We have also made sure to include your classic mealtime favourite, for example, Vegan Mac & Cheese, Cauliflower Buffalo Wings and Vegan Oil-Free Hummus. Also, you'll find holiday-themed meal plans to make sure you never feel like you're missing out on any of the festivities!
The Plant Ahead Meal Prep Program is just $7.99/month, and it will be the best decision you've ever made when it comes to cooking plant-based!
HECK YES I'M IN